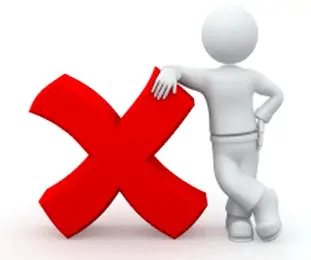 Work boots are designed specifically for a particular job site and they offer protection from definite hazards.
There are specific work boots construction workers, bricklayers, linemen, ironworkers, electricians, pool makers, hunters, mountaineers, etc.
They have proved highly protective in specific conditions and have saved over 100,000 workers from workplace hazards such as falling of heavy objects, electric shocks, cutting from sharp objects, saving from feet, ankle, knee, and joint pains, etc.
Their efficiency and performance have led to an increase in the manufacture of such work boots over the ages, for helping workers in the job sites.
Therefore, with the increase in demand, people want to know how to find a perfect pair of work boots, and more importantly, what they need to know to avoid common mistakes while buying those work boots for themselves or their loved ones.
And if that is what you are looking for, then you are just in the right place for this article will help you with your buying journey.
In this article, I am going to discuss various things you should know about buying a work boot, and more specifically, 13 mistakes you should avoid while purchasing a pair of work boots. 
So, without any further delay let's just start off!
1.) Know What You Exactly Want for your Feet
I absolutely love work boots because they are of tough built, is capable of holding a good grip in almost all the terrains, and are mostly waterproof.
Also, my preferences are my boots should have heel support, ankle support so that my feet don't ache later in the day, a good lace-up system to ensure a snug fit and most importantly, the footbed should be comfortable enough.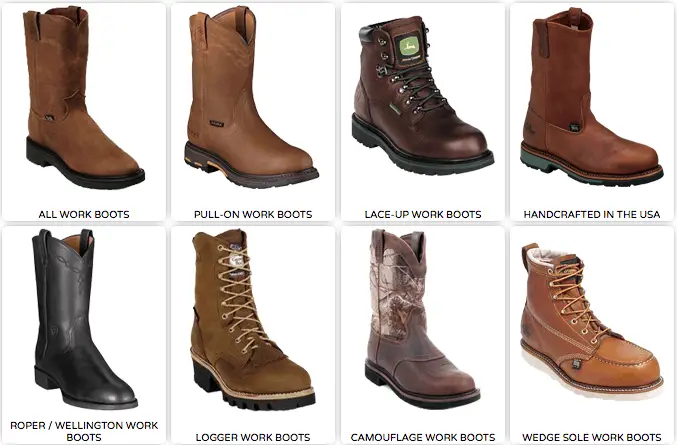 So, it is quite easy for me to go to a shop and get a perfect pair or buy it online with the specifications as I know exactly what I need. Thanks to my deep knowledge regarding working boots as I have been handling this genre for 12 years.
However, this is not the case with all as you are yourself not pretty much sure about what you want.
This is one of the biggest mistakes you make while buying a pair of work boots that is not having a detailed list of what features you want in your work boots and why.
You will not believe guys there are thousands of people who simply do not have any clue about what they want. 
People would just ask, "Stephen, I want to buy a pair of work boots, which one should I get?" to which my obvious response remains, "What features you want your work boots to have exactly?" and the most common reply I get from them is, "Something which is durable and comfortable."
I am like seriously? That is almost not a feature to look for specifically! Nearly all the work boots available in the market fit to these two specifications.
The real kicker is the features defining your wants and what the work boots will be mostly utilized for!
Suppose you work in the warehouse or you are an electrician, your first preference for the work boots should be Electrical Hazard protection made by following an ANSI EH standard. Also, it should be waterproof and not made of a steel toe cap as steel is a good conductor of electricity.
If you are a construction worker, your specifications should be waterproof, steel toe cap, comfortable footbed, specifically with Ortholite Footbed and good traction as your work demands dealing with heavy loads, walking in slippery surfaces and walking over watery areas. You can check our recommendations on work boots for construction workers. 
If you are a lineman, I have some absolutely great boots for you in my recommendation list.
Likewise, I also have recommendations for my ironworker friends and bricklayers.
2.) Test (walk) in the Work Boots before Buying them
Testing the work boots by walking in them will give you the feel for how they will run in your workplace and whether they are able to satisfy your needs. 
→ Pay attention to your toes; whether they have enough room or they are getting bent or experiencing discomfort.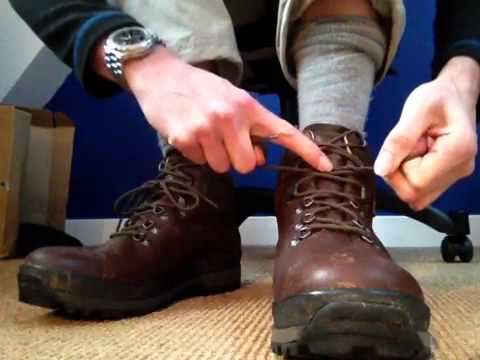 → See if the heel support is fine or your heels are sliding left and right.
→ Check for any discomfort with the insoles or the footbed.
→ Ensure the boots are offering a snug fit.
→ One of the most important things to notice is the traction. Make sure the outsoles are made of anti-slip materials so that they can offer good traction in water or oil or ice.
→ If possible, try pulling hard the laces to check if the eyelets become loose with rough use.
→ Another important thing to look for is mesh lining which allows breathability so that your feet do not sweat.
If you are yourself unsure of the essential requirements of a work boot, you can bring someone along to shop for you or you might just open our article to look for the essentials.
3.) Look at Various Different Platforms to Shop
Don't be in a hurry while buying your work boot pairs like buying the very one that comes to your sight. Do your researches well, know what exactly you want, look into different stores and online platforms, compare them and then invest in the best pair of work boots.
If you are going to buy them from the store, take some time to visit at least 3 to 4 stores, try some boots on, see different ranges of work boots for the same features you want, compare the prices of different stores on the features, comfort, look, material, etc. and then take the final call.
And if you are planning to buy them from online stores, in that case too, try searching for the boot you want in different sites, compare the prices and then get the best deal.
We can help you with some places to look for if you are thinking of buying your work boots online:
I personally prefer this platform the most and trust them with the product details, which are really genuine and of course there is also the customer's reviews section to clarify my doubts regarding the product. Also, you can contact the seller directly for further specifications and details if you wish so.
Facebook Marketplace: 
This is yet another great tool at seeing what is being sold in the proximity of your locality or city. The app generally searches within 40 miles radius of your locality for the products you specify.
Just remember to turn on your location before using the feature. If you come across the product you are searching for, you can look for its description or directly call the seller and set your deal.
This is a dedicated site for workwear shoes and clothing, works quiet similar to other eCommerce stores, but they have a 365-Day Return guarantee if you don't like the product (returned must be in new condition). Compare the same product in both the sites, check for the reviews and then select your dream work boots.
4.) Do not Hesitate to Bargain
Earning money is not easy and we all have to admit that!
Sometimes it happens so that once we are too much pleased with the product we want, we tend to overlook the price we are paying for it because we become too impatient to get our hands on them. Learn to be patient! The price you are paying might not be the actual price for the product at all!
Have you ever heard of the terms whole seller and retailer? If no, I am going to explain you.
A whole seller is the head in the city who buys a whole lot of the products from the manufacturer paying the amount set by the manufacturer. The retailer then distributes the products to various retailer shops keeping his profit. The retailer then sells the products putting their own price tags.
So, ultimately the amount you are paying for your work boots might be just double of the actual price and you absolutely have no clue about it.
The chances of this kind of malfunctioning in the prices might not be with the trusted brands because we are generally aware of the prices from the search engines on the internet.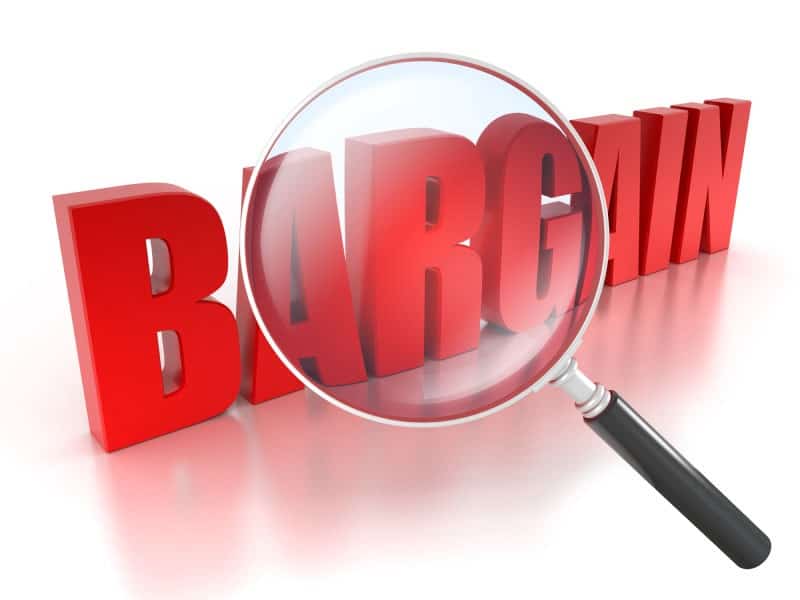 So, it's always better to do your research on the product from the internet even if you plan to get the boots from the stores so that you know the actual price and know exactly how much to bargain.
In case of online shopping, you can compare different sites for the prices and then buy the one which suits you best. You can also call the manufacturer directly and get them delivered to your doorstep with a genuine price.
See also: Best Budget Work Boots (High Quality and Affordable)
Okay! We have something exciting for you and that is some tips to bargain!
1.) Try to crack the deal in isolation with the seller. This is because obviously the seller might be willing to sell the product to a customer in lesser price (still keeping his margin) but would not like to make all his customers get them in the same low price.
2.) Do not argue too much with the seller and be respectful towards them. The price you are asking for might not really be the price the cost price of the boots.
3.) Ask acceptable questions to the seller like whether you can get the products in a 10% or 20% discount. Do not expect him/her to sell them in half the price.
4.) Show your depth of knowledge in the material and the built of the work boots so that the seller gets an impression that he should not meddle with you.
5.) Try making him understand that it is not the store for boots and there are places where the same requirements can be fulfilled in a better price range.
5.) Try to buy your work boots in the OFF season
We generally tend to buy summer work boots in the summer season and the winter work boots in the winter season. This is absolutely a big mistake! Instead, try buying them in the opposite seasons and you might end up getting a 50% rebate.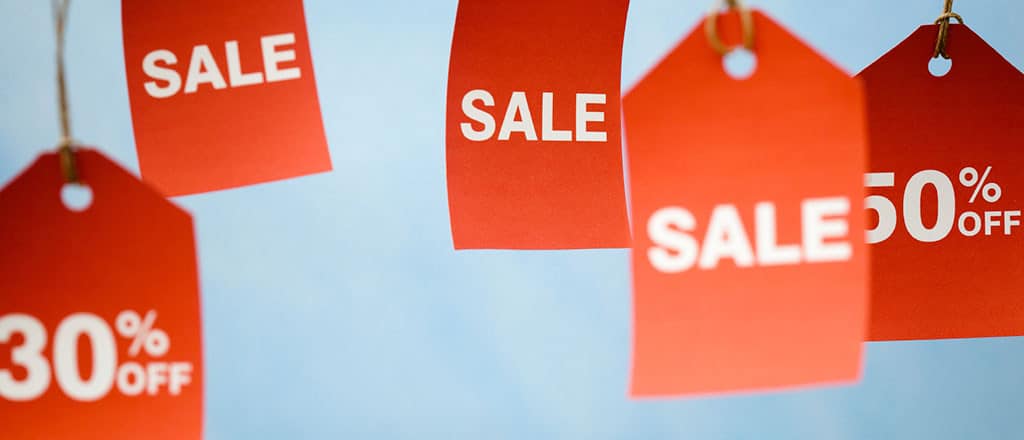 The point is; if you go to buy a summer work boot in the summer season, that would be an obvious thing for the seller and if it is not you, he would have thousands of other customers to buy them because it would be the need of the hour.
So, if you instead got o buy a summer work boot in the winter season or vice versa, the seller might compromise with the price and it happens generally that there are 50% or 30% off on off-season products as the seller really need to clear his stock for pilling his fresh stocks for the season.
6.) Avoid Buying on your Impulses
Do not just buy it as you might have liked the look of the boots or that they are of high price than the others and you end up thinking that they are the best. This would be an absolutely wrong thing to do my friend.
The look might be deceptive or the price might be too. The good looking one might not be made of the features you really require for your work or the high priced one might have the most minimum features.
Take your time to judge the boots because it can save you from various problems in the future and do not rush to have it just because you have the money in hand.
7.) You Should Know When it's Time to Walk Away
Knowing the exact time to walk away is the main key while negotiating with the seller. It's not necessary that the very first boots you try on in the shop or see in the website might not be the one for you. 
Therefore, it is very necessary to know the time when must walk away from the store or come out from the particular website.
Do not let the decisive salesperson or the online product descriptions (Read reviews) misguide you and this is possible only when you have done your homework correctly (of course I am going to detail you below how to do it in the right manner).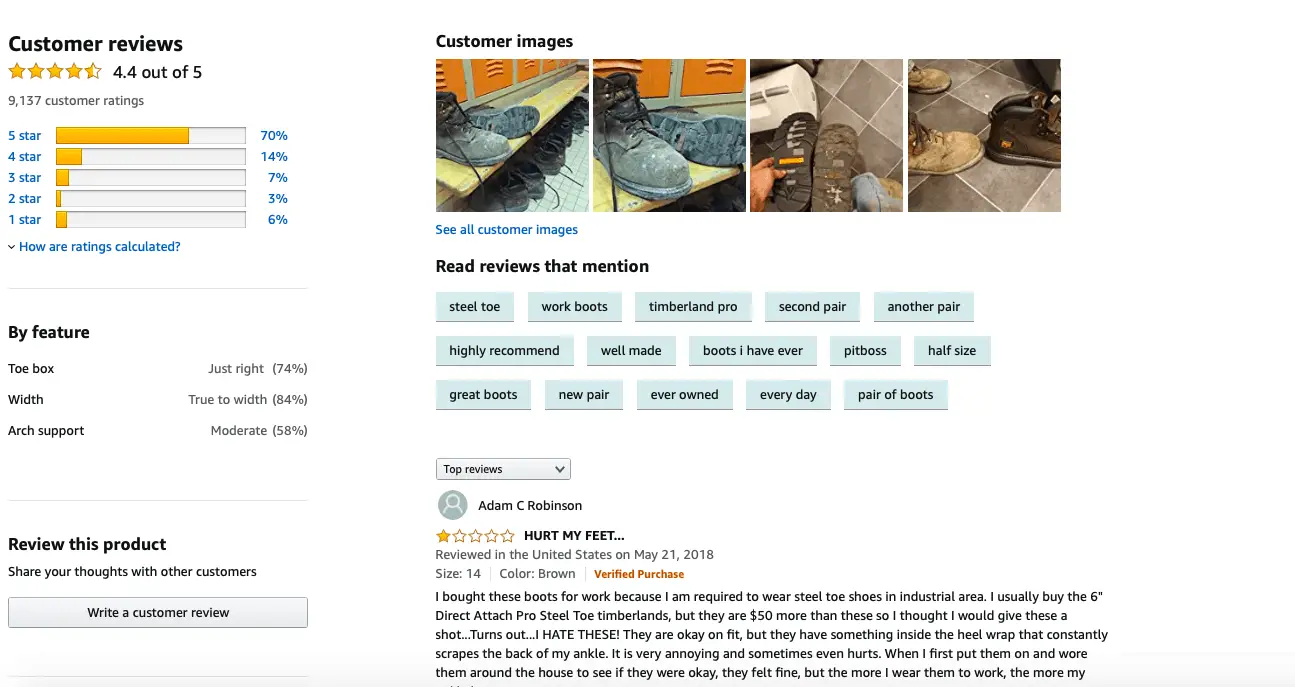 Walking away does not mean you are incompetent in buying the stuff, instead it implies that you know exactly what you want and the features of the boots are not convincing for you.
And if you buy the wrong boots just because you would feel shy in coming out of the store, man; you are going to regret it the sooner.
8.) Do Not be a Brand Freak
That said, you might hold a wrong view that only branded companies are the best in manufacturing the great products which is absolutely wrong! There might be some non-branded local companies as well who are trying to establish their market with some exceptional products yet you are unaware of them just because they are not the famous ones.
The myth that only branded ones are the best is completely wrong. Even the branded ones are not meant to last forever and might show up disputes or damages very soon. You are just paying the extra price for the brand name tag!
There are really good and cheap small manufacturers or sellers who sell equally good stuffs at a much lower price range. All you need to do is explore and research and ask for recommendations from friends and neighbors.
9.) You Must do your Homework in Details
Make the right use of internet! The Internet is the best place where you can know about all things in the universe with just a single click.
Go to Google and enter the keywords for your particular search. Let me explain you in details. Suppose, you need to know the requirements for work boots needed for construction workers, just type the keywords: "work boots for construction workers" or "features in work boots for construction".
Google will display a list of articles related to your search wherein the articles can either provide you the information on features required in boots for your purpose or the articles might even recommend your boots. (Why don't you try workgearz.com? I bet they give the best advice LOL :P)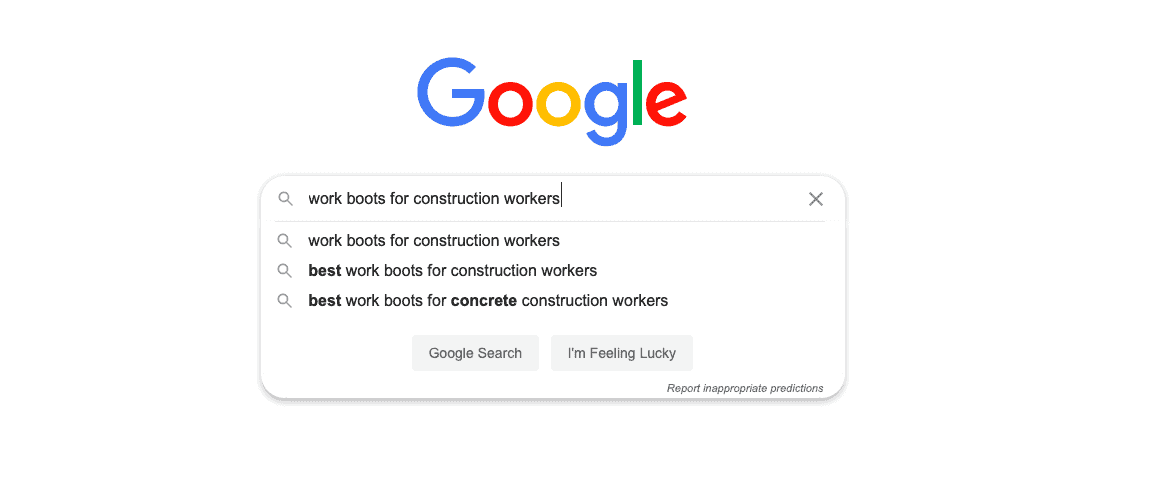 Study the features well, write them down in your notes as a reference while you search for them in the online sites.
This will help you understand the usefulness of each feature and what they actually do in protecting your feet at the job site.
I am sure you won't regret investing in this little time! It will of huge benefit to you in future.
10.) Avoid Paying for Unnecessary Things
Now you know how to do your homework and once done, you know your exact requirements for your work boots. Some boots in a higher price range might have some extraordinary features, but that is not required in your work boots. So, why will you pay unnecessarily for the features that would be of no use to you in your worksite?
Suppose your requirements for the work boots are: waterproof and good traction, so why will choose the boots that have something extra like steel toes, EH protection and style and pay extra for those unwanted features?
Remember that work boots are for easing up your job at the worksite and to provide protection from the things that pose danger to you while at work. They are simply not for the demonstration of your personality or your wealth.
11.) Do Not Choose Style over Comfort
Work boots are meant to offer safety against certain threats at your workplaces and to display your style statement! Choosing style over comfort will only end you up in problems and risks at your job site. 
For example, the lace up system of a particular boot might seem to your sight as a stylish one, but if your job demands standing in water for the whole day, the threads in the laces would get damaged soon in the water and you will have to end up revisiting the cobbler again and again which would be a very bad decision and investment too.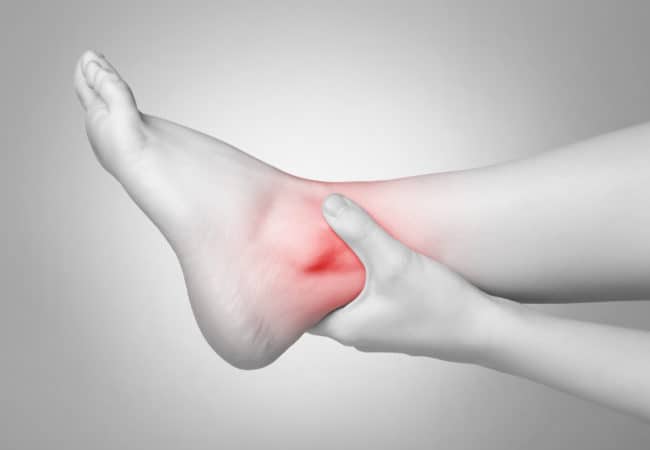 Comfort is the first thing to be considered for your job because if your feet are not comfortable in the boots, it will end up giving you muscle pain, ankle and joint pain, blisters and athlete's foot, etc. 
Check the insoles carefully, what are they made of cushioned one or anti-fatigue technology or shock absorption or Ortholite-treatment, etc. know your priorities regarding comfort and do not ever go for the style.
12.) Take the Job Requirement Into Serious Consideration
This might seem to you a repetition of advice, but my dear friends, this is most crucial. Not all jobs require the same features in the work boots. You can definitely check the links to our articles for work boots recommended for particular jobs, yet I would like to take some time to explain you this in details.
If you are a lineman, the very first requirement for your work boots would be anti-skid or anti-slip or such one which can hold the grip while climbing ladders or poles.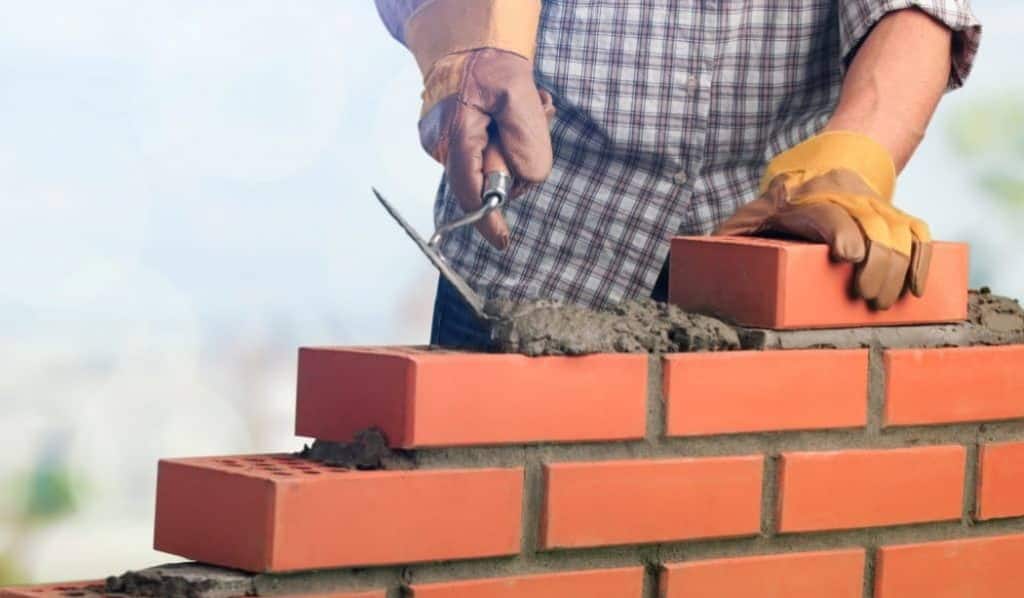 Likewise, if you work as a bricklayer, your work boots must be waterproof, must be of ankle length at least and should have a steel toe in order to resist the impact of falling bricks on your feet.
Again, if you are an electrician, your work boots must have EH protection and must contain any other safety toe caps excluding the steel toe ones.
So, know the requirements of your job and then search for them in the work boots by reading the description offered by the seller or the site.
13.) Avoid Buying from Unknown Sellers
Now, this might seem to you contrast in advice to the one mentioned in a point above, but this is also a point to be noted!
Just do not go to any random store or online site and pick up the boots which pleases your sight! Because looks can be decisive and the unknown sellers too! 
You need to know about the seller in person or through reviews from other customers and consider his reputation in the market regarding his past sales.
This is very important because we are not experts in making out the exact material of the boots or its built construction. We really cannot be because we do not make boots or deal in the materials used in the making of the boots.
Therefore, knowing the seller or the site becomes important while you plan to invest in your work boots. After all, it's going to save you from injuries in the worksite.
It's Time to Bid Adieu:
I hope I could help you in overcoming the mistakes which you might have never taken into consideration or might have not thought about them so seriously.
But my dear friends, all the points mentioned by me are as important to save you from making a wrong choice and regretting afterwards!
I pray you have a good day ahead. 
Happy Work Boots Shopping!