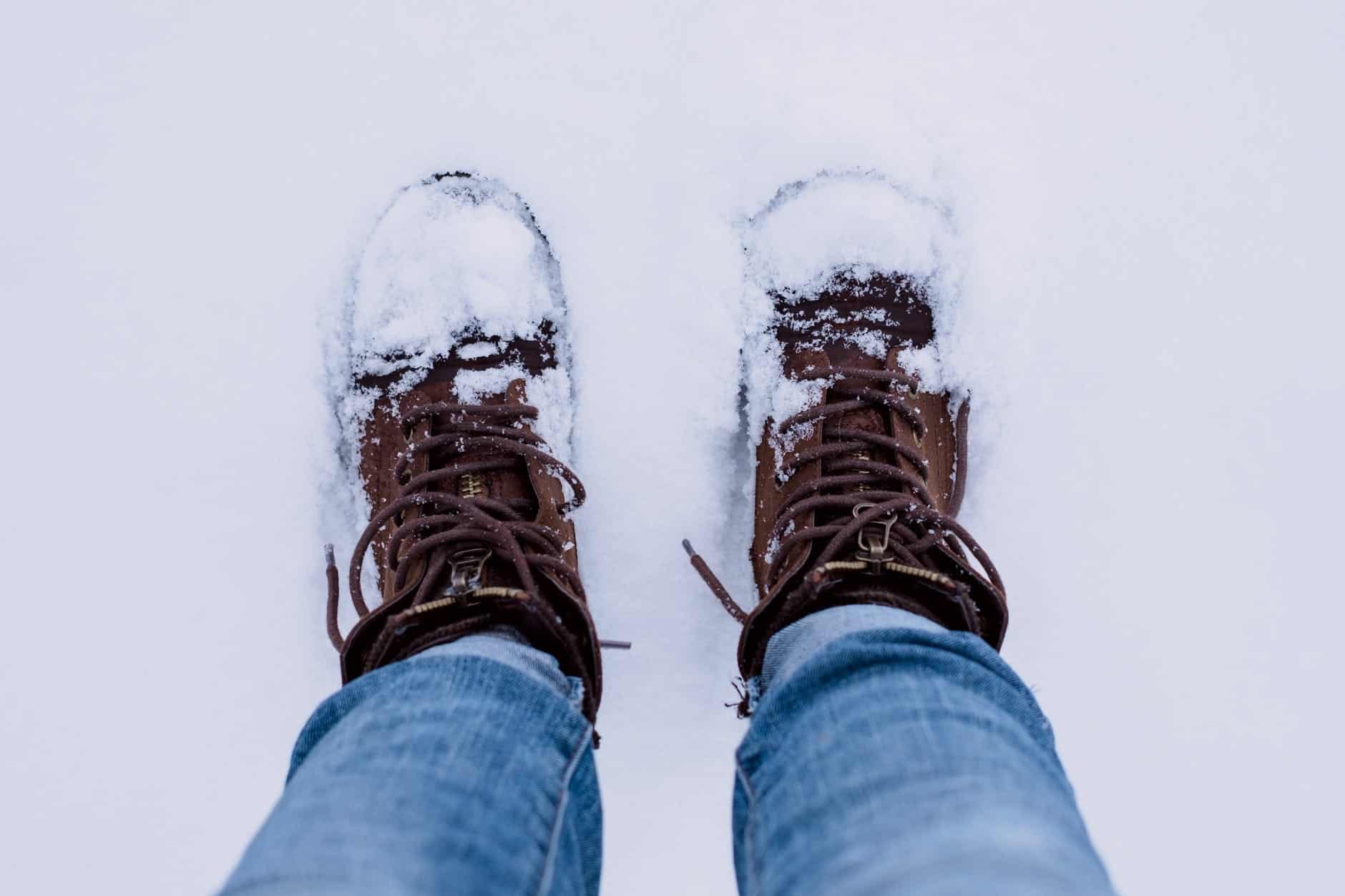 Working outdoors when the temperature falls below zero can be a real challenge. In such a situation protecting the feet is a hard job and that's where insulated winter work boots come in which not only save you from frostbites but also give you the right amount of traction you need.
While most of us think that any work boot will do, there are specialized winter work boots for saving you from chilly winters.
So, what are the best winter work boots available in the market? With detailed study and research, I have come up with the right boots for winter to work hassle-free. So let me help you make the right choice without overburdening your pocket. 
| Winter Boot | Material | Type of Insulation | Outsoles | Our Rating |
| --- | --- | --- | --- | --- |
| Kamik Men's Nationplus Boot | Genuine leather with nylon upper | 200B 3M Thinsulate insulation | Lugged rubber traction outsole | 8.8/10 |
| Carhartt Men's Rugged Flex | DK brown-oil tanned leather | 400g 3M Thinsulate insulation | Flexible rugged outsole | 9.1/10 |
| Columbia Men's Bugaboot Plus  | Combination of leather, nylon and metal hardware | Michelin Winter Compound with 200g insulation | High-grip outsole | 8.8/10 |
| Columbia  Women's Newton | Full grain leather | Insulation provided by leather | Omni Grip Eva rubber outsole | 8.6/10 |
| Muck Boot Arctic Sport Rubber | Nylon and synthetic | 5mm neoprene helps in heat retention | Rugged rubber outsole with moulded lugs | 9.1/10 |
| Carhartt Men's 11" Wellington | Oil-tanned and polyurethane-coated leather | 400 LiteFire insulation | Welt-constructed, dual-density polyurethane outsole | 8.5/10 |
| Carhatt Men's CSA | Oil-tanned leather | 400g 3M Thinsulate insulation | Flexible rubber outsole | 8.7/10 |
| Sorel Men's Conquest | Waterproof full-grain leather | 400g insulation | Multi-directional lug outsole | 08-Oct |
Best Winter Work Boots for Sweaty Feet
1.) Kamik Men's Nationplus Boot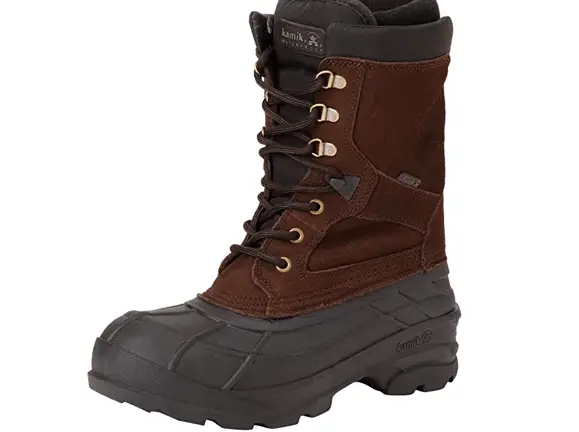 For all the men out there, these Nationplus winter boots are one of the most rugged boots available in the market. If you want to stay active and comfortable and are searching for rugged winter boots then you should definitely go for this model from Kamik. It gives you sufficient warmth with its 200B 3M™ Thinsulate™ insulation.
These winter boots are available in seven different colors and have seam-sealed waterproof construction which perfectly seals out snow and water. Moreover, the moisture-wicking lining tends to keep your feet dry all day long so you don't have to worry about the sweaty feet.
Talking about the temperature which is rated -40 degrees, these genuine leathered Kamik boots have waterproof Gusset tongue which apart from protection provides great comfort to your feet.
If we look at the specifications, the boots come with a 10" shaft and the heel measures approximately 1.25" with a platform measuring approximately 0.75 inches. The model has an admirable grip because of the strong bottom tread and reinforced lower rubber boot which makes these boots tear-resistant and sturdy.
Pros:
Waterproof leather and nylon upper perfect for winters

Waterproof and flexible synthetic rubber shell

The boots have a rustproof speed lacing system

Comfort antimicrobial footbed

Lugged rubber traction outsole
Cons:
The boots have flimsy soles.
Check Price and Reviews on Amazon
---
Best Winter Work Boots Composite Toe
2.) Carhartt Men's Rugged Flex Safety Toe Work Boot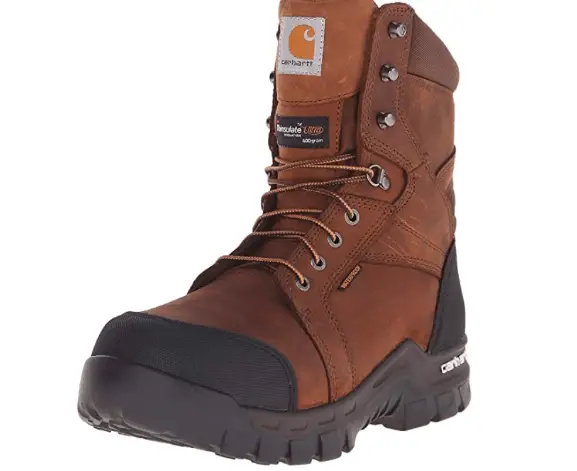 Not just for winters, the Rugged Flex Composite Toe work boot is all-weather footwear suitable for active job sites. The appreciable waterproof design of these boots promises to keep your feet dry and warm making them suitable for winters.
If you are working on cement floors, uneven terrain, or ladder rungs then you should definitely give the boot a try as its flexible rubber outsole provides superior traction.
The boots are cement constructed and have five layers of cushion to keep fatigued at bay. It also features rubber toe and heel bumper providing all the stability and protection you need. And yes, the model has a composite toe to protect your feet from compression hazards.
Engineered with great dedication, the boots also meet ASTM 2413-11 EH for safety. The insole is designed using polyurethane making the model shock absorbent.
The boot comes with 400g 3M Thinsulate insulation making your feet feel cozy even when it's freezing cold outside.
Pros:
Insulated, waterproof design

Rugged Flex rubber outsole 

Storm defender to keep your feet dry.

Comes with added impact resistance.
Cons:
Not suitable if you are working in the welding field.
Check Price and Reviews on Amazon
---
Best Men's Winter Work Boots
3.) Columbia Men's Bugaboot Plus IV Omni-Heat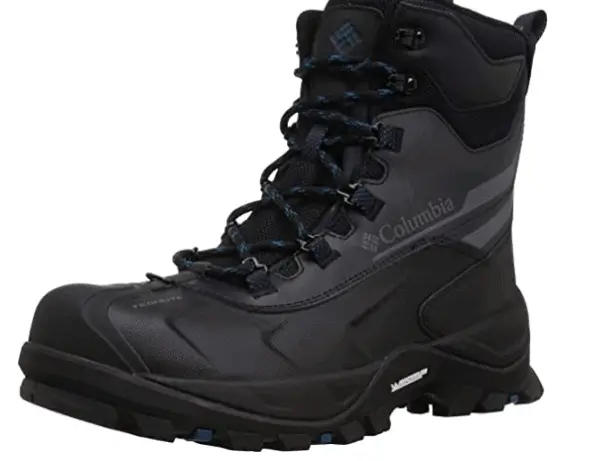 This re-energized cold-weather classic is the ultimate model that is specially designed to deal with tough conditions and give you sufficient warmth, comfort, and protection in frigid conditions.
Despite being impressively durable, the boots are lightweight and come with an upper which showcases a true combination of leather, nylon, and webbing.
Thanks to the 200 grams of insulation and thermal-reflective lining, the boots have the power to retain warmth even in sub-zero conditions.
You will be glad to know that these boots are manufactured keeping the comfort of your delicate feet in mind and use superior midsole cushioning and high grip Michelin outsole so that you can work freely without worrying about exhaustion.
Let's have a look at some of the specifications. The boots come with 200g insulation and can bear temperature upto -25 degrees. The light-weighted boot weighs just 701 gm and has a shaft height of 17cm. Quite impressive, right?
Pros:
The boots have Omni-Heat™ reflective lining.

Anti-slip rubber, good abrasion resistance

Waterproof seam-sealed construction

Very comfortable with high energy return
Cons:
May have sizing issues.

Are not suitable for extremely low temperatures.
Check Price and Reviews on Amazon
---
Best Women's Winter Work Boots
4.) Columbia Women's Newton Ridge Plus Waterproof Hiking Boot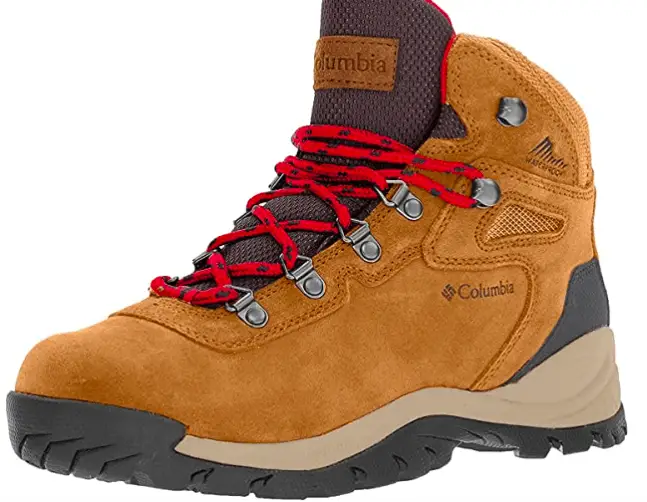 Build waterproof and stylish, these Ridge plus women boots are truly inspired by classic mountaineering boots. These adaptable and all-round boots are not only perfect for hiking trips but are even valuable during winters. (Are Hiking Boots Good for Work?)
The boots are designed combining full-grain leather and suede and have scratch rubber heel, mesh tongue and outdoor hardware which makes them sturdy yet comfortable.
Furthermore, the midsole of the model is cushioned yet supportive to keep your feet snug so that you can work in chilly winters all day long.
Not just this, the outsoles are constructed using super grippy Omni-Grip™ EVA rubber which when combined with responsive and supportive cushioning makes these boots suitable for a snowy environment.
The boots come with seam-sealed bootie construction which tends to keep your feet dry almost all day long. A very interesting part of these boots is that they are as light as feathers and weigh just 390g.
Pros:
Are exceptionally waterproof

The boot has Omni-Grip™ non-marking traction rubber.

Lightweight and durable
Cons:
Check Price and Reviews on Amazon

---
Best Winter Rubber Work Boots
5.) Muck Boot Arctic Sport Rubber High Performance Men's Winter Boot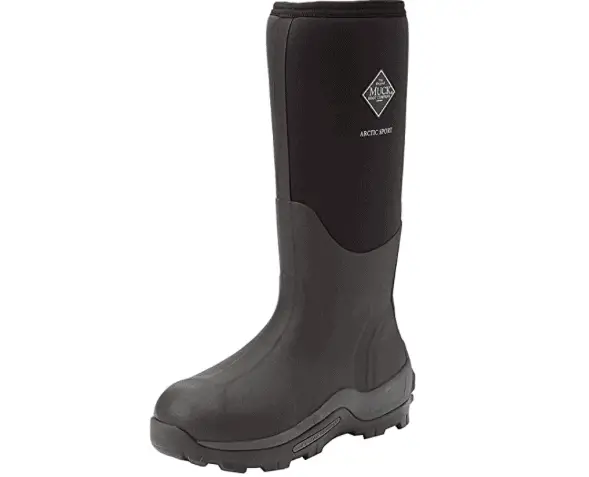 If you have to work while dealing with the harshest of conditions then these boots should definitely be in your wardrobe. And not just for working purposes, the Arctic Sport boot from Muck is ideal for activities like camping and trekking during frigid weather.
Designed with a fully-sealed rubber shell, the boots have molded lugs and go high above the ankle in order to keep your feet protected while you are working in deep snow.
It's rugged and reinforced outsole is excellent and is capable of gripping on slippery surfaces which comes with a hard rubber shell so that your feet are always protected. The brand has given the model a nylon pull-tab at the back so that you can wear and remove them easily.
Let's take a peek at the specifications of this model. The shaft measures approximately 16.5 inches and the boot opening is 17 inches. To deal with warmth, there is 2mm thermal foam under the footbed keeping you protected from substantial injuries.
The stretch-fit-top line at the top of the shaft keeps the boots snug around your leg and avoids the entry of cold air thus retaining warm air inside.
When I say that this boot has it all, I am not even lying. The presence of 5mm neoprene booties and four-way stretch nylon contribute in making this boot comfortable and flexible and yes, 100 % waterproof as well! They can work well even when it's -40 degrees outside.
Pros:
Fleece lining holds body heat

Double reinforcement on the instep makes

These boots 100% waterproof.

Form-fitting neoprene foam for extra comfort
Cons:
Lacks grip on wet rocks.

Not meant for hot weather.
Check Price and Reviews on Amazon
---
Best Pull on Winter Work Boots
6.) Carhartt Men's 11″ Wellington Waterproof Steel Toe Leather Pull-On Work Boot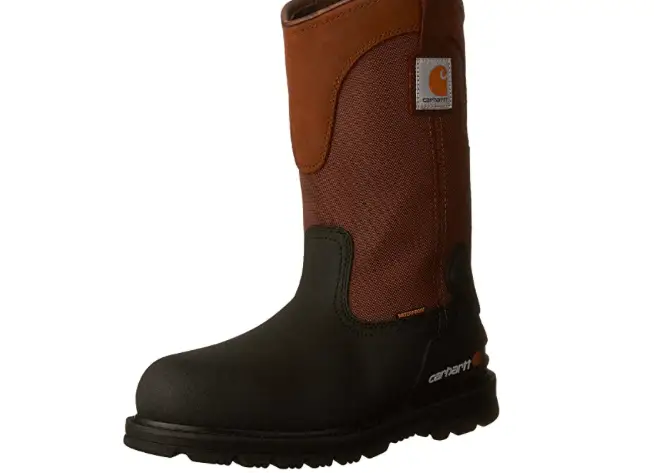 Meant for all the four seasons, this Wellington steel-toed boot works just fine with its slip-on convenience and insulated all-weather versatility. The boots are constructed using oil-tanned and polyurethane-coated leather. So, why should you choose these above a normal work boot for winters?
Well, the answer is the presence of waterproof-breathable membrane combined with sweat-wicking liner and low bulk insulation which keep your feet dry and warm even when you drench yourself in snow.
The reinforced body of these boots has heels and toes featuring integrated impact resistance which allows you to stand on your feet all day long. The 400 LiteFire insulation helps to keep your feet warm and the Carstrong durable reinforced fabric saves boots from wear and tear in short makes them tough.
The Wellington boots also meet ASTM 2413-18 standards and the steel toe stands against all the compression hazards. The boots are best suited if you are working in the electrical industry as this workwear is meant to provide secondary protection against electrical circuits of upto 18,000 volts.
Pros:
Comes with TPU heel guard with Achilles flex joint for ankle stability and side-impact protection.

Meets ASTM 2413-18 EH standards.

Cushioned, polyurethane insole to absorb shock

Welt-constructed, dual-density outsole
Cons:
Long break-in period

May have sizing issues
Check Price and Reviews on Amazon
---
Best CSA Winter Work Boots
7.) Carhartt Men's CSA 8-inch Rugged Flex Waterproof Insulated Work Boot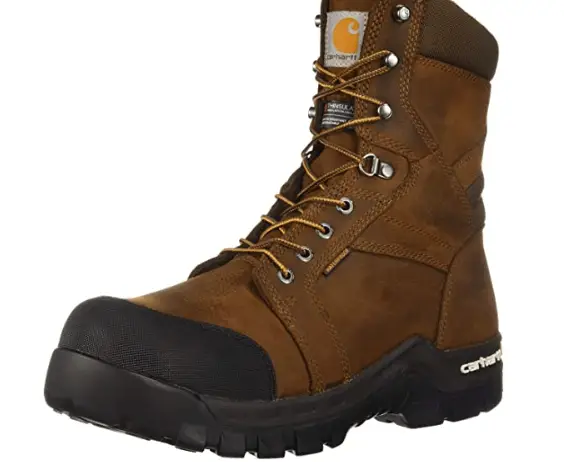 Made especially for active job sites, these men's rugged 8-inch boots are constructed to be on the move in all weather conditions. The boots are made up of oil-tanned leather and come with lace closure for all that snug fit you have always wanted.
The 400g 3M™ Thinsulate insulation keeps your feet cozy and comfortable. Not just this, the boots have EVA midsole with a cushioned insole to absorb shock and prevent your feet from facing harmful strain and a flexible rubber outsole offers imposing grip so that you can walk confidently on ladder rungs, cement floors and can even maintain all-day comfort.
By putting on these boots you can work freely on slippery, snowy surfaces as the Storm Defender waterproof breathable membrane keeps your feet dry by letting them breathe.
Pros:
Waterproof yet breathable

Meets ASTM-2413 standards and gives protection against incidental contacts with electrical circuits.

Offers durable traction and flexibility

Rubber toe and heel bumper for stability and protection
Cons:
Not as sturdy as mentioned
Check Price and Reviews on Amazon
---
Best Lightweight Winter Work Boots
8.) SOREL – Men's Conquest Waterproof Insulated Winter Boot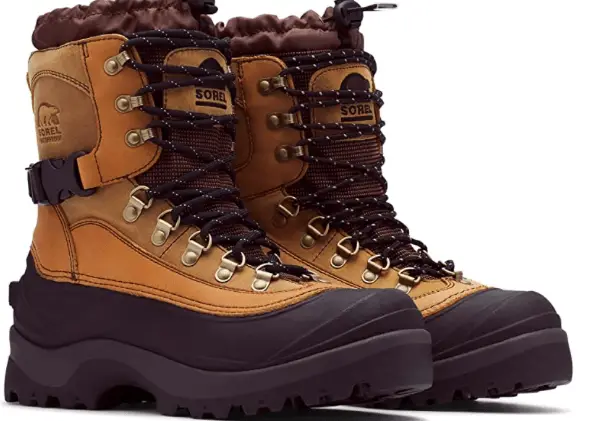 If you are a person that isn't afraid to work even in the most extreme of conditions then these Sorel Conquest boots are for you. I am sure that with these boots no outdoor activity is impossible.
The upper part of the boot is constructed of waterproof full-grain leather and the lower part is made from molded waterproof thermal rubber which makes them easy to clean.
Interestingly, the presence of built-in snow gaiters makes them worthy for use in heavy snow. The boots are insulated with 400 grams of Thinsulate Ultra insulation which keeps your feet toasty and comfortables in temperature as low as -40 degrees.
The model also features an interior fleece lining to keep your feet dry and makes sure that your feet are safe from the harsh cold.
These are amazingly lightweight and weigh around 2.3lbs per pair but that doesn't make them any less sturdy. The boots are true to size and have got removable EVA footbed which ensures they fit perfectly.
Pros:
Have multi-directional rubber lugs for traction and grip

Provides firm support even in the worst of conditions.

Come with an Achilles adjustment strap that you can tighten as much as you need.
Cons:
Check Price and Reviews on Amazon
---
Features to Look for Choosing Winter Work Boots
One most important thing to be kept in mind while purchasing winter work boots is whether they are capable enough to provide optimum comfort even when the temperature is dropping.
The good boots not only give you enough warmth but also have all sorts of protective features to keep your feet safe in hazardous work environments.
So here are some of the considerable features which you cannot ignore while purchasing winter work boots.
1.) Insulation
Insulated work boots are meant to provide an extra layer of warmth to your feet while you are working for extended hours in the cold season. This feature highly reduces the chances of frostbite and other potential injuries.
You can find natural insulation commonly in standard work boots but winter work boots that have synthetic insulation are perfect for your winter work gear.
One can easily determine the level of warmth provided by the boots based on the weight of insulation. It obviously depends on your requirement and can weigh from 200 grams to over 1200 grams.
2.) Construction and Design
Boots that are designed using the Cement construction method or Goodyear Welt Construction methods are ideal when you are working in the cold. Talking about the design, I prefer the boots with composite toe design as their non-metallic safety toe inhibits the transfer of temperature through their composition.
One other thing to be kept in mind while choosing the winter boots is they should have nylon or fiberglass shanks and not steel shanks, considering the transfer of temperature to the arch of the foot.
3.) Water Resistance
Walking in snow can lead to hypothermia and frostbite by soaking your boots in heap. That is why it is essential to select the boots that are 100% waterproof so that you can keep your feet dry and safe even while working on surfaces that are overlaid with snow.
See also: (Waterproof Vs Water-Resistant Boots)
4.) Traction
For most people working in a cold environment, falling and slipping are a most common cause of injuries and that is why it is compulsory to have quality snow boots that have deep traded, soft and flexible outer soles which offers better traction.
Such boots do not allow the accumulation of snow on them hence providing a higher degree of traction.
5.) Weight
Weight is one of the most crucial factors that should not be neglected while selecting winter boots. Since these are a bit heavier in comparison to your regular work boots it is important for you to decide whether these winter boots fit comfortably or not. After all, you have to spend your whole day on them!
How does winter boots work?
Winter boots are especially designed to cope with the cold weather. For this reason they have thick insulating layers within them to trap the inside heat of the feet and not to allow the cold wind enter inside the boots.
Apart from this, winter boots are waterproof or at least water repellent so that no water from snow sips or soaks inside the boots.
How to clean winter boots?
To clean your winter boots you will need the following items:
A tub or bucket

Warm water

Laundry detergent

White vinegar

Lint free cloth
Steps to follow:
Take out the laces and the inserts from the boots

Put warm water in the bucket and add white vinegar and laundry detergent in it and then mix the solutions to make a froth

Put the laces and the inserts in the bucket and wash them thoroughly

Now wash them in a bucket of clean water to remove the soap-water solution

Let them dry under the sun or under the fan

Now dip the lint free cloth in the bucket where you have prepared the solution with warm water, vinegar and detergent

Rub inside out of the boots thoroughly with the lint free cloth

Now take a clean wet cloth and remove the soap-water solution from the boots

Allow the boots to dry normally under the fan or use your hair dryer for the same
How to waterproof winter boots?
You have to follow different treatments to waterproof boots of different materials. Let's check them out:
How to waterproof leather boots?
Items needed:
Stiff brush

Wax sealants

Applicator or soft lint free cloth

Horsehair brush
Steps to follow:
Clean the boots thoroughly with the stiff brush

If the boots are too dirty, you can follow the cleaning process mentioned in the section above

After drying the boots completely, apply the wax sealant all over the boots using the applicator of your choice

Let the wax settle on the boots and then apply a second layer if required

Take the horsehair brush and brush off uneven surfaces of the wax layers and get a polished look of the boots
How to waterproof suede boots?
Items needed:
Horsehair bush

Silicon spray

Lint free cloth
Steps to follow:
Brush the suede boots in the direction of the suede hairs to take off the loose dirt

You can follow the steps to clean the boots in the section above if you feel if your boots are stained

When your boots are completely dry and ready, spray the silicon spray all over the boots

Do not forget to spray on the seams and the stitching of the boots

Leave the boots to dry normally under the fan

Finish off by rubbing the boots with the horsehair brush in the direction of the suede hairs
Do winter boots stretch?
If the boots are made of leather, they will stretch definitely after a week or two with regular wear!
Though, the insulating layer within the winter boots will not allow you feel the stretching to a great extent!
You can take the aid of a boot stretcher if you want to stretch your boots any further.
Can you put winter boots in the dryer?
It is not at all a good idea to put your winter boots in the dryer because winter boots have insulating layers in them and washing them in the washing machine will end up in the boots soaking up too much water which will damage the insulating material of the boots.
Likewise, putting them in the dryer might damage the insulating fleece layer by drying them too much and deteriorating their texture.
Final Thoughts
Winters are very pleasant and nobody wants to get it ruined by frostbites and other injuries. Just by purchasing boots from our list, you can tread on different types of surfaces.
The boots are equipped with warmth, quality, comfort, aesthetics, durability, and safety so that you can enjoy wearing them to work. So put on these boots and put your best foot forward!