Depending on where you work, mud boots can come in handy during any season of the year. This is particularly true in the spring and fall seasons when the earth is less firm and filled with puddles and lots of mud.
You may have to tend to wet grass, wet leaves, and gutters filled with gunk. If you work in agriculture, it gets even worse.
Sometimes these boots are called rain boots or utility boots, but mud boots come with two principal characteristics.
They require a rubber or similar material that keeps water, liquids, and mud out and outsoles that guarantee lots of heavy-duty traction.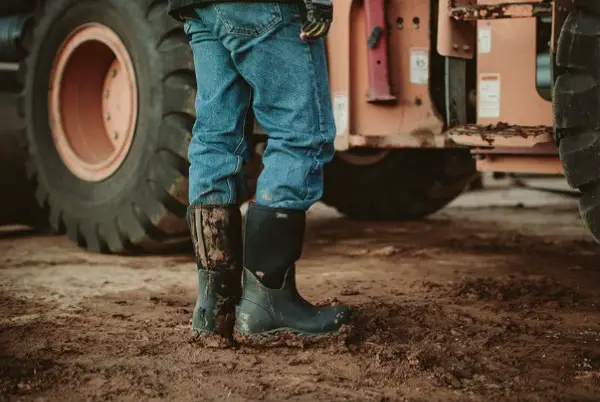 We vetted a good number of styles and brands and paid special attention to boot construction, style, features, and cost. We considered weight, waterproofing, and also how easy it was to clean these boots.
We tested lots of "mud boots" for you by sloshing through the worst of garden and farm mud we could find. We even tried them out in a flooded venue. 
After all was said and done, our top pick is BOGS Workman Men's Composite Toe Mid Mud Boot because these boots get high marks for protection, comfort, ad dexterity.
Another pair of mud boots that convinced us and merit attention are the LaCrosse Meta Pac Met Boot with Steel Toe if you want a tall boot that has a bit of customizable lace-up sizing.
Our Favorite Best Mud Work Boots
Best Overall Mud Work Boots
1.) BOGS Workman Men's Composite Toe Mid Mud Boot
While they may appear somewhat clunky style-wise, they get high marks for protection, comfort, ad dexterity.
They offer the comfort of your favorite pair of sneakers with a flexible insole and a nicely hugging heel cup that cradles the heel.
The fit was snug but incredibly comfortable and allows you to walk up and down slopes comfortably in the mud.
All-day comfort is a distinguishing factor in these boots and not a single drop of water entered during testing.
Pros
100% waterproof

Natural rubber upper over a stretch bootie

Composite safety toe

Neo-tech waterproof insulation

Seamless construction

Lightweight

Rebound midsole technology

Rubber outsole
Cons
Some squeak during walking
Check Price and Reviews on Amazon
---
Best Value Mud Work Boots
2.) Muck Boot® Chore Safety Mud Boots
Manufacturer Muck Boot is well-known for reliable quality footgear. These bad-weather mud boots offer superb construction, protection and are waterproof. 
100% synthetic breathable uppers are attached to rubber soles for waterproofed comfort. These boots do not disappoint. 
The rubber outsole comes with a four-time reinforced heel. Even if the soles are not indestructible, they are replaceable if the boot uppers are in good shape.
The design offers added support for ankles and great overall foot and leg protection. The Airmesh lining guarantees breathability and moisture-wicking for increased comfort.
Pros
100% waterproof

Rubber Outsole 

Airmesh lining

Shock absorption

Synthetic Uppers

ATSM rated, EH rated

Steel safety cap

Heat retention in subfreezing climates
Cons
Hot in warm climates

May not be as durable in extremely rough conditions
Check Price and Reviews on Amazon
---
Best Duck Mud Work Boots
3.) L. Bean Men's Duck Bean 8-inch Boots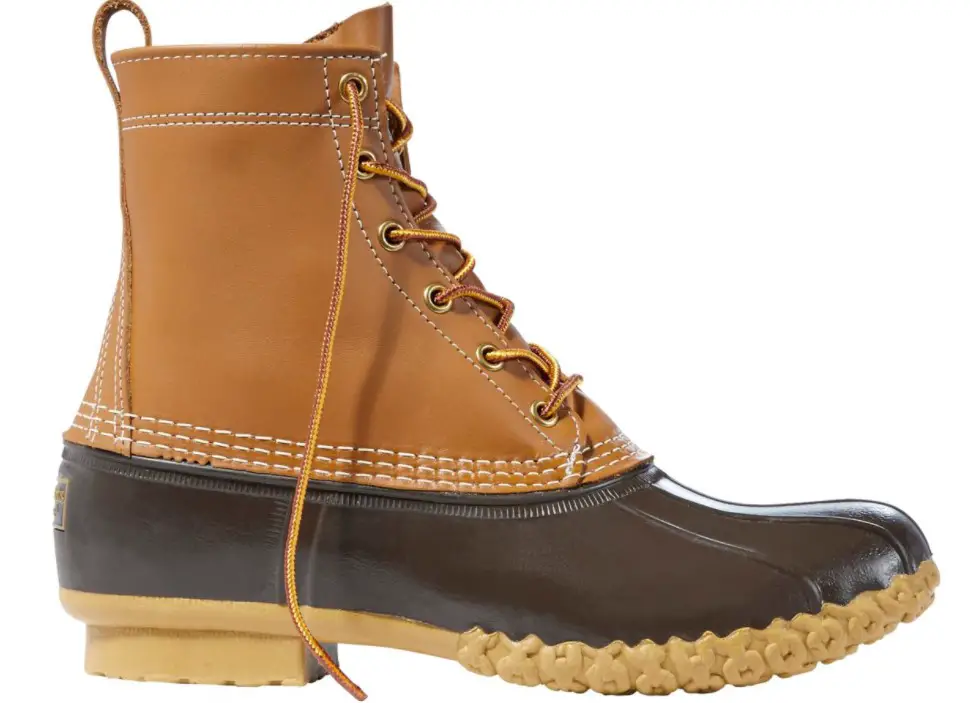 These mud work boots are the legendary Bean Boot designed by L. L. Bean in 1912 and they are still going strong today. They keep your feet dry and comfortable even in puddles and mud.
They feature waterproof protection thanks to rubber bottoms yet offer the comfort of full-grain supple premium leather on top.
The foot form is uniquely shaped to guarantee stability and support is increased with a steel shank. Sizes are available in narrow, standard, and wide.
Pros
Waterproof rubber boot bottom

Steel shank for support

Full-grain leather partial uppers

Durable leather boot laces

Comfortable

Offer stability
Cons
---
Best Insulated Mud Work Boots
4.) Muck Boot Arctic Rubber Men's Winter Mud boots
Great rain and snow mud boots, these Muck boots are constructed in a mix of synthetic neoprene and rubber. A single shell of molded rubber covers the foot totally and continues to above the ankles.
Seamless, these boots are entirely waterproof. The outsoles come with traction lugs for slippage resistance.
These boots are equipped with a contoured midsole, a fleece lining, and a thermal insole for guaranteed warmth in the coldest of locations.
Pros
Exceptionally comfortable

Very warm

Offer good breathability
Cons
Not the best alternative when operating a motor vehicle

Tread could be more durable
Check Price and Reviews on Amazon
---
Best Tall Mud Work Boots
5.) LaCrosse Meta Steel Toe Pac Met Mud Work Boot with Steel Toe
This boot is not insulated but is a fine choice in temperate climates. These are heavy-duty waterproof boots that come equipped with a steel safety toe and a metatarsal guard for optimal protection on the job.
If you work with any heavy materials, tools, or machinery while sloshing around in the mud, check these boots out.
The boots can be put on or pulled off easily thanks to a design that laces up at the boots' tops. These are quite tall boots at 16 inches for lots of leg protection.
The toes have a rubber double layer for extra protection on the job and prolong durability and the lifespan of these boots.
Pros
Steel toes

Metatarsal guards

Double layer rubber toe outside the protection

Lace-up system for a customized fit
Cons
A bit expensive

No insulation
Check Price and Reviews on Amazon
---
Best Budget Mud Work Boots
6.) Dunlop Chesapeake Boots 8677609
If you are on a limited budget but still need a pair of good mud boots, consider this option from Dunlop. These boots are inexpensive and do fine sloshing around in the mud, puddles, and muck.
Despite the price, these mud boots still come with a safety toe cap and feature a Bay-Loc outsole for increased shock absorption. The footbeds tend to be a little thin though if you prefer generous cushioning.
Pros
Made in the USA

Budget-friendly price

Lightweight
Cons
No insulation

The very thin insole may not be for everyone
Check Price and Reviews on Amazon
---
Protection to Look for
If you need to walk and work through mud, rubber boots are your best option when looking for full protection. You may find natural latex-based rubber or synthetic petroleum-based rubber, but both of these materials resist water in a big way.
The one drawback may be that they are less breathable and don't necessarily release vapor or wick away perspiration as other types of work boots will. So as your feet perspire during physical labor and movement, moisture will remain trapped inside your boots. 
Lower cut midcalf boots may be more comfortable in terms of dealing with trapped moisture, but higher boots will offer better protection from mud entering your boot.
Some boot models will have a single piece of rubber that is molded and then it's bonded to the outsole and midsole of the boot. 
In 1930 the first synthetic rubber called neoprene was developed. It resists both water and oils. Some will include a bootie made in neoprene inside the boot.
This will act as a second protective and insulating barrier. For navigating mud in the cold, it's a nice feature. Lighter versions of a mud boot can also be found by choosing a classic duck boot.
With the Outsole, It's All About Tread
One critical feature when selecting a mud boot will be the tread on the outsole. The true test of superb traction and great grip will be out in the mud, but some basics about boot tread can help you make an informed choice.
Outsoles that have tread with very deep lugs will bite the terrain more effectively but can become caked with mud and debris if lugs are not spaced far enough apart. Shorter lugs may tend to become less caked, but they also may not afford the same amount of grip.
Outsoles with lugs will always provide some traction. When selecting, much will depend on what kind of terrain, pavement, or surface you will be navigating.
The Fit
If you are ordering mud boots online, finding the proper size can be a challenge. Slip-on mud boots that are tall will usually come with extra room around the ankles.
This is to facilitate pulling boots on and off. But with all that extra space, you may also be subject to chafing and rubbing resulting in blisters.
A classic duck boot that features a traditional lace-up style may help you to avoid this risk because laces permit you to customize the fit of the boots. Of course, more time to pull them on or off will be required.
Usually, mud boots will only come in whole sizes regardless of the style, and many only offer unisex sizes that are usually based on standard men's sizes. This can create problems for those that may have more developed calves.
When looking for a good fit, it may be more productive to select a gender-specific boot and rely on the manufacturer's sizing specifications.
Usually, it is suggested that if you wear a half size, you should select the smaller size. An exception would be if you wear thick socks inside your boots.
All That We Considered
Material
Rubber wins the day, but the manufacturing procedure makes a difference. Often, the rubber may be partnered with another component and then molded over a boot form. It's known as vulcanizing. There will be very little stitching or none.
Due to the construction of a single rubber unit, these boots are waterproof and pretty durable. Though rubber tends to be somewhat inflexible and doesn't offer breathability, lining materials in the boot, become important.
Comfort
Boots need to be comfortable. If you wear boots all day long, comfort becomes a priority. Rubber boots are not ideal in hot climates, but if you work in lots of rain or snow, mud boots are ideal.
Most rubber boot manufacturers now offer cushioning and soft linings. You can check out if insulation is included for cold climates. Most rubber boots feature a variety of lining options for warmth, some degree of cushioning, and increased comfort.
Safety 
Always a major consideration when sizing up work boots. What safety features do the work boots offer? Some may feature safety toe caps, EVA midsoles, and integrate materials that are chemical resistant. For hunters, boots may be designed with camouflage colors.
Style
Style is important for many reasons. Boot height can be the determining factor when choosing. Ankle boots, tall boots, or calf-high boots are among the options, together with a choice of colors and perhaps prints. Lace-ups or pull-on can also be important depending on your work needs.
Conclusion
If you are ankle-deep in mud, you need rubber and neoprene mud boots to keep you safe and dry amid the muck.
This will be especially true if you also must deal with agricultural environments or muddy construction sites after heavy rain or snow.
These boots will come to the rescue. They are waterproof, warm, and comfortable when navigating the messiest of work sites. You shouldn't be without a pair.