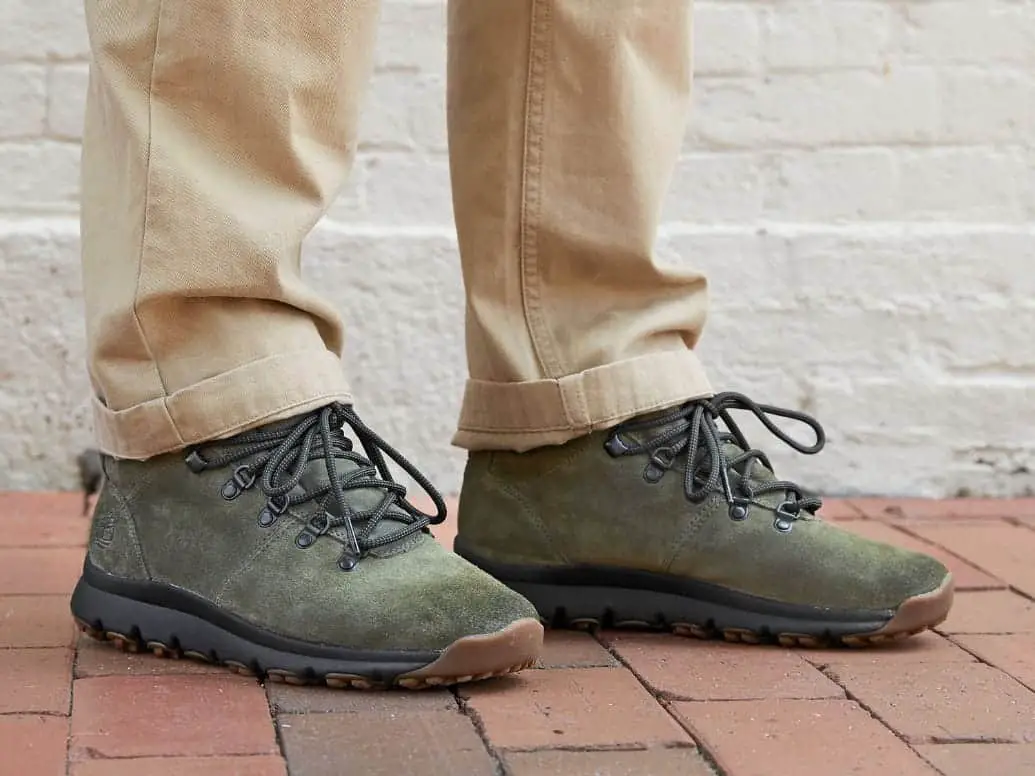 Are you one of those who like to wear the same pair of boots everywhere?
While some people want to have a different pair of shoes for every occasion, a lot many people can't afford to do the same.
And even if those people are financially stable, they prefer wearing the same boots everywhere because they are generally too tired to get used to different boots again and again.
These people have generally one question in their mind: can hiking boots be used as work boots?
Yes, you can use hiking boots as work boots. I think hiking boots are extremely versatile and in fact,  can turn out to be a  great option if you are really looking for a comfortable pair to wear at work. Hiking boots are perfect amalgamation of comfort and toughness and can sustain almost all weather conditions. These are durable, waterproof and offer great support.
However, there are some basic differences that need to be kept in mind while comparing hiking boots and work boots. In this article, I will break down these differences and will discuss the factors on which the functioning of the hiking boot depends and how they can turn out to be a blessing in a hard day's labour.
Difference between Hiking boots and Work boots
Here are few key differences between the two styles which you surely don't want to miss
Hiking Boots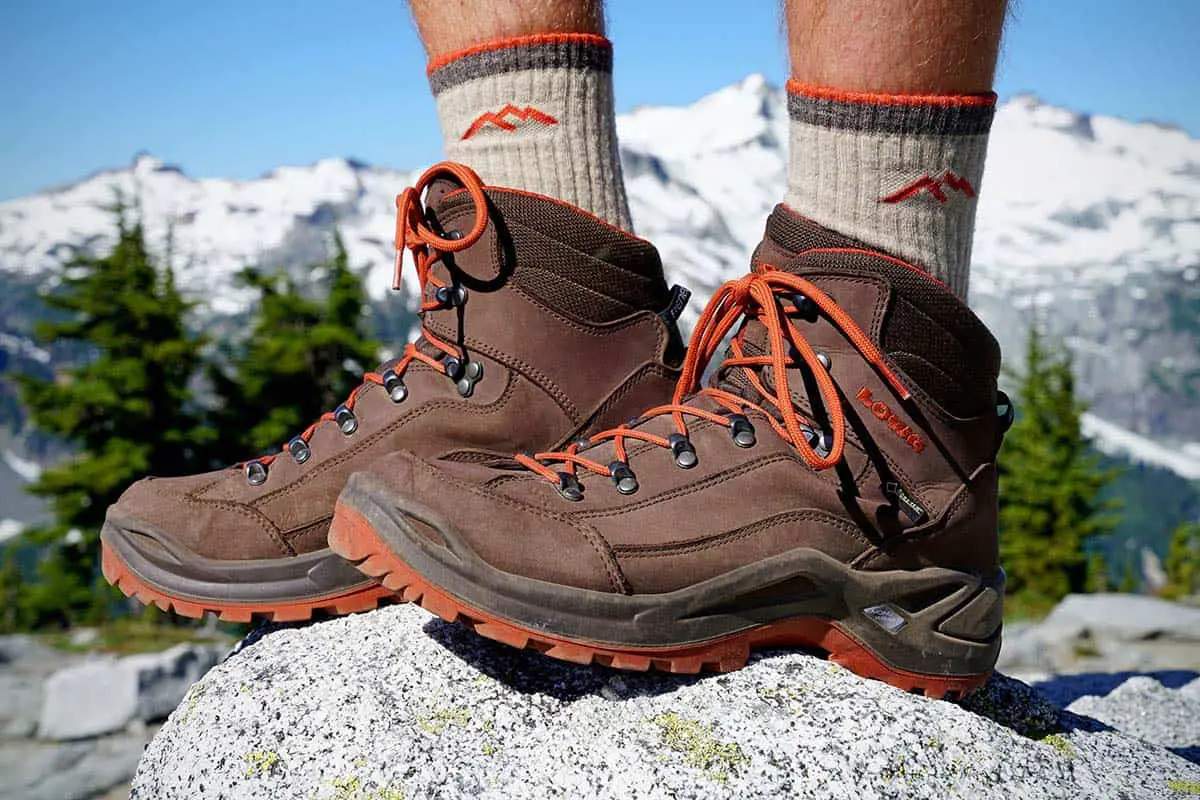 Hiking boots, as we all know are designed to conquer everything from moderate to harsh that nature throws at them.
Waterproofing is a key feature since the sole purpose of these boots is to save your feet since you will be trekking in nature. Therefore hiking boots are mostly waterproof and can face all types of water conditions.
Next comes the inner sole of hiking boots which should be of top quality in order to make the boots more comfortable for you so that you can cover distances in a blink.
I think EVA is the most common and fine option in these boots. The EVA inner sole not only molds to the shape of your feet but also ensures a different level of solace especially if you are suffering from pronation and supination.
Another important aspect that you need to focus on is the outer sole. Hiking boots that have durable lug outer sole and decent grip patterns promise to be with you a little longer than your normal work boots and saves you from slipping on slippery surfaces. In short, you don't have to worry about the things that nature throws at you.
Lastly, in order to keep your feet dry and crispy, you will need some ventilation and inner lining plays a major role in this. Gore-Tex is one of the best options which ensures that your feet remain toasty even when you drench them in water.
Work Boots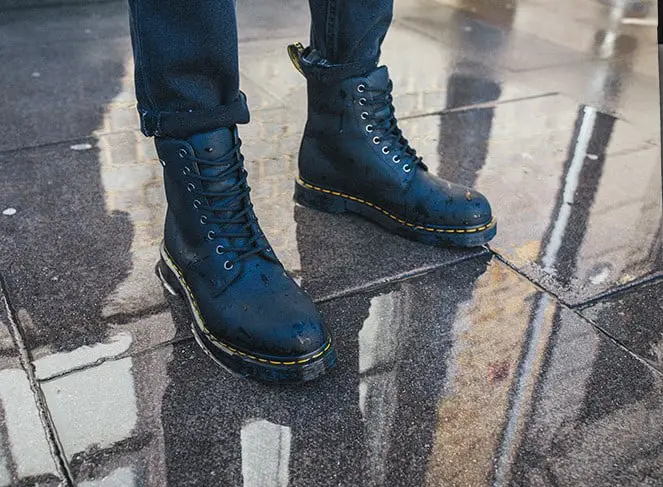 While work boots vary significantly from work to work, there are two things that are common in all which is comfort and safety in the workplace.
Since work boots are constructed for hazardous areas, you can find features like the presence of a safety toe designed from composite materials, alloys or steel depending on your needs. And this particular feature is absent in hiking boots.
The outer sole of the work boots is mostly resistant to electrical surges and hazards and are quite versatile. That is why they can be used as multiple places and for more job types giving you more value for your money.
Unlike hiking boots which are mostly waterproof, work boots are designed to be water resistant and not really waterproof which comes as an advantage in case of hiking boots.
Although boots which are designed for people working in the logger industry are somewhat waterproof but unfortunately, they don't have proper ventilation.
For your ease of understanding I have mentioned these differences according to their features.
| | | |
| --- | --- | --- |
| Features | Work Boots | Hiking Boots |
| Weight  | Due to increased hazards of a construction site, presence of steel toe often adds significant weight. | To avoid trips and abrasions, toe caps or bumper made of material like rubber are present which make the boots lightweight. |
| Flexibility  | Rigid in comparison to hiking boots. | More flexible to avoid hindrance. |
| Traction  | Rubber outsoles with deep indentations to avoid slippage. | Lug soles which includes grooves to increase stability. |
Pros and Cons of wearing Hiking boots to work
Pros 
We all know that hiking boots are exclusively designed to make your hiking experience much better but they are even great when you wear them at work. Getting confused? Well, let me help you by telling you some of the benefits of wearing hiking boots:
1.) Support and Stiffness: Hiking boots gives you just the right amount of support and stiffness you require to function well. The stiffer midsole and better ankle coverage in comparison to normal work boots allow you to carry out tough and hefty activities without hurting your feet. These are generally lightweight which makes them relatively comfortable and help avoiding sprains.
2.) Outer Soles: Almost every work demands a specific amount of tread to be present in the boots. The tread of the hiking boots permits them to form a steady grip on uneven surfaces. This way, these boots prevent slippage on slippery surfaces and accidents.
3.) Meant for watery surfaces: Since hiking boots are designed for hiking purposes where you are generally exposed to many things including water, these are generally waterproof. While your regular boots might remain wet, these boots are designed to dry quickly even when you walk through streams and mud. That is why hiking boots are suitable almost for all kinds of work that include even slightest of outdoor activity.
4.) Durability: You can't ignore the fact that hiking boots are designed keeping hiking terrains in mind. When compared to normal work boots, these last longer. While with other boots, you have to replace them after every few months, hiking boots can last for years with some proper care.
5.) Better Foot Support: Hiking boots have stiff soles and great torsional rigidity which means you have a solid platform to step on. No matter how tough the environment is, your foot is safe from getting twisted.
Cons 
1.) Poor Breathability: Hiking boots are made of thicker materials like leather that don't breathe well. Another reason that could be responsible for less breathability is the presence of high tops through which heat and moisture can't easily vent through. This not only makes your feet uncomfortable but also increases the chances of blisters.
2.) Hiking boots take time to break in: Hiking boots are designed using stiffer material that takes time to soften up. Because of this it sometimes becomes really intolerable to wear these boots at work.
3.) Your feet can get hot: Since hiking boots are less breathable, they tend to trap heat. This is bearable in cold weather but it is not so great in hot weather because it makes your feet sweat more which can increase the chances of developing blisters and other foot problems. If you are working in a hot environment then you'll have to stop periodically and let your feet dry out and cool off which is really annoying.
Do hiking boots meet OSHA footwear guidelines for work?
If you are unaware about what exactly OSHA standards then let me tell you that these standards are generally available in footwears that are protective in nature and save workers from the risk of injury from impacts, punctures or electrical hazards at the job site. These generally impact and compression resistant as certified by the American Society for Testing and Material Standards.
However, when we particularly talk about hiking boots, these boots are not OSHA approved as they do not comply with ASTM standards for protective shoe performance and testing methods. But that does not stop them from being any less protective in nature.
Although, if you are wearing hiking boots at work you should be a little more focused towards safety in comparison to your regular work boots.
Best Hiking Boots for Work
My top three choices for hiking boots are as follows
1.) Columbia Men's Newton Ridge Plus Waterproof hiking boots
 If you are looking for boots that are built to deliver the best in terms of style, performance and versatility then these Ridge plus are meant for you.
Made exclusively from fine leather, the boots feature Omni-tech waterproof technology that allows them to fight unfavorable weather and prevent it from affecting your feet.
Technically, the outsole is made of rubber which is responsive, supportive and super grippy so that you can stand firmly at the worksite.
The shaft measures approximately 5" from the arch and the heel measures approx 1.5" with the platform measuring approximately 0.50".
Not just this, the boots are infused with advanced technologies which make them lightweight. Moreover, the durable midsole promises to offer long lasting comfort, superior cushioning and high energy return. The advanced traction rubber sole allows you to have a slip free movement on rough grounds.
The boots have durable mesh tongue for breathability with waterproof full grain leather and features a lace up closure for an adjustable, secure fit.
Pros:
Rubber outsole with Omni Shield technology that provides protection from harsh conditions.

Shaft size and arch support make the boots ultra cozy to walk in.

Lightweight

Waterproof
Cons:
Boots are slightly narrower than conventional boots.
Check Price and Reviews on Amazon
---
2.) Timberland White Ledge Men's Waterproof Boot 
These multipurpose boots are one of the best-selling hiking boots in the market as these can be used for all sorts of activities. The boots have got full-grain waterproof leather uppers with seam-sealed waterproof construction and rustproof speed lace hardware with hooks at the top that promotes secure lacing ensuring a snug fit.
The boots are so comfortable that you can take a power nap in them before even taking them off! The seams of the boots are sealed tightly to prevent any untoward tears from abrasion. Although the boots are made of leather, they are surprisingly lightweight and easy to break in.
Additionally, the boot comes with padding around the upper tongue and ankle which ensures that you don't feel any kind of discomfort while working. The toe area is also sufficiently protected so that you don't end up hurting your feet upon encountering an obstacle.
Lastly, the dual density EVA insole provides adequate cushioning and is perforated in order to allow air circulation and keep your feet dry and free from odor.
Pros:
Lightweight and easy to break in

Perforated thus allowing proper circulation of air

The solid rubber outsole gives you full support and flexibility
Cons:
The sole is a bit too flexible and doesn't have stiffer construction.
Check Price and Reviews on Amazon
---
3.) Danner Men's Mountain Hiking Boot
With their sleek suede upper that is quite durable, these boots are designed to impress. The boots are made of full grain leather and waterproof suede upper which offer Danner Dry waterproof protection.
The boots are quite versatile and are reasonably flexible around the midsole so that you can work freely without tripping. The Vibram Fuga outsole with Megagrip technology promises to give you superior grip on both wet and dry surfaces.
Moreover, the boots have got Vibram SPE midsole for maximum rebound offering you adequate comfort and support. One thing that I really like is that they have got a TPU heel frame which enhances support and stability of the boots.
There is a rubberized EVA midsole that gives impressive cushioning without falling apart easily from a sudden abrasion. In addition to being hardy and waterproof, the upper is porous with moisture wicking collar which ensures easy break in period.
Pros:
100% waterproof

Keeps your feet dry and odorless

Easy break in period

Durable
Cons:
Boots are generally available in size larger than usual.

Some users feel that the boots are a bit too warm on the interior.
Check Price and Reviews on Amazon
Final thoughts
Unique feet have got special requirements. Good hiking boots need to offer a balance between being lightweight and being supportive. They must also be durable and protective.
That's what makes them a good hiking boot as well as a good work boot. Therefore, if you are not willing to buy expensive work boots, these versatile hiking boots are always a great option.