It can be frustrating when our boots are ruined because of the unpredictable rain. More than often we do not consider buying a pair that is already waterproof unless it is required for a specific job or activity. Boots are not priced cheap, so it is wise to either purchase one that comes with this feature or figure out a way to protect them from water.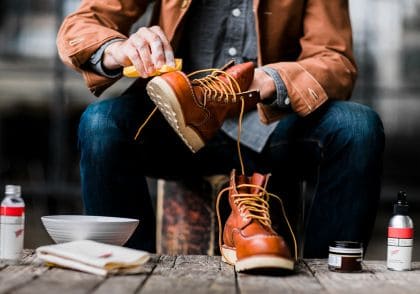 Luckily, today there are numerous ways to fix the problem of waterproofing boots, and I will be covering them in this article. 
Let us start with the different types of boots available in the market.
Boots have been in existence for centuries now, and today there are innumerable types made from different materials. Rubber and leather are the most used materials, which are further classified under various kinds. Such as, leather boots can come in suede, nubuck, top-grain, or full-grain. Similarly, rubber boots also have different kinds of rubber, and natural rubber is commonly used for boots. 
Are ALL Boots Waterproof?
If you are wondering whether all types of boots are made waterproof, the answer is NO, they are not. Every pair of boots are made to serve different purposes. Therefore, some are waterproof while some are not. 
Rubber as a material is already waterproof which is why people wear gumboots during the rainy season, or when the job entails them to. For people working in the agriculture sector rubber boots are a great pick. 
The leather on the other hand does not go well with water. Hence, leather boots when exposed to water for a prolonged period can ruin them in the long run. This is where knowing the methods of waterproofing boots come in handy. 
Why Should we Waterproof Boots?
Below I have listed out the benefits of waterproofing boots. 
1.) When your work involves dealing with liquid substances or simply put water, you will need to wear protective footwear that aids in keeping your feet dry. If you are someone who loves the outdoors such as hiking, trekking, etc., it is better to be prepared for any unforeseen situations such as getting caught in the rain. In case the route involves muddy puddles, you would rather be wearing boots that will not allow any water to penetrate through. Walking around in wet socks and feet can be very uncomfortable. 
2.) If your feet get wet due to wearing the wrong boots, there are chances of blisters and sores. This will result in a lot of pain and prevent you from indulging in the things that you enjoy doing as blisters take time to heal. Wet feet trapped in boots also tend to develop a foul smell. Wearing waterproof boots will allow your feet to remain dry which results in healthy feet.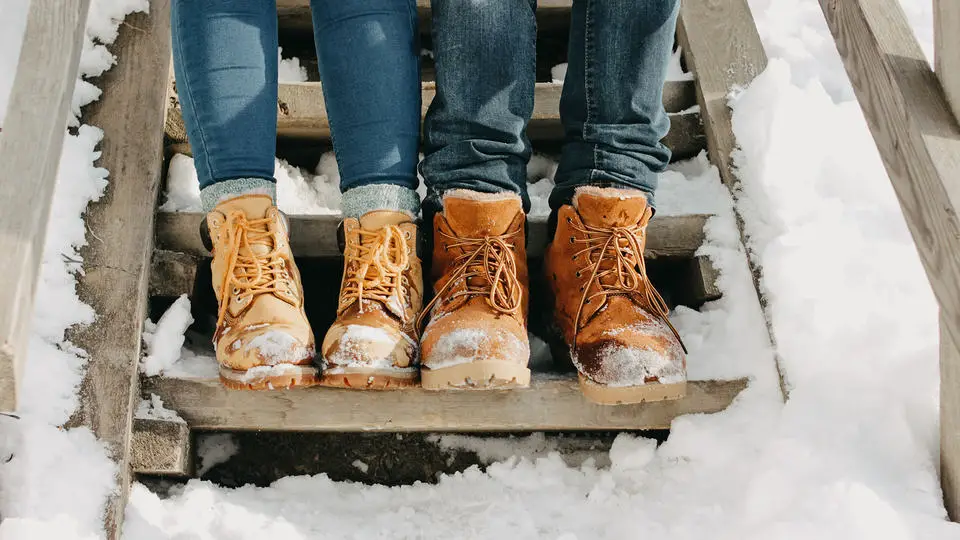 3.) Save your feet from feeling cold by wearing waterproof boots. This will help you steer clear from falling sick. Wet feet can lead to getting the temperature and other illnesses. Especially in the winters, you should be more cautious of keeping them dry as that is when you are prone to severe cases of flu.  
4.) Making boots waterproof also guard them against dirt and grimes. This aids in keeping them young and supple. Boots when exposed to water constantly will lead to drying up the material quicker, thereby wearing them out. The material can also crack over time. Treated boots will not face this issue for a long time. 
5.) It is essential to keep the shape of boots intact, which can easily be ruined when water seeps into them. Deformed boots are not a pleasant sight, thus waterproofing them will allow you to preserve its shape and increase longevity. 
How Do We Waterproof Boots?
Waterproof boots are made of materials such as rubber, neoprene, vinyl, nylon, or polyurethane, which does not allow any amount of fluid to penetrate through them keeping your feet completely dry. Even if you submerge your feet entirely in puddles, water does not pass through. 
Leather boots are more water-resistant, meaning it can repel water to a certain degree. 
As mentioned earlier some boots already come with the waterproof element, but this does not mean that they will not wear out eventually over time. It is important to treat them regularly. 
Use the following methods to keep your boots protected from water. 
If your boots are dirty, then start by first cleaning them and getting rid of all the dirt and grime. As it can hamper the waterproofing process. Use a clean brush or a clean dry cloth to clean them.
Several products can be found in the market to treat different types of material. So be sure to get the appropriate one for your boots. 
1.) Wax  
Leather boots can be treated with wax for waterproofing. Wax will be hard initially, so you must warm it first to make it more flexible. You can use a hairdryer for the same. 
Some brands include an applicator in the box which can be used for the application. If not, use a lint-free cloth, dab some wax on it, and then spread it across the boots. Do not smear the wax directly on the boots. If your boots have laces, do remember to remove them first.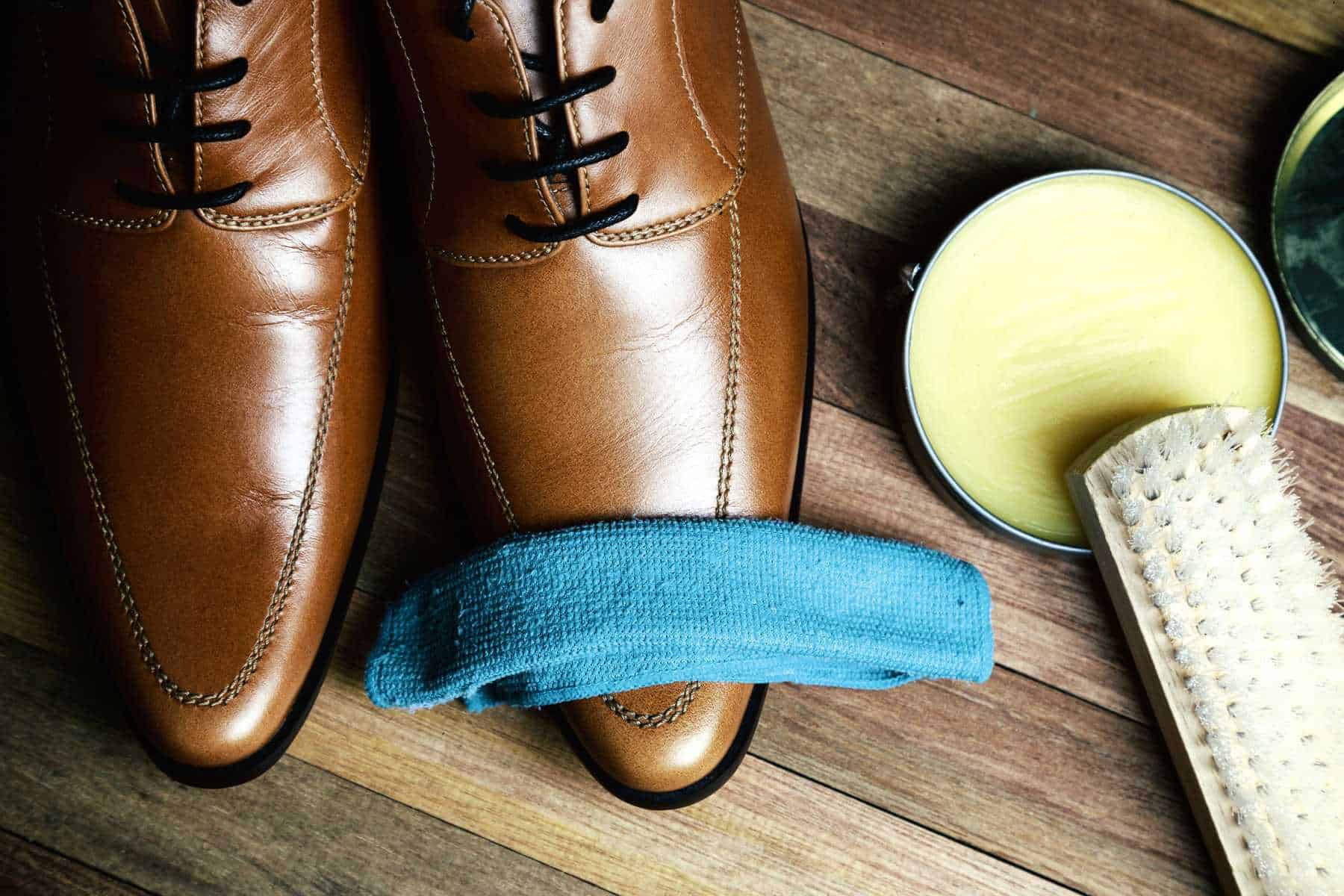 — After applying the wax, leave the boots to dry naturally for a minimum of 60 minutes. Once dried, remove the excess wax with a dry clean cloth. You can also leave them to dry overnight for better results. 
— Test the boots by sprinkling some water on them to see if the wax treatment worked. More than often one coat of wax should do the job. However, if it does not give you satisfactory results, do not hesitate to give it another coat. 
Wax can also be used on Suede boots but do read the label of the product to be certain if it is the right kind for suede.
Waxing can be a tedious option considering it involves manual work. If you are comfortable with spending the time it requires, it will be worth your time. Once waxed, the boots will remain waterproof for a good amount of time. This also depends on how often you will be using them because if you are going to be wearing them daily in wet conditions, they will need to be treated in a few weeks. 
2.) Spray 
There are also sprays available for waterproofing leather, suede, and synthetic material boots. Choose the right spray depending on the type of boots you want to treat. Sprays are a silicone treatment for boots. 
The process of spraying is like that of waxing. The boots need to be cleaned thoroughly first, and only then should you begin spraying them.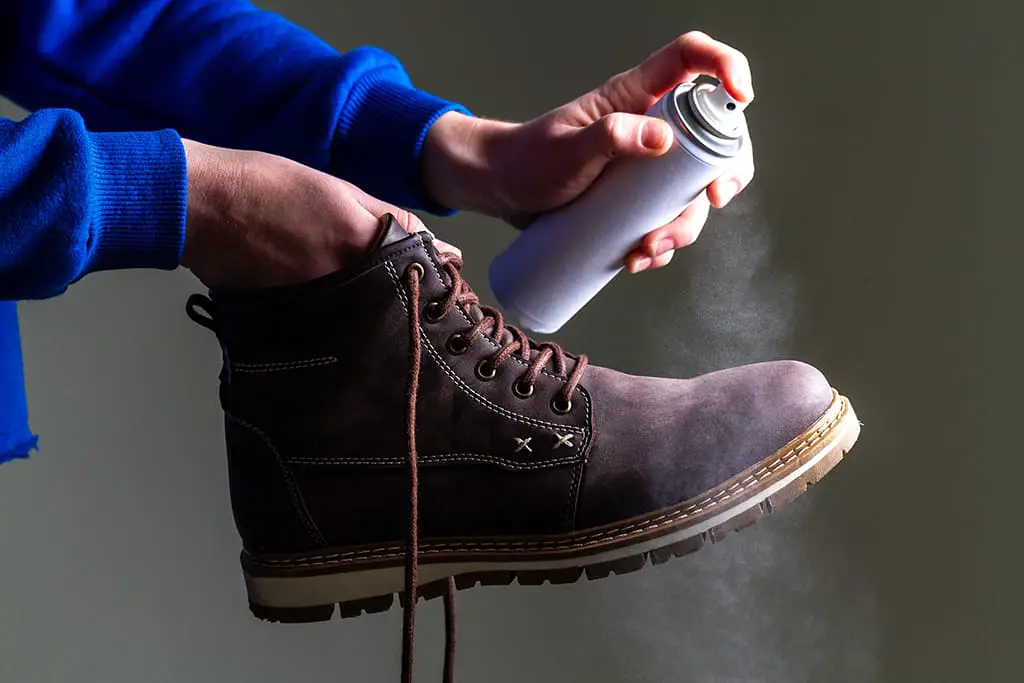 — Keep the spray bottle at least six inches away from the surface of the boots. With a spray, you do not have to use an applicator, as it can be applied directly to the material. 
— Once you are done spraying, leave the boots to dry overnight. Wipe off any excess product left behind on the boots. 
Boots once sprayed for waterproofing can last up to a couple of weeks, after which they will need to be sprayed again for continuous protection from water. It is an easier option compared to waxing as it requires less time. But an important point to note is that the effect of waxing is better. 
3.) Oils
Another way to waterproof leather boots is by using oils made specifically for this purpose. There are a ton of options available online and at stores. 
Usually, these products come with an applicator, but if not, you can use a lint-free cloth. Dab the product on it and apply it gently across the boots. Again, do not smear it directly on the boots. Make sure to get the seams of the boots as that is where water is likely to penetrate through till your feet.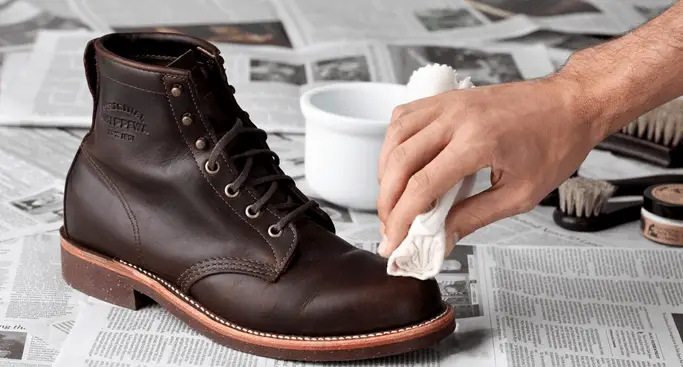 — Point to note when using oils is that they can darken the color of boots. Therefore, it is advisable to apply some on an unnoticeable area initially before you apply it all over the boots. 
— Like using any other product, you need to let the boots dry naturally for a couple of hours or overnight. Do not use shortcuts to speed up drying them. 
Another advantage of oils is its ability to keep boots younger for a longer period. They aid in refurbishing boots once they start to look worn out, crack, and dry up. Check our article on the recommended oils for boots.
4.) Creams and pastes
Waterproofing products also come in the form of creams and pastes. Both of which have proven to be a popular method among users. 
— The steps to apply them remain the same as the other products, which is to use a lint-free cloth to apply it on the boots. Should not use it directly on the material. 
— The boots need to be dried naturally after being treated, and the excess cream or paste should be wiped off using another clean cloth. 
These products also aid in making the material flexible. 
Which is the Best Method for Waterproofing Boots?
We analyzed which of the above methods is the best when treating boots to make them waterproof. 
Rank
Product
Advantages

1

Oils

It helps rehabilitate old leather

Preserves the material

Minimizes break-in period of new boots

Made from a range of ingredients

Number of brands make them

Waterproofing lasts long

Easily available 

2

Wax

Keeps boots waterproofed for a long duration

Works on suedes as well

Various brands available in the market

Helps preserve the material to an extent

Easily available

3

Creams/pastes

Most products use all-natural ingredients

Aids in making the material flexible

Tried and tested for several years

Great for leather

Easily available

4

Spray

Easy to use

Less time consuming

Do not need an applicator or cloth to apply

Waterproofs the boots

Available in various forms for synthetic materials as well

Easily available
The above ranking is solely based on my personal experience after trying each product. 
What you should not do during the waterproof treatment?
While waterproofing boots is not a complicated task, it is important to note a few don'ts when doing this on your own.
1.) Most of the products can be harmful to the skin, hence, you should consider wearing protective gloves before starting the process of waterproofing. Similarly, inhaling the ones with strong chemicals can be injurious to your health, wear a mask to avoid this. In a case where you come in direct contact with the product, start by washing off that area and then consult a doctor if there is any irritation. 
2.) Never try to speed up the drying process by using unnatural means such as a hairdryer. This can lead to causing cracks and even drying up the boot material. Leave the boots to dry, preferably overnight, in a cool section of the house. Letting them dry under a fan is not harmful either.
3.) Make sure there is enough ventilation in the room where you have left the boots to dry. Keeping them in a completely closed room can result in damaging them with moisture. They need to breathe while undergoing treatment. 
4.) Always treat your boots with these products outside the house. Doing it in an open area will keep you away from harm's reach. 
Wrapping up
The basic idea is to follow the instructions mentioned in the label of the product you purchase. Steps to apply them will always be the same, but you need to make sure that they are suitable for the type of boots you want to waterproof. Treating boots when brand new is a great idea, as it does not harm them but only increases the shelf life. You can use any of the above methods to treat your boots based on your budget. Good luck!