The term firefighting applies to 3 types of firefighting jobs, viz. the local fire stations, the urban firefighting and the wild firefighting.
Now, in situations like for the local fire stations or for the non-fire calls you don't necessarily need any type of toe protection because the severity of injury here is less.
In urban firefighting or for firefighting in the wild, you will definitely need boots with safety toe protection because there remain the chances of your feet getting pierced by sharp objects while you are firefighting.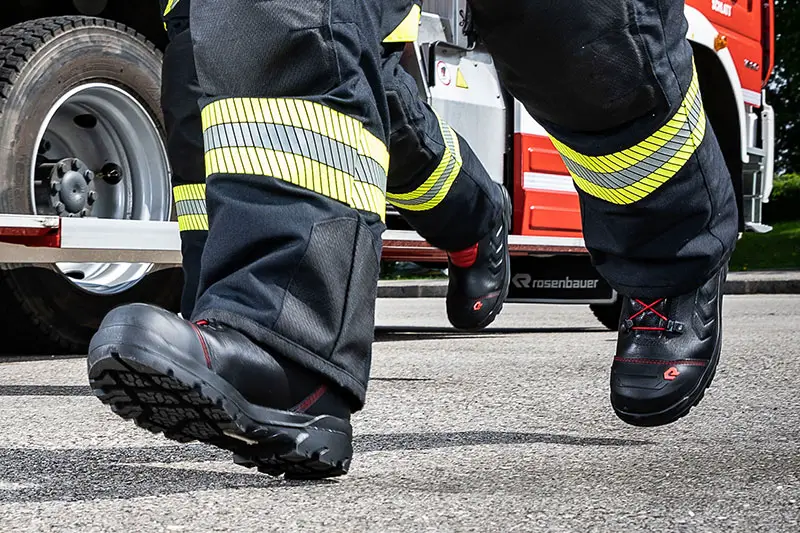 But safety toe does not only mean steel toe caps, rather steel toe caps will have the tendency to get hot during a fire encounter and there the best option for safety toe caps in firefighting is the composite toe capped boots.
Firefighting boots are not only meant for toe protection, but much more than that like arch support, flame resistant material, tall boots that cover the calf area and much more…
This article will help you know all the essential features that must be present in a firefighting boot according to the NFPA standards!
So, let's find out…
Do firefighters have to wear steel toe boots?
In general, being a firefighter would not require from you wearing a steel toe boot because the most hazardous element you need protection from is fire and not sharp objects but, the place or the condition where you will wear your firefighting boots will decide whether you need toe protection in them or not:
1.) Firefighting boots for station or for non-fire calls:
If you are working at local fire stations, you would not necessarily be required to wear boots with safety toes and puncture resistant insoles.
2.) Firefighting boots for urban firefighting:
These boots are called bunker boots or turn-out boots. This type of firefighting boots will definitely require a toe protection either in the form of steel toe or composite toe caps and puncture resistant insoles and outsoles. These boots are generally made of rubber or leather.
3.) Firefighting boots for rough terrain:
These boots are supposed to provide you with great traction and therefore, should possess the qualities of a good hiking boot like re-sole-able outsoles durability, flexibility, arch support and comfort.
Therefore, you see only in case of urban firefighting you need boots with safety toe protection but that too not necessarily steel toe because while facing the fire, the steel material of the safety toe can turn considerably hot and cause burns in your feet.
What is the requirement for firefighting boots?/NFPA requirements for firefighting boots:
The requirement for firefighting boots is set by the NFPA (The National Fire Protection Association) Standards. The municipal as well as the wild land fire departments require wearing fire boots that meets the criteria set by the NFPA. 
As per the NFPA regulations, the firefighting boots must meet the following criteria:
1.) The boot exterior must be made of good quality leather
2.) The firefighting boots must be laced and therefore, wellington boots and pull-on boots do not meet this criterion
3.) The firefighting boots must measure 8 inches in height starting from the bottom the heel to the opening of the calf
4.) The firefighting boots must have heat resistant or melt resistant outsoles which are usually Vibram outsoles
What should you look for in a firefighting boot?
In the above section, we have learnt about the NFPA Standards regarding the firefighting boots, but apart from those safety features, there are other comfort features as well that must be present in your firefighting boots. Let's have a look at them:
1.) If you are planning to wear your firefighting boots in the wild or even for emergency situations like for reaching the top floors of buildings you need to climb the stairs you need boots that have outsoles made of great traction, for example, the boots with lug sole design and Vibram soles will offer the best traction
2.) A firefighting boot should be slip resistant because slipping or tripping into fire can prove to be hazardous
3.) Firefighting boots should provide utmost arch support for stability while climbing uneven terrain or even ladders
4.) The firefighting boots should also provide heel support for firm footing and maintaining proper balance
5.) The boots must be ankle height to save from ankle twists while climbing ladders or buildings
6.) The firefighting boots must NOT be made of any synthetic material including the stitching of the boots because synthetic material tend to catch fire easily
7.) The firefighting boots should be comfortable enough with space for your feet to breathe and a cushioned footbed
What do firefighters wear on their feet?
The firefighters must wear thick rubber soled boots that are resistant to heat and the upper leather material of the boot must be coated with a fire protection film depending on the severity of the place where you are heading for the firefighting task you might need an additional toe protection in case there are chances of getting injuries from sharp objects.
Do fire boots expire?
According to the NFPA regulations, any PPE used for firefighting including the boots must be replaced after 10 years of usage.
However, the life cycle of your boots will also depend on the exposure to harsh conditions, regularity of wear, and their maintenance.
What are firefighter boots called?
The firefighting boot falls under the PPE used by firefighters and in that context, not only the boots but also the trousers, jackets, helmets, etc. all fall under the category of fire kit or turnout gear and are called bunker gear.
The term bunker gear is derived from the fact that the essential PPE for firefighters were traditionally kept at a bunk at the fire station so that they could be readily accessible during emergencies.
And it's a wrap!
So, here we have come to the end of this article!
In a nutshell we can conclude that it is not the toe protection but the flame-resistance capacity, arch and heel support, height of the boot and the anti-slip thick lugged outsoles are the most crucial features of a firefighting boot!
Hope you enjoyed reading this post!
Will be back soon with yet another exciting article…
Till then…
Stay safe and healthy and keep exploring workgearz!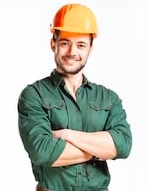 I have 12+ years of experience in construction, inspections, handy work, and currently working as a Construction Site Manager. In today's day we spent a significant part of our time at workplace and a right work gear can have significant impact not only on your safety but also work quality.