There is an end number of work boots that are available for every type of work that there is in the world.
In some jobs, you will need boots where the main focus is on the level of comfort, while there are jobs where the protective features are more important than the comfort. Either way, it is necessary for you to know which type of work boot will be best for your workplace.
You have all come across the 8-inch boots but have you ever wondered whether they are comfortable or give the same level of comfort as the 6-inch boots.
To tell you the truth, 8-inch boots are not as comfortable when compared to 6-inch boots. The reason being, 8-inch boots are designed to have taller shafts that are known to provide more protection to your feet. However, you do have a range of options for 8-inch boots today in the market that comes loaded with features to increase the level of comfort.
As you read on further, you will come across everything you need to know about an 8-inch boot that will come in handy the next time you need to buy a pair.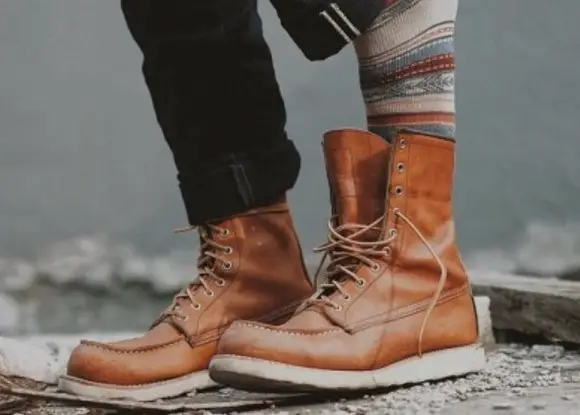 What are the advantages of an 8-inch boot?
The 8-inch boots are ideal for certain specific types of work, which we will get into more in detail later on in the article. For now, let me explain its most useful functions for a wearer or its advantages.
 1.) They have taller shafts, therefore, provide greater protection or in other others additional protection to your feet and ankle.
Since it covers more of your leg, creepy crawlies cannot enter the boot and trouble you through the day when walking in bushy areas. Hence, it is the perfect option for hikers who have to be outdoors all day.
 2.) These boots come with very dependable slip-resistant outsoles which give you the perfect amount of traction when you are walking on slippery surfaces.
3.) The boots give you extra support, which is very beneficial for people who have more challenging jobs.
4.) These boots are made from extremely high-end materials, therefore, provide excellent durability. So you need not worry about having to part ways with them too soon. You can depend on them to last you for years to come.
5.) They are the ideal choice for work as security guards, military people, police officers, hikers, construction workers, and loggers too.
6.) These boots come with the waterproof feature as they are mainly meant for outdoors so you do not have to worry about water seeping through them.
What are the disadvantages of an 8-inch boot?
Even though 8 inch boots are great for a few workers, they can also be menacing when worn for the wrong type of work.
1.) Such boots are not as flexible as you would want them to be due to their taller shafts.
2.) Construction workers can wear them, however, they are not the best choice for those employees who have to do a lot of climbing and bending as they can be restrictive with the freedom of movement.
3.) Your feet may sweat more due to less air passing through these boots, but you can always look for 8-inch boots that come with better ventilation features. They are warmer compared to shorter boots.
4.) These types of boots are slightly difficult to put on, so you should go for the ones that come with side zippers.
5.) They are not as comfortable as shorter boots due to their taller shafts.
6.) The inner collar of an 8-inch boot may cause certain problems of painful abrasions, which should be considered when planning to buy one.
Important features of 8-inch boots
To help you pick the right pair of boots for yourself, I have mentioned the few important features that you should look for in an 8-inch boot.
1.) The boots should be made from materials that are breathable. If not, then there should be vent holes close to your feet' arches.
2.) The insoles or footbed should be cushioned for additional comfort and support.
3.) Based on the kind of job you do, your work boots should have either metallic or non-metallic shanks.
4.) The boots should have liners that can wick away moisture so your feet are comfortable throughout the day.
5.) The outsoles of the boots should be resistant to oil, slip-resistant, and also puncture-resistant.
6.) For additional support you should go for boots that have phylon midsoles which are durable too.
7.) The heel of the boot should be semi-rigid and the toe area must be reinforced.
8.) These boots are not the easiest to wear, hence, go for the ones that have size zippers.
9.) There should be proper insulation in the boots to keep you warm when needed.
10.) Such boots are always made to be waterproof as they are mainly worn outdoors.
Are 8-inch boots better than 6-inch boots?
Many people have asked me this question where they want to know whether it is better to buy the 8 inches or the 6-inch boot. To be honest, there is no right answer to this as it all boils down to the kind of job you do.
For people who work at workplaces where the risk of injuring one's foot is moderate like construction sites where a basic level of protection will suffice, 6-inch boots are perfect. They have shorter shafts and therefore are more comfortable along with being protective due to their safety toe caps.
Then there are people who work at places with a higher risk of injuring one's foot. Such as asphalt workers, linemen, loggers, etc., are riskier compared to a construction job.
In such a case a pair of 8-inch boots are ideal. They are not as comfortable as the 6-inch boots but provide you with more protection than them because of their taller shafts and various other features.
Who should wear the 8-inch boots?
Now that we have covered all the important aspects of an 8-inch boot, you should know which type of work or profession does it suit you the best.
1.) These boots are meant for people who work outdoors or generally love being outside chasing adventures every day. Therefore, they are a great fit for hikers. Especially if you have to go through thick vegetation or bushy terrains. Such boots will give you the protection you need.
2.) You will often find loggers being drawn to these kinds of boots because they mostly work in the forests or jungles where thick bushes, thorns, insects, etc., are inevitable.
3.) As a construction worker who doesn't have too much climbing and bending to do regularly, the 8-inch work boot will serve you quite well.
4.) For people who work as police personnel, security guard, and military personnel, 8-inch boots are perfect.
Wrapping up
Choosing the right pair of boots is one of the most vital things to do when working in high-risk environments. With our detailed discussion on 8-inch boots in this article, you should be able to pick your boots correctly.
Knowing about the detailed features of any type of boot matters a great deal before investing your hard-earned money on a pair, as such boots don't come cheap.
Hence, do your research thoroughly prior to finalizing one, and if you are still uncertain or confused, then ask your questions to the salesman or saleswoman without any hesitation.