It's a bright Monday morning and you are all set to go to work and suddenly notice that your leather work boots are all cracked and faded.
Needless to say, you feel upset and start bashing yourself for investing in an expensive pair. So, what's the lesson here? You need to take care of your precious leather boots!
It's recommended you start taking care of your leather boots since the new purchase by cleaning, conditioning and waterproofing the new pair.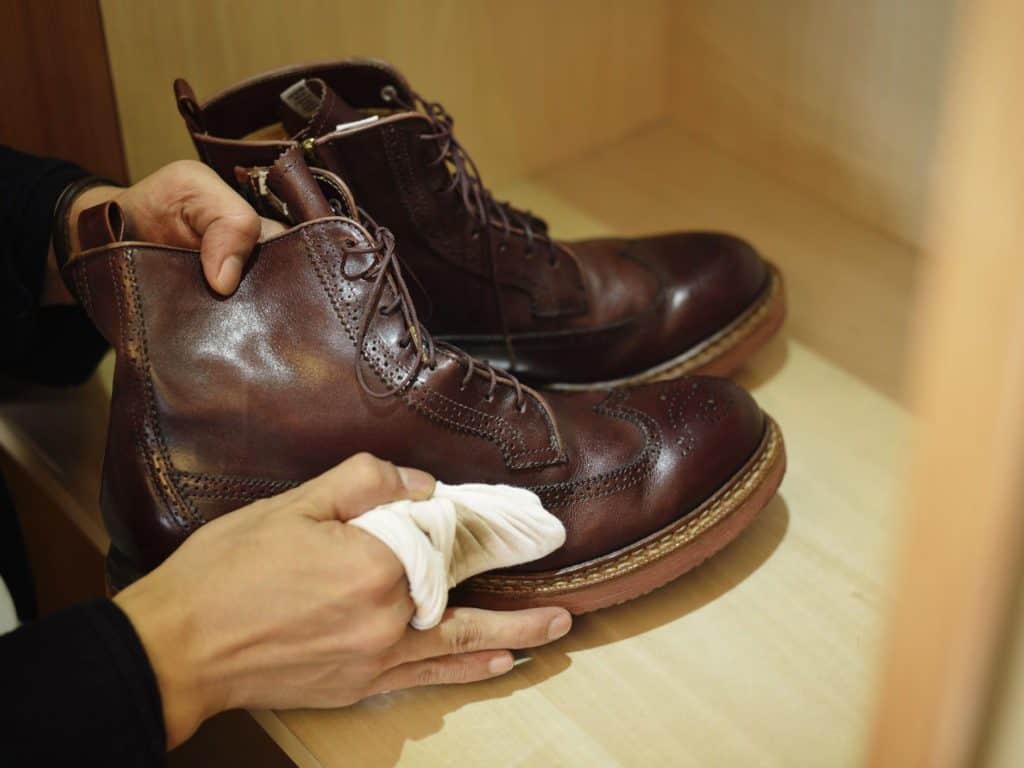 With just a little extra care you can increase the lifespan of your boots almost by a year!
Not sure how to proceed with these steps? Don't worry, read the article till the end and educate yourself to take proper care of your leather boots.
How to Take Care of New pair of Leather Work Boots
Looking after a pair of new leather boots is not the same as old. In fact, there are two important steps to be performed right after you purchase your boots. What are they? Let's have a look!
1.) Breaking in the pair
Before wearing your brand new leather boots directly to your workplace try wearing them around the house for several days or even up to a week.
Always remember that some boots take longer to break in than others so make sure to keep your boots on at least for a couple of hours.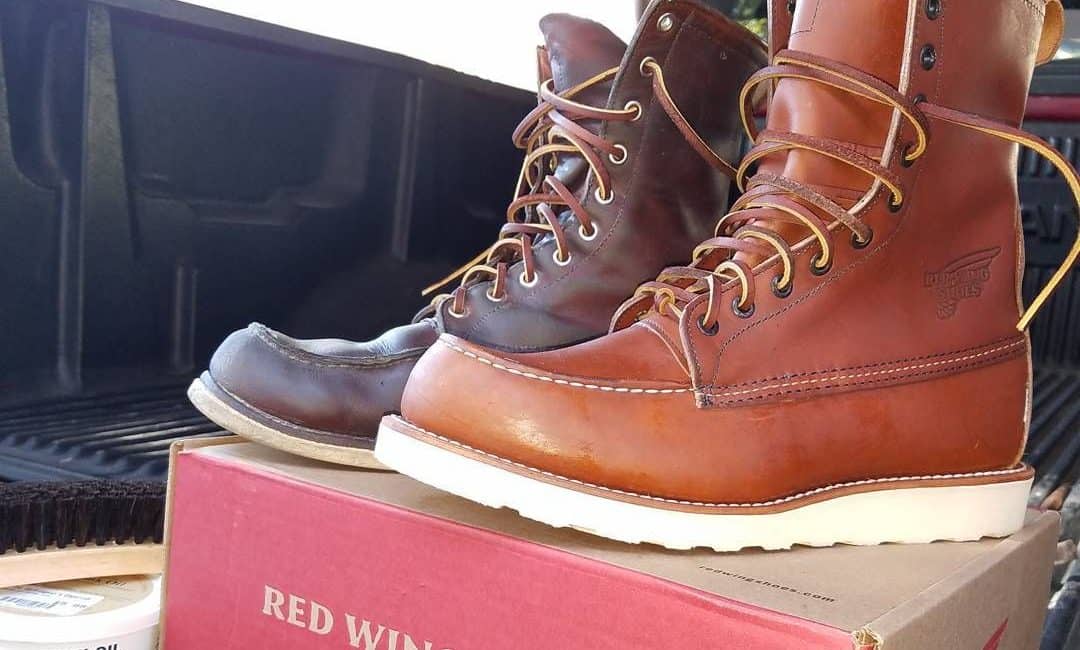 Wearing your brand new leather work boots directly to work can result in blisters and sore spots on your feet and ultimately hinder your performance.
Therefore, make sure that both your feet and your boots are habitual of each other. And yes, it is also recommended to use a conditioner during breaks in period for smooth functioning and fewer troubles.
2.) Cleaning the new pair
Your fresh boots are pristine but still, I would suggest you to spend some time removing the loose dust that might be holding on to the nooks and crevices.
All you need to do is just whisk the pair using a nylon brush and a water-based cleaning agent until the seams are cleaned and all the dirt has been removed.
3.) Making your new pair waterproof
Waterproofing your leather boots is essential to enhance their longevity. This can be done by following easy steps.
Wet your boots and apply waterproofing agents to them to ensure equal penetration with no white streak or spot.

The next step is to wipe off the excess agent after 3-5 minutes and let them dry naturally.

Finally, just brush the pair gently to restore its original color.
And yes, don't forget to stuff the newspaper in your boots while they are drying to prevent accidental shrinkage.
How to Take Care of your Old pair of Leather Work Boots?
How comfortable are your old pair of leather boots? Aren't they? And you sure want to last them a little longer. Well, when it comes to older boots, cleaning off the build-up dirt and wax from continuous usage is necessary.
Begin it by removing the laces and washing them separately with soap and water until caked-in mud, soil and stones fall off.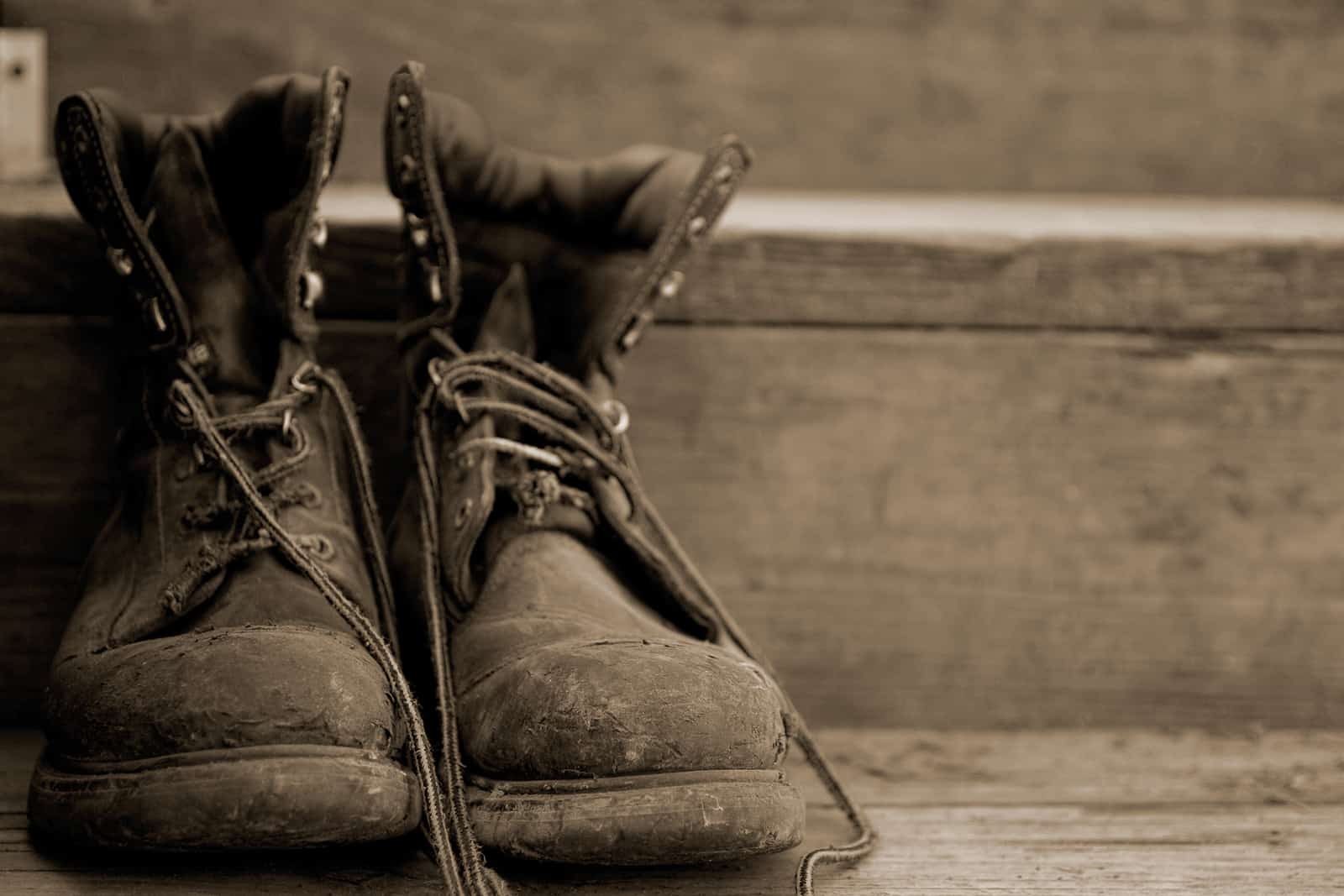 There are various cleaning gels available in the market that come in aerosol cans to clean the boots as well. Just spray the gel on the boots and let them sit like this for an hour and after this step just rub the surface with a soft cloth rag and you are done!
If you don't trust the spray cans then you can make your own cleaning solution by mixing equal amounts of water and vinegar. You can also use all-purpose saddle soap to make your boots shine.
Conditioning the Boots
Dirt is always not a setback for your leather work boots. Most of the time, the fibrous interweave of your pair shows cracks because of the loss of moisture.
Sadly, once this happens there is no solution to it. Hence try protecting them by keeping the leather supple and resistant to moisture and of course, well-conditioned.
What are the Materials for Conditioning?
Piece of old cloth for boots

Small applicator brush
Steps to be Followed while Conditioning
Take one dry rag and give your boots a quick run-down to remove any dirt particles in the boots.

Take the applicator brush and with the help of this apply the conditioner or balm at a small spot to check the effectiveness of the product.

Once you are satisfied, start applying the conditioner in circular motions covering all the creases.

In case your boots are too dry, repeat the same process 2 to 3 times and let them dry for 20 minutes.

After 12 hours rub them with a dry rag and we are settled.
I'd suggest you to hydrate your boots once every month for better results.
Waterproof the Leather Boots
Waterproofing is done after all the above prep is done. The water-based hermetic agents are mostly sold in the tin or plastic containers and even in spray cans.
Although, most of the leather boots are water-repellent but if you insist on taking extra measures then just apply a wax-based polish after conditioning.
Even after taking all the measures your boots become wet then let them just air dry at the room temperature.
Why Should Take Care of Leather Boots?
A solid pair of work boots are hard to find and the difficulty level increases when you are searching for the leather ones. No doubt these are as tough as your job and work well even with all the wear and tear you put on them.
And that is why it becomes your duty to take extra care of your leather work boots so that they can help you in being productive at your workstation. Poor boot maintenance and excessive oiling are two common factors that result in rupture, stain, wrap etc.
Final thoughts
Leather boots are not cheap and cheap boots are not of leather. And just like you, your boots also have to strive hard while slogging through mud, water, snow, salt or rocks.
Once you treat your boots like a baby by keeping them in good condition they will not only give you comfort but will also serve you for much longer. So try keeping your leather work boots in top shape as long as you can. Till then, walk tall, work safe!