Not all boots are meant for every outfit or vice versa.
Like you cannot wear a casual boot with a formal outfit or a business boot with a casual outfit.
When it comes to choosing the right outfit for your logger boots, we are all confused about what areas of the outfit should be focused on!
Whether it's the waist, or the seams, or its the color!
Actually it's none of the above but the ankle width!
But, focussing on the ankle width solely too won't do the job.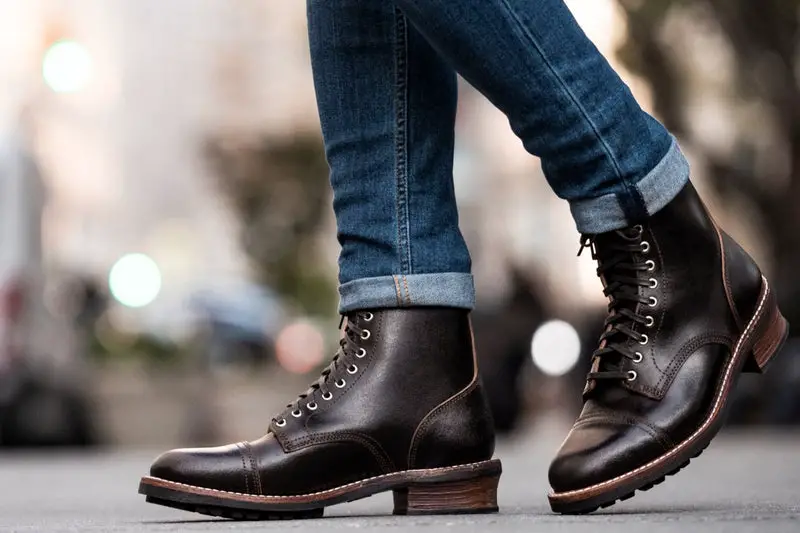 Logger boots would look the best when exposed to its full length, meaning the jeans should not hang over the boots, but must either be tucked in the boots or should just above the boots as it is and for that you need to wear slim fit or casual fit jeans with these boots.
Wide legged pants or relaxed fit won't look good with your logger boots. For top wear, you can either go with hoodies or jackets with logger boots.
Let's now learn in detail about what to wear and what not to wear with your logger boots and how to decide the perfect pair of jeans for your boots!
How to Select the Ankle Width of Jeans for Your Logger Boots?
The average ankle width of boots run from 14 inches for the normal fit, for slim fit it might be 12 inches and for wide legged jeans it might be 16 inches or above.
But, wait…
What's the Perfect Width for You???
For this you need your old pairs of jeans and select the one that you find perfect for your boots.
Now what you need to do is…
Take a measuring tape and measure the ankle width of the jeans. Suppose it's 8 inches, then multiply it by 2 and that comes 16. So, the total width of the ankle of your jeans is 16 inches!
So, the number one rule to follow is that your boot opening and the ankle width of the jeans should match. In other words, the boot opening should not be either oversized or undersized as compared to the ankle width of your jeans.
What to Wear with Logger Boots?
Boots made with heavy leather will go with jeans that have normal or regular fit and made with a heavy material.
For skinny fit jeans that are thin, boots made with suede would suit the best.
If the boots are ankle length, then it's better to fold your jeans so that the entire boot can be seen.
For boots with calf length, you should always wear skinny fit jeans by tucking the jeans inside the boots.
A pair of hoodies really goes very well with a pair of logger boots.
Another eye-catching look like the one inspired by Kanye West, is a puffer jacket with logger boots.
While choosing the color of the outfit with your logger boots, you can wear a all black outfit with your black logger boots or a brown leather logger boot will go with any light colored outfit like the whites or the denims or any light shade of any color.
What Not to Wear With Logger Boots?
Of course you cannot wear your loggers to a business meet!
That would look out of the box and turn every one's attention towards you on a negative note!
Which clearly means you cannot wear your logger boots with suits.
Likewise wearing logger boots with formal pants isn't a match either.
Also, wearing a formal shirt with a closed collar is not a good idea either.
Logger boots do not go well with sweaters as well.
See also: Do American Eagle Jeans Have a Lifetime Warranty?
Types of Jeans to Wear with Logger Boots:
Following are the criteria to choose the best pair of jeans for your logger boots:
1.) Material of the Jeans:
Logger boots are heavy-duty work boots, so anything lightweight or cottony won't look good with them. So, go for heavy materials like denim or leather for pairing pants with them.
2.) Rise of the Jeans:
Actually the rise of the jeans does not matter with the boots you are wearing. Still go for mid-rise jeans just to be on the safer side.
3.) Color of the Jeans:
Black and brown leather logger boots would look good with any colored jeans. Anything in a dark palette or the denim color goes well. 
4.) Ankle Width of the Jeans:
As I have mentioned earlier, the ankle width and the boot opening diameter should match. That is logger boots are to show off.
So in no way the jeans or the pants should hang over the boots and hide them. You can either tuck your jeans or pin roll them or fold them in cuffs.
5.) Fit of the Jeans:
The best choice for logger boots are the slim-fit jeans as they give a very clean look with these boots and also as they can be tucked in easily.
And it's a Wrap!
It's up to you how you decide to style your logger boots because I believe styling is personal choice and one should make one's own style statement.
But if you want to play safe, you cannot go wrong with brown leather logger boots with slim fit denim and a leather jacket!
That's all folks for today's post. Taking leave for today with a hope to meet ASAP in the next one.
Till then take care and have a great day ahead!!!