Very few items today come with a lifetime warranty, so it may seem incredible that a pair of jeans comes with one.
Yet, this is the case for American Eagle Jeans because they do indeed come with a warranty against manufacturers' defects, but not against normal wear and tear.
The American Eagle Brand
Established in 1977, American Eagle or American Eagle Outfitters, Inc. is the brainchild of two brothers, Jerry and Mark Silverman.
This brand is a subsidiary of a company owned and managed by Silverman's Menswear. The company began with a single store located smack in the Midwest, in Novi, Michigan.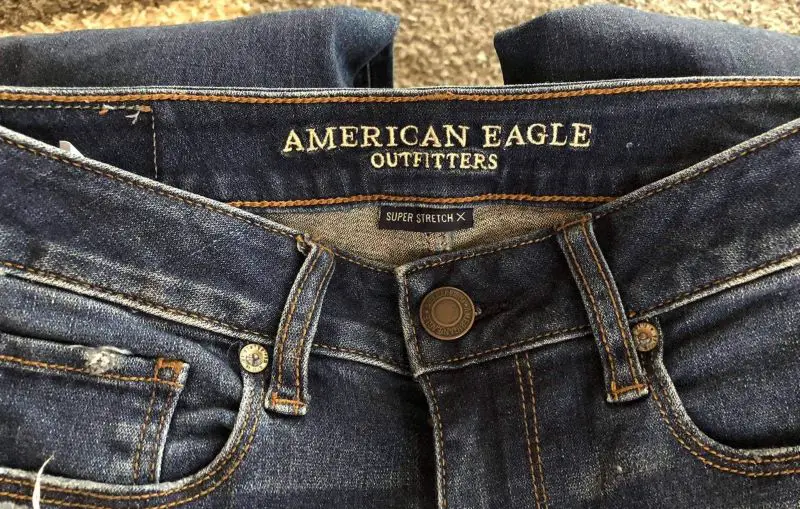 When Silverman's Menswear ran into difficulty, the brothers sold half of the company to the Schottenstein store owners. It changed names and became known as Retail Ventures, Inc. 
In 1989, the remaining shares of American Eagle were sold by the Silvermans. The Shottensteins revamped the brand in 1992 and in 1993, the American Eagle brand was incorporated. The American Eagle Brand is also the parent company of Aerie.
The company was founded with the idea of selling casual clothing and sportswear with numerous retail stores situated in malls and an active mail-order retail business.
While in recent years net revenue of the company has been in the billions, this is due to their focus on top-quality denim with an impressive array of expansion into a comprehensive lifestyle clothing brand.
The company's target retail market is young people between the ages of 15 and 25, although folks of all ages buy their clothing.
Today the company boasts corporate offices located around the globe.
So, I Can Return My American Eagle Jeans?
If the jeans are new and the original sales tags are in place, they can be returned for a refund or store credit.
What If My Jeans Are Not New? Can I Still Return Them?
American Eagle Jeans can be returned to a company location if they are torn or ripped, and the company may exchange them for a new pair of jeans.
This is because the company guarantees the quality of its product. You can even ask to receive a refund if you feel you are unhappy with the quality of the jeans.
Will American Eagle Take Old Jeans Even if They Are Not Torn?
Yes, this company may take them and exchange your old jeans and offer you a discount to apply to the purchase of a brand new pair of jeans.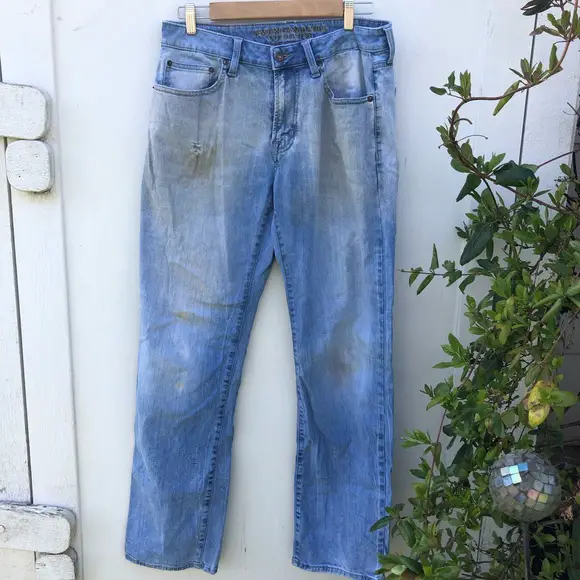 Stores are able to assist with returns/exchanges on items that are experiencing manufacturer defects, or recently received/purchased items that meet return policy standards. 
Stores are able to deny returns that they feel do not meet standards, which includes items that were not purchased recently, may no longer fit, or are experiencing normal wear and tear. 
What If I No Longer Have a Purchase Receipt for My Jeans?
American Eagle Jeans does not make having a receipt mandatory if you want to return jeans. They will still be able to accept a return if you remember the purchase details. If you do not remember purchase details, just bring along your ID and they will still provide a solution.
When returning a pair of jeans with the original receipt or invoice, or if you have an email order or order confirmation, a refund will be issued in the same way that the purchase was made Email purchase confirmations and order histories are considered valid receipts.
If you do not have proof of purchase, American Eagle jeans will allow you to exchange the item or provide you with a store credit. The company also refunds the difference if you were charged more than the advertised price of the clothing. Shipping costs are not refundable.
Online orders can be exchanged or refunded at stores. Jeans purchased on sale or as part of a clearance sale can be refunded at the price paid. There are no time limits for refunds or exchanges.
How Long Do American Eagle Jeans Usually Last?
These jeans are known for their quality and durability because they are manufactured using only the highest quality materials and hardware. Even so, if you want a new pair, the company allows you to replace worn jeans with a new pair.
Are American Eagle Jeans More Expensive?
Thanks to a loyal customer base, smart branding methods, and trendsetting, American Eagle has survived the pandemic and the economic ups and downs that spelled the end of many retail brands.
American Eagle is not only about jeans and herein lies a substantial part of their success. The company not only focuses on social activism but on inclusivity.
Jeans are well made from quality materials and support all backgrounds and body types. Due to this their customer base is fiercely loyal and this increases demand for their clothing products. With constant demand, prices increase.
While there are many jeans, especially from fashion brands that cost considerably more, these jeans are not cheap. So, are they worth the price?
If you listen to their customers, the answer is yes due to the consistency in the quality of the clothing. They have been rated higher than other competitors like Abercombie or H&M.
Do American Eagle Jeans Fade?
The company manufacturers their jeans using materials that are of the highest quality. They also employ processes that are friendly to our environment.
But like all jeans, they will fade at some point. Laundering them in cold water or by hand can help maintain color longer.
 How Long Will They Last?
When worn often, these jeans will last from two to three years, although when worn with less frequency they may last as long as five years.
All Things Considered
When factoring in price, quality, and comfort, American Eagle Jeans are a great product. They may initially be a bit more expensive than some competitors' brands, but they are comfortable to wear and will not self-destruct after a little wear.
Then there's that lifetime warranty against defects. This iconic American clothing brand merits consideration, and the company's jeans are where it all began.
If you add in environmentally friendly manufacturing practices, and social activism for inclusivity, wearing a pair of jeans doesn't get much better.