If you are a man who enjoys the look of wearing skinny jeans, the only thing that may be holding you back is that bulge that appears as if you've stuffed something down your pants.
The great news is that one can wear skinny jeans without that uncomfortable outline. It's merely a question of how to do so.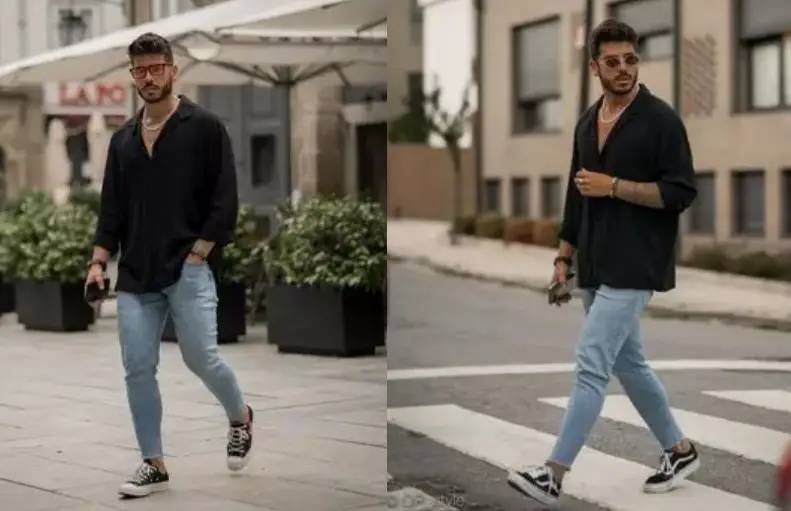 What Causes Bulging When Wearing Skinny Jeans?
When you wear skinny jeans there is automatically a risk that any kind of lump, bump, or bulge will be visible. The reason for this is quite simple: skinny jeans feature a snug fit. They are designed to fit tighter and may be cut to be form-fitting.
It is a form-fitting design that emphasizes bulges and can create an embarrassing appearance and make you uncomfortable.
If the skinny jeans you select are tight around your private area, you'll get the bulge.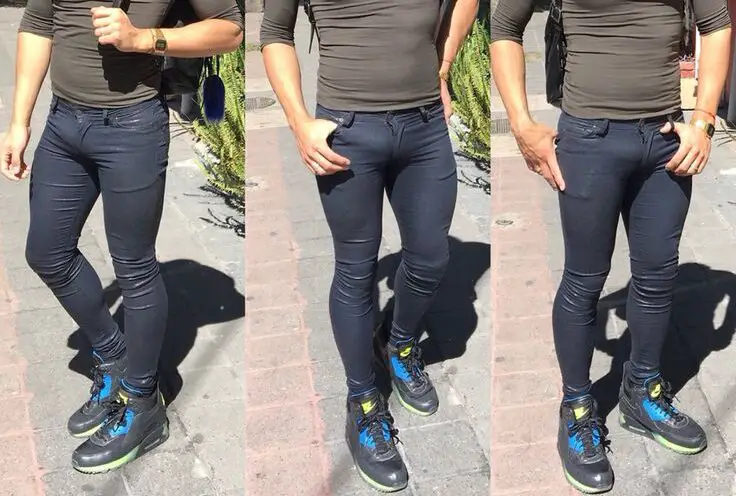 Will All Jeans Create a Bulge When Worn?
No, many styles will not produce a bulge when worn. Consider these:
High-waist blue jeans

Low-waist jeans

Loose-fit jeans

Jeans with a stretch waist

Straight, tapered-leg jeans
How Can I Wear Skinny Jeans Without the Bulge?
Skinny-cut jeans are one thing while jeans that are too tight are another, although skinny jeans are meant to adhere to your body's shape.
One option is to look for a pair of skinny jeans with some  stretch included in the fabric blend. You can also opt to try a slim-fit cut as opposed to "skinny jeans". 
Slim-fit jeans will highlight a nice body build without producing an unsightly bulge. When skinny jeans are not merely skinny but tight, they will outline the bulge.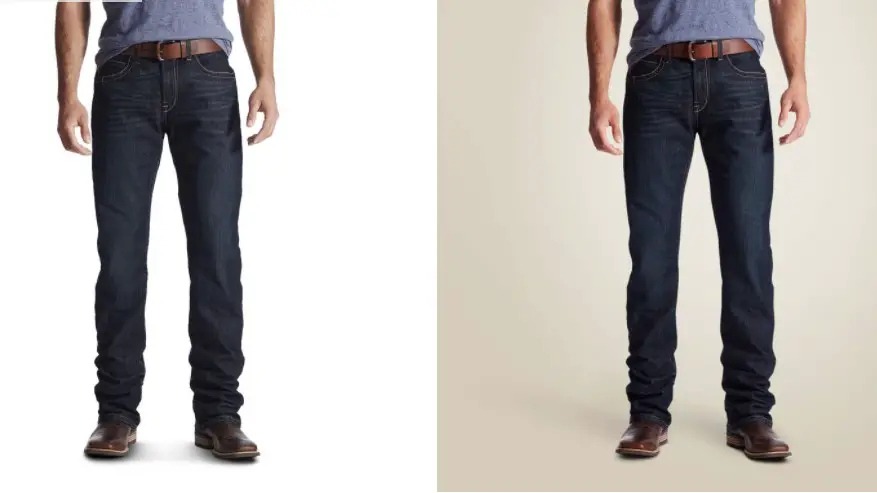 When selecting your jeans, also consider a style with a straight leg or a boot cut because these styles offer a bit more room in the thigh area so that they afford a nice fit without being tight, and that little extra space can aid in avoiding the bulge.
Some skinny jeans may feature a bit of a pouch in their cut. These jeans will show a more attractive bulge without actually producing an outline of your attributes.
Keep in mind that when you wear skinny jeans, the underwear you use can play a large role in how much you bulge or not.
You can prevent a bulge from appearing by selecting skinny jeans that have a medium rise and positioning them below the beltline. Overshirts and jackets can also help if you are self-conscious.
Are Skinny Jeans Comfortable?
Skinny jeans can be comfortable and have a nice appearance if they fit correctly. This style of jeans should fit like an extension without being either loose fitting or tight during wear.
It's important to try skinny jeans on, as there is no standard fit. This is because jeans are made from various fabrics and will feature varying amounts of stretch.
If you select the wrong pair, they may in the end, feel too uncomfortable for you
to wear. Consider consulting feedback from other customers about the skinny jeans you like.
What Type of Underwear Should I Select When Wearing Skinny Jeans?
Cotton or silk underwear is ideal for wearing with skinny jeans as these two fabrics will have just enough stretch to hold you in place without squeezing uncomfortably.
With looser-fitting jeans, you can wear underwear that is tighter or more elastic because it will provide more support and prevent bunching or bulging.
Elastic underwear is not necessarily the best choice for skinny jeans as it does not hold correctly and might even cause your skinny jeans to roll down at the waist.
You may also want to consider compression underwear which is designed for athletic wear.
See also: Why Do Jeans Make Me Look Fat?
Can I Hide a Bulge When Wearing Skinny Jeans?
There are various tips to aid you in making a bulge less apparent.
1.) Wear longer shirts, sweaters, or jackets that will camouflage the natural bulge to some degree. These longer tops should just cover the crotch area, but not be longer. Jackets should fall about three or four inches below the front pockets.
2.) Do not pair shirts that must be tucked into jeans unless they are so form-fitting that they will not bunch within your jeans if tucked inside. Tucking in tops can create ugly lumps.
3.) Skinny jeans made from a piece of thicker fabric and with less elasticity in their blend of fibers will be less conforming to a body shape.
4.) Opt for a zipper closure rather than a button closure. Buttons positioned over the fly area will only accentuate any bulging.
5.) Use good posture. How you stand, walk, and sit can influence the amount of bulging that shows. If you tend to lean backward and thrust your hipbone forward, your package may be thrust upward and outward making it more evident. Standing straight will aid you when wearing skinny jeans. Sit up straight for the same reason.
6.) Select the correct size. Your size in a more relaxed fit of jeans may not be appropriate in skinny jeans. Try a size or two larger before deciding.
7.) Choose skinny jeans cut with a medium rise to wear before the beltline. This will afford more space in the jeans' crotch area.
8.) Consider the placement of the pockets on your skinny jeans as they can help camouflage bulges. Look for smaller front pockets that are positioned higher on the hipbone.
The Bottom Line
Skinny-style jeans will not be the best jeans for everyone depending on body shape. An alternative to skinny jeans is slim-fit style jeans for those that like the skinny pant look but are not entirely comfortable wearing them.
However, even when wearing slim-fit jeans choose a size that is not too tight, especially in the legs and the waist, and pay attention to the pocket placement.
Slim-fit jeans have the advantage of a tapered, slim-leg design just like skinny jeans, but are just a tad less form-fitting affording more freedom of movement.
Whether or not your bulge is visible will depend on your taste. Some men find bulges embarrassing while others find a bulge manly. The choice is entirely personal.