Whether a pair of jeans make a person look fat has a lot to do with the cut or style of the jeans and the body shape of who is wearing them. Any pair of jeans that do not fit properly can make a person appear to be heavier and pack on pounds.
A pair of jeans that will not make you look fat will neither be excessively baggy, nor will they be too tight.
So, each of us needs to choose the best style for our body shape and height and then select the proper size. Color can make a difference as well with darker tints being more slenderizing.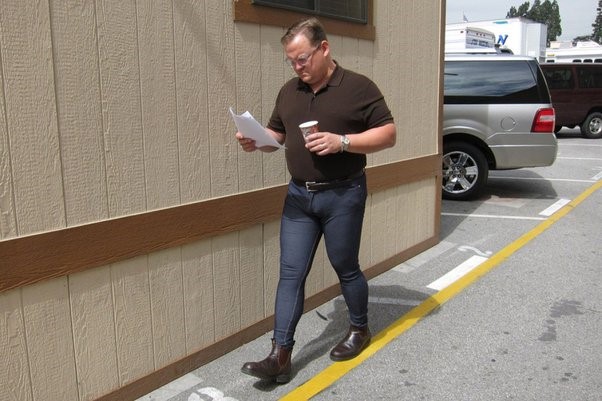 Do Jeans with a High Waist Make You Look Fat?
They may, although depending on the cut, this may not always be the case. They look great on some body shapes. When a waist is smaller than the hips or hips are smaller than the waist, the fit of high-waisted jeans can be unattractive.
Overly developed or fat thighs can also create a problem with this style because there isn't much space between your waist and where over-pronounced thighs begin. This can make thighs appear even larger.
Leg length will also have a crucial function. If your jeans are too short, your legs may appear unflattering. If there is too much extra denim around the ankles, this will nullify the leg-lengthening effect and you might end up looking dumpy.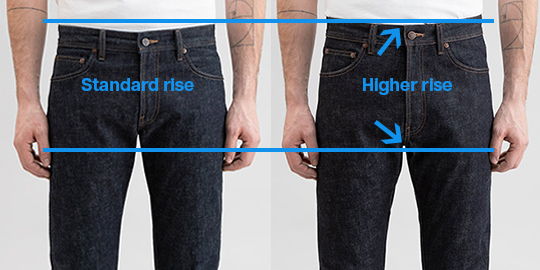 High-waisted jeans can make you look wider than you are and will accentuate some body shape flaws like too much stomach.
If you have extra pounds around the middle, you may want to avoid these and stick with a pair where the rise arrives just below the belly button.  
For those with slender thighs and hips, this is a great style. Generally, mid-rise jeans are flattering to most body types while low-rise jeans are ideal for those with shorter torsos that want to adjust the appearance of their body proportions.
Do Jeans with Wider Legs Make You Look Fat?
Not if you are slim and trim, and with correct sizing, they can look very attractive on various body shapes. So, it's fundamental that you try them on and get the proper fit.
Bell-bottom jeans and flare jeans not only fit nicely with boots, but they will balance out hourglass and pear-shaped bodies on the ladies.
Which Jeans Are Best for Which Body Shape?
Depending on your body shape, various cuts of jeans can either be flattering or contribute to making you appear fat, dumpy, or badly proportioned. Consider these styles in relation to body shapes:
1.) The boyish shape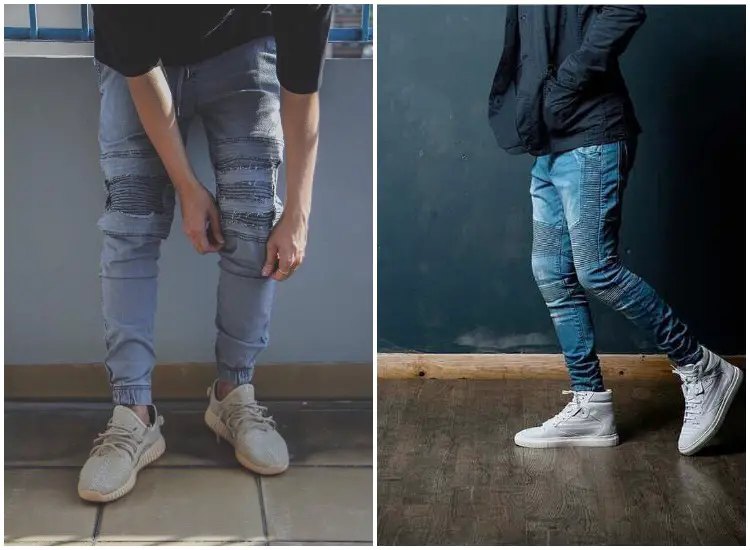 This figure is pretty consistent regardless of whether you are measuring the waist or hips. Skinny and slim-cut jeans look great on this body shape. Straight legs help lengthen your leg line and boot cut and boyfriend jeans are equally attractive.
2.) The pear shape
Hips and thighs are larger than torso and waist measurements. Boot cut and boyfriend jeans also flatter this shape.
3.) The hourglass shape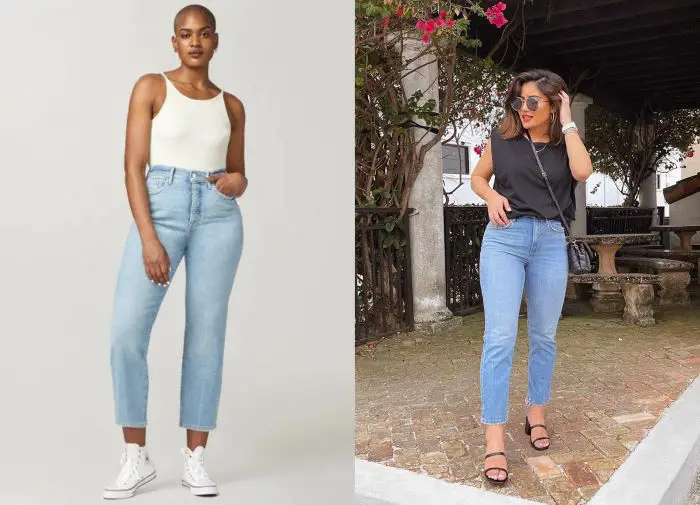 For the ladies that have curves both above and below a well-determined waistline. Wide-leg and flare jeans are perfect for curvy types.
4.) The apple shape
A larger torso and stomach on narrower hips and thighs. Wide-leg jeans work very well for this body shape as they add balance to a heavier torso.
What Style of Jeans Is Best If I Am Overweight?
If you wish to avoid drawing attention to thighs and hips, opt for jeans with a straight-leg style or boot cut. These jean styles when purchased in the proper size will have a more slimming effect and will be more flattering to those with a few extra pounds.
Make sure your jeans are not sitting below your hips but should rest above them. There's nothing worse than a pair of jeans that look like they are falling revealing fat rolls and underwear in the process.
Try to select a style that draws attention away from where you carry extra weight, whether this is around the middle or in the thigh and bottom areas. 
If you work out a lot and have overly developed thigh muscles, look for a pair of jeans that affords you more comfort in the upper leg.
How Can I Avoid Looking Fat When Wearing Jeans?
As a wardrobe staple, jeans are the one clothing item that we reach for when we don't need to be dressed up and want to be comfortable.
There is some fashion advice that you might like to factor in when wearing jeans if you want to avoid the visually added pounds.
1.) Select jeans that feature a higher rise
Jeans sporting a higher rise can contribute to making you look a bit thinner. Decades ago, high-rise jeans could be unattractive and even dowdy looking but nowadays, high rise jeans can be strikingly fashionable.
Jeans that have a high rise and fit properly can contribute to lengthening the lower body to afford a leaner look. Depending on the denim, high-waisted jeans may also help to smooth the hip silhouette and hold the stomach in.
When selecting high-rise style jeans, choose a pair that has a waistline that hits just the belly button. Avoid higher-sitting pants and button-up jeans. Select a pair that has a single-button closure paired with a zipper.
2.) Pick jeans in a darker color
Jeans come in all colors today from white to vivid red or green to black and everything else fathomable.
If you want to appear thinner or even a bit skinny, choose a darker denim wash. Deep indigo, dark blue, black, or similar will be more slimming and easier to pair with any shirt, tee, or jacket.
3.) Be aware of the length of your jeans
Who would have thought that jean length could make you look dumpier, and yet so it is! Jeans that arrive a couple of inches beneath the ankle will aid in elongating legs and lower body.
When you are shopping for jeans, it's a good idea to wear the pair of shoes or boots you plan on wearing most often with your new jeans.
If you wear boots with thicker soles or heels and then plan on switching to your favorite tennis shoes, buy a longer length and roll-up cuffs when wearing flatter footwear.
4.) Get the right fit
The importance of fit can never be overstated. Tight jeans will not make you look thinner, but quite the contrary. You'll look pudgy.
While slim-fit or skinny jeans should comfortably fit your legs, hips, and bottom, you should look or feel like you've been poured into them.
Choose a waist style that aids in holding in the middle without cutting into your waistline and creating a rolly, muffin appearance. Even if you know your size, nothing can beat trying clothing on.
Consider if there is any stretch in the jeans by checking the label. Jeans with spandex will hug a body shape more and afford a certain degree of extra flexibility. Non-stretch jeans will not.
5.) Consider whether you want back pockets
The correct design of back pockets can make a bottom appear slimmer. An unfortunate design can contribute to making you look bigger from behind.