A farmer's job is one of the most rewarding jobs in the world. They are the ones who provide us with the fresh produce we get to eat every day.
Day in and day out they work outside in the fields in all kinds of weather and temperatures, therefore they need to wear clothes that provide them with sufficient protection and functionality.
You will often see a typical farmer wearing boots, plaid shirts, hats or caps, gloves, neck gaiters, jeans, etc. Each piece of clothing has a particular purpose to serve.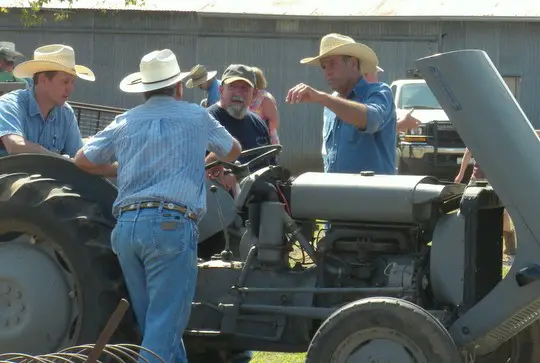 Jeans are every farmer's go-to work pants because they are the most affordable, adaptable, durable, reliable, and comfortable pair of pants for the kind of work they do every day.
Working in the fields and with animals means being outside in the sun throughout the day. Therefore, they need to shield themselves from the harsh sun and other elements so they can focus on their work without any distractions and interruptions.
This article covers everything you need to know about why a farmer wears jeans, along with giving you several tips on how you should pick the right pair of jeans.
What are the benefits of wearing jeans as a farmer?
For a farmer wearing jeans have their own set of advantages. Let us take a look at what these benefits are:
1.) Jeans are very adaptable to any kind of circumstances while working on the farms. Since they are made from denim material, which happens to be one of the toughest fabrics there is for demanding work like that of a farmer.
2.) They are extremely durable so you can rely on them to not tear easily, provided you buy from a trusted brand. Farming requires to work in the dirt all day where you come across many elements that can ruin your clothes, hence, jeans are the kind of trousers a farmer can trust to last for a long period of time.
3.) Jeans happen to be one of the most affordable trousers or pants you can find for working on the farms. This works out great for farmers as their tools and equipment can be expensive.
4.) Jeans can endure several long hours of hard and dirty work every day, making them very reliable for a farmer.
5.) Jeans are made from denim which as mentioned previously is a very tough material in itself. You can work in the mud or water for several hours in jeans and they won't break down compared to other cloth fabrics, which is exactly what any farmer would want. Working without having to worry about their clothes.
6.) Farmers work in tough environments, and jeans are perfect for such an environment because they are highly rugged for such rough work.
7.) Jeans protect the farmer from the muck, dirt, and even oil because the job is always done outdoors.
8.) They also shield the farmer's legs from getting scratched and gashed when walking in the field with weeds and crops growing all around.
9.) Sunburn is inevitable when working outdoors all day. Wearing jeans can avoid the farmer's legs from getting sunburnt and from the harmful UV rays.
10.) Apart from providing protection and being functional, jeans are also extremely comfortable. They allow a lot of mobility which makes it very easy for the farmer to bend and walk around with no constrictions.
See also: Why Are Cowboy Jeans So Thick?
Here are a few tips on how to pick the right pair of work jeans for farm work
We have discussed how wearing jeans is beneficial to a farmer. Now, let me give you a few important and helpful pointers to pick the correct work jeans if you are a farmer.
1.) Easy to clean: The jeans you choose for your work should be specific to your field of work. So as a farmer you need jeans that can be cleaned easily since the work involves dealing with mud and muck all day.
Not all types of jeans can handle being washed frequently, they can start to deteriorate. Hence, look for a pair that can endure many washes without getting ruined.
2.) Durable: You would want jeans that are going to last you for a long period of time. Hence, pick a pair that is made from high-quality denim and not the cheap kinds, even if they cost you slightly more, you know you will get the most out of them in the long run.
3.) Freedom of movement: As a farmer, you have to bend and work on the ground a lot, and even deal with a lot of different kinds of machinery, tools, and animals too.
All of which requires you to move about freely in your jeans. The jeans you choose should consist of enough room inside to give you an adequate amount of freedom while working.
4.) Good fit: While working you do not want to be troubled with adjusting your jeans every now and then. This is just an obstacle and affects your efficiency at work.
The jeans should fit you right so you do not have to make those adjustments yourself. They should neither be too tight nor be too loose.
5.) Rugged and sturdy: It is important that your jeans are rugged and sturdy to be able to withstand rough working environments. Because farming involves working in fields where you have to walk through weeds and thorns quite often. They should not tear easily.
6.) Weight: The weight of the jeans is equally important. You should not feel weighed down while working on the farms, as you will need to move around a lot. Therefore, buy a pair that are not too heavy. You need to be comfortable while working so your performance is not compromised.
7.) Brand: Never compromise on the brand of the jeans. Always buy jeans from one of the trusted brands, so that your money is well spent.
8.) Style: From the various styles of jeans that exist, a farmer should wear relaxed, regular, straight fit, or carpenter jeans for farming work. They are the most comfortable ones instead of skinny-fit jeans.
See also: Why Do Farmers Wear Flannel Shirts?
Wrapping up
Now you understand why wearing jeans is so beneficial for a farmer, and why buying the right kind of jeans is equally important for them.
Traditionally, most farmers used to wear denim bib overalls, which we do not get to see that often anymore.
But in some remote villages, they are still a thing even to this day. At the end of the day, jeans are one of the most practical pants that a farmer can wear that checks all the boxes.