Chinos are made from a lightweight cotton twill fabric, making them apt for everyday wear and achieving a semi-formal style.
Did you know that chinos and jeans are made up of the same fabric, it's just that a few more ingredients are added in the manufacturing process of jeans.
The fabric we know as denim is actually heavy cotton twill, a thicker variant of the cotton twill used to make chinos.
Indeed, chinos have become a mainstay of men's fashion, from being a common everyday fixture for millions of men all over the world to integrating perfectly into a formal dress code. Chinos were originally earth-toned, but they now come in a range of colors.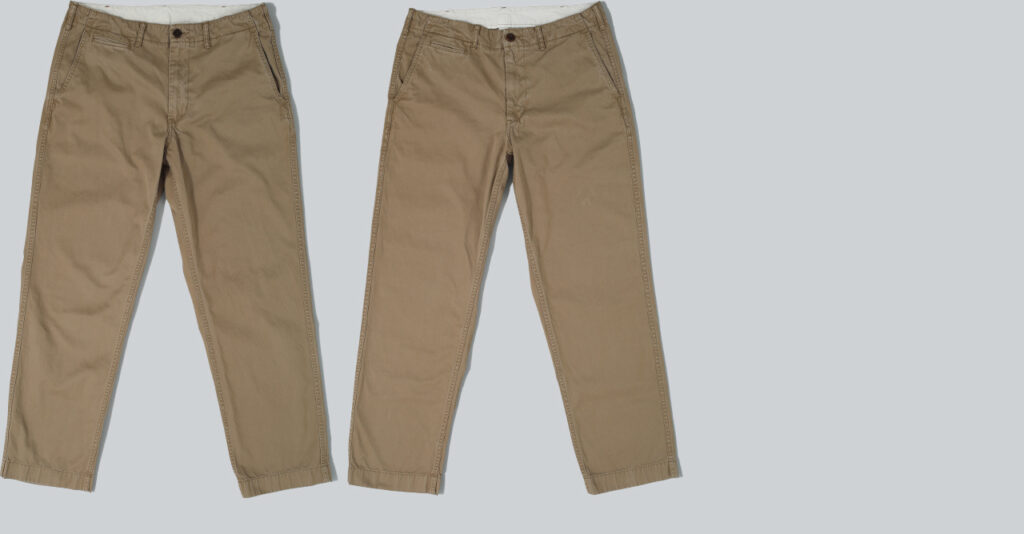 You don't have to frequently wash your chinos, of course they have to be washed more than your jeans but not as regular as your shirts. Your chinos can last upto years of washing if proper precaution is being taken. 
But just like your jeans, even chinos need time to break in so that you finally feel comfortable in them. 
So how to break into your new pair of chinos? 
Don't worry if they're a little tight when you first try it on. Your new pair of chinos will likely have a snug fit than your other regular pants.
This initial snugness is caused by the pre-shrinking process, which tightens up the fibres in the twill so that your trousers stay as near to their original size when washed.
Surprisingly, the snugness when you first put them on is really a hint that the fit will be great after an hour or two of wearing them.
And as you wear them, the material will relax a little, loosening up and conforming to the curve of your body. This will make your pants more comfortable and allow you to move more freely.
Important tips to remember to ensure the longevity of your chinos
1.) Do not wash your chinos after every wash
Your chinos will not be as moist with sweat like your shirts, therefore, you don't need to frequently wash them after everytime you wear them. This is because a tight and durable weave like twill does not absorb perspiration so much. 
And honestly speaking, you'll be doing yourself and the environment a favor by washing less as you'll be conserving water. 
2.) You can always spot clean your chinos instead of washing it fully
Yes, instead of going for a full wash, you can clean your chinos in areas where there is staining. All you need is an old toothbrush. 
If the stain is really stubborn, use a toothbrush with a mix of 50% water and 50% white vinegar. Dampen the area, add a few drops of the water/vinegar solution, and gently brush it in circular motions. Spot clean stains as soon as they appear for the best results.
3.) Instead of putting chinos in the washer, try the soaking method
To preserve the quality of your chinos, consider this method of cleaning. Soaking your chinos in cold water is all that is required to remove the dirt and grease that will accumulate over time. 
Here is a way how to do it-
Use a bucket or sink as a soaking spot. 
Add a cup of white vinegar- Avoid using soap and detergent. Vinegar will clean your chinos thoroughly while also sealing in the color of the dye.
Don't worry about your jeans smelling like vinegar afterward, the odor will go once they're totally dry.
Else, you can go for Scented Vinegar by The Laundress, that gives you all the benefits of vinegar but not its odor on your chinos. Check it out here- 
The Laundress – Scented Vinegar
REMOVES ODOR FROM LAUNDRY: Soak clothes before laundering or add directly to load to remove odor, stains, buildup, and germs

REMOVES ODOR FROM HOME: Quickly absorbs off-putting smells in kitchens, trash cans, refrigerators, dishwashers, and more

HOUSEHOLD CLEANER: Makes glassware sparkle and removes bathtub film; HIGHLY CONCENTRATED FORMULA: A little goes a long way
Prices pulled from the Amazon Product Advertising API on:
Product prices and availability are accurate as of the date/time indicated and are subject to change. Any price and availability information displayed on [relevant Amazon Site(s), as applicable] at the time of purchase will apply to the purchase of this product.
---
Let it soak for at least an hour. 

After that, take them out and drain the excess water. 

Let it air dry. 
4.) Wash after every 6-7 wears
Unless they get really dirty or smell bad, try washing your chinos after you have worn it at least 6-7 times. The washing machine will wear down your chinos and you will notice it over time. You want to attempt to keep it as low as feasible. 
5.) Wear two or more pairs to avoid wearing one pair out
If you feel like you need to wash your chinos all the time since you only have one pair, buy a few more of our other colors to avoid washing the same old pair you have. 
Cleaning your chinos with the white vinegar method once every few months is an excellent way to get rid of bacterias, eliminate sweat and oil accumulation. 
Now, instead of the vinegar cleaning method, you want to go with the traditional way of cleaning clothes, you can put your chinos in the washer. But remember to follow these steps- 
6.) Always remember to turn your pants inside out
Before putting your chinos in the washer, turn it inside out as it reduces fading and color loss. It also protects the exterior of your pants which are already prone to abrasion while worn, from more agitation during the wash.
7.) Always use cold water
Cold water helps prevent fading of the color. 
8.) Use vinegar or mild detergent
If you want to skip the vinegar here, you can go for some mild detergent that is gentle on your clothes and preserves the quality of the fabric. 
Check out The Laundress New York Signature Detergent, which is a mild solution made to remove stubborn stains- 
Prices pulled from the Amazon Product Advertising API on:
Product prices and availability are accurate as of the date/time indicated and are subject to change. Any price and availability information displayed on [relevant Amazon Site(s), as applicable] at the time of purchase will apply to the purchase of this product.
9.) Skip the dryer
We all agree that dryers are convenient, but there is a downside of using them:  they take a toll on your chinos after every cycle. Allowing your chinos to air dry is always worth the extra effort. They will be more durable and hold their form better.
10.) Iron chinos after washing and drying
Chinos are prone to wrinkling, especially after a wash. So take out your steamer and give them a good steaming to get rid of those creases. 
See also: Can Construction Workers Wear Chinos Pants?
Lastly, we have some tips for you on how you can style your chinos. 
Actually there is no specific chinos style that must be followed, rather, it is the pants' versatility that makes it the ideal option for different dress codes and practically any event. 
Chinos should be a vital element of a man's wardrobe since they can easily blend in with a casual outfit while also working as part of a formal suit with equal flair.
Combine the well-fitting chinos with some brightly coloured sneakers and a basic shirt for a more breezy and casual appearance. You can also change it up by wearing it with a patterned t-shirt and a bomber jacket. 
Men who want to get rid of their formal pants can substitute them with chinos as it gives them a formal appearance while also being stylish. Pair your chinos with black overcoat or a casual jacket, and a classy pair of shoes. 
Conclusion
By now, we already know that chinos are by far the most versatile pants for men. They are made of the same fabric as jeans but still, they're not as rough and sturdy as denims.
Therefore, there is a proper way to take care of your chinos, especially how you clean and wash them. Also remember, they don't need frequent washes if you just follow some simple rules.