Well isn't it amazing to watch our favorite Hollywood hunks on screen, donning tank tops and being the sexiest construction workers.
Well it may seem all cool and on hot sweaty days you would definitely be tempted to try that look on yourself as well. But is that gonna remain a mere fantasy?
Is it ok to wear tank tops to the construction site?? Will the supervisor object? Way too many questions kind of shunning the glamour of that outfit isn't it.
Well we've got your back. Read on to find all the answers to your questions and some bonus tips for the hot summers as well. 
Can construction workers wear tank tops?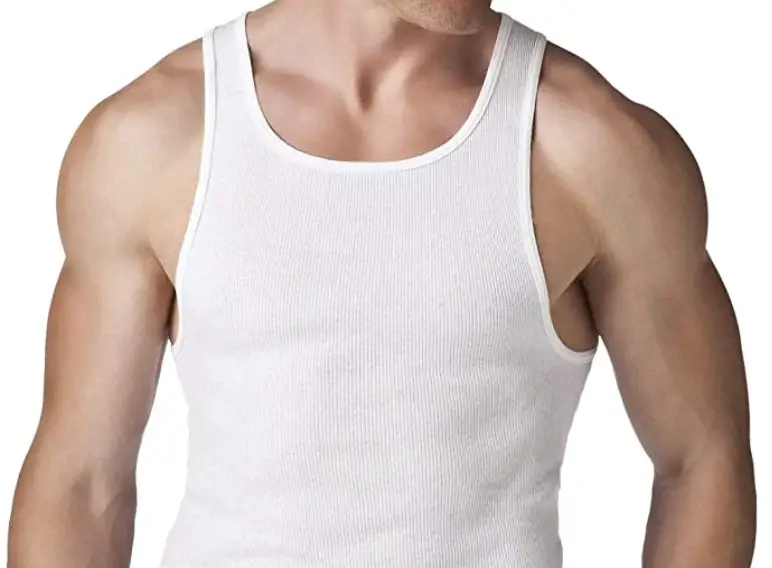 Well the answer is NO. You might really feel like wearing a tank top in the scorching heat but it is a big no go at the construction site.
Construction workers have to wear clothes that provide them with more coverage and protection so as to minimize the chances of injuries and accidents at work. 
Why can't construction workers wear tank tops? 
Construction workers are almost always at the risk of scratching or cutting themselves from bumping or carrying objects.
They have to work with fiber glass, steel bars, pipes and what not and in such conditions it is indeed necessary to wear clothes that cover up all the skin properly so as to prevent minor skin injuries.
In a dusty and dirt filled environment like a construction site, minor skin injuries can get infected as well.
So with the risk of scratches and infections it is best to not wear clothing pieces like tank tops which leaves the entire arm exposed to peril. 
Workplace hazards do not take summer vacations so safety precautions and safety measures are to be ensured at construction sites as it is an industry that witnesses tens of thousands of accidents every year, even during the ruthless summers.
The truth is that most of these accidents are minor ones that could have been avoided with the right work wear.
There are ways to tackle the heat while wearing shirts or hoodies, so it's better not to risk your skin in the heat by donning tank tops this summer. 
Does OSHA approve of tank tops at construction sites? 
Even though OSHA does not directly ban tank tops at construction sites, they do ask the businesses to ensure that workers wear clothes that prevent workplace hazards under the PPE standard, 1910.132. The dress code should prevent damage due to sun exposure or scratches or cuts or burns.
Tank tops are not clothing pieces that can ensure any of this and therefore your supervisor is not at all going to permit the usage of tank tops at work. 
It is an employer's responsibility to make sure that the work attire provides protection from "environment, chemical hazards, radiological hazards, or mechanical irritants" that could cause injury or impairment.
If there is an incident or an inspection, the employer should be confident that the dress code was appropriate and complied with regulation 1910.132(a).
If you are working in extremely hot conditions with little to no risk of skin injuries, your employer can nod yes to a comfy tank top. 
What should construction workers wear and, Why? 
The attires that construction workers wear are supposed to make them more comfortable, safe and functional. The trio should be present for a piece of clothing to be deemed as workplace friendly in the construction field. 
Sun protection is something a construction worker must consider while choosing a vest for work. The piece of clothing should shield the worker's body from harmful UV rays of the sun.
Prolonged exposure to sun is the leading cause of skin cancer and therefore covering up your body when working out in the sun has to be considered as a thing of utmost importance. 
Even while working indoors, due to the high risk of flyaway glass, metallic pieces or related debris, it is best to wear long sleeved vests that can protect you from injuries. Preventing injuries will save time, energy and expenses. 
The vests you choose to wear at work must have long sleeves, should have great breathability and moisture wicking properties and should have a perfect feel and fit so as to not cause any form of discomfort while working. 
Work shirts can vary a lot depending on the working conditions. With sleeves for protection, sweat resistance, cooling properties and great breathability, shirts or tshirts of different materials are preferred by construction workers in summers. 
Long sleeve shirts that wick away moisture are great at maintaining the body temperature as they wick the sweat to the outside of the shirt during evaporation thereby pulling the heat away from the body. 
Also opt for light coloured, lightweight and loose fitted vests during summers to keep the body heat down. 
The following long sleeve vests are best for summers as they provide ample protection without inducing heat exhaustion: 
1.) Arctic Cool Instant Cooling Long Sleeve Work Shirt
---
2.) Carhartt Force Cotton FastDry Long-Sleeve T-Shirt
---
3.) Women's Arctic Cool Instant Cooling UPF 50+ Shirt
---
If you really cannot wear long sleeve t-shirts or shirts this summer, the following short sleeve t-shirts are perfect for the summers as well: 
4.) Arctic Cool Instant Cooling Pocket Work wear Shirt 
---
5.) Women's Under Armour HeatGear Short-Sleeve T-Shirt 
---
6.) Carhartt Force Cotton Delmont Short-Sleeve Tee 
---
7.) Women's EDGY Land Coolmax Moisture Wicking T-Shirt 
If these options have still not piqued your interest you can opt for fishing shirts with vents under the armpits and a vent flap on the back this summer to get better cooling this summer. The following is an option you can opt for: 
8.) Columbia Men's PFG Bahama II UPF 30 Short Sleeve Fishing Shirt 
---
How can construction workers stay cool in summers? 
√ Stay hydrated 
√ Drink water every 15-20 minutes to fight the heat and exhaustion. 
√ Rest in cool, shaded area
√ Know the signs of heat exhaustion and contact an emergency personnel if necessary
√ Schedule heavy works for cooler parts of the day
√ Wear light colored clothes
√ Wear loose fitting clothes 
√ Wear clothes made of breathable fabrics 
√ Wear clothes that have moisture wicking properties
√ Use sunscreen