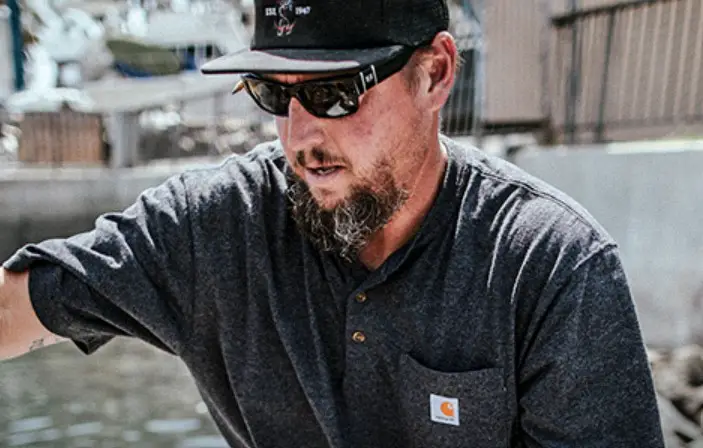 The most important thing to consider when construction professionals acquire both clothing and accessories is safety. For instance, if construction workers work around machinery, they may want to opt for short sleeves. 
If workers prefer long sleeves, they might want close-fitting sleeves, so they don't get caught in machines or along rough edges or exposed nails or hooks. Welders may want a flame-resistant shirt while working.
Whatever your particular job at the construction site, hazards abound even with the most rigorous safety precautions. So, when choosing attire, safety concerns must have a role in your choices.
Check Comparison of Top Construction Work Shirt
Our Best Work Shirt for Construction List
Our top picks are Henley-styled T-shirts. Invented in Henley-on-Thames, England, this style of shirt was the uniform shirt for English rowers. The original shirt was short-sleeved, with a longer opening at the neck and no collar, this gave the Henley more breathability than other shirts.
Designer Ralph Lauren saw a Henley and the rest is history. The Henley-styled shirt is everywhere now and manufactured by any number of work attire manufacturers. It is ideal for construction workers.
1. Carhartt's Regular, Big & Tall Men's Work Shirt
This is a terrific choice for construction workers. It's made from 100% cotton in a jersey knit guaranteeing comfort.
It features a chest pocket on the left side. This particular Henley-styled T shirt has a three-button opening at the neck and a knit collar that is ribbed to avoid any twisting. The shirt construction is heavy-duty for both durability and comfort.
Pros
Good fit

No tags

Durable over time
Cons
Check Price and Reviews on Amazon
---
2. Hanes Long-Sleeve Henley Beefy T-Shirt
The Hanes Beefy T-Shirt is also in the Henley style and is a typical quality product by Hanes. This manufacturer has been in business for a century and has earned the trust of millions of consumers throughout its history. 
This is a tag-free T, so your neck won't be either itchy or irritated, it has a three-button opening at the neck and is long enough to not ride up every time you bend over on the job. 
Made from 100% cotton, it is soft and made to last. There is also a version in 75% cotton and 25&% polyester if you prefer.
Pros
Extremely affordable

Soft to the touch

Many colors to choose from

Tag-free
Cons
Sizing runs smaller

Some shrinkage after washing
Check Price and Reviews on Amazon
---
3. Wrangler Riggs Long sleeve Henley Work Shirt
Wrangler is another well-known and trusted manufacturer of clothing. They have been producing shirts for well over seventy years and this well-made Henley long sleeve T is no exception.
True to fit, it is 100% cotton with an attractive design, so you'll look great on-site. The neck opening features two buttons.
The pocket features a leather logo for a touch of class and an inside loop for holding pencils or glasses.
Pros
True to sizing

Attractive design

Pocket with leather logo and convenient inside loop
Cons
Some shrinkage after washing
Check Price and Reviews on Amazon
---
4. Dickie Heavyweight Henley Work Shirt
This short-sleeve version of a traditional Henley T is heavyweight and heavy on quality. It will resist the wear and tear of a construction site and still look good at the end of the day.
It is a poly-cotton jersey knit of 90% cotton and 10% polyester. It offers good breathability but doesn't feel cheap or flimsy.
Seams in the shoulders and neck are taped for durability. It has a nice comfortable loose fit with no tags and allows for good motion range when working. This shirt is affordable and comes in an ample selection of colors.
Pros
Heavyweight shirt

Great design and manufacturing

Good seams 

Pocket
Cons
Sizing may run smallish

Sleeves may be a bit short for some
Check Price and Reviews on Amazon
---
Other Great Choices
5. Carhartt K87 Workwear Pocket Short-Sleeve T-Shirt
Carhartt is a respected company renowned for work apparel and this T-Shirt easily matches the manufacturer's reputation.
It is a comfortable all-purpose work T offered in several fabrics to choose among and some very attractive colors. It can be bought in 
100% cotton

99% cotton-1% polyester mix

60% cotton-40% polyester mix

90% cotton-10%polyester mix
This T has a chest pocket with the recognizable Carhartt label sewn onto the front.
Pros
Fabric Options

Color Options

Front pocket
Cons
Sizing tends to runs larger
Check Price and Reviews on Amazon
---
6. Carhartt Workwear Henley Pocket Shirt
This is a budget-friendly choice that oozes quality. It is a durable heavyweight T shirt that will guarantee comfort and protection on the job. 
Even if you work overtime, this T will remain dry, comfortable, and wrinkle-free through it all. It's great for jobs that require a lot of movement and range of motion.
Made from a high-quality cotton-polyester mix (57% cotton, 43 % polyester), it is without a tag to avoid skin irritation. It features a five-point path pocket for necessary items and side seams.
Pros
Affordably priced

Wrinkle-free

Rugged and durable 

Great look
Cons
May seem less durable than some competitors
Check Price and Reviews on Amazon
---
7. Hanes Long Sleeve Cool Dri T-Shirt
Hanes sells this long-sleeve T-shirt in packages of two which is a bargain in itself. This T shirt offers a UPF (Ultraviolet Protection Factor) of 50+ to keep you as safe as possible for those long work hours at sunny construction sites.
Made from 100% Polyester, the shirt is very lightweight made from a four-ounce fabric. It has no chest pocket, but it is moisture-wicking and quick-drying for comfort and convenience.
This Hanes duo offers two ideal shirts for construction laborers who work primarily outdoors in the sun and especially in warmer climates.
Pros
2 Shirt-package

moisture-wicking

quick drying

Sun UPF of 50+
Cons
Check Price and Reviews on Amazon
---
Selecting the best work shirt for your job in construction is not like going to a nearby mall for a shirt. Your shirt will be close to you during your entire work shift. Some basic qualities that you should keep in mind when choosing include:
Does the shirt fit well?
Nothing is more important than the fit and unfortunately not all sizing is the same. A "medium" shirt for one manufacturer may be a "small" for another. Check measurements if possible. 
For tradesmen that work heavy-duty machinery or rotating machines, a loose shirt should not be considered. You don't want to run the risk of a shirt getting caught in a machine and then pulling your hand or arm along with it.
Regardless if you tuck in your shirt or let it hang out, the design and fit of your shirt should limit the possibility that your shirt puts you at risk for injury.
See also: The Best Industrial Work Shirts Reviewed
Is the shirt comfortable?
Even with safety as a concern, you don't want a shirt so tight that you are uncomfortable wearing it.
Nor do you want a shirt that limits your range of movements on the job. Plus, you'll want a certain amount of breathability for perspiration.
You will want to remain as dry and comfortable as possible in hot weather. Likewise, if your construction site is located in a cooler climate, you'll want a work shirt that provides warmth.
What materials are used to construct the shirt?
Shirt manufacturers use a multitude of materials or combinations of materials when constructing shirts. The choice of material will also influence the cost of the shirt.
The majority of work shirts will be made of cotton, polyester, linen, silk, lycra, or of some combination of these or other synthetics. Manufacturers aim to ensure durability for your investment. 
Also, work shirts, in spite of what one might imagine, are usually no heavier than a normal everyday shirt and will probably integrate similar stitching aimed at contributing to durability.
A higher quality material can allow the shirt to last for years even in the most rugged working conditions. A low-quality material may not last more than a few wearings, or a few wash cycles.
Should you opt not to wear an undershirt, you will want a material that is soft and comfortable rather than irritating to the skin. The use of low or high-quality materials will help define cost, durability, and comfort.
What Can I Afford?
In today's economic climate, affordability is a major consideration when purchasing work attire. However, it is not wise to buy a work shirt simply because it is cheap.
Likewise, there is no point in running up credit card debt for features you don't need and can't afford. You will want to look for a relationship between cost and quality to get your money's worth.
Are there features I should be looking for?
You may want to consider color. A bright vividly colored shirt will make you more visible at the construction site and this alone may help to deter accidents.
Depending on your job, you may want a shirt with a pocket for pencils or to carry useful accessories and you may want a pocket with a button or zip closure depending on what you intend to carry with you.  
Last but not least you may want a shirt that is easily laundered. Most work shirts will be machine washable allowing you to drop them into your washing machine after a hard day's work.
However, it would be wise to check out indications from the manufacturer before purchasing. You'll want a shirt able to withstand dirt, grime and grease. It's not so much about fashion as it is about practicality.
How many work shirts do I need for my profession?
If you are doing a full day of work and launder your shirt after wearing it only once due to dirt or perspiration, you'll want a minimum of three to four knowing that you'll have to do laundry midweek.
If you can manage six with your budget, this would be ideal, allowing you to do laundry once a week. Seven or more shirts will guarantee an adequate supply should any inconveniences occur like a torn shirt or a broken washing machine.
See also: Best Gifts for Construction Workers
Final Thoughts
Work shirts come in all shapes, sizes, materials, and colors. After considering our best work shirt for construction workers list, you may realize that choosing your best shirt for work isn't all that different from choosing a dress shirt or travel shirt:
This is especially so once you have identified your priorities in terms of design, fabric, and features along with how much your budget will allow you to invest. Expensive or inexpensive doesn't necessarily mean bad investment or bad quality. 
It would be a good idea to begin your shopping with an idea of what you want in your work shirt. This will help you save both time and money in the long run.
Also keep an eye out for sales, discounts, or even coupons that are available and will help you save money. Read customer feedback if it's available. This is a great way to discover issues with material, manufacturing, or sizing before buying.
Ideally, you should try a shirt on before purchasing. If, however you opt to buy online, either contact the manufacturer or seller about sizing.
Most manufacturers will also provide a FAQ section that may include sizing considerations or measurements. We hope this article will assist you in identifying your needs and making the best selection.