Moisture-wicking shirts are a blessing when doing physical labor, working in direct sunlight, or working in a very hot and/or humid environment.
If you need to keep dry, cool, and odor-free during a physically engaging job, the moisture-wicking feature is an absolute must.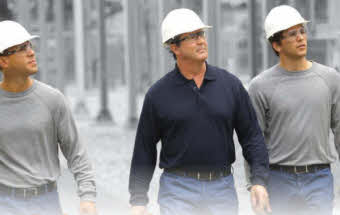 Of all the shirts that our team of tradesmen and professionals tested and wore throughout an entire workday, we recommend the Clothe Company Short Sleeve as the best moisture-wicking shirt because it performed exceptionally well throughout the entire workday during heavy physical labor. Originally designed for bikers or hikers, it adds great visibility which is always a concern at work sites. This t-shirt is available in a whopping 22 colors and is affordable.
Top Moisture Wicking Shirt Comparison Table
Our Best Moisture-Wicking Shirts for Work List
While moisture-wicking shirts are available in the three major work shirt styles of button-down, polo shirts and t-shirts, we are concentrating on shirts that are particularly appropriate for heavy physical labor.
However, we will include several polo shirts for those who prefer their style and perhaps must move from a work or industrial site into an office setting.
Our Top Choice
1. Clothe Company Short Sleeve Moisture Wicking Athletic T-Shirt
Cloth Co.'s vividly colored simply-designed athletic t-shirt is our top choice for its exceptional performance. Originally designed for bikers and hikers, this attractive and budget-friendly t-shirt is manufactured in 100% polyester.
The fabric is 3.8-ounce cationic polyester interlock meaning that it is color-fast and that it will be at less risk of fading over time.
It is lightweight with a loose fit that allows for range of motion which is an important factor for both athletes and manual laborers.
These shirts are moisture-wicking, making them ideal not only for athletes but for all professionals involved in heavy manual labor at construction and industrial sites.
The deal breaker for us was the ample choice of twenty-two colors and their incredible visibility even if the shirt has no chest pocket. This visibility functions as an added safety feature at construction sites. Sizes are available from X-Small to 4X-Large. 
Pros
Moisture-wicking

Quick-dry fabric

Machine washable

Budget-friendly

22 colors available
Cons
Sizing runs somewhat large

No chest pocket
Check Price and Reviews on Amazon
---
Runners Up
2. Hanes Long Sleeve Cool Dri T-Shirt
Hanes sells this T-shirt in packages of two. It offers a UPF (Ultraviolet Protection Factor) of 50+ to keep you safe during those long work hours in the sun. Made from four-ounce 100% Polyester, the shirt is very lightweight.
It has no chest pocket, but it is moisture-wicking and quick-drying for comfort and convenience. This Hanes duo offers two ideal shirts for professionals who prefer a t-shirt on the job.
Pros
2 Shirt-package

moisture-wicking

quick drying

Sun UPF of 50+

Collar is narrow ribbed

Budget-friendly
Cons
No pockets

Some considerations about long sleeve length
Check Price and Reviews on Amazon
---
3. Under Armour Tech 2.0 Short Sleeve Men's T-Shirt
A great 100% polyester short sleeve t-shirt with a loose fit. It is available in a myriad of both sizes and colors. Affordable, quick drying and moisture-wicking, the shirt is everything you could wish for in your basic t-shirt.
Pros
17 colors

Crew neck

Moisture-wicking

Machine washable

Soft to the touch
Cons
Check Price and Reviews on Amazon
---
4. Carhartt Force Cotton Long-Sleeve T-Shirt
Carhartt is a manufacturer well known for its workwear attire. This long-sleeve T-shirt is made in a 100% cotton jersey knit fabric that features moisture-wicking.
It is styled in a relaxed fit in order to guarantee breathability. The shirt also boasts flame-resistant technology to help ensure your safety on the job.
The shirt features a front pocket. Available in four colors, the sizing ranges from Small through 3X-Large. Tall large sizes are also sold.
Pros
Relaxed fit

Moisture-wicking

Flame-resistant

Front Pocket

Collar and cuffs rib-knit
Cons
Expensive

Only four colors
Check Price and Reviews on Amazon
---
5. Dickies Temp-iq Performance Long Sleeve T-Shirt
This is a comfortable long-sleeved t-shirt for hot, sunny weather and comes with moisture-wicking and cooling properties.
It is manufactured in a poly-cotton mix of 50% cotton and 50% polyester and is lighter than a traditional heavy cotton t-shirt.
The shirt has a pocket on the front chest with a pencil stall for workers that need a pencil readily at hand. Sizing ranges from Small to 2X-Large. Available in 9 colors.
Pros
Moisture-wicking

Lightweight poly-cotton mix

Budget-friendly
Cons
Check Price and Reviews on Amazon
---
The Polo Shirt Alternative
6. IZOD Advantage Performance Polo Shirt
An iconic brand in polos, this shirt is designed for taller and larger-sized men. Constructed in a polyester cotton blend with 60% cotton and 40% polyester, it features UV protection and has been pre-shrunk to guarantee fit.
The collar design is roll-resistant to keep your polo looking great after lots of wear and wash. IZOD offers an assortment of 21 colors with sizing from large up to 5XL and large to 5XL Tall.
Pros
Moisture-wicking

Side vent design

Variety of Colors

Budget-friendly
Cons
Check Price and Reviews on Amazon
---
This classic polo from Nautica has a timeless design and high-quality material making it durable. Made in a poly-cotton mix of 60% cotton and 40% polyester, it is moisture-wicking.
The shirt is produced in a variety of striped color choices making it great for both work, or weekends. Made with vented side seams it features a two-button closure. Sizes range from XS to 3XL.
Pros
Budget-friendly

Quality cotton-poly mix

Moisture-wicking
Cons
Limited colors in several sizes 

Sizes not always available due to demand
When the hot weather arrives, or if you work in a warmer climate all year round, it really doesn't matter if you work inside or out. If you do not dress for the heat, you are going to be in trouble either with regard to appearance or to comfort, and probably both.
The best moisture-wicking shirts for work will help keep you looking put together and help you stay dry and cool regardless of the heat or humidity.
As a professional tradesman, a laborer, or even as a member of senior management, you'll want a work shirt that helps keep moisture away from your skin, and those unattractive perspiration stains from under your armpits and off your back.
Clients and coworkers alike will keep their distance from a colleague seeping in sweat. Moisture-wicking fabric will pull the perspiration away from your skin, through the material for evaporation.
What Should I look for in a Moisture-Wicking Shirt?
You'll want designs and fabrics that offer you breathability with good air ventilation keeping you as fresh as possible during those long work hours.
Moisture management is everything when it comes to moisture-wicking. Not feeling sweaty and sticky, as well as irritable and tired will improve your work productivity. 
If you work in direct sunlight, a moisture-wicking work shirt with protection can contribute to helping you avoid damaging UV rays and overheating while on the job. 
Not every work shirt designed for warmer climates will be moisture-wicking, A lightweight shirt is an ideal choice for hot temperatures, but that alone isn't enough to guarantee perspiration control.
The shirt should be manufactured in a fabric that prioritizes breathability and above all, keeping you dry. Generally, work shirts are available in many synthetic materials or combinations including 
nylon

polyester

rayon

spandex
and in natural fabrics such as
bamboo fiber 

chambray cotton 

hemp

linen

merino wool

silk 

cotton combined with other materials
When making shirts with any of these fabrics, the goal is to allow the air to circulate to wick moisture to keep you comfortable while working. Some shirts may even feature mesh panels.
Others will have odor-resistant features such as microbial treatments to counteract odors due to excessive perspiration.
Consider some of the most important qualities to look for when choosing your best moisture-wicking shirt for work: 
Fabric Weight. Since excessive heat will weigh on you, you don't want a heavy fabric adding to your discomfort and making you miserable, Heavy fabrics can leave you feeling sweaty, sticky, itchy, uncomfortable, and make you lose your concentration while attempting to do your job. 
The heavier the shirt fabric is, the more perspiration it will be able to soak up and, the longer amount of time it will need to dry. If you perspire a good deal, a heavier fabric will most likely absorb all the moisture however it will increase its weight as well.
Lightweight fabrics should be considered when choosing. The material should move perspiration to the shirt's exterior and keep it away from your skin. 
Breathability. The best work shirts, especially for professionals working outside or involved in manual labor will come with moisture-wicking features that specifically enable airflow.
Venting under the arms and quick-drying features may be integrated into the shirt. Select work shirts that allow for breathability. You will not want a tight shirt that clings to the skin.  There should be enough material to permit airflow
Long or Short Sleeves?
While this will depend a lot on your personal preference, there are work shirts available in both long sleeve and short sleeve versions with moisture-wicking features.
You can select a shirt that has long sleeves but also features breathability and is considerably lightweight. After all, long sleeves can always be rolled up, at least partially.
Style. The style will depend on personal preference together with your work environment. The three basic styles in work shirts with moisture-wicking properties are lightweight casual T-shirts.
They may be tighter fitting, but you can go up a size for a looser fit if it is more comfortable. Polo shirts are also considered casual but can provide a slightly more professional look when worn under a jacket or blazer. 
Finally, button-up shirts are perfect for professional business settings but can be worn at informal meetings. Button-ups may tend to offer a looser fit which can contribute to more comfort.
Other qualities that you will always want to keep in mind when purchasing any type of work shirt should include:
Durability. A high-quality fabric will be able to maintain its structure for years, even in tough working conditions. Low-quality materials will probably cost less but they may not last very long. 
Wrinkle resistance or no-iron. If you do your own laundry and don't have a lot of time to dedicate laundering and ironing, no-iron or wrinkle-resistant shirts can be your number one ally for looking professional in the workplace.
Easy care. Shirts that are machine washable make life easier. If you have to hand wash or take the extra care you will need to dedicate more time to caring for your clothing. If you need to send shirts to the cleaners, you will spend more.
FAQs
Is moisture-wicking the same as DRI FIT?
Partially, the Nike DRI FIT polyester fabric does wick away moisture enabling perspiration to evaporate and keep you dry and cool.  This fabric absorbs little or no water, so you remain dry.
Moisture -wicking is a characteristic of the fabric. DRI FIT is Nike's brand name for clothing that uses this technology. Under Armor calls it HeatGear and GoreTex also offers it.
Is cotton good for moisture-wicking?
No, cotton actually absorbs perspiration and can become saturated meaning you will stay wet for some time.
Why do moisture-wicking shirts smell?
Odors are caused by bacteria present on the skin and they flourish in a moist environment. Because moisture- wicking garments are produced from polyester or a combination of polyester and nylon, this fabric will trap the odor unlike cotton or wool.
See also: Best Boots for Smelly Feet
Is a moisture-wicking garment waterproof?
No, they are not waterproof nor are they designed for use in a swimming pool, lake, or ocean as a swimsuit. They are designed to keep you as dry as possible when involved in physical exertion or exceptionally hot weather.
The Bottom Line
In conclusion, think about these principles when choosing your best moisture-wicking work shirt for work:
Give preference to a lightweight fabric. Feel the weight of the material to your touch. Hold it up to the light. If you can see a bit, it's relatively lightweight.
Breathable fabrics haven't any competition when you are selecting moisture-wicking shirts. Direct sunlight, high temperatures, and high humidity can make you miserable. Choose a fabric that breathes.
Moisture-wicking shirts with protection against harmful UV rays are an important option for professionals that work outside in direct sunlight.
Shirt style is just as important as the fabric it is made from. Your shirt should feature breathability. Avoid skin-tight shirts or those that cling to your skin.
We hope this guide will assist you in selecting you a right moisture-wicking shirt for work.