Finding a work boot that meets all your needs can be difficult, especially if you are looking for work boots for smelly feet. The good news is, I found eight awesome work boot options that can help you reduce foot odor.
What are the 8 best work boots for smelly feet on the market today?
Below is the comparison table of the best work boots for smelly feet
Many workers think that any leather work boot will do. However, there is more to them than just a piece of leather or suede material. Continue reading to learn more about each individual smelly feet work boot and find the right one for the job.
1.) Timberland PRO Men's 6″ Pit Boss Steel-Toe
Coming in at number one is the best steel toe boot for smelly feet that stand out as an all-around safety boot that you can wear both at work and home. This Timberland Pitboss has ton of positive reviews on amazon, is designed to give you the ultimate protection, comfort and durability while working all day.
Made with 100% leather and breathable PU footbed allows you to have a perfect odor free feet feel, the sweat produced inside the boot escapes through breathable top and bottom. Therefore even after wearing it for the whole day your feet and boot does not smell. 
It is recommended for both people working in hot conditions and suffering from bromodosis (smelly feet) condition, but I truly believe that this boot is intended for all construction workers. The construction of this boot is top quality, the antibacterial odor control is a significant bonus feature because it helps to prevent and control odors.
These work boots are also my boots of choice for the Perfect Gifts for construction Worker list.
Highlights:
Material: 100% Leather and Rubber Outsole
Safety: Steel Toe, EH Protection, Heat Slip Resistant
Size: True to size, 6 inch, 1.5 inch heel

Water Resistant, Anti Fatigue and Antimicrobial
2.) Irish Setter Men's 6″ 83605 Work Boot
Next, we have the runner up for the best boot for stinky feet in the market, the Irish Setter Work Boot. If you are looking for a traditional USA made work boot, this particular footwear would be a phenomenal choice.
This is a high-quality full grain leather boot and is made of heat resistant outsole, the leather smells good and your feet do not stink after wearing it the whole day. However, they are not steel toe but quality wise and comfort this boot takes the cake.
Highlights:
Material: Full grain leather and Heat resistant rubber outsole
Safety: Steel Toe, EH Protection, Heat Slip Resistant
Size: True to size, 6 inch, 1.5 inch heel

Water Resistant, Anti Fatigue and Antimicrobial
3.) Carhartt Women's Rugged Flex 6 Inch Comp Toe CWF5355 Work Boot
The Carhartt Women's rugged boot is the best women's composite toe work boot for smelly feet, making it the only women specific boot on our list.
It features Fast Dry Technology which wicks the moisture from your feet, so when you sweat you're not left with a smelly boot. The Carhartt CWF boot is highly recommended for women working in different industries farming, manufacturing, warehouse, construction, outdoor enthusiasts etc. walking on different surfaces such as concrete, muddy, slippery etc.
The boots are true to its size and fit perfectly. This work boot is made of premium quality leather and synthetic fabrics that are known to be extremely comfortable, durable, and safe. The cushion foam insole provides you with support and reduces foot fatigue while you are working the whole day.
Highlights:
Material:

Rubber outsole, Oil tanned leather

Safety: Composite toe,

ASTM 2413-11 EH, Oil-Slip resistant

Size: True to size, 6 inch shaft, 

Waterproof, wide toe area
4.) Thorogood Men's American Heritage 6″ Moc Toe, MAXwear Wedge Non-Safety Toe Work Boots
Enjoy your work and outdoors with your friends and family with the Thorogood American heritage moc toe boot. The Thorogood MAXwear is made in the USA by union workers, rather than being imported. 
This 100% leather wedge sole boot, though no membrane, is rather tobacco oil-tanned leather that allows your feet to breathe. With good care and cleaning, even after one year of use, they don't smell. The tips are reinforced to improve durability and get rid of unpleasant smells.
The new MAXwear wedge sole is more durable than any other wedge sole, making the Thorogood moc toe boot one of the best wedge sole work boots for smelly feet on the market.
Highlights:
Material: 100% leather,

Polyurethane MAXwear Wedge sole

Best For

Electrician, Carpenter, Ironworker, Boilermaker, Lineman, Assembler or Fabricator

Soft Toe, Slip and Oil Resistant

Outstanding Comfort and No time to Break In
5.) Caterpillar Men's Second Shift Steel Toe Work Boot
Coming in at number five, the Caterpillar Second shift steel toe boot brings a new twist to the table. This particular work boot is made of 100% leather, engineered with nylon mesh lining to optimize breathability and removable PU footbed to provide comfort all day. It is clear that this work boot is perfect for smelly feet. 
This steel toe boot is made from Oiled full grain leather, and has Goodyear welt construction which provides the maximum durability and flexibility.
Highlights:
ASTM F2413-18 1/75EH protects 14000 volts in dry condition

Climasphere breathable insole

Shaft: 6 inch, Heel: 1.25 inch, Platform: 0.75 inch

T3 rubber outsole for slip and oil resistant
6.) Carhartt Men's CMF6366 6 Inch Composite Toe Boot
The quality of this Carhartt Men's Composite toe boot is impressive, these boots are 100% designed and tested for the rugged situation and environment.
Recommended for both casual and workwear, the Carhartt composite toe boot is OSHA safety complied footwear, meets both ASTM 2413-11 EH and ASTM F2413-18 standards. While not as heavy weight as the others on the list, they sure are durable and very safe.
With its lightweight EVA midsole, these boots breathe really well so you will not sweat much making it the perfect boot for summer.
Highlights:
 OrthoLite insole for all day comfort

Work well for muddy, hot or cold job site

Chemical, oil, slip and water resistant

FastDry Technology to wick away moisture and sweat
7.) Timberland PRO Men's Powertrain Sport Alloy-Toe EH Industrial & Construction Shoe
The Timberland PRO powertrain is the only alloy toe work boot for smelly feet in our list. While it is not made of leather as compared to the other boots, you can bet on 100% Ripstop nylon material that it is durable and safe. This athletic boot is built with Anti-Fatigue technology to keep you comfortable all day.
These boots come with nylon mesh lining on top and breathable PU footbed that let the sweat escape from both top and bottom, thereby no smelly feet issue even after wearing it the whole day. Moreover, the Anti-Microbial Odor control technology helps to prevent and control foot odors.
Highlights:
Extremely Comfortable and lightweight

Asymmetrical alloy toe cap, meets US and Canadian Safety standards

PU rugged outsole and steel shank for support

30-Day Comfort Guarantee
8.) KEEN Utility Men's Lansing Mid Steel Toe Waterproof Work Boot Construction
While Keen Utility Steel Toe is the last boot that we recommend on this list, it certainly is no flake. Consider this boot as the best waterproof work boot for smelly feet in the list as others are only water resistant. 
You won't have any problem getting into these boots due to unobtrusive fit and roomier toe box. They are made from moisture-wicking textiles to keep your feet dry and CLEANSPORT NXT provides natural odor protection using probiotics.
While considerably dependable, this medium-duty work boot is suitable for construction, landscaping, warehouse and transportation work. There is no doubt about the safety of the boot. It meets or exceeds ASTM F2913 SATRA Non-Slip Testing Standards, and ASTM F2413 I/75 and C/75 Standards. 
Highlights:
Weighs only 656 gram per shoe.

Waterproof (KEEN.DRY Technology) and Breathable.

Reflective safety lining for added visibility

EH protection and No break in time
Home remedies for smelly work boots
It is hard to prevent your feet from smelling! They are gonna stink anyhow after the tiresome day!
Thank God! There are remedies for the smelly feet and the best part is, the ingredients are readily available in your home!
Let's have a look at them:
1. Lavender oil helps to kill the bacteria causing smell in the feet:
After you come back home from work, remove your boots and socks and wash your feet with body wash. Then put a few drops of lavender oil in a bowl of warm water and soak your feet in it for 15 minutes.
Lavender oil will not only kill the bacteria causing the smell, but will also help to eliminate the smell from the feet for a few days.
2. Antibiotic ointments help to minimise the smell by killing the bacteria:
Before you go to bed, apply some antibiotic ointment on your feet like Neosporin and then put on your socks and have a good sleep.
In between your sleep the ointment will kill the bacteria already present in your feet that cause the smell and will also prevent the growth of further bacteria. You can apply this ointment as per prescribed by your doctor or thrice a week.
3. Soaking feet in black tea helps to kill the smell:
Black tea has anti-bacterial properties and soaking your feet in black tea after coming from work will help to kill the smell.
4. Vinegar helps to neutralize the odor from the feet:
Prepare a mixture of vinegar and warm water in a bowl and dip your feet in it. Vinegar helps to neutralize the odor from the feet and prevent the smell from the feet for the next day as well.
5. Cornstarch helps to prevent the sweat and thus eliminate smell:
Sprinkle some cornstarch inside the socks and on your feet as well before wearing the boots and the cornstarch will help to prevent the sweat.
6. Baking soda too helps to prevent the smell and cut out the smell:
Baking soda works similarly like cornstarch in preventing sweat and thus the smell in the feet.
7. The minty scrub recipe helps to eliminate the smell from the feet:
To prepare this recipe you will need the following ingredients:
1 table spoon Oatmeal

1 tablespoon sugar

1 tablespoon cornmeal

2 tablespoon dried peppermint

1 tablespoon yogurt

1 tablespoon lemon juice
Few drops of peppermint essential oil
Add all the ingredients in the mixer grinder and grind them in a paste.
Sit in the bath tub or in an open space and apply the paste on your feet and leave in for 20 minutes. Then gently scrub your feet while taking off the paste and clean with water.
8. Sage helps to kill the bacteria causing smell:
Put 2 tablespoon of sage in 4 ounces of boiling water. After cooling the water, strain the water to separate the sage from the water.
Now, add 4 tablespoon of witch hazel and a few drops of lavender essential oil in the sage water.
Pour the solution in a spray bottle and spray it in the feet after bath or at times you need it to remove the smell from the feet. Sage has anti-bacterial and anti-fungal properties.
9. Applying antiperspirants or deodorants help to control both sweat and odor:
Before wearing your socks and boots, apply deodorants or anti-perspirants in your feet. This will help to control both the sweat and the smell.
10. Epsom salt helps to kill bacteria and the smell from the feet:
Prepare a solution of Epsom salt and warm water in a tub and dip your feet in it for 15 minutes. This will help to kill the smell and the bacteria from the feet. You can do it every day after returning from work or at least 4 times a week.
Best ways to clean smelly work boots
Read our article on 18 ways to get rid of work boot smell fast for a detailed guide on all the effective and easy hacks for smelly work boots.
Also, here are some quick tips:
1.) Sprinkle some baking soda in the boots and leave the boots to dry overnight under the fan. Baking soda will kill the bacteria and remove the odor from the boots.
2.) Put soaked tea bags inside the boots and leave overnight.
3.) Place dryer sheets inside the boots before wearing them. Change the dryer sheets every day before wearing them. Dryer sheets help to prevent the sweat and thus the smell.
4.) Sprinkle baby powder inside the boots before wearing them. Powder helps to soak in sweat and remove odor.
5.) Sprinkle a solution of lavender oil, water and vinegar in the boots before and after wearing them.
6.) Putting the boots in the boots in the freezer overnight helps to kill the bacteria as well as the smell from the boots.
7.) Spray rubbing alcohol in the boots at night and keep it under the fan overnight.
8.) Placing lemon peels inside the boots overnight also helps to eliminate the smell from the boots.
9.) Wash your boots thoroughly every week with mild smelling detergent.
10.) Sprinkle essential oil and water mixture in the boots every day after coming back from work.
Things to consider while buying boots to decrease the smell in the boots:
If your boots have the following features, you can be sure they won't stink that much at least:
It must have breathable linings to allow the feet to breathe and prevent sweating

It must have anti-microbial linings to prevent bacteria growth inside the boots and to control odor

It should have snug fit to make your feet feel comfortable all day long

It should have moisture wicking footbed

It should be made of a breathable fabric like leather

The boots should be light in weight because heavy boots are tough to be worn all day long and can invite sweating of the feet
Related Questions:
Why do my Work Boots Smell?  
The main reason for the work boot smell is sweat produced inside the boot. Though boots are breathable but upper leather and bottom insoles absorb the sweat and creates the environment for bacteria to grow, which causes foot odor and work boots to smell.
How to Get Smell out of Work Boots?
There are many ways to get rid of work boot smell, some of the most effective and fast ways are:-
Using a boot dryer

Moisture Wicking Socks

Keep your feet clean and dry

Using baking soda and essential oil to kill smell
Top 10 Best Work Socks for Summer
Before You Go
When you finally choose the right boot for smelly feet for you, remember you also need to take proper care and maintenance of your feet and boots to prevent stinky feet.
To me it seems as though you should get a package of items like a boot dryer or at least moisture wicking socks to get you going.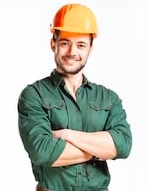 I have 12+ years of experience in construction, inspections, handy work, and currently working as a Construction Site Manager. In today's day we spent a significant part of our time at workplace and a right work gear can have significant impact not only on your safety but also work quality.