Thorogood boots have absolutely no comparison to them and I swear this is my most favorite brand when it comes to work boots as the comfort and durability provided by the boots of this brand is unmatched!
One unique thing that attracts me towards this brand of boots is the fact that they have work boots for every profession starting from teachers to construction workers to hikers.
My absolute favorite from this brand is the American Heritage Classic Moc Toe range boots!
Also, this brand has a number of series each dedicated to specific features, so that you know your requirements and which boots to select from.
And in case you don't have an idea of the details of the series of this boot brand, you can always rely on Stephen for it!
Yes, starting from the history to the features, to the series of thorogood boots, I will also tell you about which boots from this brand is perfect for which job, which boot should you select according to your profession, and which you should be avoiding!
Sounds interesting right?
So, why wait?
Let's scroll down ↓
The History of Thorogood Boots
The roots of Thorogood workboot brand stretch back to 1855 when a German immigrant named Peter Weinbrenner had set up a shoe shop as a cobbler in Milwaukee, Wisconsin. Albert was the son of Peter, who after apprenticing a few years under his father, opened a boot store in 1892. Then in 1900 Albert purchased a local shoe manufacturer so that he could produce his own line.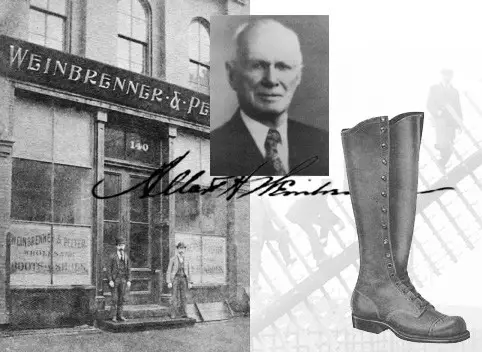 In the initial days, they used to make like 60 pairs a day, which grew to 8000 pairs per day by 1915. Weinbrenner then debuted the Thorogood line of boots in 1918 with a simple philosophy that each work field demands specific types of work boots and they would exactly serve each purpose by designing specific boots for oil workers, miners, the rail workers and also for the US Army in World War I and converted to all military boots during the WWII.
Gradually Thorogood expanded its dimensions with innovative and unique advances like the very first safety toe work boots in 1943. Yet another defining moment in Thorogood History was the creation of the "Official Boy Scout Boot: The Hike n' Camp" in 1964 which helped people in their life adventures.
Today Thorogood produces nearly 250 different models of working boots for nearly all the categories of jobs in the world.
Weinbrenner is by far the largest manufacturer of "Made in USA" footwear and has that name tag stitched into the seam of the boots and the logo of Thorogood on the heel.
Composite shanks in thorogood boots:
Shank is the part between the insole and the outsole along the arch that reduces the pain on the wearer's feel and calves. Whereas steel and fiberglass shank is common, thorogood uses composite shank instead in most of its boots and the reason behind that is:
Composite shank is lighter than steel

They do not get cold and thus provide insulation

They can bear the same weight as their steel counterparts

They are better electrical resistant

They are more comfortable weighing to their low weight and flexibility
Features of Thorogood boots:
Thorogood boots come in various colors and designs and have the option of safety toe box in nearly all the models.
Let's first have a look at the unique features offered by the Thorogood boots:
360 degree Goodyear Storm Welt construction that provides for increased waterproofing

They have cork molding layers

They have triple stitched uppers

Engineered composite or fiberglass shanks for arch support

They have synthetic EVA  footbed for shock absorption

Durable eyelets and speed hooks

Wedge soles,

Insulation,

Waterproofing

Safety toes: steel toe, composite toe, moc toe, non-safety toes

They offer electrical hazard protection

The outsoles are puncture resistant

The outsoles are also slip, abrasion, oil and chemical resistant too

They have metatarsal guards for supporting the torso area

They have static electricity dissipative capabilities which prevent electricity build up due to friction or rubbing
Now, let's delve into the details of the features:
1.) Material: Thorogood boots are made of extremely durable finest leathers that are flexible enough to allow your feet comfortable to take its shape inside the boots, bend and stretch so that you don't feel any pain in wearing them. Sometimes, they also use rubber and synthetic fibers in some accident prone areas of your feet like the sides of the boots and the toes.
2.) Construction: Nearly all the thorogood boots are made of Goodyear Welt Construction which is the best among its types and sometimes they use the triple stitching too which ensures durability of the soles that they won't come out in the long run.
3.) Insole: The thorogood work boots mostly use removable insoles so that you can change them with orthopedic insoles of your choice. Still, most of the boots are made of thick cushioned insoles that prevent shock and distribute energy to the entire feet.
4.) Outsoles: When it comes to the outsoles, thorogood offers you a wide range to select from: wedged soles, vibram soles, tough rubber soles, that can hold your grip easily on any terrain; dry or wet or slippery. They are finest in quality and are lightweight too.
5.) Shanks: Shank is the part that provides arch support and nearly all the thorogood boots have them. Thorogood uses engineered composite shanks or fiberglass shanks both of which provide excellent arch support so that your feet do not feel fatigued at the end of the day.
6.) Looks: Thorogood has boots designed for each purpose be it uniform boots or steel toe boots or moc toe boots or the dashing and stylish boots or the heavy industrial boots. Thorogood does not compromise on material or durability while designing the boots in its stylish looks.
7.) Price:
Also you will get a variety of options in the following:
Full lace up system 

Zip up models

Toe caps: steel, non-metal, composite, alloy

6, 8, 9, 10 inches shafts for arch protection

Wide and narrow toe boxes

Different sizes and styles like combat, logger, slip-on, chukka, postal, shoes, athletic boots, wellington boots, etc.
Series of Thorogood Boots
1.) 1957 series:
If you are looking for something vintage yet a classic style then the 1957 series is the one for you. This series is characterized by durability, comfort and slip-resistance.
The entire series features the moc toe style which is very rare. The boots of this range are made of full grain leather and they are built with the Goodyear Storm Welt construction which speaks of its durability.

The other features include MAXWear slip-resistant outsoles, waterproof membranes, soft liner lining, and shock absorbing footbed that provides comfort all day long. You get to choose from the 6" or the 8" shaft and Trail Crazyhorse or Briar Pitstop leather.
2.) Signature series:
Just as the name suggests, the series got its name from the signature style of the boots that are just out of the box. The entire series consists of very lightweight boots and are available with or without a steel toe. The boots in this range features:
Composite shanks mostly 6"

Shock absorption footbed that are removable

New West leather (which is a type of full grain leather)

Soft streets slip resistant outsoles
3.) American Union Series: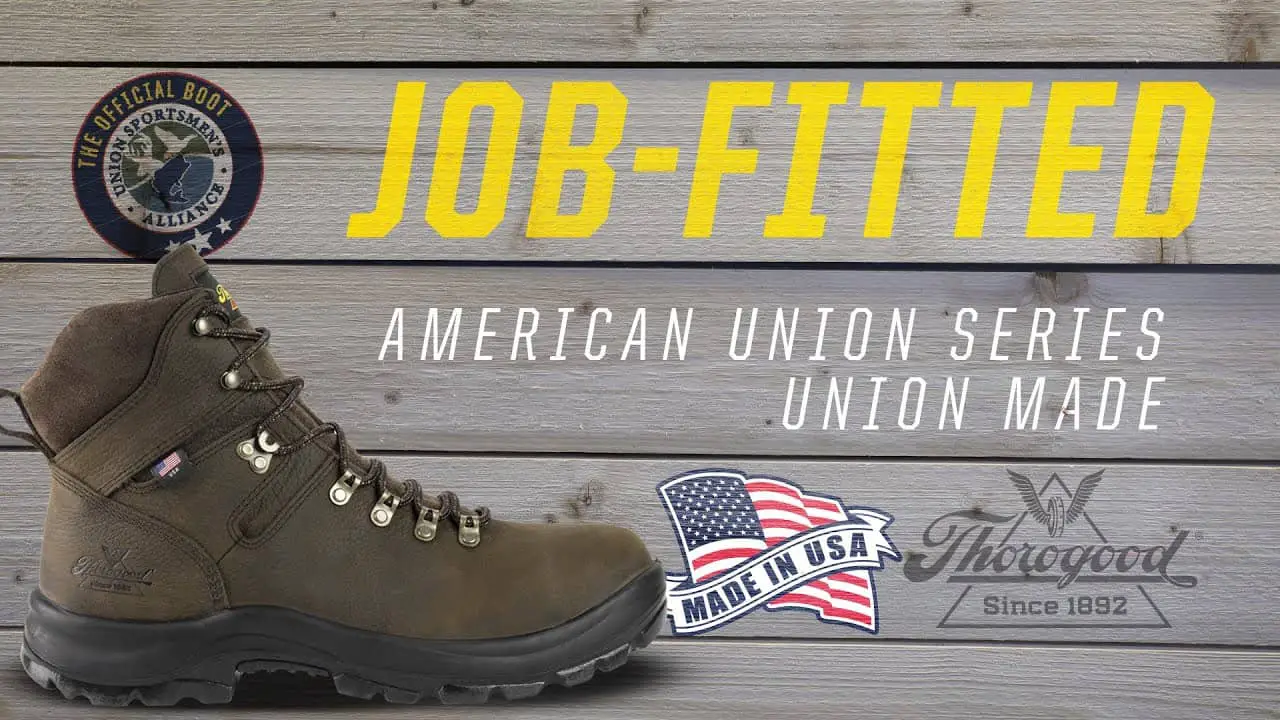 The American Union Series features rugged waterproof boots with seam sealed uppers that provides both comfort and durability. The series is Union Made in Wisconsin and is backed by the Union Sportsman's Alliance. The other features of the boots in this series include:
Lug outsole

Bob lugs flex like independent claws

Composite shank

Direct attach construction

Omni outsole

Single density polyurethane footbed that are removable
4.) Crosstrex series: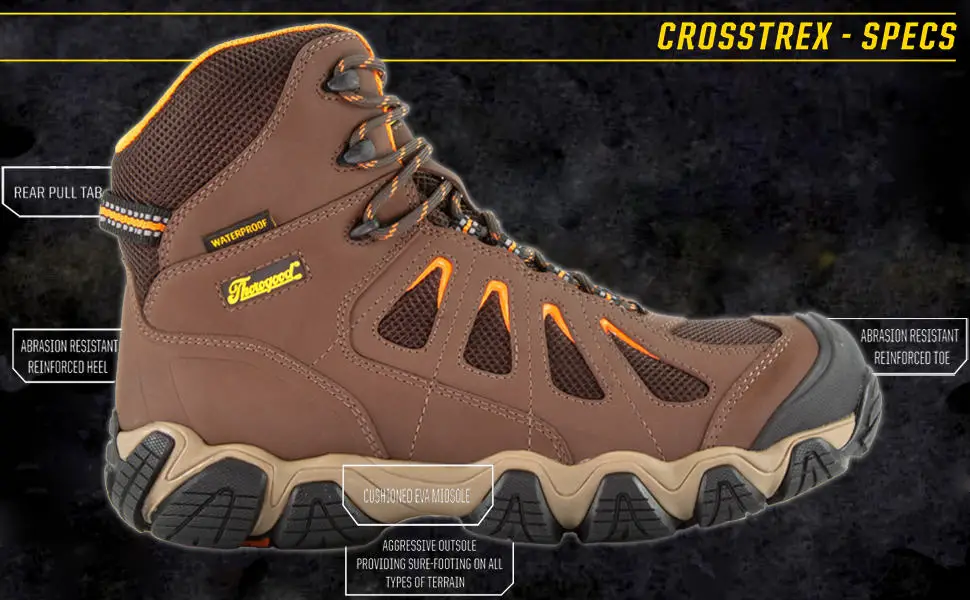 This entire series displays breathtaking hikers that are lightweight and waterproof. These athletic shoes offer great grip on any slippery terrain and the comfort is incomparable. These hikers display the following features:
Made of leather/mesh (for breathability)

They are waterproof

Single density polyurethane footbed that is removable

They have composite shanks

Excellent grip by the Crosstrex 360 outsoles

They are built with cement construction

They meet ASTM F2913-19 Slip Test Standards
5.) Omni Series:
The omni series is for all weather work boots be it sunny or rainy your boots are going to stand steady in every situation. The boots are comfortable and are marked by Omni outsoles, a lug outsole that offers the best traction for working outdoors and flexes on hard surfaces. They have composite shanks that add the arch support and are also available in steel toe options.
Do Thorogood boots run big or small?
Thorogood produces boots that are perfectly true to its size which means you don't have to go one size up or down in thorogood boots. Whatever is your shoe size, buy the same size in the thorogood boots.
Still you can check the size chart of thorogood boots and decide accordingly: 
ThorogoodSizingChart (Click to open pdf)
How much time do Thorogood boots take to break in?
Normally Thorogood boots take 6 to 7 wears to break in. But the thorogood moc toe boot range takes lesser or no time to break-in.
Types of works and which boot to use?
1.) Thorogood Men's American Heritage 6″ Moc Toe
Best 6" thorogood work boot: Good for electricians, engineers and supervisors
These boots are fit for any and every job you can think of and would look stylish on any occasion. These boots are quite popular amongst the working class. If you are looking for useful safety features, style and comfort in a single boot then this is it. 
Build quality:
These gorgeous Thorogood American Heritage Moc-Toe work boots uses the tobacco gladiator oil-tanned leather to make its uppers and the build quality is ensured by connecting the uppers to the soles using the Goodyear Welt Construction.
The Goodyear welt construction also ensures that the soles can be re-soled in case they are worn out. The 6 inches shaft gives the perfect arch support to prevent any pain from all day standing on the feet.
Protection:
The outsole is made up of a white, MAXWear wedge sole which is 1.25 inches thick to give you utmost comfort in rough terrains and is non-marking, slip-resistant too so that you can hold your grip tight on watery or slippery terrains.
The outsole also offers protection against electrical hazards as they are non-conducting up to 18kVolts. It meets ASTM F2913-11 SATRA standards. 
Comfort:
Your feel can feel the comfort it deserves stepping on the Poron 4000 shock-absorbing insole which absorbs the energy from the shock and then returns it to your feet. The good thing is you can remove the insole and replace it with any other of your choice which I think won't be necessary.
The unique thing about these boots is that they are lined with cotton drill vamp wherein the sides and the top of the boots don't hurt your feet and instead feels soft.
Features:
Nearly no break-in period

Not waterproof

Extra wide toe box choices

Very lightweight

Fiberglass shanks

Puncture-resistant soles
Why are these boots apt for electricians?
This is because these boots offer EH protection and meet ASTM F2913-11 SATRA standards which means they are safe for electricians and will prevent any conduct of electricity through the body.
These are suitable for engineers and supervisors as well as they don't have to deal much with water and the boots are not waterproof.
Who should avoid them and why?
Construction workers, bricklayers, pipe liners who need to deal with water, must avoid these boots as they are not waterproof.
Check Price and Reviews on Amazon
---
2.) Thorogood Men's Gen-flex2 Series 8″ Tactical Side Zip Jump Boot
Best tactical thorogood work boots: These boots are apt for the ones in uniform like traffic guards, supervisors, inspectors, engineers and even office workers. These are best known for their ease of wear with the YKK zipper and Velcro closure that allow quick pull on and head out of the boots.
They also have laces to tighten the boots according to your comfort fit. The glossy toe cap is the part that makes it apt for the collared jobs.
1.) Build quality: These stylish black boots are made of 100% full grain leather and the very well known and the best Goodyear welt construction. The Gen Flex II outsoles not only allow flexible movement of the feet but are also oil and slip resistant.
2.) Protection: The composite shanks provide arch support. The 8" tall ankle shaft provides ankle support and comfort. The lug patterns hold the grip well on any terrain.
The toe protector and the heel counter provide protection. The Dri-Lex liner technology wicks away moisture and eliminates odor.
3.) Comfort: The EVA midsoles absorb shock and the single density polyurethane footbed provides comfort and returns energy to the feet.
Who should wear them and why?
The traffic guards, blue collared jobs, etc can only go for these boots whose requirements are just a durable and comfortable boot that holds great grip and are easy to wear.
Who should avoid them and why?
There is no safety toe cap in any material to provide protection heavy falling or rolling objects so these can't be used by the ones who carry loads like construction workers.

There is no EH protection ability in these boots, so the electricians must avoid them.
Check Price and Reviews on Amazon
---
3.) Thorogood Men's GEN-flex2 Series – 6″ Cap Toe, Composite Safety Toe 
Best composite toe thorogood boots: For dry heavy work environments like woodcutters, electricians, mechanics, truck drivers and load carriers.
These boots are tough and hell bent durable. Right from the uppers to the soles these are packed in durability. They are extremely lightweight too. But note that they are not waterproof, so do not buy them if your work environment demands working or standing in water.
Build quality: These boots are made of tumbled, oiled full grain leather and have mesh linings to allow breathability in hot weather.
They are built with the Goodyear welt construction method so no issue while re-soling them. The rubber side bumpers prevent scratches, which is one noticeable features of these boots.
Protection: The composite toe caps in them meets the ASTM F2413-11 M/1/75/C/75 standards which ensures protection against the heaviest falling or rolling objects. The boots also offer electrical hazard protection by meeting CAN/CSA-Z195 standards. The anti-roll heel support prevents ankle-rolling too. 
Comfort: You are sure to feel comfortable in these boots because they have the compression-molded EVA midsole with impact 300 gel which is a patented technology that absorbs shock if you step on uneven surfaces. The composite shank provides arch support and the cushioning is great to feel comfortable all day long. 
Who should wear them and why?
These boots are great for hikers as the anti-roll heel support prevents ankle twist which is a common problem for hikers and the Gen Flex II rubber outsoles provide great traction too.

It is apt for the load carriers as the composite toe caps in them prevent any injuries from heavy falling or rolling objects.

These are perfect for truck drivers because the Gen Flex II rubber outsoles are known for their flexibility which allows flexible feet movement which is needed while driving trucks.
Who should avoid them and why?
These are not a great choice for the ones who work in water congested areas like construction workers, pipe-liners, etc.
Check Price and Reviews on Amazon
---
4.) Thorogood Men's American Heritage 6″ Moc Toe, MAXwear Wedge 
Best non-safety toe thorogood boots: These boots are super stylish and super comfortable out of the box. As the name suggest, they are best known for the MAXWear wedge outsoles that hold the grip on possibly any dangerous terrains you would find on the earth. 
Build quality: These sturdy pairs of boots are made with tobacco gladiator oil-tanned leather. The clamshell lacing system allows perfect fit and the moccasin soft toe gives it a stylish look. 
Protection: The single-density polyurethane MAXWear Wedge outsole is slip resistant so that you can hold your grip tight in oily and slippery terrains.
The boots also offer protection against electrical hazards with electric shock resistant soles and heels which protects against up to 18,000 volts of current.
Comfort: The poron comfort cushion insole provides the utmost comfort and the removable ultimate shock absorption footbed bounces back energy to the feet while you travel uneven terrains. The rubber midsole and the composite shank also adds to support and comfort by relieving pain.
Who should wear them and why?
Mountaineers, hikers, electricians and in-house workers can wear them as the boots are EH rated and are slip-resistant.
Who should avoid them and why?
Load carriers, construction workers, wood cutters should avoid them as there are no safety toes and are not waterproof too.
Check Price and Reviews on Amazon
---
5.) Thorogood Men's Infinity FD Series 8″ Waterproof 400g Composite Safety Toe Work Boot
Best boots for winters: These sturdy boots are great for winters with the 400g 3M thinsulate insulation which keeps the feet warm in the chilling winters and the snow.
Build quality: These are made of full grain leather and 51% welt construction. 
Protection: The FD FLEX-DRIVE outsoles provide multi-traction in snowy terrains and have the ability of self-cleaning too so no debris or snow will stick to your soles. These boots provide waterproof protection as well.
Comfort: They are made of removable single density anti-friction polyurethane footbed which provides comfort besides preventing static dissipation. The composite shank provides arch support and prevents pain. 
Who should wear this and why?
Cold region workers who work as Snow cutters, construction workers, linemen, brick layers, who work in water logged areas and slippery terrains and in mud and snow should buy these boots because they have outsoles which can auto clean debris and are waterproof. These are apt for cold countries as the boots have thinsulate insulation.
Who should not wear them and why?
Electricians should avoid them as the boots are not EH rated.
Check Price and Reviews on Amazon
How to Get Thorogood Boots Resoled?
To re-sole thorogood boots, follow the quick and super easy steps below:
1. Use a knife to separate the soles from the uppers of the boots. Be careful not to destroy the seams and the actual bottom where the outsoles are stuck.
2. Now, very carefully start to take the seams out by pulling it apart from the boots using your hands. You might need a needle to work the threads of the seams out.
3. Use a scraper to scrape out any remains of the soles from the boots.
4. Take a new seam and stitch it again on the boots using a needle.
5. Now take the new soles and use sandpaper to make the surface (the side that you are going to stick on the boots) rough. 
6. Use good quality glue and apply it on the rough part of the soles that you are going to stick on the boots. Let the glue dry a bit for a few minutes.
7. Apply glue on the lower portion of the boots as well where you are going to stick the soles and let the glue dry a bit.
8. Place the sole on the boots and press that soles hard on the boots so that it sticks nicely to the boots.
9. Let it dry overnight and you are done.
You can also follow a detailed guide to re-sole thorogood boots in the video below.
THOROGOOD BOOTS Resole #62
How long do Thorogood boots last?
On an average, thorogood boots will last you through 4 years of wear!
However, it also depends on the way you maintain the boots and the extremities you put them to in your work environments.
How thorogood boots are made?
Thorogood boots are generally made with the best quality full-grain leather, oil tanned leather, and 100% leather materials. They use thick soles and have shock-absorption insoles to relieve fatigue. Also, the soles are attached to the uppers of the boots using the Goodyear welt construction which makes the boots last longer and offers the option to re-sole the boots.
You can watch the entire video on the making of the thorogood boots.
How Thorogood Shoes are Made
How do Thorogood boots fit?
Thorogood boots come in different models and each one is different from the others in sizing. Let's see what's the difference:
Crosstrex: These boots run true to size.
American heritage: These boots will fit as your regular shoes and the toe box is roomy.
Loggers: These boots will offer you a snug fit.
Hiking boots: They fit perfectly true to size.
Work boots: Though they fit true to size, but they might feel a bit smaller at the initial stages which will eventually ease out with the break-in of the boots.
Tactical boots: They are very comfortable to wear and offer you a snug fit.
Military boots: They will provide you a tight fit because they are the tough ones and built to survive harsh environments.
Safety toe boots: They usually run half a size larger and might feel a bit tight if you get your true size. This is because the toe box area will be stiff and that is to protect your toes from injuries. So, make sure to wear them with thick socks while you try and buy the boots.
Lace-up boots: These boots are generally true to size and even if they are a bit snug fit, you have the laces to fit them correctly to your feet.
Pull-on boots: They fit snug and do allow some wiggle on the toe box area.
You can check the size chart of thorogood boots to check your perfect size for the boots.
How to Clean Thorogood Boots?
You can clean your thorogood boots thoroughly by following the simple steps mentioned below:
First of all remove the laces from the boots

Prepare a warm soapy solution in a bowl

Use a rag to get the loose dirt and grime off the boots

Use a toothbrush dipped in the soap-water solution to clean the welt area and the gussets of the tongue

Now take another rag dipped in the soap-water solution and clean the rest of the boots with it

Now clean the boots with a damp clean rag to get off the soap-water solution

Let the boots dry naturally

Use a good conditioner to condition the leather fibres

Lastly, apply a good polish and shine your boots
To watch the entire process of cleaning of the boots from the official website of thorogood, click on the link.
How do Thorogood MOC toe boots fit?
The Thorogood MOC toe boot series usually fit perfectly true to their size. The boots might offer you a snug fit and the toe box area of these boots is very roomy, but that does not mean that they are oversized.
They are just very comfortable to wear all day. Therefore, I recommend you to buy your actual shoe size while choosing these MOC toe ranges of Thorogood boots.
How long do Thorogood wedge soles last?
The actual Christy wedge sole outsoles (the Vibram outsoles) have been used by Thorogood since the year 1964. They used natural blown rubber in these wedged outsoles which is an excellent quality of natural rubber and is extremely durable.
Such soles were lightweight, slip-resistant, sticky on wet and dry floors and also offered great comfort. But their life span was not more than 4 to 8 months.
So, after a detailed research and a lot of experiments, Thorogood finally came up with a new wedged sole outsole that is made of polyurethane and they came to be known as their MAXWEAR range of outsoles.
They offer the same comfort and slip-resistance to the wearer as the Vibram outsoles with an increased life span by 20% to 30%. So, you can be sure that these new wedged sole outsoles will not disappoint you anywhere before a duration of 12 months at the least!
Are Thorogood boots good for lineman?
Not all styles are suitable for every profession. Lineman need to climb poles and electric towers and therefore their boots must have some safety features such as:
The boost must be very comfortable with shank support

The insoles need to be very thick and cushioned to save the feet from any pain for standing on those iron or steel poles

The outsoles need to be flexible and durable so that they do not wear down due to climbing on lines and poles

The outsole must be wedged sole because having heels can be the cause of getting stuck on the poles, tripping and falling

The boot must be padded to protect the feet from any injuries

The shaft length must be high enough protect the calf area while climbing

The boots must be waterproof 

The boots must be EH rated
Looking at all these features, in my opinion the Thorogood men's American Heritage 8" round toe, MAXWEAR wedge safety toe boot is the best choice for lineman!
Does Thorogood run true to size?
Yes, nearly all the models/styles of Thorogood boots fit true to their sizes. They neither run big or small. Therefore, you can blindly buy Thorogood boots online depending on the size of your usual sneakers.
Thorogood boots warranty:
The thorogood boots official website states that thorogood boots can be returned for defects or damages within one year from the date of purchase only and only if the boots are purchased directly from an authorized seller.
For more information on the return policy in case of any defects or damages click on the link.
It's time to bid Adieu!
Hey guys I hope you enjoyed reading the article!
That's all for today!
Stay safe, take care and…
Keep walking and keep shopping!