When you work as an Emergency Medical Technician or Paramedic, you often make the difference between someone making it to the hospital in time to save their life or sadly, not.
As an EMT, personal protective gear is part of your daily uniform, and good footwear is an essential part of that PPE.
Good EMT work boots will support you in your daily movements from jumping in and out of ambulances, lifting accident victims, or running from your vehicle to a trauma scene.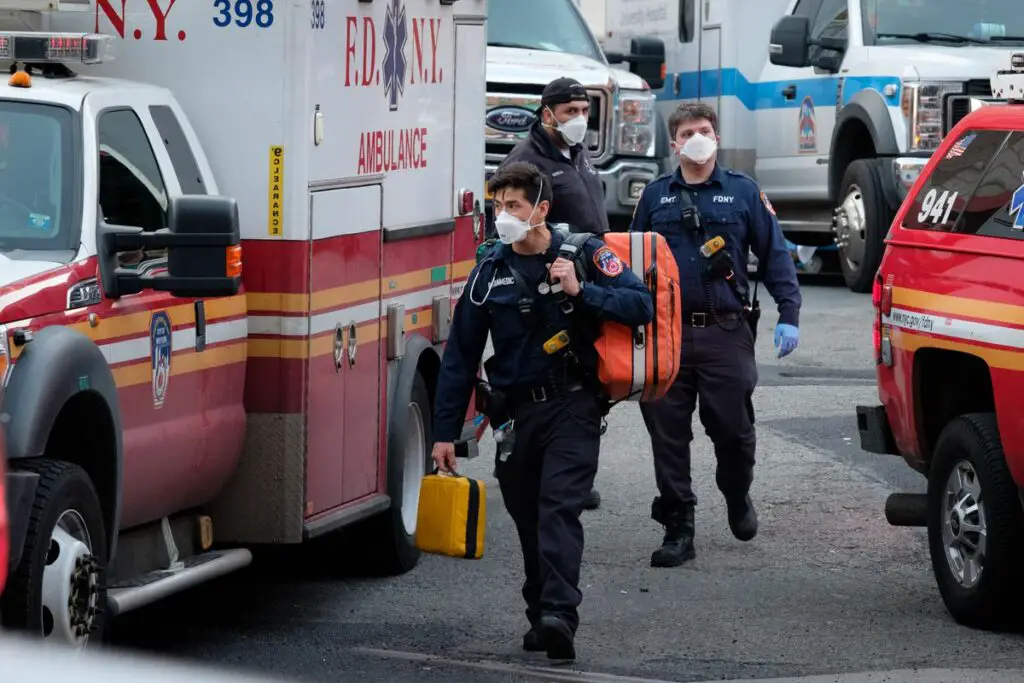 That foot and leg support should not only reduce foot and leg fatigue but sustain you as your endurance is put to a test.
With good foot and leg support, you won't have to worry about uneven or slippery terrain and any environmental challenges that you may meet.
Finding good work boots for EMTs isn't as easy as one might think. That's the reason we decided to do the research and testing for you to help you select the best work boots for your professional needs as an EMT.
Our top pick is the Bates Ultralite 8-inch  tactical Sport Military Boot because these work boots provide flexibility yet protect with their 8-inch height. The boot uppers are produced in leather and 1680 denier ballistic nylon making them super durable yet exceptionally lightweight.
We also liked the 5.11 Six-inch Tactical ATA 2.0 Military Boots should you find a six-inch work boot style more amenable.
| Boot | Uppers | Outsoles | Safety | Features |
| --- | --- | --- | --- | --- |
| Bates Ultralite 8-inch  | 70% leather, 30% nylon | Rubber | Slip and oil-resistant | Moisture-wicking lining |
| Maelstrom Lightweight | Textile and Leather | Rubber | Composite shank, Slip prevention | Waterproof, Insulated versions available |
| 5.11 Six-inch | 840D nylon, Suede toe | Rubber | Slip and oil-resistant | Water-resistant, Shock mitigation |
Our Favorite Picks for Best Work Boots for EMTs
Best Overall Work Boot for EMTs
1.) Bates Ultralite 8-inch  tactical Sport Military Boot
Prices pulled from the Amazon Product Advertising API on:
Product prices and availability are accurate as of the date/time indicated and are subject to change. Any price and availability information displayed on [relevant Amazon Site(s), as applicable] at the time of purchase will apply to the purchase of this product.
If there's one thing you can say about these work boots is that they provide flexibility despite their 8-inch height. Boot uppers are produced in a mix of leather and 1680 denier ballistic nylon making them super durable.
Lightweight cement construction lessens the overall weight of the boot. So, while you'll get lots of protection, you'll maintain agility and avoid being weighed down by heavy boots.
The boots are equipped with a boot insole in EVA with lots of cushioning and it is removable. The removability of the insole permits the insertion of custom orthotics if so desired. The inside also has a mesh lining for breathability and moisture-wicking to keep feet dry.
A padded collar and tongue provide a comfortable snug fit that prevents dirt and debris from entering and a lace-up design and side zipper make putting these boots on or off easy and rapid. The midsole offers shock absorption together with an outsole that is both slip and oil-resistant. 
Pros
Men and Women

Leather and nylon uppers

YKK zippers

Removable insole

Available in two colors
Cons
Some quality control issues
Check Price and Reviews on Amazon
---
Best Budget-Friendly Work Boots for EMTs
2) Maelstrom Lightweight Tactical Military Boots
Maelstrom Tactical Combat Boots
For every pair of Maelstrom boots we sell, we donate 1 dollar to the Boot Campaign, a non-profit organization dedicated to providing life improving programs for veterans and military families nationwide to bridge the divide between military life and civilian life.

Boots are available in multiple colors (black, tan) and styles (side zipper, waterproof, insulated). Backed by a one year manufacturer warranty. Sizes generally run true.
Prices pulled from the Amazon Product Advertising API on:
Product prices and availability are accurate as of the date/time indicated and are subject to change. Any price and availability information displayed on [relevant Amazon Site(s), as applicable] at the time of purchase will apply to the purchase of this product.
Even with a budget-friendly affordable price, these lightweight boots have a lot to offer with a cement construction, a midsole that absorbs shock, and a heavily treaded rubber outsole for traction.
The midsole features a composite shank for increased stability and support. The inner lining is antibacterial treated breathable mesh, so they protect against excess perspiration leading to fungus infections and undesirable odors.
The insole is well-cushioned for impressive shock absorption and the reduction of stress on your feet that leads to pain. As it is removable, you are free to place a preferred footbed in its place.
Uppers are designed and produced with air mesh, full-grain leather, and suede for flexibility and comfort. They also feature a heavy-duty zipper on the side for immediate access and an improved fit.
Pros
Leather and textile uppers

8-inch height

Removable footbed

Antibacterial, moisture-wicking inner lining

Men and Women sizes
Cons
Quality control issues

Stain easily
Check Price and Reviews on Amazon
---
Best Six-inch Work Boots for EMTs
3.) 5.11 Six-inch Tactical ATA 2.0 Military Boots
5.11 Men's ATAC 2.0 6″ Tactical Side Zip Military Boot
The A.T.A.C 2.0 Side Zip 6-inch boot features a full-length dual durometer Ortholite foot bed with Achilles heel flex zone for enhanced comfort and flexibility. Ortholite Acilles cuff for extra comfort.

This tactical boot has a shock mitigation system, strobal construction with lighter weight upper construction making these military boots ideal for use as patrol, missions, or law enforcement boots.

The Slip and Oil Resistant Outsole with 840D nylon upper keep your feet ready for all missions, patrols or hiking. Featuring a side YKK zipper and rugged suede toe, these tactical boots are built for protection.
Prices pulled from the Amazon Product Advertising API on:
Product prices and availability are accurate as of the date/time indicated and are subject to change. Any price and availability information displayed on [relevant Amazon Site(s), as applicable] at the time of purchase will apply to the purchase of this product.
Characterized by a low-profile design, these 5.11 boots offer durability coupled with excellent performance and boast a shock mitigation design for optimal compression and rebound movement.
This translates into increased comfort for wearers with greater mobility. Outsoles are slip-resistant and oil-resistant thanks to grooved tread performing well both indoors and on rugged outdoor terrain.
Inside this boot features a moisture-wicking, antibacterial lining for dry feet and odor prevention. A dual ortholite footbed with an Achilles heel flex zone reduces foot fatigue and undesirable stress.
Uppers are produced in rugged 840 dernier nylon that resists wear and tear regardless of the job. A breathable tongue adds to ventilation to keep feet cool. A YKK side zipper allows for easy wear and removal.
Pros
840D nylon uppers

Breathable tongue design

Achilles heel comfort zone

Oil and slip-resistant outsoles

Lightweight

Shock absorption capabilities

Affordable 

Mena and Women sizes
Cons
Check Price and Reviews on Amazon
---
How Did We Choose the Best EMT Work Boots?
There are lots of factors and characteristics that can contribute to making EMT footwear, great footgear. The characteristics that we looked for immediately were
Comfort

Mobility

Protection 

Support
Before selecting your EMT footwear, consult your employer, supervisor, or even union to get the correct information about any safety requirements or guidelines that are specific to your job.
Depending on your employer, you may have specific work boot requirements in place or have local workplace safety legislation to adhere to.
1.) Work Boot Comfort
This may seem like a given until the day you come home with sore legs and feet. For professionals that are on their feet all day long, comfort is a priority and not optional. Your work boots will play a starring role in daily comfort as you move about from one emergency to the next.
EMT work boots should feature some type of padding or cushion under your feet as well as along the sides and over the top of your feet. The footbed should feature a midsole that guarantees adequate support along with energy return and shock-absorbing capabilities.
Look for flexible but supportive midsoles that can absorb shock to some extent. A removable footbed is ideal so that you can both clean it or substitute it when the need arises. Footbeds that adapt to the individual foot shape will be a plus.
With a removable insole, you will be able to insert a better quality footbed or even order custom orthotics for increased support. Wearing to wear compression socks can improve blood circulation while you are at work.
Other qualities that can improve your comfort will be the inclusion of anti-microbial materials that fight odor together with moisture-wicking linings to keep your feet dry especially in warm climates or damp environments.
Boots should also be adjustable to give you a supportive comfortable fit whether they are lace-up, feature Velcro, or have zippers. A correct fit will not only enhance comfort but enable your mobility.
2.) Work Boots and Mobility
If there is one thing that may distinguish EMT work boots from other work boots it will be mobility. EMTs are constantly on the go and may find themselves in unusual situations on uneven or slippery terrain. 
When considering mobility capability, construction, material, weight, and design will come into play. All of these factors will determine just how flexible and mobile you will be on the job.
Boots should not be tight or stiff and in any way impede your movements.  Here the fit and size will be crucial. While support and protection are fundamental, for this profession mobility is equally as important.
3.) Work Boot Protection 
The primary reason for wearing work boots is for protection at work. There is a multitude of risks that you face as an EMT.
You may face thermal hazards, uneven, slippery surfaces, electrical hazards, chemical hazards, punctures from debris, fire and the list goes on. The risks you face will depend on the emergency you are called to, and this will be entirely unexpected and rarely foreseeable.
Your work boots must be tough enough to handle any of these daily challenges, yet the boot should be flexible so that it doesn't interfere with your mobility.
Higher shafts in work boots may reduce somewhat ankle mobility but offer more ankle support. In this sense, it is wise to determine the height of work you prefer.
4.) Toe Safety and Metatarsal Guards
Toe safety and metatarsal guards are valid methods of protection especially if you face situations where objects, buildings, roofs, or others may fall on you or around you.
While you may not want a heavy steel safety toe, a lighter-weight composite or aluminum safety toe may be a good option.
5.) Midsoles and Outsoles
Midsoles are an important consideration for shock absorption, while outsoles should be puncture-resistant and feature a design for traction with slip resistance. 
Midsole protection is important when working on broken glass, metal shards, rocks, or any sharp and potentially puncturing material.
Slip resistance is an important characteristic for outsoles. As you may need to walk on oily or slippery surfaces at the scene of an accident. This makes good grip and traction a priority.
Traction will depend on the outsole material and a design that includes deep traction grooves. Most outsoles will be man-made synthetic or rubber. There is no one perfect design, but the boot manufacturer will indicate for what type of terrain the boots have been produced.
6.) Environmental Hazards
Another consideration for EMTs will be any environmental hazards that they face due to accidents, chemical spills, electrical and fire risks, as well as thermal challenges.
Chemical spills can mean having to walk through a corrosive or flammable puddle that can lead to numerous injuries. Work boots should also feature EH protection, as well as insulation that can protect from extreme cold or heat.
7.) Bad Weather
Waterproofing is another feature to look for as you may end up rescuing someone during rains, snow, or floods. Keeping your feet dry and protected will keep you on the job.
Not all boots will have all features or offer the same amount of protection, therefore you need to evaluate which features are necessary for your work and check to see if there are any specific requirements legally or from your employer. When evaluating what type of protective features you need consider this list.
Ankle support

Chemical protection

EH protection

Metatarsal protection

Puncture resistance

Safety toe

Slip resistance

Thermal insulation

Waterproofing
8.) Work Boot Support
Foot and leg support is likewise important for overall health. A quality work boot will offer stability, correct foot alignment, and weight distribution.
There are many support elements that you may find integrated. Arch support and heel cup support are two examples. When selecting your EMT work boots keep in mind if you need extra support and what kind.
Conclusion
Whichever work boots you choose in the end, they are an important investment to enable you to perform well at your job while still maintaining a certain degree of comfort.
You are the unsung heroes that are responsible for saving so many lives annually. Being able to perform well depends not only on your preparation and training but on the PPE you use daily to get the job done while protecting your health as well.
They are many options available so take the time to research and try on work boots that serve your needs. We depend on you.