Diabetic and still want to work? Diabetes is not a disease that should be taken lightly.
People with this ailment constantly have to take insulin injections and check blood glucose levels and if you are diabetic then the chances of foot issues are really common.
In fact, according to the National Diabetes Education Program (NDEP), the average number of foot and leg amputations due to diabetes is 86,000.
I know these records are very depressing but you know what, half of these amputations could have been prevented by wearing the best diabetic work boots.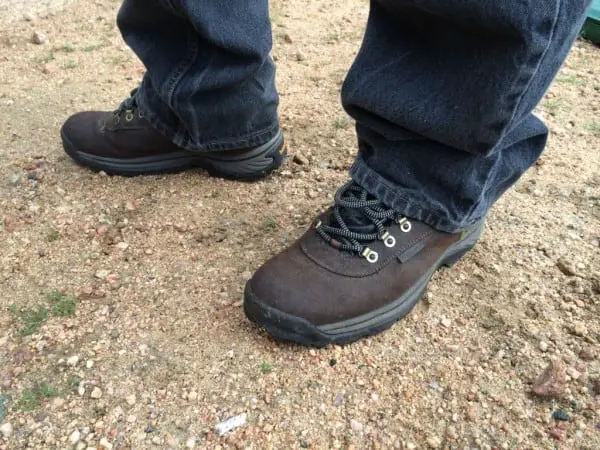 High glucose levels can severely affect the nerves of our feet and can lead to a very serious condition called neuropathy.
Not just this, loss of feeling in feet and poor circulation can lead to prolonged healing time. But don't worry! If you are diabetic there is something that you must possess in order to save your feet from injuries and infection and that is therapeutic diabetic work boot.
So, what makes these safety boots for diabetics different? For your knowledge, there are certain features that are amalgamated in these boots exclusively for diabetics like steel toe, presence of metal plate, durability, and waterproofing to name a few.
Since foot care is one area that can be protected if you put a little attention to your work wear we have reviewed the most comfortable diabetic work boots so that you can do all the activity at work without worrying about any foot injury.
Let me make it simpler for you by giving you everything you need to know about these therapeutic work boots.
Features of Good Diabetic Work Boot
What you really want in work boots for neuropathy is the presence of the following characteristics:
A durable, oil and slip resistant outsole which should be flexible and shock absorbent.

The boot must possess safety features like a steel toe, metal plate in the sole and electrical hazard protection.

Waterproofing and insulation where required.

A cushioned and supportive sockliner or footbed.

The boot must be constructed using seamless stitching to avoid chafing and blisters.

A wider and longer toe box that could provide enough space and can protect toes from bumps.

A comfortable and more profound heel cup.

A well padded tongue and collar to avoid irritation.
What are the key considerations while choosing the right diabetic work boot?
Choosing the right work boots is not puzzling and laborious. You just have to look out for a boot which matches these six key points:
1.) Length (Room for Toe Movement)
While purchasing diabetic work boots always make sure that there is enough space for your toe movement.
There should be as long as 1.5 to 2cm or ¼ to ¾ inch of space when you are standing. This not only provides you with comfort but also makes sure that your toes are safe from bumps.
2.) Width
Appropriate width is as useful as appropriate length for the same given reasons. You sure don't want to let your little toe rub and get hurt! While putting on shoes always have space for your toes to lie flat while you are standing.
3.) Heel Fit 
Well, a snug fit in a therapeutic work boot is the best. Your foot should not move up and down at the back while working.
4.) Proper Fastening to Avoid Slippage
Believe me, this is very important and should not be neglected. This will stop your foot from sliding forward giving you an adjustable closure.
Lace up, buckle or velcro straps should fasten over the instep to keep your boots in a proper position. And yes, these are user-friendly too!
5.) Construction Material
For construction material, choose the boots that are made with natural materials such as leather and knitted or crocheted fabrics.
How do they save diabetics? Well, they not only provide much-needed support but also limit perspiration keeping the user's feet crisp and healthy discouraging the build up of bacteria that can lead to infections.
6.) Heel Height
We have seen how heels should heel fit but what about heel height? The ideal heel height should be not more than 3cm or approx 1.5 inches and yes, the wider, the better.
---
Do's and Don'ts for those who wear diabetic work boots
1.) Always wear shoes of Right size
The boots which are loose fitted allow free leg movement and this can result in mishaps. On the other hand, too tight work boots can cause constant rubbing of the skin leading to bruises.
So, always check and buy the boots of the right size as you cannot afford to be injured because wounds take especially long to heal for a diabetic person.
2.) Avoid shoes made of synthetic interiors
Materials such as PVC, artificial leather and plastic restricts proper circulation of air. This can trap all the sweat and heat leading to innumerable health complications.
3.) Avoid work boots that do not have cushioning in the sole and tongue.
We have already read that cushions form a safeguard against friction with the inner lining of a work boot. Don't go on style, if you don't want your boots to be a source of nagging injuries then pick the ones with proper cushioning.
4.) Constantly wear socks
Socks or stockings have the potential to minimize moisture accumulation, reduce pressure and offer a relaxed and soft landing for your feet.
Thus wearing socks underneath your work boots is the first step of safeguarding your feet from getting infected.
5.) Avoid high-heeled work boots
High heels are as such not very comfortable as they put extra pressure on the support of your feet. A little amount of added pressure on this area can cause swelling and give way to calluses. And yes, you can also face balance issues which is quite problematic.
Best diabetic shoes
1. Timberland Men's White Ledge Mid Waterproof Ankle Boot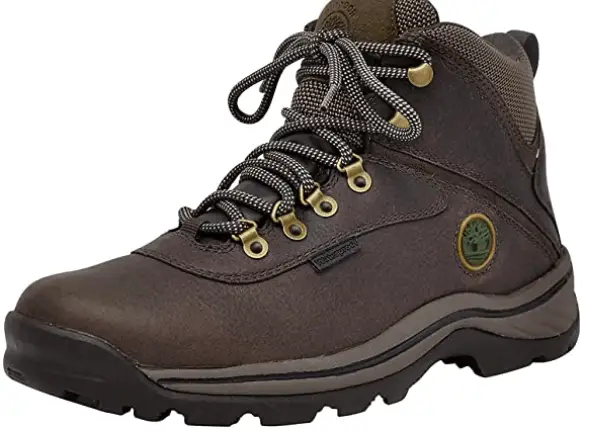 Timberland's all-time best seller, White Ledge ankle boots look good at any elevation. The boots are inspired by outdoor styling and keep you fully protected from all kinds of slippery surfaces.
Made of premium full-grain waterproof leather uppers these boots are a perfect combination of comfort and durability.
Talking about the lacing, the boots have rustproof, speed lace hardware with hooks on the top for secure lacing. The seam-sealed waterproof construction keeps your feet toasty all day long.
Moreover, the ReBOTL™ recycled fabric lining and EVA footbeds and midsoles have ample cushioning that saves your foot from rubbing and getting injured.
The outsole of the boot features multidirectional lugs for enhanced traction and gives you brake, support, and flexion so that your feet can make a proper grip even on oily surfaces.
If you ask me, I would say yes, these are a good option for diabetics and particularly if you are working at a place where you have to deal with water all day long.
Pros:
Comes with rust proof hardware

The tongue and collar of the boot are heavily padded making it impressively comfortable.

Has removable footbed

Corresponds to natural flexion of the foot.
Cons:
Don't have adequate ankle support
Check Price and Reviews on Amazon
---
2. Caterpillar Men's Second Shift Steel Toe Cap Boots for Diabetics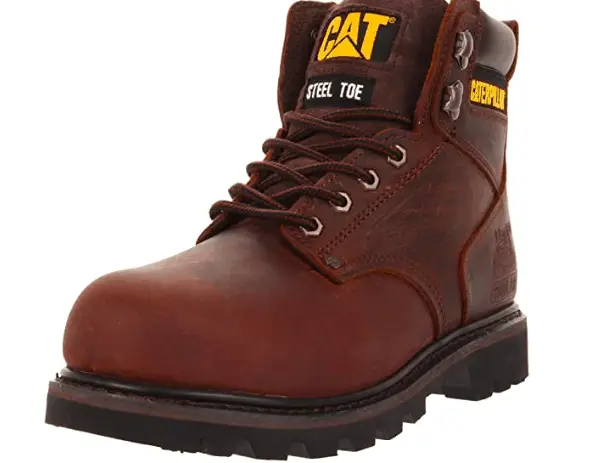 Designed especially for protection from heavy falling objects, the Caterpillar Men's Second Shift Steel Toe work boot is robustly built and yet very economical.
The upper of this boot is constructed using full grain- nubuck leather that is quite durable. What makes these boots special?
It's the presence of nylon mesh lining in the interior which keeps your feet ventilated and Climasphere breathable insole which offers padding and satisfactory shock absorption. The rubber outsole keeps your foot steady even on low-traction surfaces. 
Just put on these boots and work freely as they already meet ASTM F2413-11 I/75 C/75 and come with magnetic steel toe which offers protection on the work floor.
These boots also have the potential to save you from electrical hazards upto 600 volts in dry conditions. With these boots, you can also enjoy cooling comfort as they have removable PU sock liner.
And if you are thinking that steel toe can constrict your toe then don't worry the boots have quite spacious interiors.
Inbuilt 6 ½ inches shaft and Goodyear welt construction guard your feet and ensure perfect bonding. These also have secure lace closure with good quality eyelets and laces hence fit true to size.
Pros:
Steel toe protection

Removable padded insole for comfort

Skid-proof

High shaft for warmth
 Cons: 
The boots are not insulated
Check Price and Reviews on Amazon
---
3. Columbia Men's Newton Ridge Plus Waterproof Hiking Boot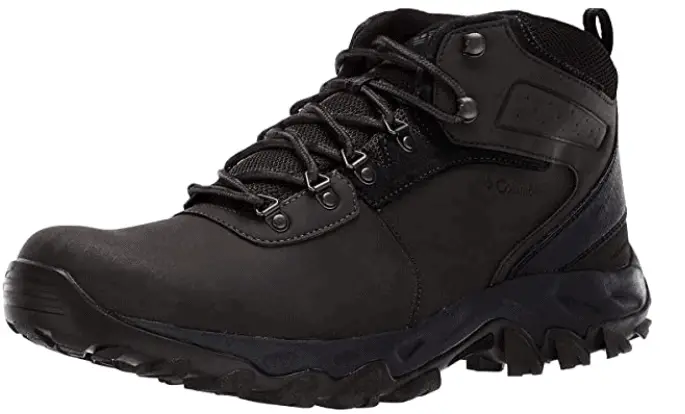 Built with extremely fine coated leather, these Columbia Men's Newton waterproof boots have everything right from comfort, protection and style.
These classic hikers are made with seam sealed construction and won't let rain, muck and puddles get in your way.
Looking at the advanced features, the boot is responsive and comes with supportive cushioning to save your feet against traction.
Furthermore, the super-grippy rubber outsoles allow you to walk miles on whichever surface you want.
The Techlite™ lightweight midsole not only gives you long lasting comfort but also high energy return so that there is no hindrance in your work performance.
Rest is taken care of by metal hardware and Omni-Grip™ non-marking traction rubber outsole for easy working.
These boots are quite adjustable thanks to lace-up closure for an adjustable, secure fit. Lastly, the interesting handy feature of the boot is mesh bootie construction which allows your feet to breathe.
Pros:
Easily breaks in

Superior cushioning for impact absorption

Durable and comfortable
Cons:
Waterproofing is not great.
Check Price and Reviews on Amazon
---
4. Wolverine Men's Floorhand 6 Inch Waterproof Soft Toe Work Shoe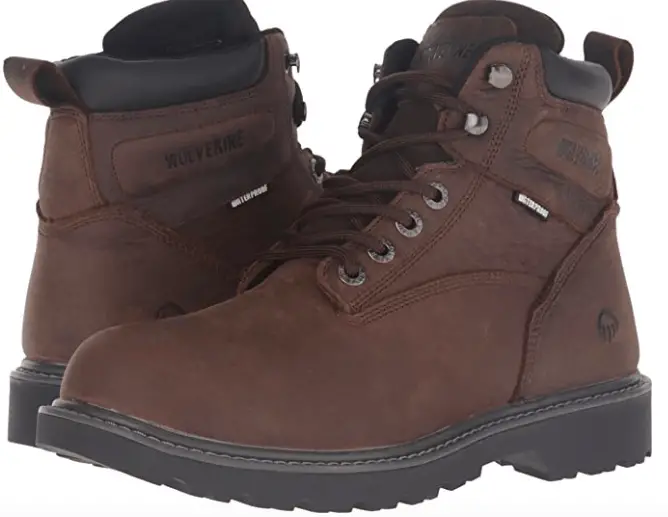 Looking for a hardcore work boot? It's time to stop your search at this great product from Wolverine.
Wide steel toe, high shaft which ensures safety from innumerable work hazards and construction of full grain leather for added protection. What else do you need?
The upper of this Floorhand Soft Toe Work Shoe is both waterproof and breathable at the same time so that you don't feel damped in your own boots.
The boot comes as a single unit all because of the lightweight construction cement which can hold all the elements of the boot together thus ensuring durability.
The manufacturers have manufactured this boot keeping safety as the topmost priority. Some fascinating safeguards for your feet like ASTM rated steel toes, high 6-inch shaft and lugs in the outer sole enhance traction and protect your ankle from getting hurt especially if something bangs against them.
I also like the full cushioned footbeds which are adequately contorted against the shape of the feet. And yes, these are as light as feathers!
Pros:
Have moisture wicking lining which prevents molds from occurring

The cement construction makes the boot durable and light-weight.

Comes with a wide profile steel toe hence is suitable for people with wide feet.
Cons:
The boots can initially be too stiff to wear.
Check Price and Reviews on Amazon
---
5. Skechers Men's Verdict Men's Boot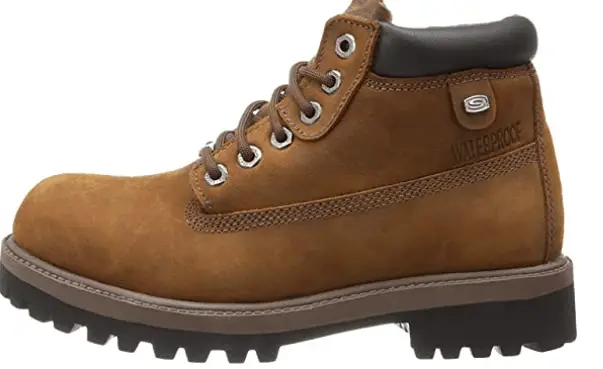 Buy these spectacular and reliable boots and walk in at your workplace with confidence. The boot has got a sturdy design with a height reaching ankle and teeth at the bottom for improved stability and stance.
Available in 5 different colors, these boots are made of 100% leather material which is functionally tough and protective. And yes, the snug shoelace enclosure makes them everlasting!
Not just rough and tough, these Verdict boots give full comfort and mobility so that you can work without any interruptions.
The waterproof memory foam equipped inside the cradle wraps your feet and makes you fall in love with them!
Pros:
Durable and tough with premium construction.

Comfortable and warm.

Snug fit.
Cons:
The tongue is a bit over stuffed.
Check Price and Reviews on Amazon
---
6.
Rocky Rams Horn Waterproof Diabetic Composite Toe Work Boot
Prices pulled from the Amazon Product Advertising API on:
Product prices and availability are accurate as of the date/time indicated and are subject to change. Any price and availability information displayed on [relevant Amazon Site(s), as applicable] at the time of purchase will apply to the purchase of this product.
Build quality:
These boots are made of full grain leather with cordura upper which speaks of both style and durability. The rubber outsole is durable too and is very comfortable to walk in.
The add-on is the pull on style that makes the wearing on/off of the boots very easy. The waterproof coating on the boots will keep the feet dry all day long which is very essential for a diabetic person.
Comfort:
Speaking of comfort, these boots have all such features that are utmost essential for a diabetic patient. The fiberglass shank though provides support to the feet, but is not hard to wear and the PU midsole are very flexible and are also directly attached to the boots.
The best thing about these boots is the presence of the energy bed LX footbed with memory foam that ensures that your feet will be all comfortable throughout the day.
Protection:
These boots also have all the essential safety features like the oil and slip resistant outsole, composite toe that is ASTM F2413 rated and not to mention, last but not the least, they are EH rated as well: ASTM F2413 standard.
Check Price and Reviews on Amazon
---
Should diabetics wear cowboy boots?
Diabetics should wear boots that are very comfortable with really good cushioned insoles and no high heels. Even the presence of steel shanks can be disturbing for their feet.
Now, cowboy boots are known for their heel support, steel shanks, and pointed toes!
Let's discuss what effects these features can have on a diabetic patient:
Too much raised heel might lead to heel pain as pressure on the heels will be more. This can sometimes create stress on the knees as well and constant pressure in the heels is not good for a diabetic.
Steel shanks might in case hurt the feet thus causing bruises and blisters on the upper portion of the feet.
Pointed toes are in no way safe for a diabetic patient as when the toe area will be pointed it will not give enough space to the toes to move freely and in fact, the toes will experience pressure from the sides resulting in blisters and bunions in the toes.
But, if the cowboy boots have a soft cushioned insole, the heels are not too raised and your toes are not that wide apart, you can go for the cowboy boots.
Should diabetics wear sandals?
Wearing sandals can pose some dangers for diabetic patients like:
1.) Wearing sandals leave the entire feet open. This might result in any sharp object piercing on the sides of the feet or the front of the toes
2.) The straps of the sandals put pressure on the feet for diabetic patients resulting in decreased blood flow
3.) The straps can also result in blisters and sore feet and blisters for diabetic patients are not good
4.) If there is any prior wound in the feet of a diabetic patient, then wearing sandals will leave the wound open to dust and germs
Can diabetics walk barefoot?
No! No! No!
Diabetics can not and should never walk barefoot!
Walking barefoot for a diabetics can prove detrimental to his/her health as even the slightest cut or piercing through a sharp and small particle can result in foot blisters that turn into ulcers for a diabetic.
Also, a diabetic's feet are prone to cracking, swelling, corns and calluses and walking barefoot will only deteriorate the conditions.
Should diabetics wear socks to bed?
Yes, wearing socks to bed is definitely advisable for a diabetic provided the socks have the following characteristics:
Have no elastic around the opening

Should not be ankle-length (should cover higher than the ankle)

Should be made of a moisture wicking fabric like cotton or wool
Final thoughts
We all know diabetes comes with complications and you surely don't want these issues to stop you from working.
I know diabetic shoes may not be as stylish as you want them to be but in the end they keep your feet safe and your health in top condition.
So next time if you visit your physician just get his or her opinion and get one of these top-notch boots to live a normal and disease free work life. Till then stay safe and in high spirits!