We all know that when it comes to safety and comfort, steel toe work boots are arguably the most popular type of work boots available in the market. While dealing with intense, razor-sharp, or heavy falling objects, the integrated steel toe caps of these boots protect your feet from any gash at the worksite.

When boots made of other materials break on exposure to too much compression, these boots bend easily and protect your feet. No matter how popular composite protective toes might have become but steel toe remains an all-time favorite.
With a variety of steel toe work boots available in the market, choosing the right pair can be a tough row to hoe. Let's make this task easier for you by listing the nine best steel toe work boots based on their overall performance.
Here is a list of best steel toe boots available in the market with all the key specifications.
Let's have a closer look at each one of them to help you decide the best steel toe pair through specs and reviews.
Best Steel Toe Work Boots for Men
1.) Timberland Pro Men's 6" Pit Boss Steel-Toe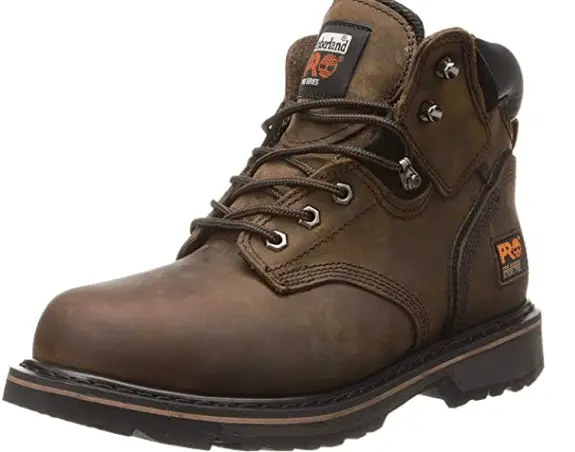 Safety, comfort and toughness Pit Boss has everything you need. With every wear these boots let you work with ease. The padded top collar and polyurethane midsole work hard to give the solace you have always desired for.
Additionally, the boots have an open-cell polyurethane footbed whose antimicrobial treatment keeps your feet fresh.
These steel toe boots are perfect for men working in oil fields and power stations as the leather work boots meet ANSI safety standards and have outsoles that are resistant to oil, slip and abrasion.
Pit Boss has a roomier toe box compared to other work boots that mean absolutely no pain even after long working hours.
Pros 
Rugged full-grain leather which makes them durable.

The nylon shock diffusion plate offers support.

The cast metal top hooks make these boots extra sturdy.

The boots have Goodyear Welt construction offering a long-lasting mechanical bond.
Cons 
The toe area might be narrower which might be a bit of a problem for people with wide feet.
Check Price and Reviews on Amazon
---
Best Steel Toe Work Boots for Women
2.) Skechers for Work Women's Workshire Peril Steel Toe Boot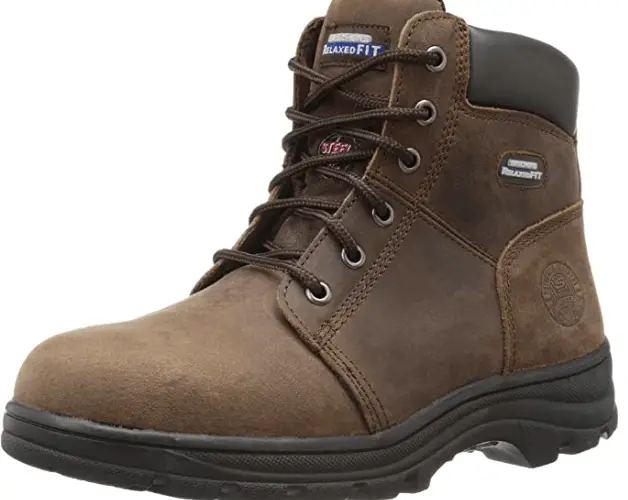 If you are searching for comfort and safety both at the same time then this is the product for you. Its insole has gel-infused memory foam and nubuck leather upper with stitching and overlay accents. 
The Peril Steel Toe Boot is just perfect for women working in warehouses having different surfaces. The Electrical Hazard (EH) safe design gives enough protection from the current.
Pros 
These have a rounded plain toe front that gives you enough front space.

The boots come with a lace-up ankle height and 

Have an internal steel safety toe and reinforced stitched seam detail.

Padded collar and tongue
Cons 
The boots don't have great durability.
Check Price and Reviews on Amazon
---
Best Budget Steel Toe Boots
3.) Skechers for Work Men's Workshire Relaxed Fit Work Steel Toe Boot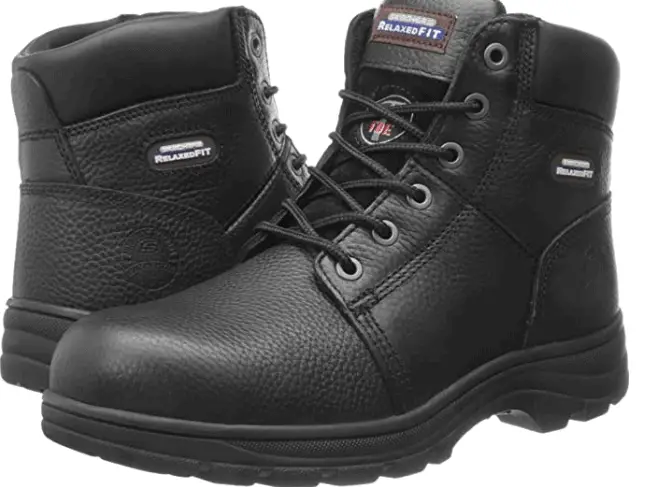 You can easily have a smooth work-life with these Workshire Relaxed Fit boots which have full-grain leather and oil-resistant traction rubber outsole to protect you from getting injured after slipping on a greasy surface. These are the cheapest good quality steel toe boots available at a price of around $50.
Not just this, the memory foam insole adds a custom-feel supportive fit and avoids all that strain. The lace-up ankle height steel toe work boot design provides safety to your feet and lets you work with ease.
The boots look neat and elegant and come in prime colors that everybody will love! Moreover,100% genuine leather used to make these boots is just perfect for sustainable performance. The shoelace closure holds your feet thus avoiding all the risk of trips and slips.
Pros 
Relaxed fit design for a roomier comfortable fit

Traction control rubber outsole.

Shock absorbing supportive lightweight midsole

Padded collar and tongue

Heel and side panel leather overlays
Cons 
The boots don't have great waterproof properties.
Check Price and Reviews on Amazon
---
Best Waterproof Steel Toe Boots
4.) Caterpillar Men's Threshold Waterproof Industrial Boot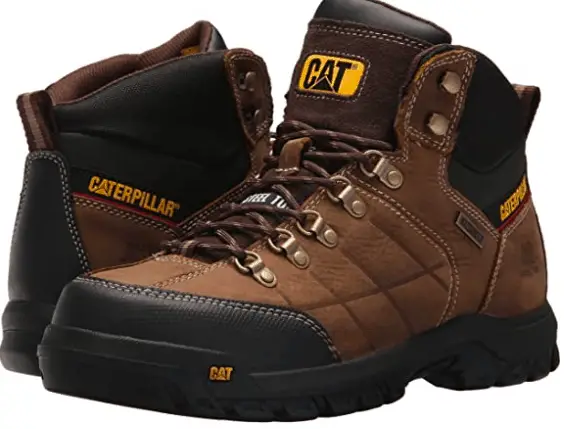 Glide through your work with ease even when your job site presents harsh working conditions with these Caterpillar Men's Threshold Waterproof Industrial Boot.
These boots will keep your feet safe with safety assured steel toes and waterproof design. Not only this, but the bright brown and jet black color options in these boots also make them look stylish too!
The upper uses full-grain leather and seamed seals make these boots entirely waterproof. The midsole is of springy Ergo cushioning. Additionally, these boots follow safety standards ASTM F2413-11 I/75 C/75 thus protecting you from electrical hazards.
Don't go on their robust built and steel toe, the boots are surprisingly flexible because of the ERGO midsole which makes these boots sufficiently lightweight.
The boots have a shaft height of 5.25 inches with the yellow CAT logo. The outsole has got tractable grooves offering high resistance to slip.
Pros
Have got steel toe protection

Comparatively lighter than other work boots

Interestingly flexible midsole

Provides excellent traction exceeding industry standards.
Cons
The boots lack proper insulation.
Check Price and Reviews on Amazon
---
Best Lightweight Steel Toe Boots
5.) Keen Utility Men's Flint Low Steel Toe Work Shoe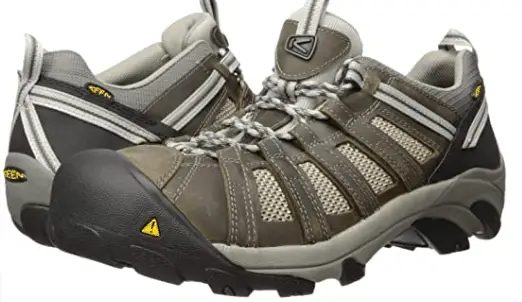 Adopt these Keen Utility Men's Flint Low Steel Toe Work Shoe and say goodbye to hazards! These boots are the perfect combination of resilience and comfort without compromising with the performance. 
Best suited for carpenters, construction and warehouse workers and even contractors the Torsional Stability Shank (TSS) of these boots provides appropriate support to the midfoot. The outsole is oil and slip-resistant with a contoured heel lock.
Interestingly, Flint Low gives you the comfort and shape of hiking shoes in safety shoes and saves you from the back pain.
Talking about the internal support mechanism, these shoes are anatomically engineered to give you proper arch support and hold the natural contours of the foot.
Pros
These have extra room for toe movement

Protective steel toes with leather uppers

Gives continuous odor protection
Cons
Not waterproof

The thin tongue of these boots make laces dig into the skin
Check Price and Reviews on Amazon
---
Best Diabetic Steel Toe Boots
6.) Skechers for Work 77055 Cankton Athletic Steel Toe work sneaker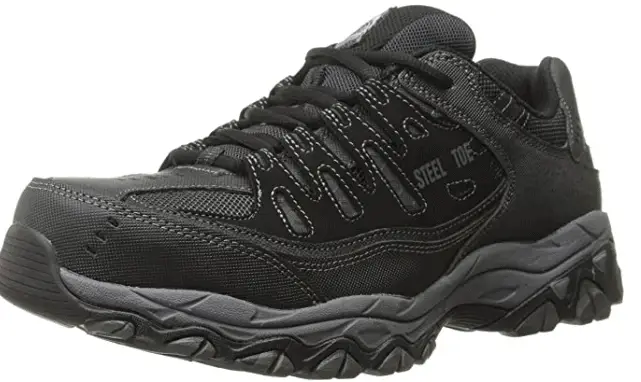 This Cankton athletic is the perfect diabetic steel toe work shoe available with ergonomic functions. The sneakers have 7 to 14 variants and are made of 100% suede and mesh which last for years.
These boots are made to work in any type of environment with steel toe and electrical hazard features. Moreover, the snug fit of these sneakers not only makes your feet relaxed but also protect with the help of synthetic sole.
The best part is the shoelace enclosure for a perfect fit doubling in purpose as a non-slip choice.
Pros
Very comfortable to feet with perfect fit

Has great tough-looking and edgy design

Maintains balance and stead in all types of work environments with non-slip outsoles.

Very sturdy and highly functional
Cons 
A bit of quality and ensign can still be improved.
Check Price and Reviews on Amazon
---
Best ESD Steel Toe Boots
7.) 
ROCKROOSTER Work Boots for Men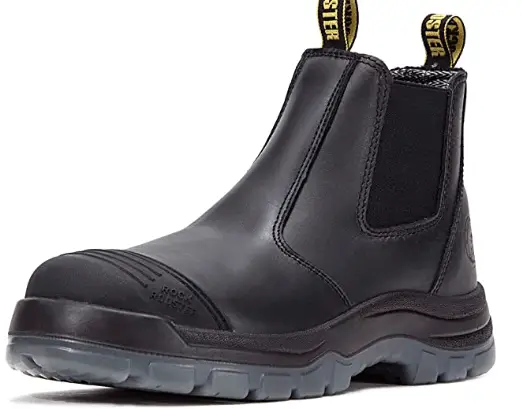 These Steel Toe boots by Rockrooster are specifically built for comfort and come with a synthetic sole and casual design that goes with every job.
The boots are best suited for concrete work, mechanics, welders, people working in heavy industries, at construction sites, or even in warehouses. The boots always tend to keep your feet cradled as they are anatomically contoured to the shape of the foot.
These boots have PORON XRD and advanced COOLMAX Fibre technologies that will give you anti-fatigue comfort and extreme impact protection while transporting moisture away from your feet and keeping them cool and dry.
One of the best features of these boots which I like is the presence of static dissipative, non- slip outsole which makes it slip and oil resistant.
Pros
Easy to wear as these are simple pull-on boots.

Completely waterproof so perfect if you have to work in water-logged areas.

Meets ASTM F2413-11 I/75 C/75 thus gives solid protection.
Cons 
These boots might not be suitable for people with wide feet.
Check Price and Reviews on Amazon
---
Best Insulated Steel Toe Boots
8.) Rocky Men's Ranger Steel Toe Insulated GORE-TEX Boots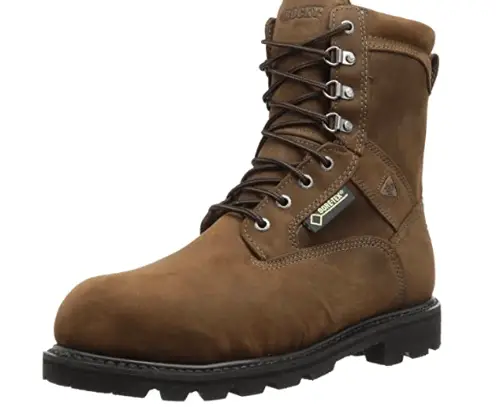 Rocky has designed these Insulated Gore-Tex Boots with all the love and care. The shoes are constructed with genuine leather material, are waterproof, and do not wear out easily keeping the user dry in wet conditions.
The measure of protection to the toe under different foot-pounds of weight is great as per seen by the results these boots produced after impact testing. 
And yes, the GORE-TEX technology provides breathability so that you don't have to deal with soggy socks every other day. The durable Goodyear welt construction makes them sturdier than any other work boots in this range.
Pros
It is insulated

The boots provide great arch support

Tested for injury through heavy weight.
Cons 
The shoes are not as waterproof as promised.

You have to replace the insole frequently.
Check Price and Reviews on Amazon
---
Best Rubber Steel Toe Boots
9.) Muck Boots Chore Classic Tall Steel Toe Men's Rubber Work Boot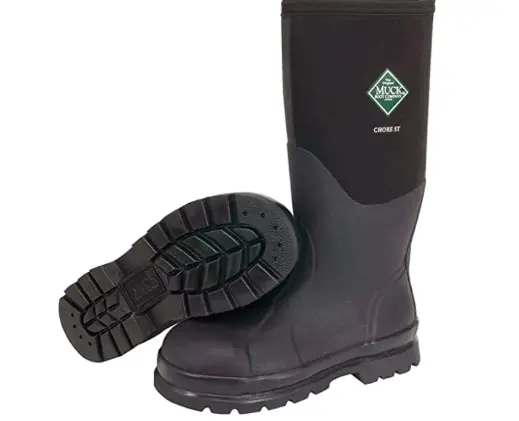 These Muck Boots are suited for any kind of job in any type of terrain. These are made with durable and lightweight outsoles and have deep treads on the bottom making it perfect for all surfaces like stones, dirt and even snow. The steel shank of these work boots provides stability and comfort while you are working.
Additionally, the shaft of these boots measures 15 inches from the arch and the boot opening measures approx 17 inches. The platform makes your feet feel flat on the ground and it's shaft-hugging stretch fit bindings keep the cold air out.
Pros
100% waterproof boots

High -grade rubber overlay with quick cleaning outsole.

Triple toe and quadruple rubber heel for added protection and durability.

Breathable air mesh lining that keeps humidity and perspiration away.
Cons 
The boots lack thermal underlay for additional warmth.

There is no fleece lining in them.
Check Price and Reviews on Amazon
Steel Toe Boots Specification
Whenever you are going to buy steel toe work boots, there are two basic properties that you have to keep in mind. First, they must have toe protection that should meet specific standards set by the American National Standards Institute (ANSI).
Second is the ability to protect feet from electrocution, which is specified by the American Society for Testing and Materials (ASTM). Boots that meet ASTM F2413 utilize a four-line format to recognize hazard protection.
Line 1 identifies the specification ASTM F2413

Line 2 is for gender identification (M/F)  and classification (50,75) for impact on the toe area (I), compression or crushing forces in the toe area, and metatarsal impact (Mt.

Line 3 and 4 recognizes protection against specific hazards.
How steel toe boots should fit?
You should know that your steel toe boots fit right when:
The heel of your feet does not come out of the boots or rub against the walls of the boots

The heel sits right at the ball of the heel of the boots

The toes have space to wiggle and breathe

The toes are not bent inside the boots

The feet do not have enough space or come back and forth inside the boots

The arch of the feet is not bent inside the boots

The feet do not experience any pressure at the sides
What are steel toe boots good for?
Your steel toe boots are good for protecting your feet from the following:
Protection against heavy falling or rolling objects

Protection from burns

Protection from cuts by sharp objects

Protection from punctures

Protection from static dissipation

Protection from electric shock

Protection from slips or falls as they are sturdy
Things to consider while buying steel toe boots:
While buying steel toe boots, you should consider the following factors in your boots:
The boots should have breathable linings because steel toe boots are heavy and will make your feet sweat

The insoles should be cushioned and better if they are made of anti-fatigue technology to give you comfort all day long

The foot bed should be shock absorbing

The boots should have EH protection

The boots should be made of a breathable fabric like leather

It should have a good lacing system to give you the perfect feet

Wear the socks that you are going to wear every day with the boots to decide the perfect fit of the boots

Buy the boots at evening hours when your feet are swollen
Final thoughts
At the end of the day, steel toe work boots are the ones you need to protect your feet from all sorts of hazards in your workplace by acting as a wall of safety.
The above- mentioned list carries all the great brands in work boots. From steel toe boots for women to steel toe boots men choose the one that suits you and put your best foot forward. Happy working!