Ever buy a great pair of work boots only to discover that the toe box was uncomfortable and squeezed your toes? For tradesmen with wide feet, this can be a nightmare.
You'll be uncomfortable, may develop blisters or worse, and will be distracted while doing your job. So what's a pro to do, especially if purchasing a pair of work boots online without the advantage of trying them on first?
We decide to do some research and testing to assist those pros that require a wide toe box in a quality pair of work boots.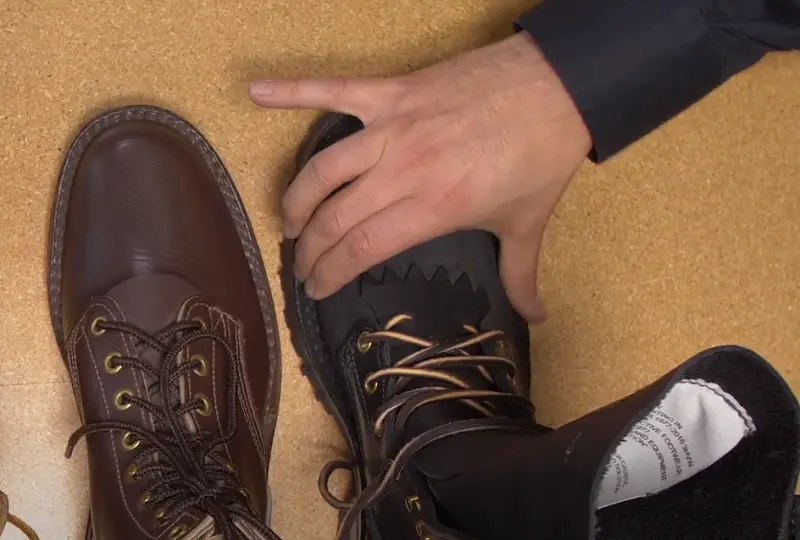 Our overall favorite is Redwing King Toe 6-inch Men's CSA Safety Waterproof Work Boot. Redwing created the King Toe boot collection for extra toe room with an impressive 44% more room in the toe box area than their standard work boots. 
Another very convincing option is the Birkenstock QS700 Work Boots because of the level of comfort offered.
If a work boot with a wide toe box is a priority for you, read on to get the low-down on selecting the best toe box.
| Work Boots | Uppers | Outsole | Safety | Extras |
| --- | --- | --- | --- | --- |
| Redwing King Toe 6-inch Men's CSA | Leather | Vibram | Puncture resistant insoles, high-heat resistant soles resistance to chemicals, abrasions, and oil EH-rated, Non-metallic safety toe | Waterproof, 3-layer system |
| Irish Setter Work Men's Marshall | Leather | Rubber | Steel toe, Composite midsole, Steel shank, EH rated | Waterproof |
| Skechers Men's Verdict Wide | Leather | Rubber | Steel shank | Waterproof, Insulated, Air-cooled memory foam, Padded collar |
| Birkenstock QS700 | Leather | Nitrile rubber | EN ISO 20345: 2011 safety certified, Steel toe cap | Water-resistant, Anti-slip, Anti-static, Puncture-resistant |
Why Is a Toe Box Important?
This question may seem like a no-brainer, but the correctly sized toe box is more than just about squished toes. The most obvious reason is indeed comfort.
Pinched toes are painful, and you can develop irritations, blisters, and even infections, so your discomfort will become a pain. You'll be miserable.
Another major reason for having a boot with a properly sized toe box is for your foot to function correctly.
When you walk or move around, your foot will perform a series of micro-movements to guarantee balance and agility.
When you take a step, both the ball of your foot and your toes will spread out under your weight and flex as you move forward.
Quality footwear in the proper size will afford sufficient room for the foot to perform these movements correctly.
Footgear that is not the correct size will impede this natural process and you'll know it by the feel of the shoes or boots that you are wearing.
Why Do Manufacturers Make Narrower Toe Boxes?
A lot depends on the purpose of the footgear, or the fashion element involved. Work boots will generally have a somewhat wider toe box than let's say dress shoes, or even cowboy boots if we want to stay in the boot market.
Cowboy boots may be the same size as your work boots but have narrower toe boxes for style purposes.
Because work boots are considered practical footwear, there is more probability that a toe box size will be dictated by style, design, or other.
Footwear for athletics may feature slimmer toe boxes because you need a more form-fitting shoe during movement to prevent your foot from sliding around, or you losing your balance. An athletic shoe is generally designed in the form of the foot with tread added.
The principal reason, however, that narrow toe boxes are integrated into footwear is due to fashion trends, for both men and women.
Many men's dress shoes have a narrower design in the toe area, even though this may not be the most sensible or healthiest choice available.
If shoe and boot manufacturing companies follow market research, and that research demonstrates that a good percentage of potential clientele like the look of narrower shoes and will purchase them, the marketplace will become inundated with narrower shoes and boots.
How Does a Manufacturer Decide the Toe Box Size?
Footwear makers will use a mold for any given style of shoe or boot known in the business as a "last". Lasts resemble feet somewhat, and the footwear is shaped around them.
Every company will have its own last and they will vary with some using narrower lasts and others using wider lasts.
A work boot that is labeled as having a wide toe box generally indicates that the toe box is wider than average toe boxes found in the company's standard footwear.
What Size Toe Box Do I Need?
The main problem with footgear is when they are too wide or too narrow for the feet. Wider toe boxes will give a bit more room on either side of the toes. Narrower toe boxes won't. 
Keep in mind that the concept of what is narrow and what is wide will vary from manufacturer to manufacturer. There is no defined standard accepted across the board.
To determine the correct size of a toe box, you need to measure your feet or have someone do so for you.
You can do this easily by tracing your feet on a piece of paper while wearing standard work socks. Then measure the widest part of your foot and the width of your toes from the tracing. This will get you started.
Unfortunately, most manufacturers may not include the measurements of the toe box when you are ordering work boots. 
Ideally, a Brannock device may offer more help. This is a foot measuring device invented by Charles F. Brannock to measure feet for the correct shoe size.
If there is a shoe store in your area that uses one, it may be the best option for discovering what your actual foot size and width are.
Most manufacturers will indicate an M or a D for a medium width, while wider sizes may be identified with an E or EE. If you happen to be an E on the Brannock device you can probably order a D one size larger or order a wide size, one-half size down.
The best alternative is to have a bootmaker or shoemaker measure your feet for you.
The Square Toe Box
Square tox boxes generally will provide a bit more room for toes to spread. It is an ideal style for pros with wider feet.
This footgear will usually be more comfortable for people who have unusually shaped feet or comfort issues, as well as those that suffer from swollen feet or toes.
Wide shoes and boots may feature a wide toe box because a wide shoe or boot is a variation of normal footwear and has the same length. These boots will generally be wider in the toe box and forefoot areas.
Other Aspects to Factor In
You may need a wide toe box but buying quality work boots doesn't depend on a toe box alone. The toe box width is a part of finding the correct size. Here are some other aspects to factor in when making your selection.
1.) Brand
Select a reputable brand for its use of quality materials and construction technology. Also, well-known brands generally offer better customer service as well as warranties.
2.) Work Boot Features
Look for the features you need most such as tread, insulation, waterproofing, padding, arch support, puncture-resistant plates, etc.
3.) Budget and Value
Consider what you can comfortably afford and look for the best quality for that price. Cheap is not necessarily good, or bad for that matter. Evaluate how much value the work boots offer you for your money.
4.) Durability
This characteristic will heavily influence the value of the work boot and is directly connected to the reliability of the brand and manufacturer. You want your boots to last.
Our Favorite Best Wide Toe Box Work Boots
Best Overall Wide Toe Work Boots 
1. Redwing King Toe 6-inch Men's CSA Safety Waterproof Work Boot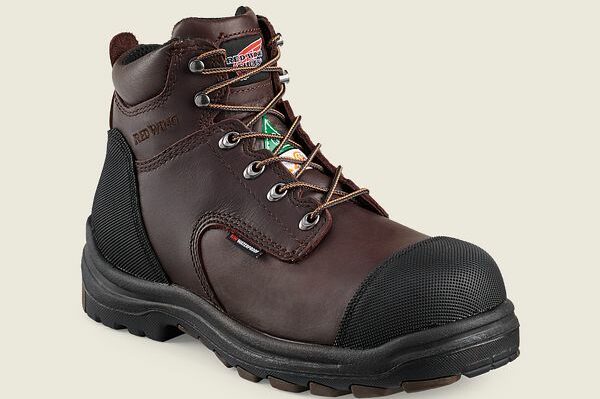 Manufacturer Redwing created the King Toe boot collection to guarantee that toes got some extra room, providing an impressive 44% more room in the toe box area than their standard work boots.
These King Toe work boots also impress with safety features. They are puncture-resistant compliant with ASTM safety requirements and come with electrical hazard protection and a non-metallic safety toe.
Uppers are waterproof, and these boots offer resistance to slippage, oil and gas, chemicals, and abrasion. The waterproofing uses a three-layer system with linings that move moisture away from feet, foam cushioning, and a water bootie as a barrier against water seeping in.
Vibram outsoles perform on high heat surfaces to 475°F. and are directly bonded to leather boot uppers to ensure durability and flexibility when on the move.
Insoles are Swen-Flex and are non-metallic, puncture-resistant made from strong woven fibers. The King Toe boots offer exceptional performance both indoors and outdoors.
Pros
Classic style

6-inch height

Composite safety toe

Full-grain leather boot upper

Swen-Flex Puncture-resistant insole

Waterproof

EH rated
Cons
---
Best Square Toe Wide Toe Box Work Boots
2. Irish Setter Work Men's Marshall Steel Square Toe Work Boot 
Prices pulled from the Amazon Product Advertising API on:
Product prices and availability are accurate as of the date/time indicated and are subject to change. Any price and availability information displayed on [relevant Amazon Site(s), as applicable] at the time of purchase will apply to the purchase of this product.
The brand "Irish Setter" is part of the Red Wing Shoe Company. It was created in the 1950s and has a brilliant reputation for quality boots for the indoors and outdoors.
These Marshall Steel boots are an exceptionally comfortable pair of pull-on work boots. They require no breaking in and fit as if a pair of comfortable slippers.
They are lightweight even with the safety toe, weighing in at 2.40 lbs. The boots' outsoles are in Rubber RPM, a composite that aids in limiting weight.
A steel shank underfoot for protection is integrated into the design. The 11-inch height has the boots sitting at your calf. Upper boots are full-grain leather. Heat-resistant soles and replaceable footbeds complete the construction.
Irish Setter's "UltraDry" waterproofing features a waterproof membrane that also offers breathability. Feet remain dry in all weather conditions.
Attractively designed classic square toe boots are easily pulled on or off at a moment's notice. This model is available in the steel toe or soft toe version. 
Pros
Pull-on boot

Lightweight

Safety steel toe 

Goodyear Welt

Waterproof

Electrical Hazard rated
Cons
Check Price and Reviews on Amazon
---
Best Wide-Sized Wide Toe Box Work Boots
3. Skechers Men's Verdict Wide Boots for Work
Prices pulled from the Amazon Product Advertising API on:
Product prices and availability are accurate as of the date/time indicated and are subject to change. Any price and availability information displayed on [relevant Amazon Site(s), as applicable] at the time of purchase will apply to the purchase of this product.
American Manufacturer Skechers is renowned for its memory foam footbed. The wide work boot named "Verdict" offers a padded collar and boot tongue, the famous cushion insole, and a rugged outsole.
Leather uppers are available in a smooth or suede finish guaranteeing breathability, limiting perspiration discomfort, and come with waterproofing. 
The lacing system allows a customized comfortably snug fit. The tough outsole affords great traction to prevent slips on any surface.
The midsoles in these boots have a steel shank for added support thus increasing your comfort. These work boots are available in standard, wide, and extra-wide sizes.
Pros
Top-quality cushioning

Very Durable

Excellent padding on boot tongue and collar

Waterproofed leather

Budget-friendly

Many sizes available

Tough, Rugged Outsole
Cons
Requires cleaning more often because of grime accumulation

Need some breaking in
Check Price and Reviews on Amazon
---
Best Comfort Wide Toe Box Work Boots
4. Birkenstock QS700 Work Boots
While these cannot be purchased through Birkenstock USA or Amazon, these boots are excellent for toe space, and fortunately, Zami ships globally.  They are slip-resistant and EH-rated.
Rising to just over the ankle they offer flexibility and a spacious toe box. A steel toe cap is scratch-resistant, and the rubber outsole resists punctures.
Boots are also slippage and water-resistant, while the heel is antistatic and will absorb energy.
Pros
Steel toe cap

Nitrile non-slip rubber sole 

Anti-static 

Puncture-resistant

Water-resistant

EN ISO 20345: 2011 safety rated

Ample size selection
Cons
Cannot be purchased in the USA

Expensive