Dr Martens or Docs as you call them vernacularly is a top work boot brand especially in English world since the 1960s and is still one of the most preferred brands in the market.

Designed literally by a German doctor during the time of the Second World War, Docs have been growing so fast that the brand was named as the eighth fastest growing British company in 2012.
According to the famous Business Insider, almost 10 million pairs of Dr. Martens are made each year but could this be the brand of your choice?
YES! Doc Martens boots are perfect for almost any kind of work whether it's a warehouse job, an office job or an outdoor job. Docs are comfy yet cool. The cushioned soles in them are tough enough to save your day. From giving you a snug fit to a mind blowing durability, these boots are worthy of being a good pair of work boots.
However, there are other factors that make Docs capable to be your favorite work boots. What are they? Let's have a look!
What are the Different Types of Doc Martens Boots?
Doc Martens manufactures a variety of work boots that includes work boots for men, women and work safety shoes. I have classified these boots according to their specific areas like exquisite features and technologies.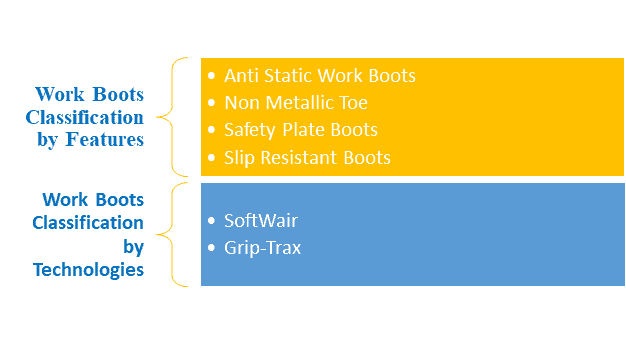 Doc Martens Boots Classification by Features 
With one of its kind features, Doc Martens gives you enough varieties to browse from. Just choose from their work boots by aligning the specific features to your particular need.
1.) Anti Static Work Boots
These conductive safety boots will save your feet by sending the electrical charges directly to the ground and thus prevent electrocution, spark or a static shock. These boots are well suited if you are dealing with electricity on a daily basis.
2.) Non-Metallic Toe (NMT)
These are nothing but composite toe boots which will protect your feet from extreme weather conditions. What's really interesting about these boots is that they can pass through a metal detector and are best for people who work in harsh conditions.
3.) Safety Plate Boots
These are the steel toe variant of Doc Martens and are known for providing a protective reinforcement in the toe area. The boots can actually save your feet from falling objects and compression.
4.) Slip Resistant Boots
You can easily guess what's special about this boot from the name itself. Designed with rubber soles and tread patterns these boots can increase the traction which can indeed save you from slipping.
Other than rubber, the materials used in manufacturing are PVC and PU which make them perfect slip-resistant boots. The boots are suitable for people who work in an oily or slippery working environment.
Doc Martens Technologies
The two unique technologies that you will definitely find in these boots are:
1.) SoftWair
This particular technology is the reason that makes Martens lightweight and comfortable. Not just this, by eliminating the feeling of a heavy boot, SoftWair engineering allows your feet to breathe easily in the workplace with the help of air cushioned sole. And yes, the boots will also save your feet while you work in grating conditions.
2.) Grip-Trax
Interestingly, this is the first tech to be developed by Dr. Martens which is the perfect amalgamation of durability, slip resistance and comfort. The enhanced flex and cushioning of these boots make the worker feel safe and protected.
Why Should You Choose Dr. Martens?
From comfort to durability, I have got a number of reasons to convince you that these boots are just the right choice for work wear. 
1.) The Docs are made to last with their hard leather. These boots can sustain almost every kind of wear and tear without cracking or splitting. Thanks, to the tough lining and stitching that saves the boot from rotting or bursting.
2.) Give extra protection to your feet with Docs when you are at your job. The steel toe area of the boots safeguards your metatarsal area against stumbling. Whatever work you do, these boots promise to protect your feet from almost every kind of element whether it's water, snow or mud.
3.) The most important factor to be kept in mind while purchasing any work boot is comfort and trust me Doc Martens consider comfort a basic need rather than a choice. Wear them for sometime and you will realize that these are the coziest shoes you can ever wear. The soft inner lining keeps your skin protected saving you from all those irritating blisters.
4.) These have got good arch support and can accommodate different types of arches. The presence of an air-cushioned sole which is bouncy and flexible makes the boots very appropriate even for people with very low arch.
5.) Sometimes boots feel too restrictive but with Doc Martens you get what you need. The slip on boots are very accommodative and are quite easy to pull on and pull off.
6.) The functionality of Doc Martens is just great. The basic, no-nonsense style of these boots is quite impressive for the long term. Trust me, these boots make a statement of their own.
Which Dr Martens should you Buy?
Doc Martens come in different styles. Here are my top three choices
1.) Doc Martens Ironbridge Heavy Industrial Boot Review
Dr. Martens – Men's Ironbridge Heavy Industry Boots
Rich, water resistant tumbled leather uppers

Slip resistant sole reduces the risk of slips and falls on hazardous surfaces

Welted construction foot bed offers exceptional stability and durability

Protects against accidental contact with an electric charge
Prices pulled from the Amazon Product Advertising API on:
Product prices and availability are accurate as of the date/time indicated and are subject to change. Any price and availability information displayed on [relevant Amazon Site(s), as applicable] at the time of purchase will apply to the purchase of this product.
This Ironbridge boot is a legendary model from this brand. Coming with a 8-tie, lace- to- toe work style these rugged, soft toe boots are specially manufactured for people in the service industry. The lightweightness, comfort and slip resistance make the boot suitable for a general work environment.
If we talk about the design, the heavy industry boots are available in mainly black and dark brown variants which make them blend in any type of work environment.
The boots are made of oiled and tumbled leather which is 100% water resistant. The presence of SmartMask feature in its sole gives you antibacterial protection.
Moreover, if you are looking out for comfort then the padded boot's collar and tongue are always ready to save your day.
The boots have inbuilt PVC air-cushioned sole which is resistant to oil, fat, petrol and alkali so that when you walk on hazardous surfaces there is no danger of slips and falls.
The boots can also save you when you accidentally come in contact with an electric charge. You can also expect exceptional stability and durability from these tough yet gentle boots.
Pros:
Oil tumbled leather

Durable construction

Exceptionally stable

PVC air-cushioned sole with moisture wicking lining.
Cons:
Break in period takes longer than usual.
Check Price and Reviews on Amazon
---
2.) Doc Martens Work Men's Fellside Steel Toe Boot
Dr. Martens Work Fellside Steel Toe SD Chelsea SKU: 8992049
This upgrade version from the fusion collection has got an exceptional resistance to slipping casualties. Equipped with a SoftWair sockliner, the boots have static dissipation properties.
These are available in medium brown colour and have got an opening that measures approximately 11 inches around.
A very interesting thing about these boots is they come with easy pull-on access and are equipped with an internal steel toe cap that act as a perfect safety feature.
You will also see moisture wicking lining and SoftWair liner in these boots for added comfort. Presence of rear and forefoot memory foam pods with a raised footbed allow perfect air circulation.
Grip-Trax technology in these boots will give you superior traction on a variety of surfaces and saves you from almost all kinds of injuries.
Lastly, the sole is finished with a unique hybrid of rubber and PVC that adds to an excellent grip with low maintenance.
Pros:
Steel toe

Static dissipation properties

Anti-microbial lining

Goodyear-welted

Features SoftWair and Grip Trax tech
Cons:
---
If you are looking out for boots that can work harder than you can then these are the perfect boots for you. These boots come with fully waterproof nubuck upper, a steel cap that can hold 75 foot pounds of weight and a wide clearance. If you are still looking for more then let me tell you, these boots are static dissipative.
Thanks to the cushioned sock liner and ultra soft lining which make these boots so comfortable that you can completely forget that there is any kind of lod on your feet. The boots will give you a snug fit with their seven eyelet closures and industrial-strength cord laces.
The boots are constructed using firm leather which provides a natural grain finish. Technologies like Goodyear and Smartmask conform to and exceed European standards. The boots are suitable for you if you face electrical hazards as well as slip and fall hazards at work every day. 
Pros:
Metal eyelets

Padded tongue

Easy to maintain 

Good for electrical hazard
Cons:
Some users can find these boots a bit hard.
FAQs
How durable are doc martens?
Doc Martens are made with the highest quality leather that is equivalent to vegan in nature. Therefore, these types of leather do not get bad over time and hence they are very durable and will last you nearly 20 years.
When maintained properly, your Doc Martens boots would last you a lifetime!
Do all doc martens have steel toes?
No, all the Doc Martens boots do not have steel toes. Yet, there are a number of models of Doc Martens that have steel toes.
Doc Martens make boots with all types of safety caps such as composite toe caps, alloy toe caps, soft toe caps and obviously steel toe caps.
Are doc martens slip resistant?
Yes, there are a variety of Doc Martens boots that are slip-resistant and if you are in search of them, here's the list of slip-resistant Doc Martens boots for you:
Prices pulled from the Amazon Product Advertising API on:
Product prices and availability are accurate as of the date/time indicated and are subject to change. Any price and availability information displayed on [relevant Amazon Site(s), as applicable] at the time of purchase will apply to the purchase of this product.
Pros and cons of doc martens
Pros of Doc Martens:
Doc martens have air cushioned soles, so walking and hiking in them are very comfortable

They are made of vegan grade leather. Therefore, they are very durable

The springy soles in Doc Martens accommodates most arches quite smoothly and therefore prevents and pain in the arch of the foot

Doc Martens were especially designed for therapeutic purposes. Therefore, walking in them is very comfortable

These boots are roomy, therefore, your feet will get enough space to breathe

They are available in various styles from pull-on to lace-up

They are sturdy and have safety toes in them 
Cons of Doc Martens:
They take a lot of time in breaking-in process

During the breaking-in period you might experience blisters and calluses and foot pain
Is doc martens comfortable?
Doc Martens are very comfortable once they are broken-in. 
They have air-cushioned and springy insoles and also insoles that are therapeutic. Therefore, walking in them you experience comfort like never before.
Also, the less bent arches of the boots make it very comfortable for the ones with flat feet.
Are doc martens worth the price?
Yes, Doc Martens are definitely worth the price and worth every penny you spend in buying them.
The best thing about them is that if you invest in one Doc Martens boots, it will last you a lifetime because they are made of vegan leathers that do not go bad with time.
Next, comes the level of comfort that these boots give you with the most comfortable insoles and lastly, they offer a variety of safety features such as safety toes, EH protection, slip-resistance.
And you know what?
Doc Martens boots will never run out of fashion as they are very stylish with their design.
Do doc martens have arch support?
The arches of these boots are not very raised and this somehow feels very comforting for most wearers. The reason behind this is that if the arch area is too much raised then you feel hurt in the arches of your feet all day and that is quite disturbing.
The air-cushioned insoles and the springy soles support the arches and give you the mist comfortable experience.
Are doc martens good for snow?
Yes, as you know that most of the Doc Martens are slip-resistant and such boots provide good traction in the snow.
The slip-resistant boots will not let you slip or fall on icy surfaces because of the good amount of traction they provide.
Also, you can check out their insulated boots that are especially designed for wearing in the cold winters:
Dr. Martens unisex adult Chelsea Boot
Warm hardwearing and winter-proof: WarmWair is a soft insulated lining crafted from carefully selected materials

Goodyear-welted and reinforced with DMs signature yellow welt stitch
Prices pulled from the Amazon Product Advertising API on:
Product prices and availability are accurate as of the date/time indicated and are subject to change. Any price and availability information displayed on [relevant Amazon Site(s), as applicable] at the time of purchase will apply to the purchase of this product.
Are Doc Martens true to size?
Yes, Doc Martens shoes and boots are really true to size that is they usually do not run big or small. Only with the exception of their classic styled boots that sometimes run a bit big, no other styles will make you face any issue related to their sizes.
But there too you can make them fit just perfect to the size of your feet by inserting extra insoles or pads. The width of the shoes and boots do not vary with the sizes, only the length will increase if you go a size up.
And in case you are suppose 8 ½" then you should choose the sizing 8". And lastly, Doc Martens boots fit true to the US size for the boots made in US and for the ones made in England, refer to the UK size charts.
How to select the perfect size of Doc Martens?
Remember the following points while selecting the size of the Doc Martens boots:
The measurements offered in inches are generally of the size of the insoles

The size of the boots and shoes are marked on the tongue of the boots

While measuring your feet for the inches, wear the socks that you would be wearing with the boots and then match the measurement with that of the measurement of the insoles of the boots

If you find that a particular boot is fitting right in length but a bit tight in width, then change the style of the boots but never go up the size
Final Thoughts
I am sure by reading this article, till now you must have understood that Doc Martens has got some great shoes for work.
They are very comfortable, have properly lined interiors and are absolutely worth every penny you spend on them.
And the best part is whatever model you buy, Docs are never going out of style. So go and grab your Docs today!