Finding the right pair of work boots is really a daunting task. Right boots that live upto your expectations are constructed with care and can be really tough. While the boots are produced almost everywhere in the world there is no denying everyone would love to invest in boots that are well made and stay with you through the seasons, year in and out. Are American Made work boots one of those?
Yes, American made work boots are of high quality. The boots are made of premium waterproof leather, traction optimizing rubber soles and sweat proof lining in them so that you can start and finish off your day at maximum capacity. The lifespan of these boots is the ultimate test of superiority and the American made work boots never weigh you down.
These unbeatable footwears are designed to save your feet from extreme elements, tough outdoor and indoor environment. Let's look in detail about these boots and why you should put your trust in them.
Top 10 Best American Made Work Boots
How to identify if Boots are really made in America?
If you are searching for boots that are exclusively American Made then you have to become familiar with the main three terminologies which are:
Made in the USA" – Berry Compliant
The Berry Amendment was first passed in 1941 to assure that each and every product used by the military are bonafide American Made products. This is an assurity that claims that every American made work boot that you use meets some very rigid standards. 
If you are purchasing something that has been manufactured under Berry Compliant then that very thing has been grown, reprocessed, reused or produced in America whether they are purchased as end items, materials or small components.
Producing a product that is Berry Compliant exhibits a company's level of devotion to America and to its workers.
Handcrafted in America
It exactly means what it says but you should not confuse this with the Berry Compliant. So how are the two different?  Well, the things which are handcrafted in America can be the absolute best materials from anywhere across the globe.
The actual manufacturing process is however carried out by the true Artisans in America. Sometimes, this will mean importing leathers or world class rubber boots from across the globe but utilize them in their very own country.
Assembled In America
While the term is confused with "Handcrafted in America", the two are entirely different. The products which fall under this category are not handmade; instead these are machine made and are assembled within the terms of American standards.
Using "Assembled in America" terminology, the footwear manufacturer may infer that they have American labor which is doing assembly of products that are machine-made overseas. 
Are Justin Work Boots made in the USA?
The prototypical brand, Justin is a renowned name in the footwear industry which was founded in Gainesville, Texas. Having a strong American history, the boots are easily seen as American made.
But are all Justin boots made in America? Sadly, the answer is No! According to some findings, there are only selected styles made in the USA with global parts. It has been found that approximately 70-80% of Justin boots are made internationally. Looking at some of  Jsutin's subsidiary brands the stats are as follows:
Tony Lama: 35-40% made overseas

Chippewa:  50% made overseas

Nocona: 20% made overseas
But you'll be glad to know that Justin keeps their assembly in America for its famous product lines. Driscoll Bay Apache Style, Beau style, Tobias style, Wildwood style are some of the popular American made Justin Boots.
Are Red Wing Boots made in the USA?
With their headquarters in Red Wing, Minnesota, these boots manufacture boots for almost every job whether it is indoor or outdoor. The brand has been long associated with American manufacturing but only 60% of their boots are manufactured in the USA. Although it is quite a significant percentage compared to other boot manufacturers. According to Red Wing's official website here's a breakdown of the production of these boots:
Made in USA -25.8%

Made in USA with Imported Materials- 18.7%

Assembled in USA with imported components-1.0%
Are Ariat Boots made in the USA?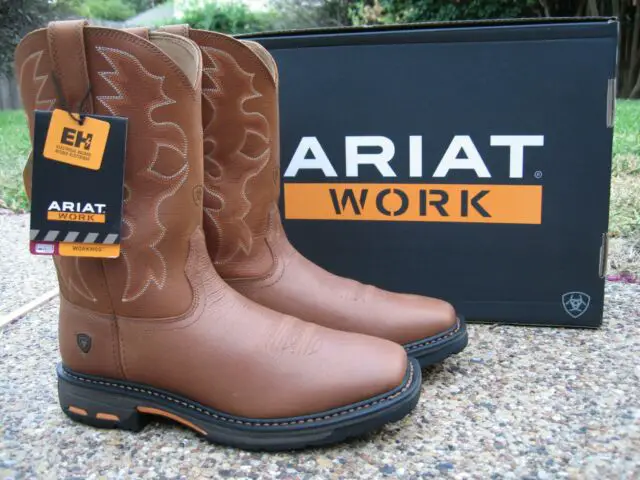 While their boot design department is in the US, most of the Ariat boots are manufactured overseas. The primary manufacturing facilities of Ariat are located in Italy, Mexico, and China while some facilities are present in the United States.
Just like Justin, the production of these work boots fell over 40% between 1997 and 2002 which followed a common trend in the Western world.
Are Carhartt Boots made in the USA?
The answer to this question is Yes! With their manufacturing facilities in Tennessee and Kentucky, many of the Carhartt boots are still manufactured in the USA. Not just this, the brand also uses most of the domestic suppliers.
Most of the Carhartt boots are made in Mexico and interestingly have a "Made in the USA" logo. However, the ones which don't come with this logo are produced partially in Mexico and are Worldwide Responsible Accredited Production certified.
Are Thursday Boots made in the USA?
While this brand manufactured their boots in the USA till the mid 80s, the production volumes dramatically reduced in the early 90's. Today, less than Thursday boots which are purchased by Americans are built in the country.
If you are looking for a great American Thursday boot then you can try their best selling Vanguards which have got a rugged character all their own. 
Pros and Cons of buying American made boots
There are a number of pros and cons associated with American made boots. Let's look at some of the reasons that why should you invest in them
Pros of American Made Work Boots
1.) If you invest in American made boots, you are well aware that the footwear you are wearing are built by the native countrymen.
2.) As you buy American made boots you support the local economy and the money that you spend flows within the country only.
3.) By buying or 'sourcing' locally you can reduce the carbon footprint.
4.) Potential drop in quality of foreign made boots.
5.) If you are purchasing American made boots then you can find them locally and these boots can be delivered and shipped quickly.
Cons of American Made Work Boots
Some of the potential negative points of purchasing  American Work Boots are:
1.) Cost is possibly one of the biggest disadvantages of these boots. Some boots in the market can cost upwards $250 but obviously, these boots are worth the money.
2.) There is always a limitation of the variety as American-made symbols will utilize products and materials which are sourced locally from the USA and not imported.
3.) You have to be sure about what you are purchasing. The boots that you are purchasing should fit into your budget while meeting your needs. At the end of the day, you might have to rely on the reviews while purchasing these American made boots.
Are American Boots worth their price?
A good pair of American boots is worth every penny. The boots that you invest in are quite durable and long lasting and the best part is they stand up to any sort of use. The best traits that these boots have are given below and obviously these are the main characters to be looked for while purchasing any pair of boots.
1.) Sturdiness
You can trust American made boots when it comes to sturdiness. These boots support your feet all day long without being flimsy or turning your wearing them. While you are on your job these boots save you from all kinds of injuries whether indoor or outdoor.
2.) Comfort
The insole of these boots is well worth the extra money it may cost to get them. The great insoles in these boots end up being much more comfortable and are less likely to give you swollen feet, blisters or bunions.
3.) Durability
American made promises to stay strong without collapsing even if you work too hard. The boots have got high quality leather, rubber or any material which is present at the core of every American boot that you purchase.
Be willing to spend some extra money and you can easily see the goodness of American made boots. Trust me, you won't be disappointed since these are going to meet all your needs.
Conclusion
Whatever your reason for purchasing American made boots you can be cent percent sure that boots built in this part of the world have got a reputation when it comes to quality. So next time you go purchasing an American made boot, look for authentic products so that you can put your best foot forward.