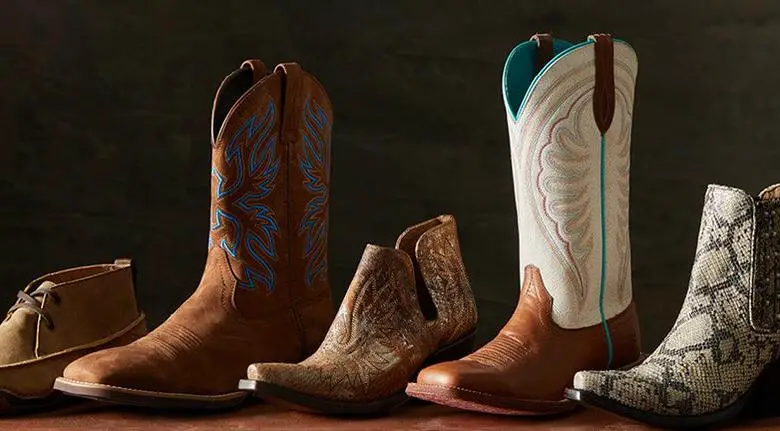 If you are aware of different work boots available in the market, I am sure you must have heard the name of Ariat, a company built in 1993 with the motive of revolutionizing the footwear designed for workers.
Known for its high quality, the brand today is the most trusted name in the industry which constantly strives to offer superb performance and great comfort to the users.
Interestingly, Ariat has been in business for the past 20 years until now and it is still pushing its limits to excel in technology and style it uses to make it's work boots.
If you are a first-time buyer then I think investing in Ariat work boots is a good option. In fact, Ariat has a variety of work boots each designed for particular jobs and the environment.
These boots have got great durability, comfort, and strength to withstand external pressure. So, if you are tired of protecting your feet from falling objects at the worksite then I think Ariat work boots can save your soul. And yes, these are affordable too!
Let me tell you everything you need to know about Ariat work boots so that you can decide whether you should trust this brand or not. We will also see some of the best boots available in the market which proves that output is truly valuable for buyers.
Celebrating What Makes Ariat so Special
Types of Ariat Work Boots Available in the Market
For most working professionals, work boots are not only a part of their uniform but a necessity to protect them from different hazards. That is why Ariat has a variety of work boots to meet everyone's demand. Some of them are:
1.) Steel Toe Work Boots
If you are a construction worker who deals with heavy machines on a daily basis then this type is for you. These steel toe boots have a steel cap on the toe area to protect it from the falling objects.
However, it is because of this steel toe cap that these boots are a little heavier which comes as a major drawback with this option.
2.) Soft Toe Work Boots
This variety of Ariat comes without a protective toe cap and is ideal for people working in wet, muddy, or slippery conditions. These are heavy-duty boots that promise to give you enough support, traction, and warmth.
These boots are not great when it comes to protection but if you require more protection than your regular boots then I would suggest you go for these soft toe work boots.
3.) Insulated Boots
Working in wet or cold conditions have potential health issues but don't worry, these Ariat insulated work boots have got you covered as these promise to keep your feet warm and dry protecting you from all those frost bites you have been facing lately.
These boots use different insulating materials although thinsulate is most popular and reliable amongst all.
4.) Slip Resistant Boots
No doubt all Ariat boots are slip resistant but this variety is one step ahead of all. These boots have a thick rubber sole featuring excellent traction preventing you from slipping on grease, oil and water. This type has also got shock absorbing capabilities so that your knee and feet can tolerate all those strains.
5.) Composite Toe Work Boots
Ariat has come up with this new variety of work boots which have got some additional plus points. All the composite toe work boots are designed keeping the safety of your feet in mind thus meeting ANSI standards.
Moreover, these work boots are fabricated using non-metallic materials like plastic, fiberglass, Kevlar, carbon and rubber which makes them weigh less than their steel counterparts.
So, who can use this variety? Well, if you are working in construction and around electrical hazards or in a place with metal detectors then this is definitely your type.
Since the material used in manufacturing does not allow conduction of cold or heat making the composite toe boots more comfortable.
Ariat vs. Justin Work Boots
Justin and Ariat, the names say it all! Both brands have made their mark in the industry considering the fact that they both produce impressive and sturdy work boots.
But which one is better? Let's have a look at some of the comparative features of these two great brands.
1.) How do these boots fit?
First, we will talk about the brand about which this article is about. Ariat demands you to know exactly how these boots fit prior to buying. The size of the Ariats runs slightly larger.
Moreover, while walking you will also notice a bit of lift or movement in the heel mainly because of its accurate fitting which makes the boots bend a bit. But always remember this lift shouldn't be too much.
Talking about the sole, you might notice a stiffer sole in a brand new Ariat boot which lasts until you break it in. However, with time, the sole of the boots becomes even more flexible and comfortable making the boots easier for you to work.
Just like Ariat, the size indicated in Justin's work boots may come as its true size or one-half size smaller. In this case, while purchasing a work boot from Justin always take three factors into consideration, the heel, the ball and the instep.
2.) Ariat Vs Justin- Which is more durable?
Ariat work boots are constructed keeping the Goodyear concept in mind which makes them strong and last longing. Not just this, the water-resistant system used all throughout Ariat's body ensures that the boots don't give up that fast.
With the help of full grain leather, the boots tend to keep their interiors dry even when you are working in wet conditions all day long, thereby preventing possible damage.
One more thing that makes Ariat boot durable is the presence of boot lining without compromising with flexibility and comfort. But are these boots better than Justin?
Well, according to many users, when asked about the durability of both the brands Justin is one step ahead of Ariat. Curious to know the reason? Well, it is mainly because Justin uses the best leather in its boot's anatomy. Even the construction of these boots make them tough and hard-wearing. 
But in the end the durability of both the brands is simply great and I think with the above-mentioned features, you have some sort of assurance that both the boots will last for years, giving you real value for your money.  
3.) How comfortable are these boots?
As I told you earlier, Ariat manufactures its work boots keeping the comfort of its users in mind. The prominent features include footbed cushioned with gel which apart from providing comfort gives your feet impressive support and excellent stability.
One thing that I really like about the boot is the use of EVA midsole which boasts of its shock-absorbing properties. 
Talking about other features, you will also notice the extra-wide shank in Ariat boot equipped with heel stabilizers which aid in minimum work fatigue. With all these features, it is obvious that Ariat is superior to Justin when it comes to comfort.
Does that mean that Justin is any less? Well, Justin cannot be considered a disappointment in terms of comfort as they come with an insole which uses a double comfort system, making the boots comfortable enough for you to work freely.
4.) Ariat Vs Justin- Protection
In the above paragraphs, we have already seen how protective Ariat boots are for your feet. Both, the steel toe and composite toe variants of this brand are more than enough to protect your feet from hazards and injuries.
The slip-resistant and the oil-resistant outsole is ideal for people working in areas with slippery surfaces and floors protecting them from accidental falls.
On the other hand, Justin boots are also protective but they are consummate for resisting electrical hazards and can protect you from electrical currents that are upto 18,000 volts. 
Where are Ariat boots manufactured?
In our study about Ariat Boots, we found that their manufacturing facilities are situated in Mexico, Italy and China and their department that designs the boots is in the United States.
Are Ariat boots slip resistant?
Yes nearly all Ariat Boots are slip resistant and if you are finding problem searching them, here's the list of slip-resistant Ariat Boots for you:
Ariat Groundbreaker Chelsea Waterproof Steel Toe Work Boot
Ariat Groundbreaker Square Toe Work Boot
Ariat Canyon II Boots – Women's Round Toe Lace-Up Casual Boot
Best Ariat Work Boots Review
Keeping all the features in mind, I have assembled the top 3 work boots which promise to give you real value for your money. Let's have a detailed look at each one of them:

1.) Ariat Men's Rambler Wide Square Toe Western Cowboy Boot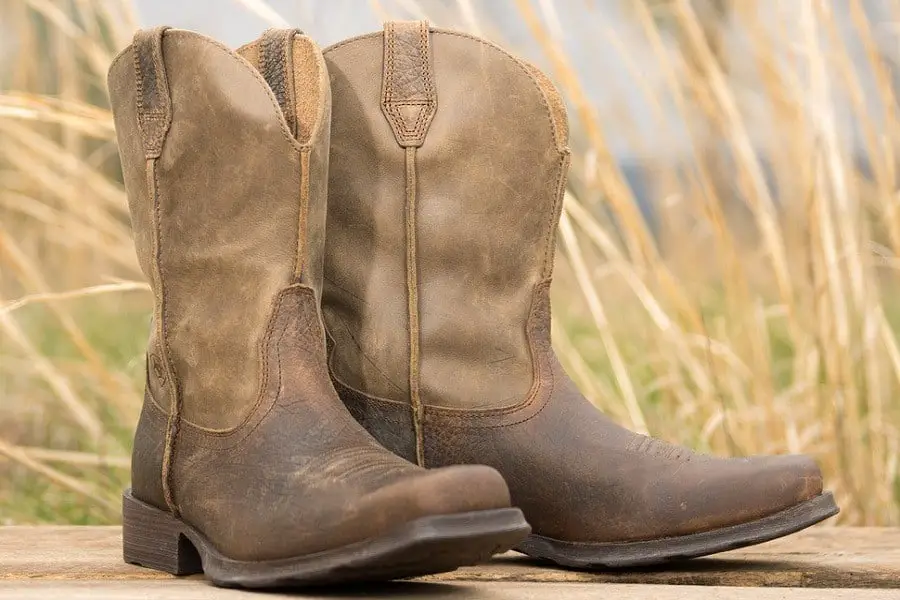 This slip-on variety of Ariat is gaining popularity with time and is known for both its aesthetics and comfort. The brown color of the boots lends the model a certain charm and the strong construction makes it ideal for any work environment.
Interesting features include leather uppers and square toe design making extra space for your feet so that you don't feel too tired even after working all day long.
Not just for the work environment, the cowboy look of these boots makes them suitable for regular use as well. You can pair them with any outfit and you will look great! Another great feature is the presence of removable insoles which you can remove just in case you don't need them.
If you are worried about comfort then you'll be glad to see the use of the brand's patented Advanced Torque Stability technology to provide all that comfort you need. The shank of the boots is impressively lightweight and is situated under the footbed and hence comfortable enough to use. 
Additional features include presence of gel-cushioned insoles that very nicely absorb shock making the boot perfect for any outdoor activity to indulge in. Manufactured using genuine cowhide, the strength of these boots assures that no harm will come to your feet.
Pros:
Footbed comes with moisture wicking properties keeping your feet dry for a long time.

Very comfortable

Designed using tough leather

Great durability
Cons:
Users often have sizing issues.

The boot has a narrow toe shape.
Check Price and Reviews on Amazon

---
2.) Ariat Men's Intrepid Venttek Composite Toe Work Boot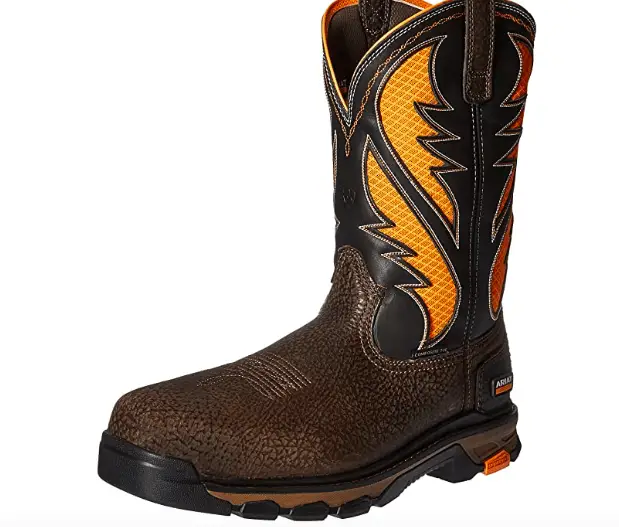 Designed with a unique style to offer utmost comfort to the user, these Venttek Composite Toe work boots can be your next choice if you have long working hours.
The boot is made up of 100% genuine leather and the sole of the shoe is created using synthetic material and both these qualities make the boot quite strong.
Thanks to the classic design of these boots, you can wear them anywhere you want. When I say that this variety of Ariat is all about comfort, I want to emphasize the heel which has been molded with the boot while it is manufactured to give you the best possible comfort.
Moreover, the shaft of these boots measures approximately 14.5 inches which initially you might find a bit high but trust me, it looks good when the boot is worn.
With the use of full-grain leather, the model automatically becomes extremely durable and reliable. Interestingly, the VentTek shaft ensures that your feet are ventilated enough and at no point, you have to deal with sweaty feet.
Pros:
The boots have a roomier toe box.

These are extremely comfortable.

Highly breathable.
Cons:
The only and greatest disadvantage of this boot is it isn't waterproof.
Check Price and Reviews on Amazon

---
3.) Ariat Men's Workhog Steel Toe Work Boot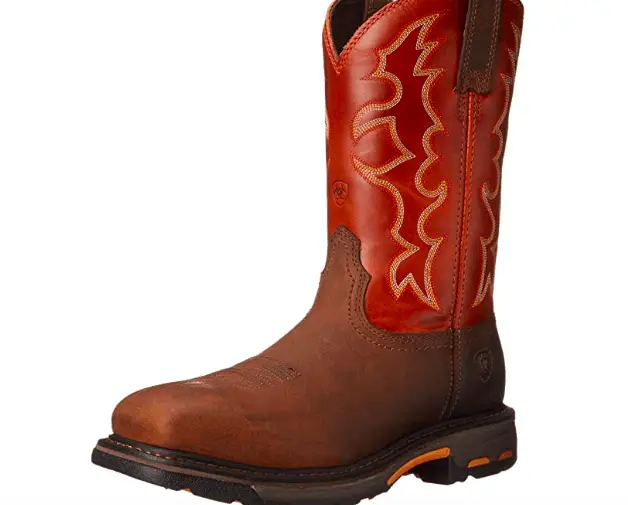 If you are working in a surrounding where you deal with grease, oil and other similar liquids then this is a great option for you.
Many users have said that it is amongst the most durable shoes they have ever had! These high-quality boots come with a mesh lining for breathability and are made of full grain leather which makes them extra tough.
The midsole of the boot uses the company's patented shock-absorbing technology that makes this model a perfect to use on slippery surfaces.
If your posture comes in between you and your work then worry not because these work boots have been created to improve the posture of your body.
Not just this, the ATS Max technology offers stabilizers for the heel and forefoot to avoid injuries and reduce foot fatigue.
This model is an out and out for people with wide feet as the square toe of the boot allows you to wear it for a long period of time without any discomfort. The presence of shock-absorbing gel cushion protects your back, hips and knees from all the stress.
Pros:
It is waterproof

Made of full-grain leather

Has got a shock-absorbing gel cushion.
Cons:
The boots come with no warranty.

A bit expensive.
Check Price and Reviews on Amazon
Final Verdict
Work boots are all about comfort, protection and durability and I think Ariat has stood up to our expectations.
With each variant, Ariat has made sure that it provides the best product to its each user. This is what makes it the most trusted brand in the industry.
When you have so much to receive from a brand, I think these boots are worth giving a shot. So, just pick one that is compatible with your standards and needs and work freely. Till then, happy working!