A pair of workboots is an essentiality whether you are working in construction, navigating around heavy machinery or engaging yourself in wet environments. Having a pair of good boots not only keeps you comfortable and safe but also helps in finishing off your job more efficiently.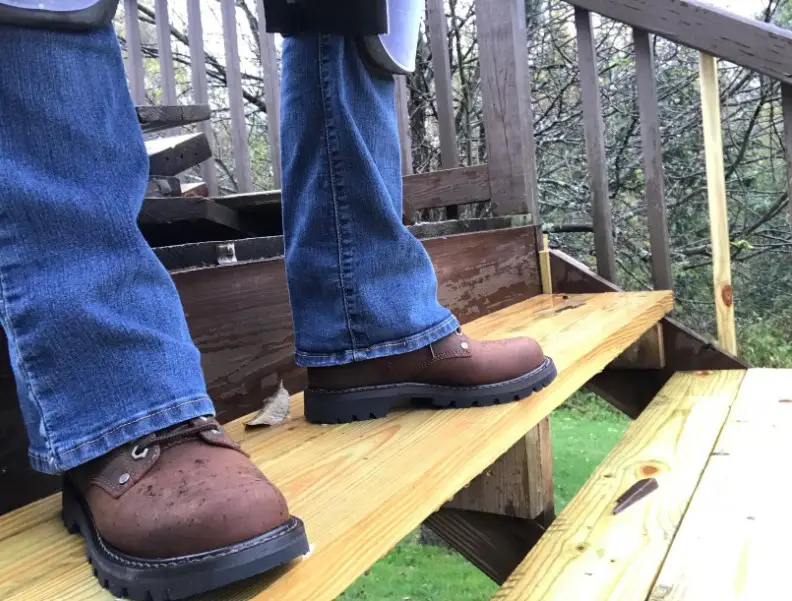 For most of us, when it comes to safety-toes, the only names that pop in our mind are either steel toe or composite toe. But have you ever thought about a soft-toe work boot? Is it any good?
Soft toe boots also known as non-protective toe boots are good for work because they offer a great level of comfort and mobility. These boots lack safety toes and don't have cumbersome steel or composite toe caps. Absence of these safety toes make the soft toe boots super light in weight. Reinforced with some durable materials, the soft toe boots have the potential to save your feet from chemicals and germs.
This article highlights the basic features of soft toe boots, their pros and cons and well they stand in front of other safety toe boots. Read on to find out the best soft toe work boot for your need with our list of top picks in the end.
What is a soft toe work boot?
As the name suggests, a soft toe work boot are the kind of footwears which don't have steel or other solid material toe caps, instead, they are reinforced with composite materials like rubber or sometimes a thick fabric. The boots are non-protective in nature and are extremely lightweight.
The boots come with superior comfort levels and offer impressive forefoot flexibility. These are heavy duty boots which protect your feet from different varieties of pathogens, microbes or chemicals at the work site. The boots are so designed so as to save you from falling if you are working on wet and slippery surfaces while providing you all the protection you need.
Reinforced with rubber,TPU, thick fabric or some other durable material, these work boots are ideal for workplaces that have very little chances of accidents or which pose little danger to your feet.
Soft-toe boots are also preferable for workers working in low-harm environments but still require good foot support, balance, ankle support and other basic features provided a work boot. 
What to look for in a soft toe work boot?
There are certain features which are essential to look for in soft toe boots. These features are necessary to provide basic safety to your feet. These features are:
Leather uppers for stability

Nylon uppers for flexibility

OrthoLite® insoles

Rubber outsoles

Slip- and oil-resistant soles

Waterproof construction

Waterproof lining that protects against bloodborne pathogens or chemicals
Soft Toe Vs Steel Toe Vs Composite Toe
Here's a quick comparison between the steel toe boots and soft toe boots.
| | | | |
| --- | --- | --- | --- |
| Features | Soft Toe Boots | Steel Toe Boots | Composite Toe Boots |
| Safety | Poor  | Excellent | Fair  |
| Comfort | Fair | Fair | Excellent |
| Price | Cheap | Mostly fair | Expensive |
Let's have a detailed comparison between the all the three types
Steel toe provide more safety than soft and composite toe
We have already discussed above that soft toe boots lack toe box area which provides enhanced toe protection. Absence of this toe box makes these boots more vulnerable and unfitting for most industrial workplaces. Although the toe box is not solely responsible for giving all the safety.
The soft toe boots are constructed in order to provide underfoot protection and slip resistance. Hence, if you are working in an area where your foot isn't in danger of falling off slippery surfaces, you can definitely go for soft toe boots.
Steel toe boots are obviously known for their safety features and are advised to be used in high risk environments. The boots have got a solid toe box and are quite durable. The boots are designed to sustain many workplace hazards like electrical hazards, slips and underfoot accidents. The boots have got really impressive strength and are the safest ones in the market.
While steel toe boots are considered the best gear to protect your feet from falling objects, composite toe boots might not be sufficient enough. Although these boots are far better than soft toe boots when it comes to safety and meet few of the threshold safety requirements in ASTM standard tests.
Soft Toe provide more comfort than steel and composite toe
If we talk about comfort, it can be a deciding factor for some buyers. The soft toe boots are equipped with sufficient underfoot cushioning, a shock absorbing outsole and finely reinforced shanks to keep your feet comfortable all day long. Some other features include padded collars which give additional support to your feet.
Comfort can really be a drawback in case of steel toe work boots. Because of the steel cap, a substantial amount of weight is added to the footwear which becomes a limiting factor. Due to this, the footwear can tire out your legs. The boots also take more room inside the toe box making it narrower and a bit painful.
Composite toe boots can be comfortable but their comfort level have two main factors. These boots are poor conductors of heat therefore weather elements play a major role. During winters your feet might get chilly and during summers your feet start sweating. Although, composite boots are very light to walk around comfortably.
Do Soft Toe Boots meet any ASTM standards?
While steel toe and composite toe meet ASTM F2413 standards which are in accordance with OSHA guidelines to verify the footwear meets protective requirements, soft toe boots don't meet the same.
Standard specification for performance requirements for soft toe protective footwear is F2892. Since there are some professions that really don't demand safety toes, ASTM has got a different specification for testing soft toes. According to this particular specification, it is ensured that the boots cover the minimum requirement for footwear performance.
As such, F2892 confirms that the soft toe boots are constructed to give protection against a variety of workplace hazards that put toe area at risk. This specification evaluates the same requirements as F4212 and F4213 for impact and compression resistance.
Pros and Cons of Soft Toe boots
 Pros 
The boots are quite light in weight
Soft toe boots with composite varieties still offer good protection against chemicals and blood borne pathogens.
The boots have got a roomier toe box making them very comfortable.
Friendlier prices i.e are really affordable compared to other two protective variants.
Safer to use in workplaces with magnetic risks and other light risk areas.
 Cons 
The boots aren't designed to protect your feet from a wide range of dangers.
Very little toe protection from impact, crushing or punctures.
Best Soft Toe Boots
1.) Caterpillar Men's Second Shift (Most Durable and Comfortable Soft Toe)
Proven itself to be worthy and an all rounder, Caterpillar's Second Shift Plain soft toe boot are carefully constructed to outlast all other boots. Constructed using single stitched Goodyear welt construction, the boots are made using 100% leather. The boots deliver protection, durability and comfort to get you through your hard work.
One of the many interesting features include Climasphere™ breathable insoles which tend to keep your feet comfortable. Presence of Goodyear Welt Construction provides maximum durability and allows flexibility. Not just this, the T3 rubber outsole enhances optimal traction and makes the boots slip resistant.
The shaft measures approximately 6.5" from the arch with heel measuring approx 0.75". The nylon mesh lining in these boots optimizes breathability by maintaining proper flow of air. Moreover, the removable PU sock liner provides all day comfort without making your feet tired.
Some of the interesting highlights of the Caterpillar Second Shift are:
Nylon sock liner and lining for ultimate comfort

Climasphere™ sock liner helps wick away moisture for a cooler, drier in-shoe environment

Durable, Goodyear welt construction

Slip and oil resistant rubber outsole
Check Price and Reviews on Amazon
---
2.) Timberland PRO Pit Boss (Best soft toe work boots for concrete)
The Timberland Pro Pit Boss soft toe boots is what a durable and tough work boot should be. Made of 100% genuine leather, the boots are safe, tough and yet comfortable. Featuring rugged, nubuck leather upper and Goodyear Welt construction, these boots are everything that a modern work boot should represent.
For the jobs that don't require hefty protective toes, Pit Boss can be really a wonderful choice. The boots not only meet ANSI safety standards but also offer great comfort to their user through their much roomier fit. Not just this, these leather work boots feature slip, oil and abrasion resistant outsoles for increased traction.
The shaft of the boots measure 6" from the arch and heels measure 1.25". One of the key features of this boot is the presence of  PRO 24/7 Comfort Suspension technology which is incorporated to meet the most rigorous work site demands. The anti fatigue insoles make sure to deliver ultimate comfort and durability even when you are working in most demanding environments.
Some of the interesting highlights of Pit Boss:
Goodyear Welt Construction

Comfort Suspension technology with arch support

Oil and slip resistance

Better traction on all surfaces, mud, wood, work floor or roof

Electrical Hazard protection

Heavily padded top collar for added comfort
Check Price and Reviews on Amazon
---
3.) Wolverine W04821 Buccaneer (Best soft toe waterproof work boots)
If you are looking for a comfortable boot that is designed to give you unparalleled flexibility then these Buccaneer boots are meant for you. Constructed using waterproof, full grain leather the boots make sure that your feet remain dry even in the wettest of the situation.
Boasting it's high quality welt construction,  the boots boost up your energy in every step, thanks to the integrated Wolverine MultiShox system. Moreover, the removable full-cushion insole and slip resistant rubber lug outsole offer great traction by gripping the ground.
Additionally, the wave mesh lining and light weight PU midsole offers just the right amount of durability and comfort. The boots have got oil, water, abrasion, chemical, heat and slip resistant sole with a soft toe cap which offers agile protection.
Some of the interesting highlights of wolverine buccaneer:
Fully removable cushion footbed

Contour welt construction for more durability

Multi Shock compression pads for impact absorption

Waterproof full grain leather

Arch Support

Breathable mesh lining
Check Price and Reviews on Amazon
Final Verdict
Soft toe boots are just great for your feet but they lack behind other safety toe boots when it comes to protection. These boots however, can be a good choice for those whose jobs include lesser risks.
The light weight, durability and strength of these boots are equal or even better than any other category of boots. You can totally rely on them. Just be absolutely sure that your workplace demands soft toe boots before investing in them.