When purchasing boots for work or other activities, the inclination is to go with some of the well-known brands for industry powerhouses.
Golden Fox boots may not have the same level of advertising as other manufacturers, but they most certainly are not new to boot manufacturing, and they boast some very attractive qualities and features.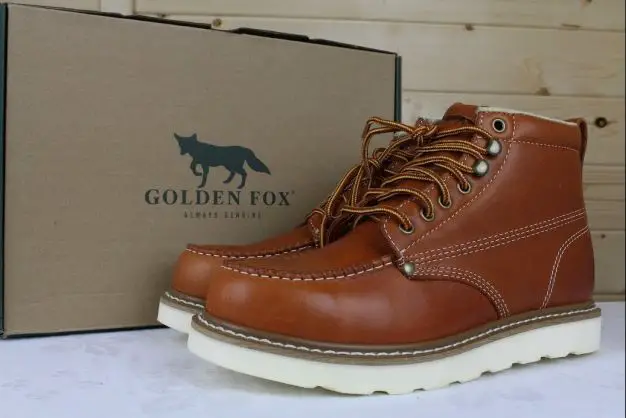 Golden Fox Footwear Company
This company originally was called Alp Footwear. It is a work boot company that has its home in Ontario, California.
Established in the 1970s, it began its manufacturing activities with the goal of producing durable work boots locally.
The idea was to supply pros and small businesses in the area with dependable footwear for work environments.
Located in the Inland Empire for over 20 years, Golden Fox came into being in the late 1980s when the Chien Chum Wu and family began to sell boots using Goodyear Welt construction at swap meets locally.
Because the boots were so popular, they incorporated the business in 1988.  The company's client base was mostly local businesses or stand-alone brick and mortar stores. In 1991, the company relocated to Rancho Cucamonga.
Forty years later, Golden Fox was supplying workers internationally and includes large retail enterprises among its activities. They continue to make the finest work boots using traditional methods and quality materials and take pride in their product line that is made in the U.S.A.
Golden Fox Boots
Golden Fox specializes in creating work boots for construction, industrial and mechanical professionals. Work boots are ASTM compliant when integrating specific safety features.
However, as footgear evolved, they also integrated boot designs for outdoor activities and hiking, as well as boondockers, oxfords, chukkas, and wellingtons.
This means that you'll readily find Golden Fox Boots worn in work environments, but also with both fashion and casual attire during everyday activities.
Are Golden Fox Boots Good?
They definitely merit your consideration. There are numerous styles for all kinds of environments and activities.
This is a reputable dependable boot brand that is much more affordable than many boots of major competitors which can easily cost $50 to $100 more. Boots are made in the U.S.A. and feature classic designs.
See also: 5 Best Work Boots Under $100
How Much Do Golden Fox Boots Cost?
Surprisingly, Golden Fox has contained prices meaning you can get a quality boot that is much more affordable than competing brands with prices ranging from $50 to just over $200.
This means that even if you are on a limited budget, you can still get a great pair of leather boots.
Boot Types
Golden Fox provides a vast assortment in boot types and styles to choose from. You'll find:
1.) Bikers
Biker boots are designed for motorcycle riders and can be either ankle boots or knee-high boots. They generally feature lower heels for increased bike control and are made with materials and boot construction to protect a rider's legs. 
2.) Boondockers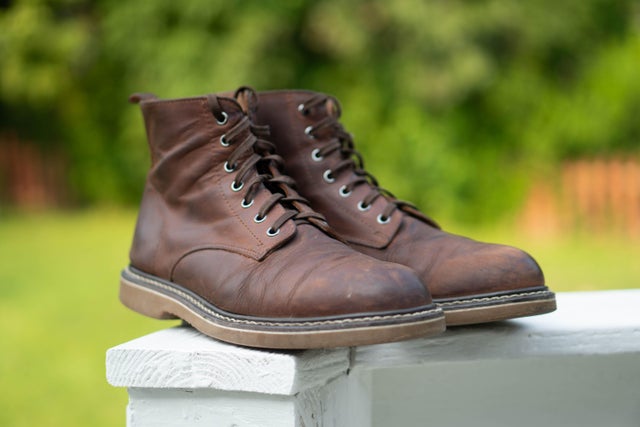 "Bundok" was the word used during WWII when marines were stationed in the Philippines. The word implied the mountain or jungle or a remote place.
These marines required boots that were comfortable while being durable on challenging terrain. The boondocker style became synonymous with boots used by the Armed Forces.
3.) Chukkas
Chukka boots are leather or suede boots that are styled to be ankle high. They may feature leather or rubber outer soles and open lacing with several eyelets. In the polo game, a chukka is a period of game play. The Chukka name is thought to originate from this.
Generally, a chukka boot refers to the desert boots worn in WWII by British soldiers. They are usually made from suede or leather and saw their heyday from the later 1940s through the 1960s specifically as a design for casual wear.
4.) Moc Toe
Moc Toe Work Boots offer great design if you visit worksites and the office on a daily basis. The "Moc Toe" design resembles a moccasin with a seam sewn around the boot top.
Perfect for architects, engineers, and pros that alternate between onsite and offsite appointments. They provide safety combined with an elegant appearance.
5.) Round Toe
Round toe boot styles are precisely what the name describes. Toe designs are rounded and are not tapered. They afford toes more room than narrower designs, adding to comfort during wear.
See also: Round Toe Vs Moc Toe: Which one is Better?
6.) Service Boots
Service boots feature designs that are inspired by military styling. Most feature welted boot construction, a durable outsole lower heels, leather uppers, and a choice between safety toe caps and soft toes.
7.) Wellingtons
Wellingtons are generally waterproof. Many are manufactured with rubber or PVC (Polyvinyl chloride). The traditional Wellington design is just below the kneecap, although shorter boots are occasionally available. Wellington outer soles are produced to be slip-resistant.
8.) Work Boots
Golden Fox offers work boots for construction, industry, and even agriculture. These include steel toe work boots, waterproof boots, loggers, and more.
Golden Fox Boot Features
1.) Construction
Goodyear Welt construction is used to attach full grain leather boot uppers to lug rubber outer soles. Goodyear welt also allows for the re-soling of boots.
2.) Inner Soles
Golden Fox has a variety of insoles including double cushion footbeds, polyurethane footbeds, Taibrelle insoles, Poron® insoles, removable quad density soles, and mesh moisture wicking insoles.
3.) Insulation
Insulation is guaranteed thanks to 3M Thinsulate used in work boots and waterproof boots. The weight of the Thinsulate will keep feet more than comfortable in moderately cold climates. If you will be working in freezing temperatures for extended periods, you'll need something more.
4.) Lacing System
Some styles include Golden Fox's speed hook lacing system so that tying and untying are easy. Laces remain tied but putting on and removing boots is facilitated and quick.
5.) Linings
Golden fox provides various boot models with pig skin linings for luxurious comfort as well as mesh linings for breathability.
6.) Mid Soles
Texon or shock absorbing Rubberlon midsoles are among the choices. Midsoles are pretty thick but are not necessarily as shock absorbent as other brands. If you work on really hard surfaces for the entire workday, you may want more.
7.) Outer Soles
Rubber lug, crepe, and polyurethane soles are used on Golden Fox boots. Wedge shaped soles are classic Golden Fox and particularly appropriate for those in need of shock absorbing capabilities. Wedge soles are designed to distribute pressure evenly to improve balance and stability.
8.) Protective Toe Caps
Golden Fox provides numerous work boots with steel or composite safety toe caps that are ASTM compliant.
9.) Safety 
Many of the outer soles used on Golden Fox boots are both slip, acid, and oil resistant for navigating a variety of terrains. Steel safety toe caps are available and puncture resistant models. Electrical Hazard protection is ASTM F2413 rated.
10.) Shafts
Shafts are available measuring 4-inch, 5-inch, 6-inch, 7-inch, 10-inch, 11-inch, and 12-inch heights.
11.) Shanks
Shanks are in steel for added foot and arch support.
12.) Sizing
Golden Fox provides men's sizing from 4 to 14. They fit large, so it's recommended that you choose a half size less when purchasing.
13.) Styles
Boots are available in pull-on and lace up styles.
14.) Uppers
Boot uppers are realized in full grain leather, with their top-of-the-line 1961 Heritage Chukkas produced in premium oil full grain leather. Leather in general is well-oiled, soft, and supple adding to comfort.
15.) Waterproofing
Waterproofing is minimal if you are going to be sloshing in and out of water, but rain shouldn't be a problem. Several styles are available in waterproof leather, while others are water-repellent.
Golden Fox Boots Pros and Cons
Pros
Golden Fox boot styles can be worn for specific work environments or as casual wear.

Boots are exceptionally durable

Boot uppers are made from quality leather

Construction is Goodyear welt 

Pull-on and lace up styles

Attractive designs

Affordable prices

Easy and quick to break in 
Cons
Not 100% waterproof

Not all soles are thick

Crepe outsole may offer less traction

Leather scuffs easily
Conclusion
Golden Fox offers quality materials, solid construction, and affordable prices for great value.
This company often offers footwear at a fraction of what other manufacturers ask for similar products. Supple well-oiled leather is attractive and comfortable, and the crepe sole boots are particularly soft on feet.
Because boots are made in leather, they are not entirely waterproof, but more water-resistant. This is a great boot brand, and definitely worth checking out.