Americans have labored since the very beginnings of our country, and it is the American workforce that helped make this country great.
When working in hazardous conditions, the proper work gear is fundamental as the first line of defense against the hazards of any profession. Proper work boots are a necessary part of your basic work gear.
American top-quality union-made work boots that meet the challenges of the workplace can be the difference between a hospital stay and perhaps even a life-changing injury.
We got together a team of American pros and asked them to help us find the best American-made work boots to help you navigate any workplace challenge.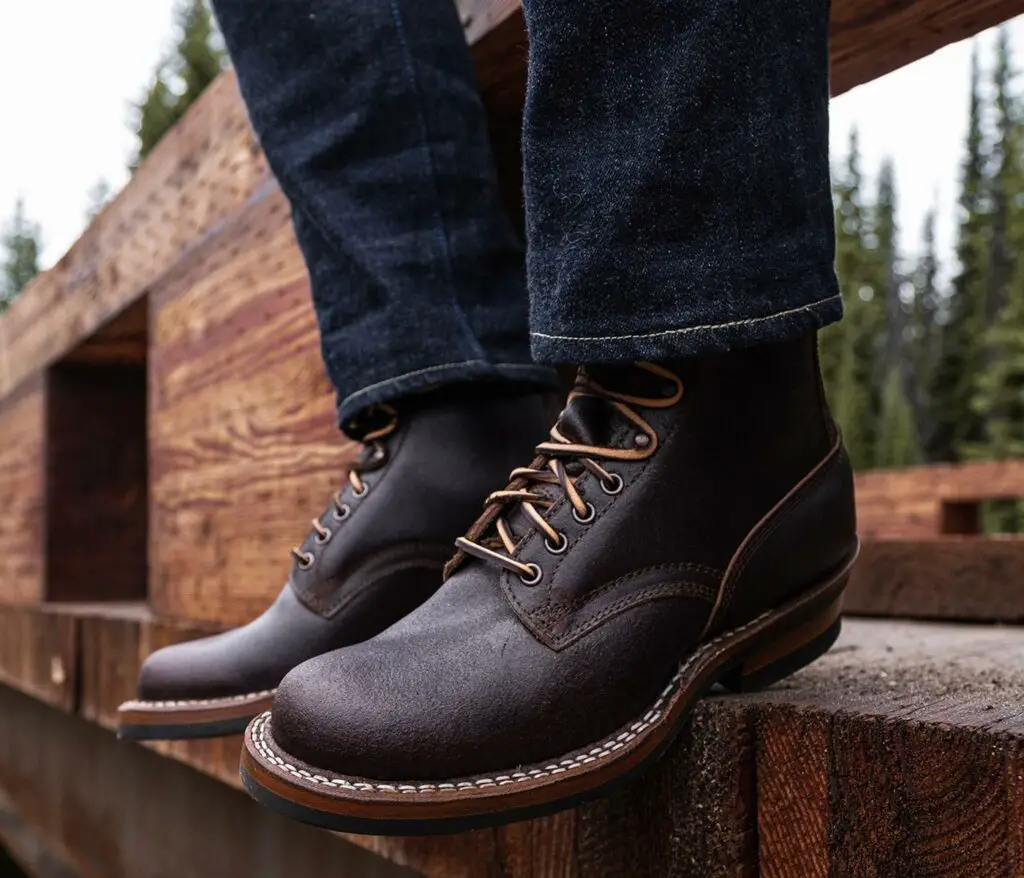 Our team selected the White's Boots 350 Men's Cruiser as the overall best American-made work boots. These handcrafted boots together with the high-quality components overwhelmingly convinced our professional workers. They are a bit costly, however.
Another great pair of boots that grabbed their attention is the Red Wing Iron Ranger Men's Work Boots for quality and comfort if you don't have specific safety needs.
Before selecting a pair of work boots consider any safety requirements for your workplace. Various features are required for specific kinds of labor.
Whether you need impact injury protection, electrical hazard protection, waterproofing, or other, American-made work boots can offer this and much more.
The Reviews
Best Overall American-Made Work Boot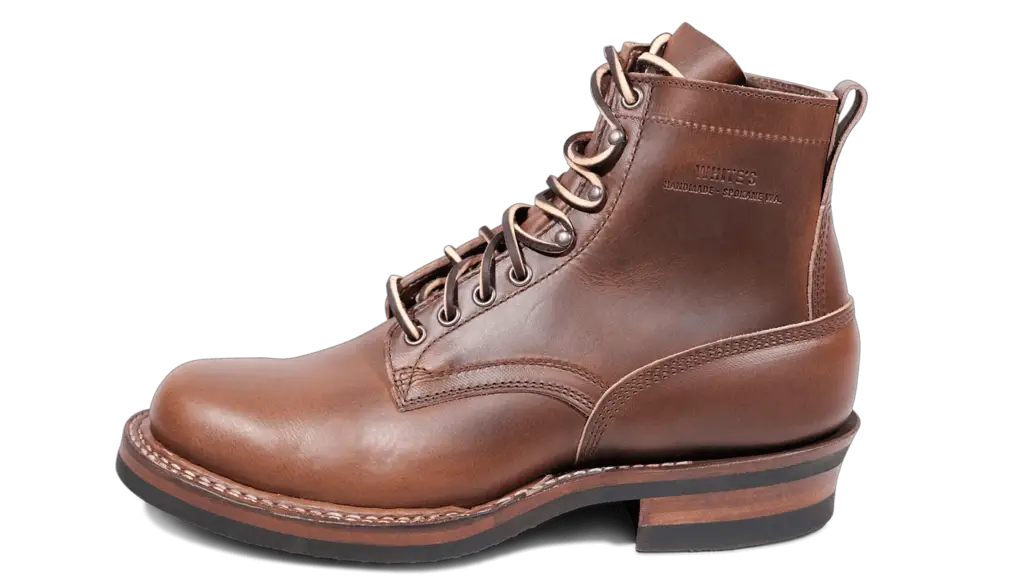 This is an expensive work boot that requires quite the investment. White's boots were founded before the Civil War but moved production to Spokane, Washington. 
Part of the expense will undoubtedly be because these work boots are handcrafted in Spokane. Leather is sourced from tanneries in Illinois and Wisconsin. 
Leathers used in insoles, heel bases, and midsoles are acquired in Leon, Mexico. Styles are hand-welted and hand-bottomed.
This Cruiser boot features a six-inch upper boot and a six-inch shaft. Three hooks and four pairs of eyelets facilitate the lace-up design and an extra eyelet is placed at the ankle.
The cruiser can be acquired in either waxed flesh or full-grain leather, and both are thick durable leathers. The Vibram outsole is double-stitched. These boots can be re-soled or rebuilt when necessary.
Pros
Classic 1930s design

Water-resistant leather upper

Leather midsole

Vibram outsole

Medium arch for great support

Hand stitch construction

Water-resistant seam
Cons
Very expensive

Sizing runs large
---
Best Waterproof American-Made Work Boot
2.) Danner's Rain Forest Men's Work Boot
Danner Men's Rain Forest Uninsulated Work Boot
Rich leather work boot featuring hiking-style lacing, triple stitching with hyper-strong thread, and debossed logos at heel and tongue

Full welt construction

Vibram outsole with supportive angled lugs
Prices pulled from the Amazon Product Advertising API on:
Product prices and availability are accurate as of the date/time indicated and are subject to change. Any price and availability information displayed on [relevant Amazon Site(s), as applicable] at the time of purchase will apply to the purchase of this product.
Manufacturer Danner dedicates an entire page to the specifications of their work boots. The Rain Forest work boot is certified as 100% made-in-America and as Berry-compliant.
The boots feature an impressive Gore-tex inner boot making the work boot 100% waterproof. A liner protects the Gore-tex inner boot. It also wicks away moisture to keep feet dry and comfortable.
The boot upper is produced in full-grain leather, while the outsole is an Italian Vibram sole in logger-style manufactured in a U.S. plant.
These boots can be re-soled when necessary and the entire boot can be rebuilt. Sizing is narrow, but this boot is pretty lightweight. These boots come with EH certification. They are also available in a safety toe version and a version with insulation.
Pros
Full-grain upper boot

Vibram sole with lugs

Full welt construction

EH protection

Triple stitching
Cons
Sizing runs narrow

More expensive
Check Price and Reviews on Amazon
---
Best Steel Toe American-Made Work Boot
3.) Carolina Boots Domestic CA7502 Men's Wedge Work Boot
Prices pulled from the Amazon Product Advertising API on:
Product prices and availability are accurate as of the date/time indicated and are subject to change. Any price and availability information displayed on [relevant Amazon Site(s), as applicable] at the time of purchase will apply to the purchase of this product.
96% of these boots are sourced in the U.S. These are 8-inch work boots in a classic tobacco color. A flat insole design disperses your weight evenly through the entire sole of your foot instead of pressuring only the balls and heels of your feet.
If you must stand all day for your job, this is an important attribute. If you work indoors, you'll find this a great boot for smooth surfaces. The leather uppers are supple in super-soft leather. The footbed is plush and cushioned.
Sizing tends to be wide, so it may not feel as snug and secure as other comparable boots unless you have a wide foot. This is an affordable American-made boot.
Pros
Steel-toe safety cap

Removable footbed

EH certified

Meramec Raptor PU outsole

Welt constriction in leather

More affordable 
Cons
Sizing tends to be wide

Tread is a bit shallow
Check Price and Reviews on Amazon
---
Best Comfort American-Made Work Boot
4.) Red Wing Men's Iron Ranger Leather Work Boots
Red Wing Heritage Iron Ranger
The product is natural leather and its easy for scuffs to happen but they rub out.This can be removed by a soft dry cloth and lightly buffed out the scuffs.

Fit Recommendation - Many customers size down ½ to 1 full size.

Features a bump toe for more room up-front. Double layer leather toe cap and leather heel pocket
Prices pulled from the Amazon Product Advertising API on:
Product prices and availability are accurate as of the date/time indicated and are subject to change. Any price and availability information displayed on [relevant Amazon Site(s), as applicable] at the time of purchase will apply to the purchase of this product.
At the top of Red Wing's Heritage Work Boot line, is the Iron Ranger work boot, an icon in Red Wing boots.
Named for Minnesota's Iron Range mountains known for the mining industry and the iron mined there, these boots feature triple-stitched, full-grain 2mm leather. Toes are patched with an extra leather layer. This is a six-inch boot with eyes and hooks in nickel.
The outsole is a Vibram430 mini-lug design produced in a Massachusetts factory. The midsole is made in cork with Goodyear Welt construction.
Due to the leather thickness, they may need a bit of time to break in, but once they have taken the form of your feet, they are as comfortable as they come. Double layer counters on heels and toes increase durability.
Pros
Rubber Vibram 430 outsoles

Full-grain leather boot uppers

Leather insoles

Steel shanks

Goodyear welt

Steel shanks
Cons
Sizing may run large

Tread a bit shallow

No safety toe

Needs breaking in
Check Price and Reviews on Amazon
---
What Does "Made in America" Signify?
It means that all components of your work boot were sourced in the U.S. and put together on American soil. 
The Berry-compliant boot is pretty much the gold standard in American-made boots. This title refers to a 1941 amendment where the U.S. government was mandated to source fabric, clothing, food, and metal in the U.S.
With a Berry-compliant boot, everything from leather hides to stitching to hardware is made and acquired on American soil.
The Federal Trade Commission has established a "Made in USA Standard" that requires manufacturers to label products in good faith.
This also implies that hardware and nails or material used in stitching can be acquired abroad but that the major percentage of the boot components come from the U.S.
Assembled in America means that materials can come from around the globe but are put together in American territory. "Handcrafted American boots", means that the leather boots have been cobbled and hand-made on American soil.
Know Your Work Environment
Specific features will be geared to particular worksite hazards. Here are some of the principal safety features you should look for if your workplace presents specific environmental dangers.
Safety Toes
One of the principal worksite risks is impact injury. This is especially true if you work at a construction site, an industrial site, or in agriculture.
Safety toes now come in various materials depending on the degree of risk you face and how heavy of a boot you want or can handle.
A steel-toe safety boot is the classic safety work boot. This type of toe cap will have a toe box inside the boot that is produced in heavy-duty steel to protect toes from harm due to impact from tools, materials, or debris dropping on your feet.
Externally your boot will look like any other boot, but inside it will feature a toe cap. The steel cap will protect from toes from 
Compression

Impact

Puncture
Not all safety toe caps are made from steel. You can also find this feature made from:
Alloys like aluminum

Carbon fiber

Fiberglass 

Kevlar 
These safety toe alternatives, like steel toe caps, are ASTM safety requirement compliant. Several of these toe caps are made from non-metal compounds making them better for certain professions. 
If you work with electricity, machinery, or in the vicinity of live wires, composite toes are credible options. The aluminum or alloy toe cap protects like a steel toe cap but weighs less. 
Other Important Safety Features in Work Boots
1.) Chemical resistance. When working with chemicals, a work boot that is chemical-resistant will offer protection. Consider accidental chemical splashes, and that you'll need a layer of protection to shield you from exposure to acid.
2.) Electrical hazard protection. Any worker that uses electricity with equipment daily faces a risk factor even with the best precautions.
A poor connection can cause electric shocks, so work boots with rubber soles that are non-conductive for electrical current are fundamental. Electrical dissipation also makes a difference. Work boots with EH ratings are available in two types:
non-conductive

static dissipating
Non-conductive boots have insulated soles. Dissipating static work boots permit electrical current to flow through the sole directly into the ground. 
This is important if you work with combustible gases and liquid. The static buildup will not be able to spark a fire.  
3.) Insulation
Insulation may not be necessary. The need will depend on where you work and the climate. If you work in extreme weather conditions, look for this feature.
Normally, a natural wool material known as shearing or "Thinsulate" is used for insulation. Thinsulate is synthetic insulation. 
4.) Slip Resistant Soles
Slip-resistant work boots will provide good traction on oily or wet surfaces. Outsole tread contributes to the efficacy of the work boot's resistance to slippage. The shape and the design will influence this.
Tread designs can include triangles, squares, circles, and hexagons. The size of the in-between spaces in the design of the tread is crucial.
Small spacing may not allow water or liquids to channel toward the outside edge of the sole. Trapped fluids can cause hydroplaning and a slip. Tread thickness is likewise vital. If tread wears rapidly, there will be less resistance to slipping. 
5.) Waterproofing. If you work at a construction site or outdoors with variable weather, keeping your feet dry can be challenging.
This will prevent chafing and blisters that can lead to infections and discomfort. Waterproof work boots can be made with rubber or leather most likely feature sealed seams to prevent moisture from entering.
You may not require a 100% waterproof boot, but water-resistant boots can help your feet stay dry while on the job. 
American Work Boot Manufacturers
Here are some of the major American producers of top-quality work boots.
AFboots.com

Carolinashoe.com

Keenfootwear.com

Redwingshoes.com

Reebokwork.com

Whiteboots.com
Conclusion
American-made work boots guarantee craftsmanship, so you can't do much better. Depending on the safety features you require, most major American brands offer a wide selection from protective safety toes to EH protection to waterproofing.
Whatever you need, American manufacturers provide it. For more selections, consult our list of American work boot manufacturers.