Moc Toe Work Boots offer great design if you are in the market for a pair of work boots that will allow you to visit worksites but also be in and out of the office on a daily basis.
They are called "Moc Toe" because the design of the boot resembles a typical moccasin with a seam that is sewn around the top of the boot.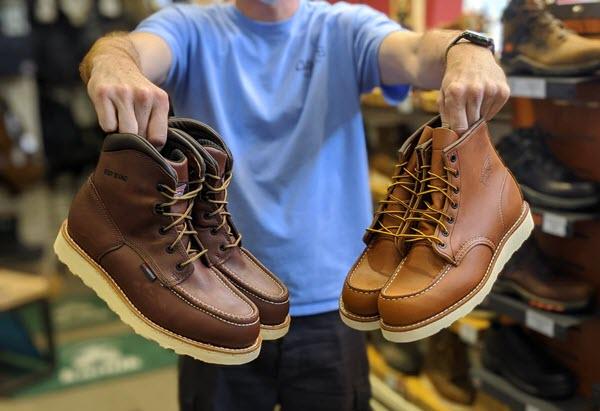 Moc toe work boots are a terrific choice for engineers, architects, and professionals that are constantly alternating between onsite and offsite work appointments. They provide the comfort and safety of a boot with an elegant satisfying appearance.
Comparison Table of Top Moc Toe Boots
1.) Thorogood American Heritage Moc Toe  (Our Top Pick)
Renowned manufacturer Thorogood produces these attractive moc toe work boots with a wedge sole. The uppers are constructed in genuine leather and are oil-tanned and available in several colors.
The innovative aspect of this work boot is the MAXWear outsole which is resistant to slippage and made as a wedge in polyurethane.
Thorogood uses the Goodyear storm welt construction for increased durability. The boots come with fiberglass shanks for both protection and support and removable footbeds that are shock-absorbing.
Pros
Leather Uppers

Removable Poron comfort insole

Shank in fiberglass

Slip-resistant outsole

Goodyear Storm Welt construction method
Cons
Not waterproof

Some squeaking reported

May need breaking in
Check Price and Reviews on Amazon
---
2.) Wolverine Steel Moc Toe W008289 
If you like the Moc toe style but really need safety toe protection, this pair of Wolverine is the best steel moc toe work boot that meet both of your requirements. We really liked this work boot because it is a protective safety-oriented boot and it still meets our style criteria if you happen to work off-site.
The boots in fact feature a protective steel toe guard. The boots are manufactured with leather uppers and Goodyear welt sole construction. The insoles feature generous cushions while the midsoles are designed to absorb shock. The Wolverine outsoles are resistant to both oil and water and are anti-slip.
Pros
Lightweight

Steel toe guard

Leather uppers

Goodyear welt construction method

Slip-resistant synthetic outsole
Cons
Some sizing issues

Boot tongue not attached to the sides
Check Price and Reviews on Amazon
---
3.) Thorogood 1957 Series Best Moc Toe Waterproof Boot
Thorogood had produced this 1957 series as a full safety work boot that is waterproof. The boots' uppers are made in full-grain leather and again the Goodyear Storm Welt is used in the boots' construction.
These Thorogood boots also feature the MAXWear wedge outsoles for exceptional traction. This particular work boot is designed for heavy-duty use with electrical hazards in mind and include the waterproof X-Stream breathable membrane.
This membrane also happens to be compliant for penetration by pathogens that are blood-born.  Removable footbeds in memory foam and inner linings that are soft and lightweight guarantee your foot's comfort while on the job.
Pros
Waterproof

Great traction

Stylish moc toe design appearance
Cons
Some sizing issues related to the width

May require breaking in
Check Price and Reviews on Amazon
---
4.) Redwing Classic Crepe Wedge Sole Men's Moc Toe Work Boot
This good-looking Redwing work boot boasts a great design on an outsole that is crepe wedge with exceptional slip-resistance. The crepe wedge guarantees good shock absorbance. These boots are very durable and built to last regardless of whether you are working on or offsite. 
Uppers are in leather while the sole attachment uses Goodyear Welt Construction. Insoles are also in leather. Redwing also offers various color options to suit everyone's taste.
Pros
Goodyear Welt construction

Leather insoles and upp4ers

Treaded synthetic outsoles

Many color options
Cons
Some reported stiffness

May need breaking in 

Reported to be a bit narrow
Check Price and Reviews on Amazon
---
5.) Skechers Boydton Moc Toe Men's Work Boot
Manufactured with comfort in mind these Skechers work boots boast a classic moc toe design that is both durable and comfortable.
This Skechers model offers both stability and strong support features for your feet thanks to resistant outsoles in rubber for any terrain in a wedge design. Uppers are leather.
The tongue and collar are both padded. This boot features the copyrighted "Relaxed Fit" design. The insole features memory foam cushion.
Pros
Reasonably priced

Relaxed fit design

Rubber outsoles for any terrain

Good padding and memory foam insoles
Cons
Some critiques about sizing due to relaxed fit
Check Price and Reviews on Amazon
---
6.) Dr. Martens Lombardo Leather Moc Toe Men's Work Boot
Featuring a lightweight design adaptable to any number of workplace environments, this work boot is quite fashionable.
The Lombardo boot features soft, flexible bovine leather uppers with great cushion comfort and a synthetic outsole that is resistant to both oil and water for safety.
They also feature an attractive lace-up system which is secure and a corner stitch construction.
Pros
Fashionable soft leather uppers

Synthetic non-slip outsoles 

Very comfortable

Air-cushioned insole
Cons
Some sizing considerations

Some perspiration considerations reported
---
7.) Danner Bull Run Moc Toe 6-inch Men's Work Boot
Crafted in beautiful full-grain leather, the Bull Run work boot by Danner offers a simple attractive design with a contrasting stitch for this Moc toe boot. The full-grain uppers are in oiled supple leather and meet ASTM standards for safety.
Outsoles offer exceptional traction, are non-marking, and are sturdy and resistant to slippage and oil. This Moc toe boot has a fully cushioned footbed for comfort.
Pros
Ortholite footbed

100 % leather uppers

Rubber outsoles

Slip-resistant

Steel safety toe
Cons
Not insulated

Sizing considerations
Check Price and Reviews on Amazon
---
Toe Shapes for the Choosing
Most often work boots will come with a safety toe made out of steel, an alloy, or a composite.  However, boots do come with and without the safety toe box but with various options in the toe design department:
A plain toe design or "round" toe with no embellishments

A "Moc "toe characterized by a "U" shape stitching on the toe area

A toe "cap" with an additional piece of leather or sometimes other sewn across the upper part of the toe box

A square toe is often seen in cowboy style boots like Ariat work boots

A "medallion" toe that is recognizable thanks to clusters of holes as decorations

A "wingtip" boot that boasts extra leather in the shape of a "W" on the toe box

A "brogue" boot that sports pinholes on the boot toe as decorations.
The Benefits of the Moc Toe Work Boots
Are there really any benefits to a pair of Moc Toe work boots? Truthfully speaking, they are simply working boots with a round toe.
1.) If you don't require extra safety protection for your work, you may appreciate a traditional moc toe work boot because they provide a sense of being a bit roomier with a more relaxed foot fit.
2.) These boots may offer a bit more vertical toe space than a pair of boots with a safety cap regardless of whether the cap is in steel, alloy, or composite. The typical moc toe design allows the toe box to rise somewhat at the front of the boot giving a little more toe room.
3.) This may vary from brand to brand, but it's worth trying on these boots if you need a bit more space for the toe. Now some moc toe boots come with safety toe protection, so you can have the best of both style and protection all in one.
4.) Also, moc toe boots can be worn on other occasions and are not limited to the workplace. They are aesthetically pleasing, and while you won't wear them to a formal dinner or wedding, they have a nice enough appearance for everyday activities. 
5.) The only issue you may face when selecting a moc toe work boot is the possibility that the toe area can collect dirt, debris, or a bit of water thanks to its design. But this basically depends on what you do in these boots.  In the end, these boots remain the top choice in work boots if you are working both on and offsite on a daily basis.
Moc Toe Work Boot Features
The moc toe work boot can offer you many of the same features as other style work boots, but their primary feature is comfort followed by appearance. The Moc toe boots may offer you:
Some degree of waterproofing or water resistance

Resistance to slippage

Electrical hazard protection

Footbed cushioning

Linings for moisture wicking

Padding on the boot tongue or collar

Attractive design
Will Moc Toe Provide Safety On the Job?
Typical safety features on moc toe work boots may include:
Waterproofing or water resistance. An example is the use of a Gore-Tex lining.

Resistant to slippage of the outsole for both oil and water

A midsole plate to guard against puncture

Resistance to heat

Resistance to abrasion

Electrical hazard protection

Outsoles with lugs for traction

Resistance to chemicals

Resistance to molten metals

The protective safety toe box
Are Moc Toe Boots Comfortable On the Job?
Features to ensure your comfort while working may include:
A footbed with cushioning

A shock-resistant outsole

Padding on the boot tongue

Padding on the boot collar

Shoe breathability for hot climates including a good lining with moisture-wicking

Insole treatment with antimicrobial solutions

Good toe room

Insulation for colder climates
Will My Moc Toe Work Boots Last?
When you're investing your hard-earned money in a good pair of boots, one of the first considerations is how long will they last. Of course, this depends on your work environment and if these work boots will be exposed to rough heavy-duty conditions, however, there are durability characteristics that you should keep in mind:
A thick outsole in rubber

Uppers that are made of quality leather or materials

A Goodyear Welt or Goodyear Storm Welt construction

Good quality laces and inner lining

Resistance to both abrasion and chemicals

Reinforcement of both the toe and heel areas of the boots
What We Looked for When Selecting
When we decided to research the best Moc Toe Work Boots, we entrusted a group of professional engineers, architects, and managers for both construction and industrial work sites to walk in our boots for ten days.
We also researched lots of client feedback from some of the top-selling sites for Moc Toe work boots to get as many observations as possible and compare them with our team reviews. In the end, this is our list of Best Moc Toe Work Boots for your consideration.
In Conclusion
Named for the moccasin styled stitching around the toe, these boots are not only great for the outdoors, industrial, and construction sites as well offsite in the office, they now have become a fashion icon as well. 
Who says you can't look good on the job? While we have selected seven pairs of Moc toe work boots for our list, remember that most brands now offer safety feature options for the same style of boot, so you can find the boot design you want with or without a safety toe guard.
Most brands will also offer some version of waterproof Moc toe boots. While many moc toe boots may be imported there are still a good number manufactured in the USA. If you need or want a pair of work boots that you can wear off the job, Moc toe work boots are certainly worth your consideration.
Our top pick of the Thorogood American Heritage Moc Toe Work Boot is definitely a boot to be considered when shopping for the best Moc toe work boots for your needs.