Both Redwing and Timberland Boots are renowned companies. They have proved their grounds in terms of utility, comfort, durability, all weather protection and incorporation of many modern technologies like anti-fatigue technology, electrical hazard protection, etc.

But the problem arises when you have to choose between the two and that is really a great difficult job.
Both the brands are famous in their ways and it is really hard to declare the best.
Still, we have made a detailed study in order to go deep into the features and the origin of both the brands and we found out that with reasonable price range Timberland offers great features and can be considered as the clear winner.
Why?
Let's read on….
Comparison Between Redwing and Timberland Boots
| | | |
| --- | --- | --- |
| Features  | Redwing boots | Timberland boots |
| Leather  | S.B. Foot Tanning, Co. Oil-tanned leather, harder to wear in and aged very well | Mostly nubuck leather is used, but full-grain leather and stylish suede are also used at times |
| Outsole  | Vibram Mini-lug or Cork | Rubber lug outsoles |
| Insole  | Tanned Leather  | Timberland PRO insoles and anti fatigue technology insoles |
| Midsole  | Cork midsole  | Cork midsole  |
| Shank  | Steel shank  | Instead of steel shank they use nylon shock diffusion plate |
| Arch support | Good  | Good  |
| Fit  | Slightly narrower  | They generally run a bit big |
| Repairable  | Yes  | Yes  |
| Price  | >200$ | 75$ to 200$ |
| Waterproof  | Yes  | Yes  |
| Comfort  | Less  | More  |
| Customizable  | No  | Yes  |
Redwing Boots
History of Red Wing Work Boots
Founded by Charles H. Beckman in 1905, this American footwear company is based in Red Wing Minnesota. Within 10 years, the company started producing over 200,000 boots for the American soldiers in the warfare of World War II.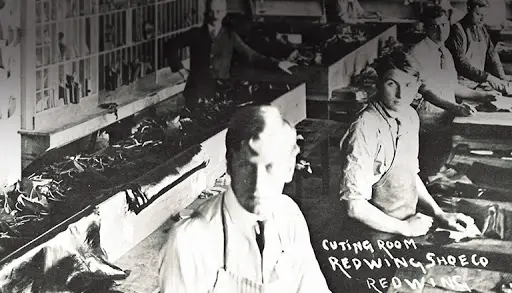 Built in the USA with traditional construction techniques like- tanning, cutting, fitting, lasting, bottoming and shoe finishing, it transforms premium materials into supremely durable boots. 
Characteristic features of Redwing Boots
1.) Outsole: The Red Wing Boots are made with a rubber outsole or a combination of both rubber and leather.
2.) Midsole: They harder the midsole, the longer are the break-in time and the life span. Therefore, the Red Wing Boots are made with a hard midsole.
3.) Welt: The welt is the piece of leather round the edge of the sole to which the rest of the boot is attached to. The Red Wing Boots are made with Goodyear welt construction process that makes boots not only weather resistant but also allow them to be re-soled again and again.
4.) Last: The shoe upper is always pulled over the last that gives it its shape. The Red Wing Boots use 8 different lasts that dates back to 1930s.
5.) Cap toe: In this, an additional layer of leather forms a cap over the toe.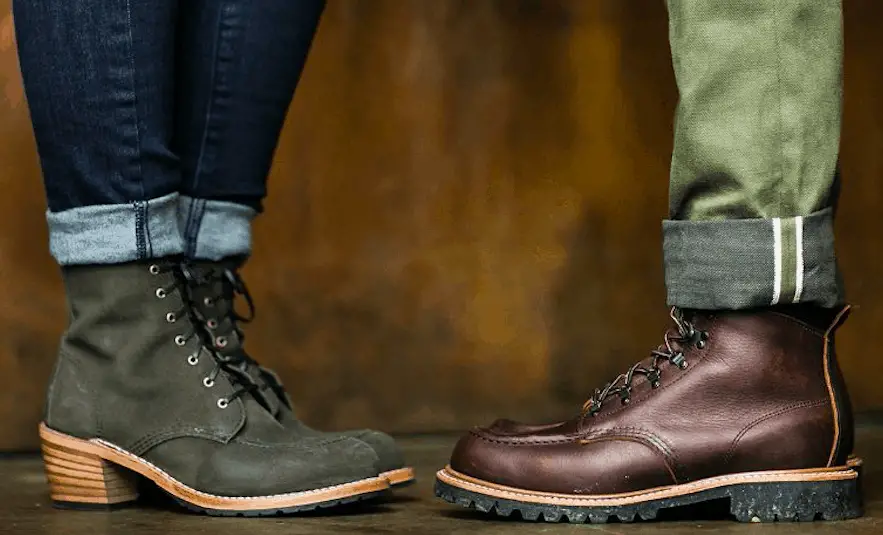 6.) Moc toe: This is one of the unique styles of RED WING that is named after the moccasin style and shape which is created when the leather seams meet on the top of the toe.
7.) VIBRAM Outsoles: These maximum performance outsoles provide comfort, durability and functionality during heavy walk and play.
8.) Lug sole: This is a classic rubber sole featuring thick rubber treads that provides great traction and weather protection.
9.) Traction tread: The large white rubber wedge never mark factory floors and provides a generous cushioning for the feet.
10.) Irish setter: These are geared towards hunters and provide insulation and cushioning.
Timberland Boots
History of Timberland Boots
The company was first founded in 1928 in Boston, Massachusetts, U.S by Nathan Swartz. It has its headquarters in Stratham, New Hampshire and U.S. they first produced the humble yellow Timberland for construction workers which were introduced by Sidney Swartz in 1973. Then the boots became famous for cozy winters for keeping the feet warm. An advertisement from the 1970s declared the Timberland boots as: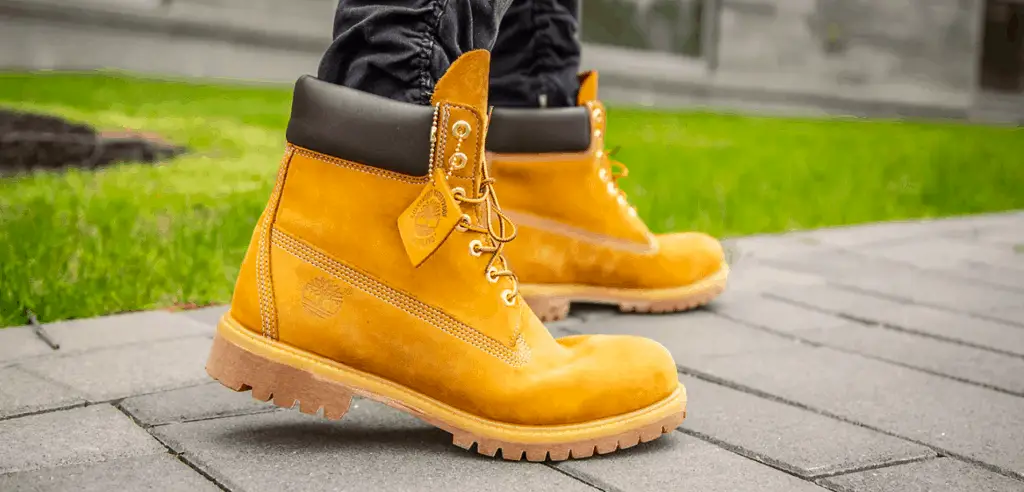 "A whole line of fine leather boots that cost plenty, and should."
Many artists such as Jay Z, Britney, etc started wearing them for their shows and concerts. Another landmark was the manufacture of 8" waterproof design. Now they make boots ranging from various colors and styles and not to mention their unique insoles made of anti-fatigue technology are unbeatable.
Characteristics of Timberland Boots:
1.) Material used: Timberland uses nubuck leather. This type of leather after being split is buffed on the side on which the animal's hair grow, thus making the leather softer than full-grain leather.
2.) Use of laces: The laces used in Timberland boots are of good quality and add to the strength and fit of the boots.
3.) Price: The prices of Timberland boots are decent and are generally priced between 75$ to 190$ and is quite lower than REDWING boots.
Other features include:
Anti-fatigue technology

Made of tanned leather

They are waterproof

They have primaloft eco insulation retain warmth even when the boots are wet

Rubber lug outsole

Second midsole layer for additional support

Rustproof hardware 

Safety toes

Roomy toe box

Sealed seams

Four-row stitching

Injection-molded soles

Shock absorption that distributes pressure evenly
Most Popular Boot from RedWing
The features we liked:
Made of 100% leather

The outsole is made of nitrile cork

Provided with a heel measuring 1"

12" boot opening

Shaft measures 6"

It features a bump toe to provide more room up-front

Has a steel shank

It has a double layer leather toe cap

Has a leather heel pocket

The insole is made of leather

Provided with 48" laces
Detailed review:
The first thing to note is that these boots run a bit larger than your regular shoe size. They provide years of comfortable wear and are durable. They are provided with a cap toe for extra protection. The leather insole provides a great cushioning.
The laces are provided to give you the perfect fit. The 12" boot openings are just unique to the other boots. The bump-toe provides room for wide toed feet. The outsole provides great grip against slippery surfaces. Overall, the boots are extremely durable, stylish, comfortable and of heavy duty.
Check Price and Reviews on Amazon
Most Popular Boot from Timberland
The features we liked:
Made of 100% leather

Heel support

Anti-fatigue insoles

Rubber sole that is oil, slip and abrasion resistant

Electronic hazard protection

Roomy toe box

Anti-microbial treatment for odor control

Goodyear welt construction

Polyurethane midsoles for better comfort

Waterproof
Detailed review:
These boots are the finest of its kinds and has almost every feature you can desire for. These boots will serve you in almost all the work conditions. They are rugged and comfortable. The comfort suspension system present in these boots minimizes foot fatigue and lets you stand and walk in them for a day long.
These boots also have padded collar and a polyurethane midsole which add to the support and comfort. To ensure that your feet stay fresh the entire day, these boots have an open-cell polyurethane foot bed with Agion antimicrobial treatment.
The best part is, they have steel toe caps to protect your toes from any falling or rolling objects. They have a removable sock liner to protect the sides and upper of the feet from getting rubbed and developing blisters, they have collar guards.
The boots are so designed as to absorb shocks with help of shock plates so that the pressure of the foot is distributed evenly. And lastly, they are oil, slip and abrasion resistant to provide a great grip. Above all, they are waterproof.
Check Price and Reviews on Amazon
Who is the Winner?
In our view, if you are looking for something really good with nearly all features but in a lesser price range, you should definitely opt for the Timberland Boots. Even the celebrities worldwide trust and advertise them.

But if you are that old thinker who believes in one time investment and look for durability, you should definitely choose the Redwing Boots.
It all depends finally on what you want and what your budget is. Otherwise, both the brands are quite famous and won't disappoint you.
Read Comparison of Other Top Brands
That's all guys for today. We will be back with another article very soon. Till then take care and make the best choices for your feet.
Keep walking and stay fit!