While you can easily find a pair of brand-name mass-manufactured work boots in options that run from the inexpensive to the very expensive work boots made of premium leather and materials, nonetheless, custom-made boots are making a dent in the work boot industry. 
A pair of custom-made work boots, often confused with hand-made boots speak to the artistry of the bootmaker. And these boots will be made specifically for your feet with any peculiarities.
Custom-made boots will also speak to your character and personal style because they'll be made exactly as you prefer.
Boots are fundamental for foot and leg support as well as for the lower body. So, investing in a good pair of work boots is crucial to your well-being on the job.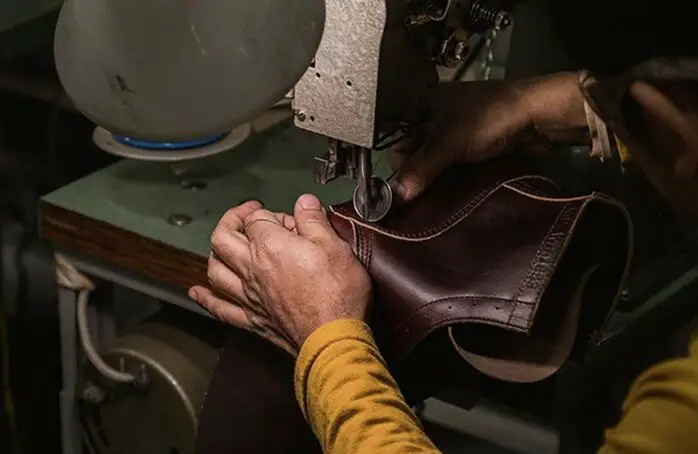 You'll want to invest in the best pair of boots that your wallet can afford, and even if you are on a budget, it's still worth considering investing in a pair of custom-made work boots.
The best custom-made boots will ensure premium materials, quality construction, durability, and above all comfort because made for your feet and not for a standard industrial foot shape.
We've selected Buildaboot.com as our top choice for custom-made work boots because you can get a lot done right on the website.
Nick's Handmade Work Boots also offers an interactive website for designing your custom-made boot. White's Boots is impressive for its history and the longevity of the company.
What Are Custom-made Work Boots?
Custom-made boots are handmade to some degree.  This means that they are not produced using standard shapes and cuts of materials made by machines. A professional shoemaker or cobbler will make custom-made boots.
These boots will have a higher value than a good pair of brand work boots. Generally, they will be made in a classic design, meaning that they'll last for years with good care and not be trend-oriented. Stylistically they should work well for as long as they last.
Are Custom-made Work Boots Handmade or Handcrafted?
Handmade work boots are slightly different from handcrafted work boots. Handmade work boots signify that the entire work boot has been made from hand by a professional artisan. Handcrafted work boots are made using some machinery as well.
Custom-made work boots distinguish themselves further because custom-made boots are made and designed exclusively for your feet, meaning the specific shape and size of your feet regardless of how they are constructed, by hand or with the help of machines.
If you run into the term "bespoke" when describing work boots, this means that no machine was used at all during production.
The use of machines for making work boots merely makes the construction more rapid. But, in all these categories of boot production, artisans will take great care and pay a great deal of attention to detail.
In any case, shoemakers or cobblers will use instruments when crafting a work boot. To cite just a few, they will utilize a heel iron to perfect heels, an edging iron to set the edges of soles as well as a fudge wheel. A fudge wheel is employed to hide stitches.
So, when ordering. Custom-made boots, know that the creation and construction process will take more time, will be more painstaking, and will concentrate a great deal of effort into requested details. As a result, they will also cost more.
These are also a fantastic option for those that have difficulty finding the correct off-the-shelf work boot size.
Why Choose a Custom-made Work Boot?
Professionals that have difficulty finding the correct size with brand work boots, generally weather other problems as a result. Common problems include:
1.) The formation of blisters
2.) Tight toe boxes
3.) Heel slipping and sliding
4.) Discomfort for wider feet
5.) Foot pain
Choosing to opt for a pair of custom-made work boots designed specifically for your feet should eliminate these problems.
Custom-made Work Boot Features
Custom-made work boots undoubtedly boast certain characteristics that single them out from manufactured work boots and contribute to their reputation. While they are expensive, the quality is unparalleled. 
Materials
If you're going to invest when buying your work boots, you might as well get premium materials in the process.
With customization you can get the best quality leathers, your preferred outsole whether in leather, rubber, or Vibram, along with the best hardware in brass or nickel for a great look that is durable and practical for everyday use.
Construction
With custom-made boots, you'll get stitch-down boots that are hand-sewn. This means that work boots are hand-bottomed, and hand welted by masters in boot making.
Hand-lasting is also characteristic of custom work boots meaning that leather is hand-stretched and molded around the boot last or model. 
This type of work offers optimal flexibility and durability and molds directly to the shape of the customer's feet.
And one real advantage to custom-made boots is that they generally can be re-soled or rebuilt if necessary, so you won't be buying work boots often.
Comfort
The point of buying a custom-made boot is to provide comfort on the job. With a work boot that is specifically designed and constructed for the shape of your feet, it can't get much better.
Style
The one great thing about customizing your work boots is that you can choose every detail right down to the eyelets and their color to reflect your taste and personal style.
Building Your Custom-made Work Boots
There are quite a few boot makers that allow you to select the style of work boot at their online websites along with telephone support.  When visiting these sites often they will request the following information.
1.) How to establish sizing
Sizing options include an in-store fitting, measuring with fit-sheets, or even sending try-on boots. Once your sizing has been established, they will keep your sizing on file.
2.) Defining Size Length and Width
You will be asked to provide the length and width of your feet
3.) Choosing Work Boot Height
Boots heights can be selected from six up to even twenty inches.
4.) Choosing the Leather and the Color
5.) Choosing Boot Hardware
Common options are brass, nickel, antique brass, or colored hardware.
6.) Selecting the Pattern
You will be able to select among classic patterns, toe caps, and lace-to-toe designs.
7.) Insulation or Not?
You may be offered various insulation options such as fleece or Thinsulate in varying weights.
8.) Safety Options
Do you want a steel toe, a composite or alloy toe, metatarsal guards, or a simple soft toe?
9.) Arches
Arch options usually include standard, high or low.
10.) Heels
You will be asked to indicate a heel height preference from standard to very low.
11.) Outsoles
Multiple options will allow you to select the best type of outsoles for the terrain or surfaces you work on.
12.) Laces
Laces can be chosen among nylon, leather, or waxed.
13.) Extras
Some boot makers may even offer options like inside or outside sheaths on your work boots.
Our Favorites for Best Custom-Made Work Boots
1.) Buildaboot.com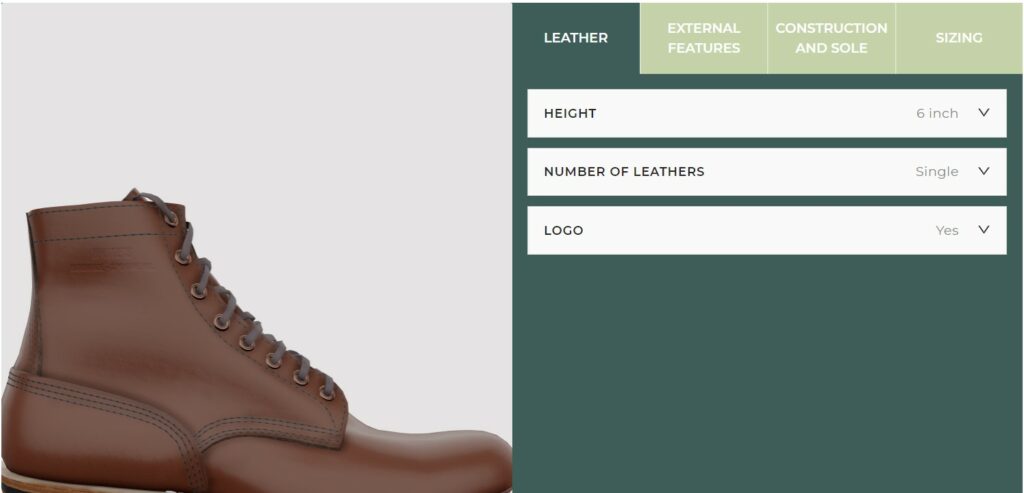 Offered by American footgear company Baker's and White's Boots, this website offers an ample choice in design detail to get you what you want.
Depending on what you select, you may have to wait anywhere from twelve to twenty-four weeks for your custom pair. Five styles are available and you can select the number and kinds of leathers you want.
You also can select the boot height, the kind of outsole and tread you want as well as the style of eyelets and hooks and their colors.
And it doesn't end there. You can select the type of laces you want, add pull tabs, heel heights, and add a safety toe cap if you need to. Some of the details will cost more than some materials like certain leathers.
Pros
Offers multiple types of leather and accessories

Height can be selected

Outsoles and tread can be selected

Vibram soles are available

Safety features are available
Cons
Depending on what you choose the price soars
---
2.) Nick's Handmade Work Boots
Established in 1964, this company has been producing handmade boots for several decades. These work boots, which resemble the manufacturer's Ranger work boot, are completely customizable.
Even if they feature a Dogger heel and a shaft that is six inches, they can be completely redesigned to meet your preferences. The company uses fit sheets for new customers to guarantee the optimal fit.
Shopping options include the kind of leather, the boot height, length, and width, arch type, shaft height, sole stitching thread, outsole, and midsole thickness among other details. 
Pros
The company allows you to completely build your boot practically from scratch

Costs a bit less than some competitors

Material flaws and workmanship flaws are repaired within 12 months of purchase
Cons
Styles are limited to a few designs
---
3.) White's Boots
Established in West Virginia in 1853, this company transferred in 1915 to Spokane, Washington. Known as bootmakers for loggers, the company boasts well over a century of experience when it comes to making work boots.
The company's website tells how they got into the custom-made boot when in 1946 a WWII veteran returned from the front with only half of his left foot.
The company's best bootmaker went to work to create a boot for this soldier that lasted until his death and was rebuilt and re-soled countless times during his lifetime.  The rest is history.
White's has you choose the heel, upper boot leather, hardware, outsole, arch support, and will do anything to optimize customization.
Both feet are considered individually for slight discrepancies in foot measurements. Materials and workmanship have a warranty for one year when purchased.
Pros
The company allows you to completely build your boot practically from scratch

Costs a bit less than some competitors

Material flaws and workmanship flaws are repaired within 12 months of purchase

Durable
Cons
For customization information, you need to call the 800 number
---
This company, in Spokane, Washington makes custom-fit, handmade boots. Owner Frank began his boot-making career as the General Manager of Nick's Boots and went through the ranks learning to cut leather right down to the custom fit.
The company aims for quality and not quality through the building of custom work boots produced for individual feet and not mass production sizes.
This company offers several options including buying a standard-sized handmade boot to designing your custom-made work boot with a customized unique fit.
Contacting the company is easy either through a customer service telephone number or via their website.
Pros
Offer custom fit hand-made work boots

Nine styles offered in work boots

The website offers lots of information about design and care

One year warranty for materials and workmanship

Offer safety features upon request

Offer rebuilding and re-soling
Cons
No indication as to the time necessary for custom-made boots
---
Conclusion
Why buy a custom-made pair of work boots? The principal reason is that they are designed to your specific design and work requirements together with the fact that they are made specifically for the shape and size of your feet.
Even if one foot is slightly different from the other, a custom-made work boot can accommodate this guaranteeing your comfort. 
Another great reason is that most of these boots can be both rebuilt and re-soled so that even if the initial investment is more costly, long term you'll be saving money.