If you have chosen to read this article, you probably have already experienced an ankle sprain or injury, or you may just suffer, after standing on your feet all day, from sore fatigued feet and ankles.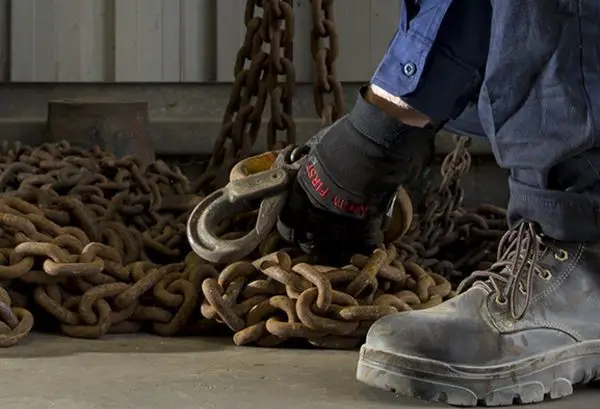 If you limp to your sofa at the end of a workday, your work boots are most probably not providing you with the necessary support and comfort when working long hours.
Since many of you have contacted us with this problem, asking for advice, we put together a research team with construction and agricultural professionals along with medical consultation to hear what orthopedic experts have to say about the injuries they see most often and what they recommend.
So, after considerable research, consulting, and testing, we came up with our recommendations for the best work boots. Our overall best work boot for ankle support is Error: Unknown Link Type for its built-in support of heels and ankles.
We also liked the Error: Unknown Link Type because of its value-packed budget-friendly price.
Best Ankle Support Boot Reviews
Best Overall Work Boot for Ankle Support
1. Caterpillar Diagnostic Steel Toe Work Boot 
Prices pulled from the Amazon Product Advertising API on:
Product prices and availability are accurate as of the date/time indicated and are subject to change. Any price and availability information displayed on [relevant Amazon Site(s), as applicable] at the time of purchase will apply to the purchase of this product.
This is a great boot that not only offers ankle support but comes with a protective steel toe cap and an incredibly comfortable insole that is made in EVA foam with a gel insert.
The boot uppers are waterproof leather, and the outsole is in rubber to provide great traction, that is slippage-resistant regardless of the weather.
This work boot has been designed to shape itself anatomically to natural foot movement for added comfort. It features a rugged appearance that can withstand workplace abuse.
Leather uppers measure 6 inches from the arch to provide solid ankle protection and support. The construction features cement attachment of the uppers to the outsole eliminating the risk of water penetration.
The steel toe cap is ASTM rated. A padded collar guarantees soft ankle support. Complete with EH rating and 200g of Thinsulate insulation.
Pros
Support for heels and ankles

Comfortable

Steel shanks

Thermally insulated

Full-grain leather uppers

Waterproof

Rubber outsoles
Cons
Waterproofing short-lived without maintenance
Check Price and Reviews on Amazon
---
Best 6-inch ankle Support Work Boot
2. Caterpillar Second Shift Work Boot with Steel Toe
Caterpillar Men's Second Shift Steel Toe Work Boot
Ankle-cut work boot with steel toe with padded ankle and oil-resistant outsole

Platform measures approximately 0.75

Heel measures approximately 1.25

Shaft measures approximately 6 from arch

100% Leather
Prices pulled from the Amazon Product Advertising API on:
Product prices and availability are accurate as of the date/time indicated and are subject to change. Any price and availability information displayed on [relevant Amazon Site(s), as applicable] at the time of purchase will apply to the purchase of this product.
An affordable boot from manufacturer Caterpillar, the safety work boots come with removable insoles if you wish to put in your own custom orthotic soles.
They offer all the necessary safety features for a good work boot and offer great foot and ankle support beginning with the steel shanks to support arches. Being lightweight they place no extra stress on your feet.
Full-grain genuine water-resistant leather uppers contribute to durable ankle support that is, however, by no means rigid. The construction allows for toe flexibility supporting the natural movement of your feet.
The ankle well measures six inches from the arch with a padded collar for soft contact during movement. Nylon mesh liners accompany the "Climasphere" sock liner charged with moisture-wicking to keep feet dry. This boot is also available in a soft toe version if your work doesn't require toe cap protection. 
Durable Goodyear welt construction is used and the outsole is resistant to slippage and oil. This steel toe version meets ASTM F2413 05 and MI/75 C/ 75 safety requirements. The steel toe can manage 75 lbs. of impact damage. An EH rating rounds out the package. 
Pros
Contoured insoles are removable

Budget-friendly

Durable

Steel shanks and toe cap

EH rated

Goodyear welt construction

100% full-grain leather uppers support and protect ankles
Cons
Water-resistant but not fully waterproof
Check Price and Reviews on Amazon
---
Best 8-inch Ankle support Work Boot
3. Timberland PRO Boondock 8-inch Industrial Boot with Composite Toe
Timberland PRO Men's Boondock 8″ Composite Toe
Premium Waterproof Leather with Waterproof Membrane

Asymetrical Composite Safety Toe and Non-Metallic Puncture Resistant Plate

Anti-Fatigue Technology polyurethane footbed for shock absorption and energy return

Vibram Fire & Ice Outsole for optimal performance in any temperature, for increased durability, traction and slip resistance

Combination three-quarter Goodyear welt/cement heel construction, with fiberglass shank for structural support
Prices pulled from the Amazon Product Advertising API on:
Product prices and availability are accurate as of the date/time indicated and are subject to change. Any price and availability information displayed on [relevant Amazon Site(s), as applicable] at the time of purchase will apply to the purchase of this product.
Exceptionally comfortable synthetic outsoles and built-in anti-fatigue technology make these work boots a credible choice for sensitive or problematic feet.
The insole is designed to absorb impact shock and cushion for your entire work shift. Ever-guard leather uppers are waterproof and protect and support the ankle all day long, while the TPU soles come with impressive lugs for traction.
These soles are slippage, oil, and abrasion-resistant. This boot also features a waterproof membrane and a non-metallic plate that is puncture resistant.
Pros
Leather uppers

Vibram TPU synthetic outsole is slippage, oil, and abrasion-resistant

Shock absorption technology

Anti-fatigue technology

Fiberglass shank

Puncture-resistant plate is non-metallic

Asymmetrical Composite safety toe cap

Waterproof membrane

Lightweight boot

Ankle is padded for comfort
Cons
No insulation

Maintenance required for waterproofing durability
Check Price and Reviews on Amazon
---
Best Budget Ankle Support Work Boot
4. Boiwanma Safety Work Boots with steel toe
Prices pulled from the Amazon Product Advertising API on:
Product prices and availability are accurate as of the date/time indicated and are subject to change. Any price and availability information displayed on [relevant Amazon Site(s), as applicable] at the time of purchase will apply to the purchase of this product.
The Boiwanma safety boot immediately grabs our attention for its affordable price compared to high-end renowned brands. This is a value-packed boot for the cost.
Uppers are made of 100% full-grain leather that is resistant to water and is attached to PU outsoles, making this boot lightweight and reliable.
The inner lining is mesh for breathability, and the work boot meets ASTM F2413-18 safety standards. Comprehensive protection is guaranteed by the combination of a steel toe together with ankle protection and support from thick boot uppers that are fully lined.
Resistance to slippage and oily surfaces means less risk of serious injury from accidental falls. EH protection is included to 18KV. The design of the boot is contoured to cradle the foot to prevent stress if you stand most of the day.
Pros
Thick Leather uppers

PU outsoles that resist slippage and oily surfaces

Steel toe

Ankle support

Comfortable

Affordable

Safety certified
Cons
Check Price and Reviews on Amazon
---
What Constitutes Good Ankle Support
Orthopedic medicine attempts to correct bone and muscle deformities and treat medical problems related to these deformities, including pain.
Work boots that may be considered an "orthopedic" boot are not actually designed for medical motives but have been conceived as supporting the naturally correct structure and movement of the feet and the ankles.
Shoe designers attempt to create a work boot that supports the natural position of your feet and ankles during a long work shift that requires you to stand for hours.
Many work boot components can contribute to supporting your feet and ankles thereby affording you increased comfort. Among the features that can improve support and comfort, we find:
Arch support

Removable end interchangeable cushioned insoles

Steel shanks

Braces 

Lacing styles

Metatarsal cushioning

Boot measurement – eight-inch work boots
Boots with these features offer several benefits:
1.) Pain reduction when standing for long periods. Muscle soreness can attack the heels of your feet and spread all the way to your lower back, making you sore and miserable.
2.) For those afflicted with plantar fasciitis which is when the ligament from the toes to the heel bone is inflamed, good boots can improve pain thanks to orthotic insoles.
3.) For sufferers of diabetic neuropathy which can cause one to lose a part of sensitivity in the feet, leading to chafing and blistering, or worse yet ulcers and infections, good foot support and cushioning can be important factors.
Who Should Wear Ankle Support Work Boots?
Anyone can benefit from having great ankle and foot support. For those who do not suffer from particular medical conditions, work boots with great support may help you avoid developing these conditions in the future.
If you suffer from:
Plantar fasciitis

Foot pain of any kind

Swollen feet

Frequent blistering or abrasions

Posture problems when walking (These will be evident simply by observing how the outsoles on your shoes wear)

Prior injuries to the hips

Prior injuries to legs
consider looking for a pair of work boots that offer exceptional support. While most work boots will not be promoted as orthopedic boots or ankle support boots, it is wise to pay attention to the components they feature to evaluate exactly how much support that they can offer.
What to Pay Attention to When Selecting your Safety Work Boots
Remember that safety work boots are the principal layer of protection for your feet while on the job. They should support your feet guaranteeing stability to both the foot and the ankle especially if you work on uneven terrain.
Resistance to slippage with exceptional traction can play into the equation together with protection from electrical hazards, burns, and impact or compression injuries.
These are characteristics and features you should look for when selecting a boot to give you proper support on the job.
Undoubtedly, 8-inch work boots give more support to the ankles, however, they will be warmer, so if you work in a hot climate look for features like moisture-wicking linings and breathability to offset the need for a higher boot.
Type of protection needed
Depending on the hazards and risks you are exposed to, consider the following features:
1.) Safety toe caps – generally made of steel but available in composite or lightweight alloys like aluminum, toe caps provide protection from falling objects or debris that can crush your toes.
2.) Puncture resistance – a protective material is inserted in the boot's midsole to prevent nails, shards, or other sharp objects from puncturing the bottom of your feet
3.) Slip-resistant outsole – literally all work boots will have soles with traction, however, if you work in intemperate weather, mud or similar, outsoles created with traction lugs can give you an increased grip when walking
4.) Waterproofing – while most work boots resist water, not all are waterproofed. Again, depending on the environmental conditions where you work, keeping your feet dry can be a priority. This will also work to prevent blistering, athlete's foot, fungal infections, and more.
5.) Thermal protection – if you work in a cold climate, thermal insulation can protect feet from blood flow being restricted.
6.) Electrical protection – in industrial work environments, among others, you may be working around electrical current or heavy machinery. EH protection will help guard you against shocks and electrocution.
7.) Static protection – this may be necessary if you work around explosives or fuels. Anti-static boots will prevent static electricity from building up in your boot.
Compliance with ANSI safety standards should be a given when selecting a work boot.
Weight
This will make a difference in both the amount of fatigue your foot feels at the end of the day and how much stress muscles and ankles are exposed to.
Work Boot Outsole
This is important in any work boot. The toe area needs to offer flexibility to enable your walking, however, there should not be flex in the rest of the outsole. If your boots flex at some other point, they are probably significantly worn and need replacing.
The Correct Fit
If you can try on boots before purchasing, all the better. Remember that different manufacturers offer variety when it comes to sizing.
The feet can potentially swell at the end of the day. So, it may be a good idea to try on a potential new work boot at the end of the day to account for this.
Toes should not be touching the boot tip from within. Evaluate how much space there is between your toes and the toe cap as well as between the heel and the boot back.
Also, check the width of your foot across the toes and the middle of your foot. Boots should feel snug but not under pressure.
Boot Fasteners
The boot should hold your foot in position thanks to zippers, laces, or other mechanisms. The boot should not be so tight as to be uncomfortable. For good ankle support, adjustable laces are the best option.
Arch Support
You must have adequate arch support for your foot type particularly if you have had foot injuries in the past. You can get custom foot orthotics made from a scan of your foot if you feel as though arch support is insufficient.
Ideally, the level of arch support should be indicated.  If you have a supinated or rolled out type of foot, built-in arch support may push the foot farther leaving you with less stability especially with the ankles, thus at greater risk of sprains.
Comfort
Your work boots need to be comfortable. Boot construction will influence your comfort. Internal seams should be smooth to avoid rubbing and irritation and toe caps should not have any rough edges.
Socks
Remember to try on your boots with the correct pair of socks. Avoid trying them on with sheer sockettes or thin socks, rather than using a normal pair of everyday work socks.
Breaking In 
Most work boots will require a minimum of breaking in. How long will depend on the materials used. Refer to the manufacturer's recommendations to avoid blistering and begin by wearing them for a short time, increasing wear time gradually until you reach an entire work shift.
When to Seek Help from a Podiatrist
If you notice that the outsoles of your work boots or shoes in general wear in an irregular manner such as the outsole wearing on only one boot, or you are having pain in your feet after a work shift, you may want to consider paying a visit to a trusted podiatrist for evaluation of injury to the feet, gait, or even an assessment of your footwear.
Conclusion
Even if you do not suffer from particular medical conditions, work boots with great ankle support may help you avoid developing painful debilitating conditions. 
When selecting your next pair of work safety boots, take care to select with the health of your ankles and feet front and center. Thank you for reading.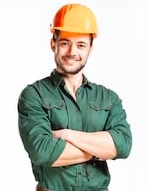 I have 12+ years of experience in construction, inspections, handy work, and currently working as a Construction Site Manager. In today's day we spent a significant part of our time at workplace and a right work gear can have significant impact not only on your safety but also work quality.