Can you imagine walking without shoes in stone studded roads?
The thought scared you right?
Not only would your feet hurt, but also it will develop severe pain in your entire leg afterwards.
Boots without the soles are same as walking barefooted. Without soles, boots would hurt your feet and cause several other ailments as well. So, soles are the core parts of boots.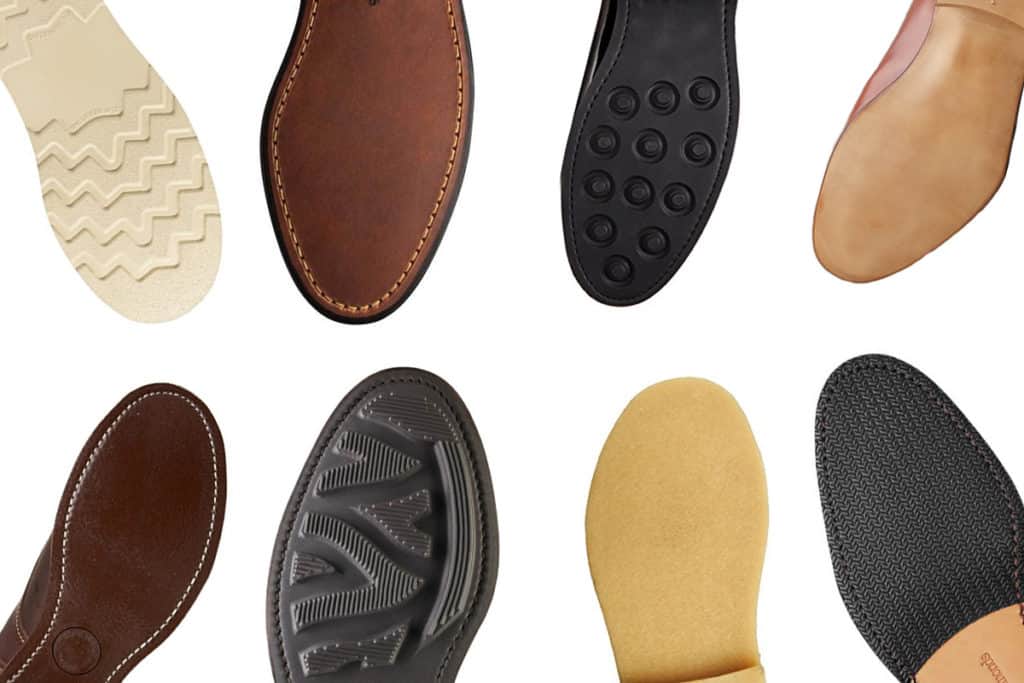 But the problem is, there are too many types of boot soles available in the market, and you need to know about them in details before buying your boots because a boot with no good sole is equal to no sole at all.
So, today in this article I will tell you about all the types of soles fitted in boots and why the best amongst them are the rubber soles.
Let's get started!
19 Different Kinds of Boots Sole
1. Leather Soles

Leather shoe soles are believed to be the most durable of all the soles if maintained properly. They can take all the harshness of the roads and go along easily.
They are also in demand for ages for their breathability to keep your feet sweat free and have the ability to mould into any foot shape. They are mostly used in formal shoes.
2. Rubber Soles

These are the best alternatives to leather soles and are pretty much as durable as their leather counterparts.
The best thing about rubber shoe soles is that they are water resistant, therefore, you can wear them without any fear even if your job demands working in water for long hours.
They are mostly used in work boots, hiking boots and winter boots. They are thicker than the rubber soles and give a casual look to the boots.
The only con of rubber soles is that they are prone to cracking in case of extensive wear over a long period of time.
3. Combination Soles

As the name suggest, combination soles use both leather and rubber in them. In other words while the entire sole is made of leather, the rubber is attached to the forepart and the heel.
They are durable and provide even better traction because the heel is made of rubber. They are mostly used in dress boots where durability and formality meets added traction.
4. Ridgeway Soles

They are another variation of rubber soles that are hardwearing and durable. The characteristic features of Ridgeway soles are thick protruding lugs and large ridge channels.
The ridge channels are for added traction and stability. They are very lightweight and have a raised profile. 
5. Dainite Soles

The dainite soles differ from the Ridgeway soles in having a low profile and round recessed lugs. They are much thinner because of the low profile and are mostly used in dress boots.
6. Commando Soles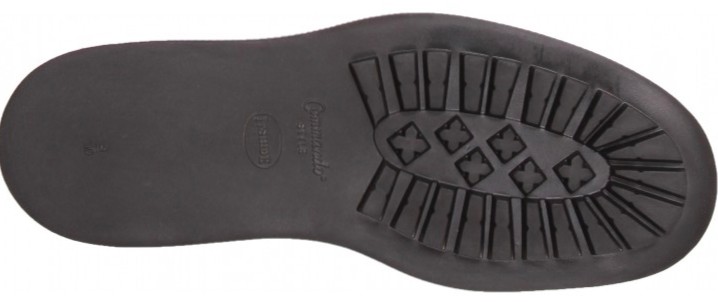 These are characterized by their rugged profile, water resistance and thick lugs. They are mostly used in hiking boots and work boots because of their large protruding lugs that provide extremely great grip and traction. The only con is that they are quite heavy and make the boots look clunky.
7. Wedge Soles

Also known as Christy soles, they are characterized by their spongy feel and instead of having a heel they have a wedge that tappers down to the toes.
They are mostly used in all the modern boots made by renowned brands. They serve in work boots and heritage style boots.
They have good traction because of their non-slip nature but do not sole the purpose in case of icy floors in winters. Also, as they are soft, they tend to get damage in case of extensive wear.
8. Vibram Soles

These soles are almost used in all types of boots ranging from work boots to hiking boots. As vibram is basically a brand and not particular a type of sole, so the types of shoe soles they produce are vibram Christy soles and vibram lug soles. 
9. Crepe Soles

They are mostly made of rubber and have a distinct squiggly pattern on the outsoles. They do not provide a great traction but provides a great look in popular modern boots.
10. Cork Nitrile Soles

They are basically made of a combination of rubber and cork. Therefore their traction is great. They are lightweight and are thin in look. They are oil and slip resistant but because of the lack of lines and lugs they are not very ideal for winter wears. 
11. Lug Soles

These have somewhat chunky soles are used in hiking and utility boots. They are made of rubber and hence the grip is great. They are great for winters but the lugs in between the soles demand regular cleaning from the accumulated dirt.
12. Camp Soles
They are basically made of rubber and are ideal for casual wear boots. They are extremely lightweight and are waterproof. They provide great traction too being made of rubber.
13. Raw Cord

This kind of shoe sole was invented in sheer necessity during WWII when rubber was hard to find. The old car tiers having fibrous nylon cords were melted to reinforce the tread. They are very durable and weather resistant but not very widely used nowadays.
14. Polyurethane Soles

These soles are durable, comfortable, waterproof and have long term mechanical properties. The fact they are the choices of many is that they have low density, slip resistance, superb shock absorption and excellent wear resistance.
15. PVC Soles
Polyvinyl chloride soles are best known for their insulation properties. You can stand for long hours in these soles without any difficulty because of their shock absorption and additional support.
16. ABS Soles
Acrylonitrile Butadiene Styrene soles is basically made of plastic but is durable and does not contain any toxins. The chief characteristics of these types of soles are great impact strength, abrasion resistance, easy molding into any shape and great stability.
But these are not very suitable for extreme climatic conditions like extreme cold and extreme heat.
17. TRP Soles

Thermoplastic Rubber are molded and compounded from rubber granules and solid raw shoe sole materials. The pros of these soles are that they offer great slip resistance and shock absorption but compromise on comfort while standing for long hours.
18. BPU Soles
These are best known for their environmental friendly features and surprisingly low density. They are very thick and tough and offer great resilience and weather resistance.
19. EVA Soles

They offer the best shock absorption and are used in recent times by most of the brands. They are extremely lightweight, has great flexibility, elasticity and durable too.
Before we say Good Bye:
I have tried to illustrate the entire positive as well as the negative sides of all these soles so that you are well informed before making your next purchase. 
Every sole is unique to itself with it merits and demerits.
But, according to our study, we would declare pure rubber soles as the winners because of their durable and all weather resistance as well as comfort.
That's all folks for today
We will be back soon with yet another exciting article. till then…
Take care…and…
Keep walking!