Tracing the history of Vans shoes, they were first manufactured as skateboarding shoes and have been the first choice of athletes in the 60s and the 70s for their comfort and design.
But the question in hand is…
Are Vans good for walking?
Yes, simply put, the cushioned sole, the sticky rubber outsole and the breathable mesh fabric make Vans suitable for walking.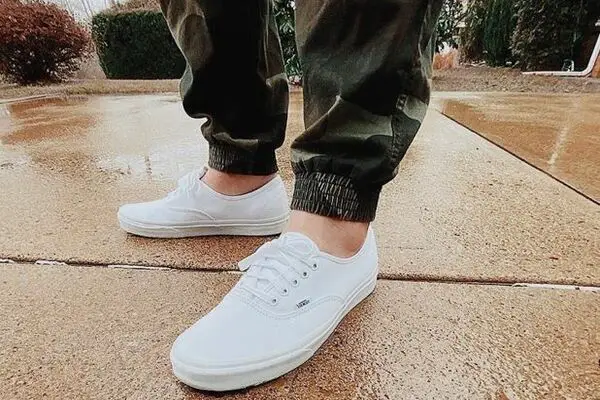 But there are other factors that too need some consideration before we reach the final conclusion like the durability of Vans for long walks, the kind of cushioning, and some other features like shock absorption technology, waterproofing, weight, fit, etc.
So, let's read on to find out…
Qualities/features of a Good Walking Shoe
The first and foremost criteria of a good walking shoe is the comfort because without comfort, you cannot walk even for 10 mins. 
However, comfort is not all that the shoe needs to have for being the best walking shoe, it has to have some other features as well besides that. Let's have a look at them in brief:
1.) Traction:
You do not know whether you are going to get an even or rough terrain while walking and also will there be water on the way or not.
But your shoe needs to be prepared for every situation and that's why traction is one of the most important features that come into consideration while choosing a good walking shoe. Rubber soles are known to hold the best grip on slippery terrains as well.
2.) Shock absorption technology:
Shock absorption technology allows the return of energy back to the foot from the ground and that's very necessary to avoid any pain in the foot and the joints in long distance walks.
3.) Cushioning:
Without a cushioned insole, your shoe cannot be counted as a good walking shoe. The cushioned insole provides comfort to the base of the feet while walking and takes away much of the pain that might arise from traversing an uneven path.
4.) Fitting:
A good walking shoe should provide you with a snug fit so that your toes can wiggle the arch can bend and your feet can breathe while walking.
5.) Flexing:
Another quality of a good walking shoe is that it should allow the feet to flex and bend according to your need.
6.) No heel:
If your shoe has raised heel, it cannot be counted as a walking shoe because shoes with elevated heels will cause pain in the heels of the feet and will not be comfortable for long distances. So, while choosing a good walking shoe, remember that it should have a flat heel.
7.) Breathability:
While you walk, your feet will definitely sweat. So, a shoe with mesh lining or any breathable fabric is advisable for walking long distances.
Are Vans good as walking shoes?
Now that we know what are the essential features of a good walking shoe, let's judge Vans on the same scale by its features:
1.) Vans were made for the athletes, especially for skateboarding. So, there is no question that they provide excellent grip with the sticky rubber outsoles.
2.) Vans are no doubt one of the most sought after shoes by cyclists, runners, skateboarders, and other players for the immense amount of comfort that they provide.
3.) Vans are very light in weight and therefore, that are a great choice for walking.
4.) Vans are made for a breathable fabric which will allow air circulation within the shoes and keep your feet all day dry.
5.) Vans offer a very good fitting with their wide toe area and laces to adjust according to the shape of your feet.
6.) With the advancement in technology, vans have come up with the new shock absorption technology that helps the shoe to absorb the pressure from the ground and return it back to the feet.
So, all in all, Vans definitely make a great choice as a good walking shoe with all the essential features inbuilt in it.
Are Vans good for long distance walking?
There is absolutely no problem if you want to walk long distances in Vans. It will not trouble your feet in any way.
But the only drawback is that the canvas used in the making of Vans might not be very durable in which case walking long distances regularly might deteriorate the canvas fast!
Best Vans shoes for walking
1.) Best slip-on vans for walking:
Made of rubber soles, these slip-on vans provide great grip besides being too light and comfy for day to day walks.
---
2.) Best sneakers Vans for walking:
These sneakers from vans are one of my favorites simply because the lace-up system aids towards a perfect fit and the waffle-pattern tread offers a better grip on uneven grounds. The canvas upper is also durable and they look quite tempting too!
---
3.) Best high-top Vans for walking:
If you are someone who likes some support on the ankle area while walking or if you travel through gravelly paths, you are surely going to like these ankle-high shoes from vans.
The soles are made of synthetic material and the canvas upper adds to the durability and looks of these shoes. Also, you get a perfect fit with the full lace-up system!
---
4.) Best low-top Vans for walking:
If you ask about my favorites from Vans shoes, undoubtedly these are the ones. Made with double-stitched uppers for durability, these are great for walking long distances as well.
The metal eyelets not only look great but ensures that they hold the laces tight and provide an excellent fit to your feet.
The padded tongue and collar provide comfort and support to the uppers of your feet while walking and the vulcanized construction and the original waffle construction provide for the grip and traction on slippery grounds as well.
Lastly, the suede material is very comfortable to wear and gives these shoes a 10 on 10 looks!
And it's a wrap!
Vans also serve as good running shoes and are quite stylish too!
Therefore, I definitely give Vans a big thumbs up as a good walking shoe.