The American Cowboy boots has its roots in the Spanish and Mexican traditions, and hence it comes as no surprise that the cowboy boots and Mexican boots share a lot of similarities.
To the pointy toes and the sleek ornamental look that they own with style they do give each other some stiff competition and are in for a real exigent face off. Who is going to win the race-the cowboys or the vaqueros? Read on to find out.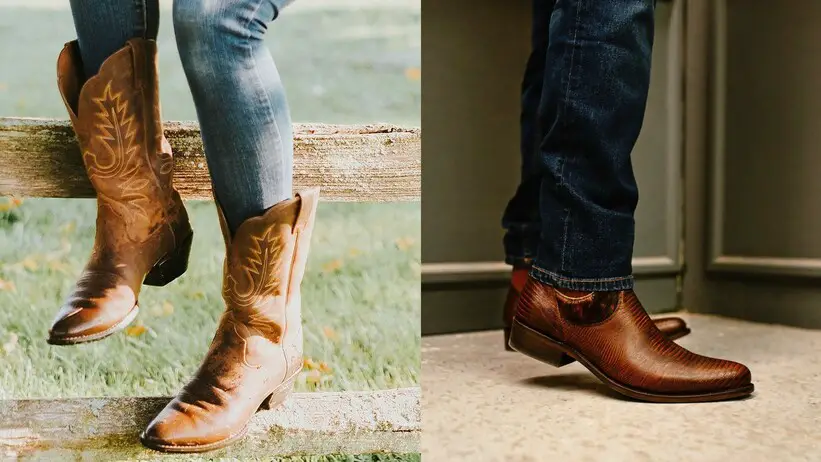 Cowboy Boots
Cowboy boots are specifically made to cater to the farming/cattle rearing and equestrian requirements of the valiant cowboys of the West.
Made with exotic leather made with hides of alligator, eel, elephant, elk or fauna found in the area, these boots have indeed made a statement in the cultural arena with their sleek signature look.
The pointed toe look, high heels and shaft and no lacing makes it so fashionable and appealing. Used by cowboys, riders and men and women from almost all walks of life, these cowboy boots do enjoy remaining in the limelight no matter how many years pass by. 
During the early years cowboy boots were handmade with exotic materials, but these days they are indeed available in a wide variety of materials and features.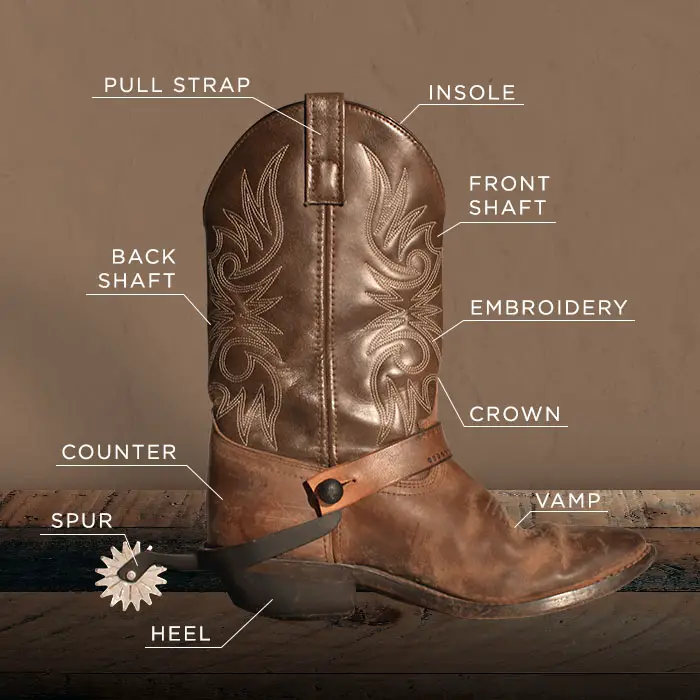 The traditional cowboy boots' signature pointed toe structure has undergone changes over years to cater to the needs and comfort of the wearers. 
The slick, treadles leather of the boots facilitates the easy mounting and dismounting of horse riders, and even the easy insertion and removal of the foot from the stirrup of the saddle. The tall heel is present to prevent the boot from sliding through the stirrup.
The tall shaft is meant to be quite roomy and sturdy for ease of wearing and to protect the leg from rubbing against the saddle and from winds, sun or thorns.  
All these features of cowboy boots are meant to cater to the equestrian needs of cowboys and might not really fare well in other workspaces. So now since we have gotten a basic idea about what cowboy boots are all about let us get to know the main opponent, the Mexican boots. 
Mexican Boots 
Both Mexican boots and cowboy boots are very similar in looks and function and hence which one is the original one is question that tends to spark a lot emotionally driven debates, but since it's not an arena for heated arguments we will just get to see the Mexican twin of cowboy boots- the Botas picudas mexicanas. 
Just like its American counterpart, the Mexican boots too have a high shaft, deep scallop and pointed toes. Since they are meant for purely equestrian purposes and not for the whole rancher duties, these Mexican boots can indeed afford to look more dapper.
The defining factor of the Mexican boots are its square-off heels with thick welts to keep the boots in the stirrup. 
The extremely narrow pointed toe was not something that was there from the start. To be honest this recent addition was just a humorous take, just to poke fun.
The elongated pointy toe even goes in curls in certain designs. It's all just meant for a big laugh and was actually a fad that came into being in the late 2000s. 
Cowboy Boots vs Mexican Boots 
Even though at a first glance these two might seem to be rather identical twins, but that is not really the case. There are indeed a lot of similarities as well as a lot of dissimilarities as well.
So as to figure out who might fare better in the race to be the better boot, we will have to make a better comparison of the two to figure out how well each of them perform in the sections like structure, functionality, versatility, utility etc.
Check out the table given below for a better understanding of the two. 
Feature 
Cowboy Boots 
Mexican Boots 
Height of shaft 

Taller 

Shorter 

Heel design 

More variety available 

Signature square shaft 

Foot protection 

More protection 

Average foot protection 

Leather quality 

High quality genuine leather 

Made with split and normal leather 

Durability 

Durable (up to 10 years)

Not that durable 

Water resistance 

Naturally water resistant 

Will have to be treated to make it water resistant 

Pulling straps 

Present 

Present 

Toe shape 

Pointed toes (other varieties are available as well these days)

Pointed toes (modern ones are extremely pointed) 

Heels 

Heels can have different shapes and patterns 

Signature square heels with thick welts 

Aesthetic appeal 

More formal looking and can be worn on any occasion,

More classy decorative details 

Has a more vibrant and colorful look and might not look that great at every other occasion and with every other attire.

Lacks any aesthetic decorative details 

Utility 

Adapted for daily use,

Fit for manual labor as well 

Not fit for daily use,

Not fit for manual labor 

Protection from elements and injury 

The real leather provides more protection from snake bites and hot spillage 

The split leather does not protect against hot substances or animal bites 

Comfort 

Harder to break in and quite uncomfortable to wear 

Easier to break in and more comfortable to wear 

Breathable

The sole is more breathable and keeps the feel cool 

Not that breathable 

Ease of movement 

Average 

Square heels help move faster 
With the lower shaft height and the not that sturdy structure, its easier to pop on a Mexican boot than a cowboy boot.
The lightweight nature of the Mexican boots as well as the ease with which one can break into it and wear it all day makes it a much better option when pitted against cowboy boots when it comes to the case of comfort.
Regarding aesthetic appeal, style and durability the cowboy boots does score much more than Mexican boots. The ornamental designs and the high-quality leather make the cowboy ones look classier and last longer.
There are more designs and varieties in heel structure and toe shape when it comes to cowboy boots, but the Mexican boots with their square heels with thick welts does indeed provide one with more agility.
The protection quotient is quite low in the case of the Mexican ones and might not be a suitable choice for the work place. 
See also: Square Toe Vs Round Toe Cowboy Boots
Can Cowboy boots replace Mexican boots?
The cowboy boots fare well in the following categories- 
Durability 

Looks/ aesthetic appeal 

Protection 

Variety of designs
And the Mexican boots score better in the following categories 
Comfort 

Agility 

Convenience
If your work place requires you to protect your feet from heavy objects or hot substances then yeah cowboy boots must be your choice.
But if its all about staying comfortable all day and moving around with speed and ease, then Mexican boots are your way to go. 
So, depending on your work place requirements make a wise decision and rock those boots with class and ease. 
Recommended Cowboy and Mexican Boots
Given below are a few products you can check out if you wanna get yourself some classy pair of cowboy boots. These options have been chosen by considering how well they have met the needs and desires of the customers. 
Metrocharm Diego-01 Men's Belt Buckle Chain Strap Western Cowboy Boots 
Prices pulled from the Amazon Product Advertising API on:
Product prices and availability are accurate as of the date/time indicated and are subject to change. Any price and availability information displayed on [relevant Amazon Site(s), as applicable] at the time of purchase will apply to the purchase of this product.
High quality, durable comfy shoes for every occasion. 
---
Matisse Women's cowboy boots 
COCONUTS BY MATISSE Women's Gaucho Boot
Insole padding for additional comfort.

TPR outsole is strong and lightweight.

Embroidery details with a western theme for added elegance.

Boot opening is roughly 13.5 in diameter.

Heel height is about 1.5 inch
Prices pulled from the Amazon Product Advertising API on:
Product prices and availability are accurate as of the date/time indicated and are subject to change. Any price and availability information displayed on [relevant Amazon Site(s), as applicable] at the time of purchase will apply to the purchase of this product.
Stylish, funky, versatile and comfortable boots that come at a very reasonable price 
---
Sadly Amazon doesn't really provide us with a lot of options in the authentic Mexican boot section, but worry not as we have got you covered. 
You can opt for boots from Mezcalero, a brand that produces stylish and durable Mexican boots. Click on the link given to find an array of comfy and sexy Mexican boots
Another authentic Mexican boot producer is Vaquero Boots, so, feel free to click on the below link to discover a huge collection of vibrant Mexican boots
https://www.vaqueroboots.com/collections/cuadra 
By now you must have decided whether to get a Mexican boot or a cowboy boot. So hop on the boots and work on to victory with ease Mateyyys and Amigossss!!!!!!