If you have any of these brands in mind you have nothing to worry about as both offer high quality and durability. Both have a history of providing value for money. They offer comfort levels that are difficult to beat.
Thorogood boots and Irish setter boots offer a range of boots for work. Additionally, the boots can function effectively in different environments whether indoor or outdoor.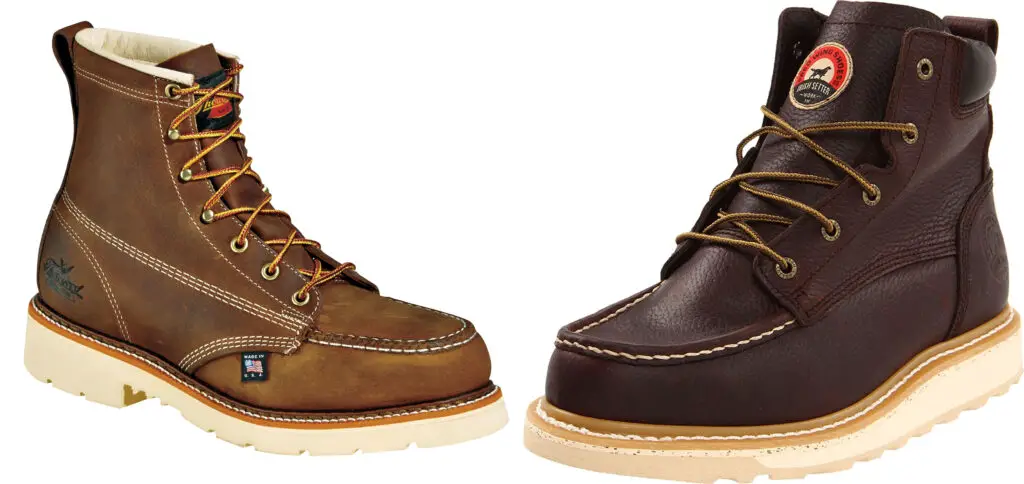 In the war between Thorogood boots and Irish Setter boots it is still difficult to determine who takes the trophy. Take a look at the reasons why this is the case. 
Red Wing Shoe Company owns Irish Setter boots. The company dates back to 1905 when it began producing its premium footwear. The Irish Setter brand was specifically started in the 1950s. It has since then become a brand that produces premium boots.
Thorogood boots are mostly known for being work boots but that doesn't stop them from being incredible lifestyle boots as well. Thorogood boots date back as far as 1918. The shoes are made in America. Consumers mostly love the brand due to its company structure.
Employees are in control of the organization's ownership. This has been the case since the year 2000. This created a level of engagement that was unique to that of other companies.
This article will focus on each boot by comparing their different features. This will include taking a look at some of their popular boots and you can decide which of the two brands works for you.
Comparison Between Thorogood Boots and Irish Setter Boots
| | | |
| --- | --- | --- |
| FEATURES | THOROGOOD | IRISH SETTER |
| Material | Leather | Leather |
| Heat Resistant | Yes | Yes |
| Chemical Resistant | Yes | Yes |
| Comfortable | Yes | Yes |
| Durability | Yes | Yes |
| Shock Absorption | Yes | Yes |
| Grip | Yes | Yes |
| Water Resistant | Yes | Yes |
Introducing: The Two Brands
Thorogood Boots
The Thorogood boots date back to 1918 when Weinbrenner, a shoe cobbler, decided he wanted his own line of shoes. His work as a cobbler dates back to 1855. The philosophy of the creation of the Thorogood brand was simple yet necessary and timely.
Each job had a different demand and a different environment. It was, therefore, necessary to get shoes that matched the demand of the job. The brand made footwear available for oil workers, miners and ironworkers.
Instantly, the Thorogood brand became a success. Currently, the shoes come in different heights, leathers and colors. A safety reinforced toe box is also available.
1. Comfort
Thorogood brand prides itself in the production of comfortable boots. It recognizes the importance of having high quality boots for one's livelihood that get the job done.
The shoes are comfortable enough to be used every day. The shoes vary between heavy duty and lightweight to cater to different working environments.
2. Purpose Built
The target audience for most of the boots is daily workers. The boots are tough and can support its owners through an entire day of work. Construction workers, fire fighters, weekend hikers, carpenters and individuals from other industries can benefits from these shoes.
3. Endurance
Thorogood boots have a high endurance capacity. This is because they have been designed to overcome tough environments. This includes resistance to slipping, oil, water and heat. They also meet the standards of the American Society for Testing and Materials.
Irish Setter Boots
The Irish Setter boot was first designed in 1950 and man more followed after that. This boot was specifically designed for hunters. As went time by new materials were used to make the boots which included waterproof kangaroo hide.
More than 14 styles of the hunting boot were available in the 1990s. Till date the Irish setter boots still deliver in their production of leading boots for hunters and workers working in difficult terrain.
Top 10 Best Irish Setter Work Boots
1. Purpose Built
The Irish setter boots is considered one of the world's major lines of outdoor and sporting boots.
2. Endurance
Electricians are one of the major consumers of Irish Setter boots. They face electrical threats in the work place and could end up stepping on live wires. This is why the Irish Setter boots have Electrical Hazard protection that keeps them safe from such threats.
Another risk faced by daily workers include trips, falls and slips while on the job. Depending on the job environment, these workers require shoes that offer ankle support, durable soles and excellent traction. Irish Seter boots offer exactly that with features such as underfoot comfort, shock absorption and lateral stability.
Working from about 6:00 am till late in the evening requires shoes that offer adequate support. The Irish Setter brand offers boots that are well cushioned, offer adequate arch support and above all are flexible. These shoes allow the user to move comfortably in different directions for long hours without unnecessary strain.
Features of Thorogood Boots
The Thorogood boots have various features that make them unique. This includes;
Cork molding layers
Synthetic EVA footbed
Fiberglass shanks or engineered composite
Speed books and eyelets that are durable
Electrical hazard protection
Safety toes (moc toe, composite toe, and steel toe) and non-safety toes
Triple stitched uppers
Puncture resistant outsoles
They include metatarsal guards
360degree Goodyear storm welt construction
Let's get into a bit more detail about the features:
Appearance– The boots offer a range of looks from its industrial boots, stylish boots to its toe boots. This brand delivers stylish looks all while maintaining its high-quality material and durable nature.
Goodyear Welt Construction– Most of Thorogood boots are made of this construction. This is because it is the best. Also, triple stitching is added to some of its shoes to ensure sole durability.
Insole and Outsole– The work boots use removable insoles to allow switching to orthopedic soles that suit you. However, this doesn't undermine the insoles quality as most boots are made of thick cushioned insoles.
This acts as a shock absorber for the feet. Outsoles used include tough rubber soles, Vibram soles and wedged soles. They support your grip no matter your terrain.
Features of Irish Setter Boots
Rich leathers
Brass hardware
Contrast stitching
Heavy weight and light weight boots
It offers soft toe and safety toe boots
Outsoles: The Irish Setter's outsoles can perfectly work on surfaces with high temperatures. This feature has been tested and proved to work. The HRO soles are highly resistant to heat melting at about 475 degrees Fahrenheit.
Safety toe: Vehicles that are in motion and heavy dropping objects are all work hazards. It is necessary that employees have protective footwear to keep them safe. The Irish setter boots pass the national standards for impact and compression.
How to care of your Thorogood Boots?
Rinse mud and dirt from these work boots on a daily basis. Failure to which they will build up and rot fast. Every once a month, once you are done cleaning, you should waterproof your boots using a cream, spray or wax.
If your work environment involves exposure to water every day you should do this twice a month. Your boots should be stored in a dry area that is well ventilated. Let your boots dry at room temperature. Do not attempt to use an external heat source.
Use disinfectant sprays and powders to keep the inside of your boots clean and dry. When your boots start getting old and begin to crack apply conditioning oil on them.
How to take care of Your Irish Setter Boots?
Irish Setter boots are used in different environments. If you use the boots during hunting you should take extra care of them. Once the hunting is done, don't store the boots when they are still caked with mud.
Choosing to leave them like that will cause them to be hard and stiff due to the dried mud. Continuously doing this will reduce its life span significantly.
Use a clean cloth to clean the interiors of the shoes. This will get rid of any dirt or dirt that may have settled on the shoe. Just like the Thorogood boots, Irish Setters need to air dry. You can also choose to purchase a boot dryer. It gently blows air into the interior of the boots.
The boot dryer is convenient if you are on a multi-day hunt and require to consistently clean your shoe. A major point to note is that you should NEVER soak your boots.
What are the differences between Thorogood and Irish Setter Boots?
On a larger scale, these two boots seem to have many similarities making it difficult to differentiate them. However, there are a couple of differences with regard to aesthetics and leather. These are differences you need to know before making a purchase.
When it comes to aesthetics, the Irish Setter has a more subtle look compared to Thorogood. It uses contrast stitching which means that only one of its stitches is bright white. This gives it an appearance that is more muted. People who appreciate simple wardrobes will find it appealing.
Thorogood boot on the other hand mainly uses bright white stitching. Other features it has are leather pull tabs and speed hooks. This makes putting the shoe on and taking it off easier. Most people consider it more functional because of this feature.
Another point of contrast is the leather of the boots. Leather used by both boots is referred to as oil tanned. However, the leathers aren't identical. Irish Setters leather is thicker, less grainy, waxier and oilier.
As much as the shoe isn't the most comfortable out of the box, it gets better with time. It also ages better and doesn't require to be conditioned often. This doesn't mean the Thorogood boot is poor quality. Irish Setter's high quality could be because of having its own tannery.
What are the Types of Boots Offered by the Companies?
Outdoor logger boots
Indoor factory boots
Uniform boots
Which are the Examples of popular Irish Setter and Thorogood Boots?
Thorogood American heritage boots
Thorogood lagger boots
Thorogood jump boots
Irish Setter Afton Shoes
Irish Setter Ashby boots
Irish Setter Elly boots
Irish Setter Marshall pull on boots
Irish Setter Moc Toe Wedge boots
Irish Setter Crosby work boots
What are the Cons of Thorogood and Irish Setter Boots?
Cons of Thorogood Boots
As much as these cons do not apply to all of the Thorogood boots, there have been observations on cons on some of the boot offerings.
The Men's Gen-flex2 8" Tactical Jump Boot fits a bit stiff on the toe,
Men's American Heritage 11" Wellington Wedge Boot doesn't have the most flexible arch.
Men's 12" Endeavor Extreme Boot insulation might feel heavier than most boots.
Men's Infinity FD 6" Work Boot looks a bit bulky.
Men's Gen-flex2 8" Safety Toe Boot not ideal for extremely intense labor.
Men's Thoro-Flex 6" Pull-On Boot fits a bit snug in the toe area.
Cons of Irish Setter Boots
Some Irish Setter boots have been known to lack adequate support in the ankle area. However, these haven't been constructed for extremely hard labor. This shoe also tends to have extra room which positively severs individuals with wider feet.
However, those with smaller feet might find it inconvenient as they tend to rub various areas of the foot particularly the ankle and the heel. To alleviate this problem, you can choose to wear thicker socks.
Summing Up!
Currently, Thorogood boots produces close to 250 different models of boots, specifically working boots for a range of job categories in the world. It comes in various designs and colors and offers the option of a safety box.
Irish Setter boots also offer you durability and comfort certain to last all day. Both of these shoes are great brands with great offerings. When it comes down to it it's up to you to choose which brand is favorable.