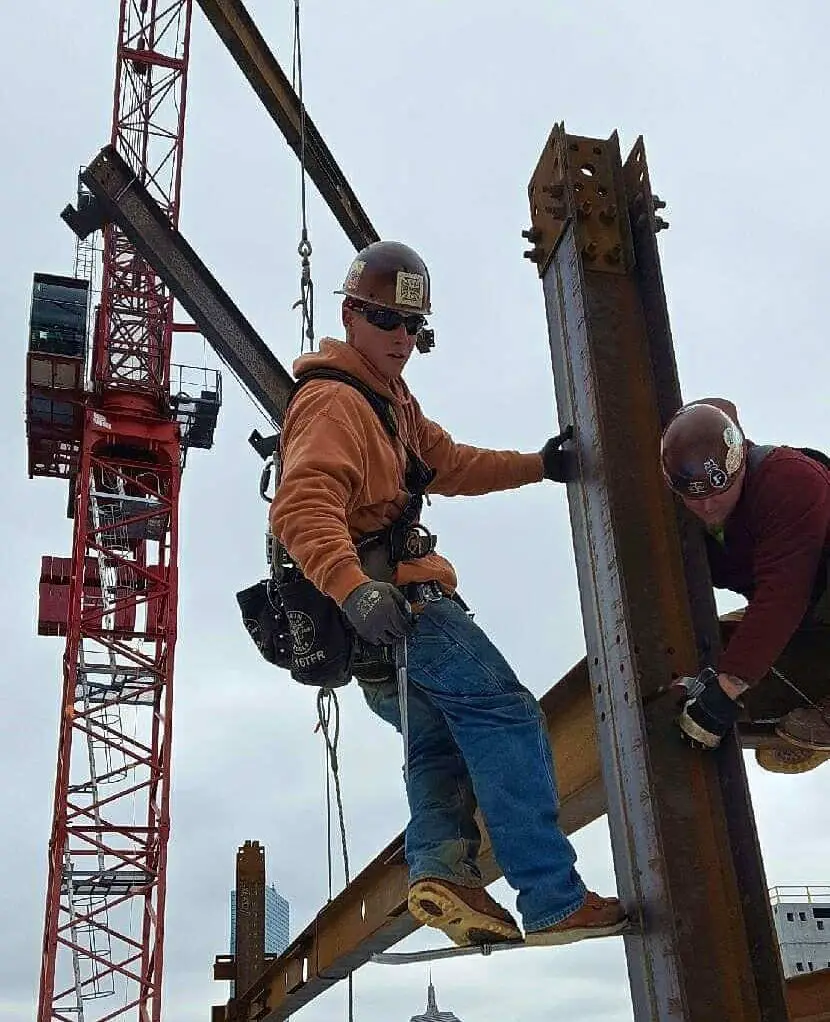 Ironworkers have to deal with many hazards in the job sites such as going through cuts, falling of heavy loads, handling electric current. But the worst hazard is posed by slipping or falling from heights while fixing iron rods on building structures.
Therefore, they need to be very careful while choosing their footwear which can ultimately save their life. And the most important feature needed in the footwear is slip-resistance.
None can compare the ability of wedge soles outsoles to offer protection from slipping or falling from heights as they provide great traction over narrow and slippery surfaces. The other features would however demand EH protection and waterproof.
We made a detailed study on the best ironworker work boots and found that the Thorogood wedge sole boot is the perfect boot for most ironworkers. The boot is built with full-grain leather and offer the best traction on any terrain.
Now let's look into the details of all the 5 ironworker boots from our list:
1.) Thorogood Men's American Heritage 8″ Moc Toe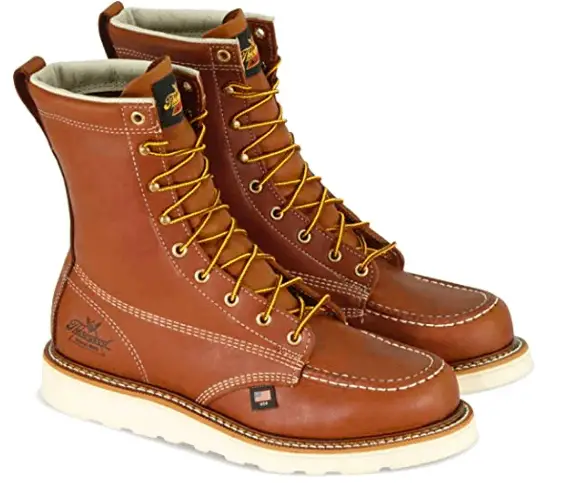 Why it's Perfect: MaxWear wedge sole last longer and Made in USA
As an iron worker you are going to absolutely love these Thorogood boots. These boots are meant to protect your toes from the heavy falling or rolling objects in the iron industry as the MOC toe (compliant with class C/75 standards) can withstand the compression of 2500 lbs and the footwear (Class I/75) can withstand the impact of 50 pound weight dropping at a velocity of 2.4 inches per second.
So, when your feet are inside this boot while work, you need not to worry about any injuries of impact and compression.
One more thing which is required for the ironworkers is safety from electrical hazards as the job demands handling heavy current consuming electrical appliances.
This concern is attended by the electric shock-resisting soles and heels of these boots which are capable of withstanding a current of 18000 volts at 60 Hz for 1 minute under dry conditions.
Features:
Meets ASTM C/75, C 1/75 Safety Standards

MOC Toe protection, 

Anti-slip outsoles

Fiberglass shank for support

Poron comfort cushion insole that have shock absorption properties and are removable too
Build:
You will feel absolutely comfortable in these boots all day long as the tobacco oil-tanned leather allows the feet to breathe.
These full-grain leather boots are made in USA by the union workers who are noted for their class apart performance since decades. The Poron comfort cushion insole helps to absorb shock and provides all day comfort.
Protection:
As is already mentioned, the boots are meant to offer protection from EH hazards. The MAXWear wedge slip resistant outsole allows you to maintain your grip on any slippery terrain that is much needed while working in iron mills. 
Check Price and Reviews on Amazon
---
2.) KEEN Utility Men's San Jose 6″ Alloy Toe Waterproof Wedge Work Boot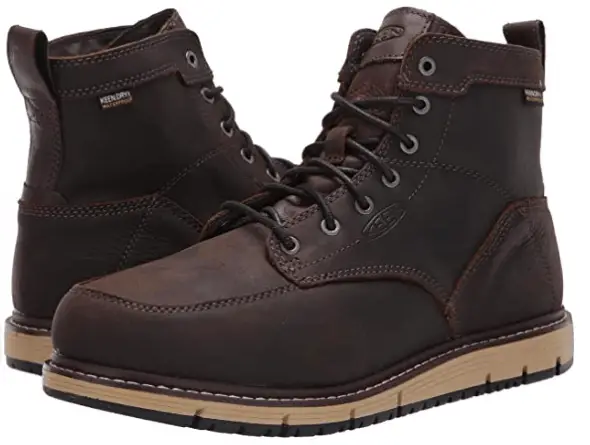 Why it's Perfect: Extremely lightweight with luftcell air-injected midsole and lightweight aluminum safety toe!
Working with iron all day means lifting heavy loads! Why give that weight to your feet? Your feet are absolutely going to love these KEEN Utility Boots as they are very lightweight and will keep your feet absolutely dry with the breathable and waterproof membrane.
You don't have to worry too about the falling of heavy loads as your feet would be absolutely safe within the aluminum safety toe caps. Even the electric shocks would be absorbed by the EH resistant footbed.
Features:
Odor control, 

Wedge tred rubber outsole

EH resistant, 

Waterproof, 

Breathable midsole
Build Quality:
These San Jose boots are made with 100% textile and synthetic fabric to imbibe the waterproof ability within the boots.
Something that stands out with these boots in terms of the build quality is your feet will be completely dry with the waterproof and breathable membrane liner that integrates with a mesh liner to let the vapor out.
Your balance will be absolutely maintained with the nylon shank that is used for midsole support and torsion stability.
Protection:
These aluminum toe boots are thoroughly protective from dropping of heavy loads and electrical hazards. Another danger that is posed in the iron mills is slipping off from heights while construction works.
Don't worry about it as the wedge tread rubber outsoles are oil and slip-resistant and allows limited debris build up. Besides these, the boots also provide protection against odor with the CLEANSPORT NXT feature which uses probiotics for the purpose.
Check Price and Reviews on Amazon
---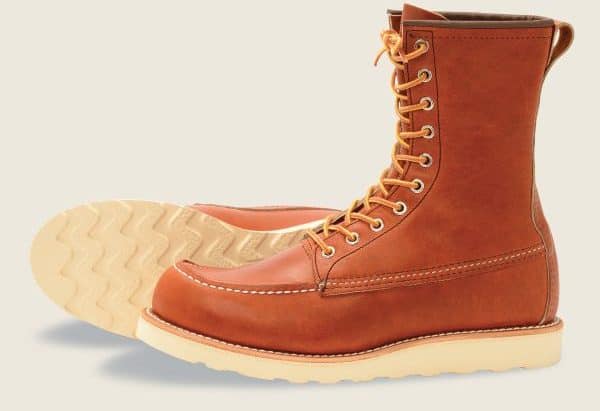 Why it's Perfect: traction tread rubber outsole and Puritan triple stitching!
Redwing boots need no introduction and are my favorite of all. I am completely in awe with their boots especially for their toughest build.
This 8" Classic Moc Toe Boots are unconditionally the most iconic boots in the Heritage line of Redwing. None can compete with them when it comes to durability and traction.
Features:
Goodyear welt construction

Moc toe, 

Cork midsole

Leather insole, 

Slip-resistant outsole
Build quality:
These classic boots are made in Redwing, Minnesota (one of the most beautiful places to visit). The upper is made of Oro Legacy leather which is a type of full grain water-resistant leather.
The Goodyear welt construction with Puritan triple stitching is the most unique feature of this boot which I love. And being an ironworker, durability is what most needed. The nickel eyelets also demand praises.
Protection:
The iconic traction tread rubber outsole will hold you in place no matter wherever you are standing: oiled floor, watered floor, ice, or any slippery surfaces as found while dealing with ironworks in constructing buildings. The boots also offer protection from water as they are waterproof.
---
4.) Carhartt Men's 6-Inch Waterproof Wedge Soft Toe Work Boot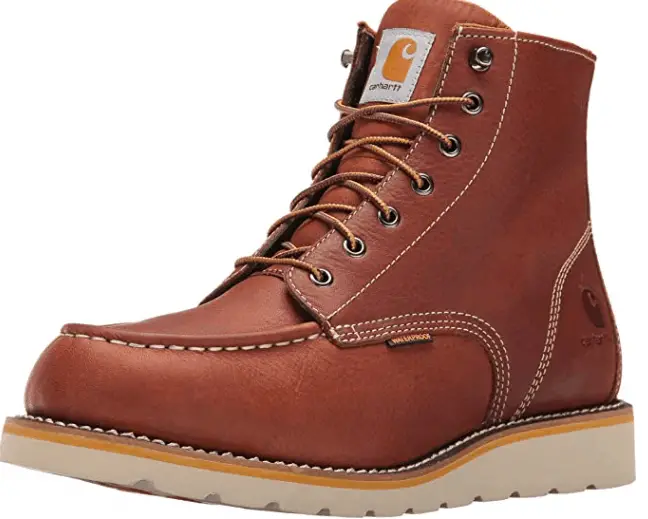 Why it's Perfect: Absorbs electric shock!
If working with electrical appliances such as welding machines, iron cutters, or fixing electrical circuits is your job in the iron industry, your main concern would be safety from electrical hazards rather than safety from heavy objects.
If so, then these Carhartt soft toe boots are meant for you as they offer protection against 18000 volts of current.
One more important thing which demands attention while working with electricity is you should not come in contact with water and these boots are waterproof to keep your feet completely dry.
Features:
Meets ASTM F2892-18 EH standards

Goodyear welt construction

Soft toe cap, 

Waterproof 
Build quality:
These Carhartt boots are made with high grade oil-tanned leather and The Goodyear welt construction makes it last for ages.
The FastDry technology lining keeps away sweat all day long and the waterproof and breathable membrane does not let water even in the extreme wet conditions.
It has a soft toe cap which is not suitable for heavy loads, but perfect for EH protection as it does not conduct electricity.
Protection:
Your feet won't hurt even after standing for all day the Carhartt PU insoles with foam cushion reduces foot fatigue besides providing extreme comfort.
There is no chance of slipping or tripping as the rubber outsoles provide great traction on any slippery terrains. And as I have already mentioned, the boots provide protection against 18000-volt electric current.
Check Price and Reviews on Amazon
---
5.) Timberland PRO Men's Gridworks 8″ Soft-Toe Waterproof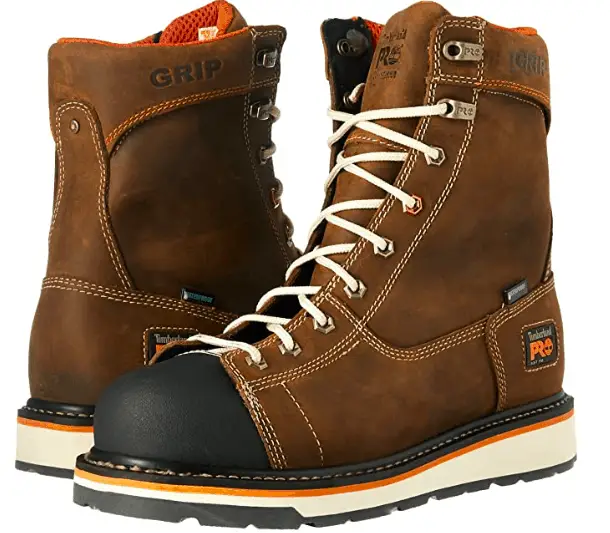 Why it's Perfect: Dual Density Anti-Fatigue technology helps to return energy to foot!
You are going to absolutely fall in love with these Timberland ironworker boots for its stylish design, comfort and durability. Timberland boots are meant to last whilst delivering extraordinary performance.
This 8" boot with mid-cut construction provides the much needed structural support to the midsole. Ironworkers are definitely going to love these boots for they are waterproof and have anti-fatigue technology which absorbs shock.
Features:
Rubber soft toe cap

Waterproof, 

Mid-cut construction

Dual-density anti-fatigue technology
Build quality:
These boots feature mid-cut construction with a lace front that is held strong within the octagonal grommets.
They are made of full-grain leather, which is best of all the leather types, so you don't need to worry about the durability. Also, the mesh lining provides breathability and lets your feet remain dry all day long.
Protection:
The fiberglass shank provides support. You can work in the most water-logged conditions and your feet will still remain dry as the boots are waterproof.  Something unique to the boot is its odor control technology.
Check Price and Reviews on Amazon
Why do Iron Workers Wear Wedge Boots?
First of all iron workers need boots that are comfortable to walk on the iron bars and obviously the heeled boots won't serve that purpose.
Wedged sole boots are flat bottomed and the outsole runs through the entire length of the boots. In other words, there is no break of the outsole in the arch area of the boots which adds to the comfort of wearing these boots.
Now, let's see the reasons behind why iron workers wear wedge boots:
Wedge sole boots have fiberglass shanks that provide the much needed arch support
There is no raised area in the heels which makes walking on the iron bars quite easy. In other words the wedge soles prevent tripping over on the iron rods
The wedge sole boots also have cotton linings that wicks away the moisture produced during sweating of the feet thus leaving the feet dry for the entire day
The entire outsole comes in direct contact with the ground that helps to reduce pressure on the entire feet, thus preventing any foot pain
They also have shock-absorbing inserts that returns energy back to the feet
The wedged sole boots are also durable than the other models
You can also know about 11 reasons why do iron workers wear wedge boots.
Do iron workers wear steel toe boots?
Iron workers definitely wear steel toe boots because they have to protect their feet from the impending falling loads of the heavy iron rods.
It might just happen that an iron rod might accidentally fall on the feet of the worker and cause severe injury to the toes.
In such a case if the worker would be wearing a steel-toe boot, it would safeguard the toes from receiving the impact because steel toe caps can withstand impact up to 75 pounds.
Why do iron workers tuck their pants in their boots?
Iron workers tuck their pants in their boots for the very simple reason of avoiding getting caught up in them and tripping.
It might happen that the pants might get stuck at the bottom of the boots while walking on the iron rods which might result into tripping over on the iron rods and getting severe injuries. Thus, tucking the pants inside the boots would definitely avoid such circumstances.
Why it's important to get the right work boots for iron working?
The right work boots for iron working would include the following features:
They should have EH protection
They should have wedged soles
They should be breathable
They should have an arch support in the form of shanks
They should have shock-absorbing cushion beds
They should have steel toe caps
Now, let me explain you why are these features essential in boots of an iron worker.
1.) EH protection is necessary because iron workers have to deal with electric cutting machines to cut those heavy iron rods.
2.) They should have wedged sole because these soles are comfortable to walk on the iron rods without tripping. Check out the best wedge sole boots guide.
3.) They should have breathable membranes because your feet need to breathe while doing the strenuous physical activity or else it will sweat like heel inside the boots.
4.) They should have an arch support so that you feel comfortable walking in them and experience no pain after a tiresome day in them.
5.) They should have shock absorbing cushion beds so that the pressure felt while walking on the iron rods can be returned in the form of energy back to your feet.
6.) They should have safety toe caps in order to protect your toes from the cuts and impacts of the falling iron bars on your feet.
Looking for more work boots for ironworkers? check out the video below
Top 10 Best Work Boots for Ironworker
Before we say Good Bye:
Hope our detailed study on the best boots for ironworkers will help you to make the best decision for your safety because your safety is our concern!
Before you buy any boot, remember to go through our review in detail for the features you would like to have in your boots. You can compare the customer reviews from the original Amazon.com site as well for getting doubly assured!
That's all for today's article. 
Hope you have a great day!