After spending hours walking, standing, climbing, and lifting heavy loads on different surfaces like concrete, mud, and slippery surfaces we found Thorogood American Heritage (available in 6 inch and 8 inch) is the best wedge boots for work due to its comfort cushion insole, shock absorption, non-slip outsole and made in USA.
Many premium boot companies manufacture wedge sole boots. A wedge outsole (flat-soled) offers excellent durability and cushioning.
The leather uppers and classic style of wedge work boot mean that you can work along with a stylish look.
Out of all working footwear, wedge sole work boots take the first position in terms of comfort, proper fit, and lightweight to wear all day.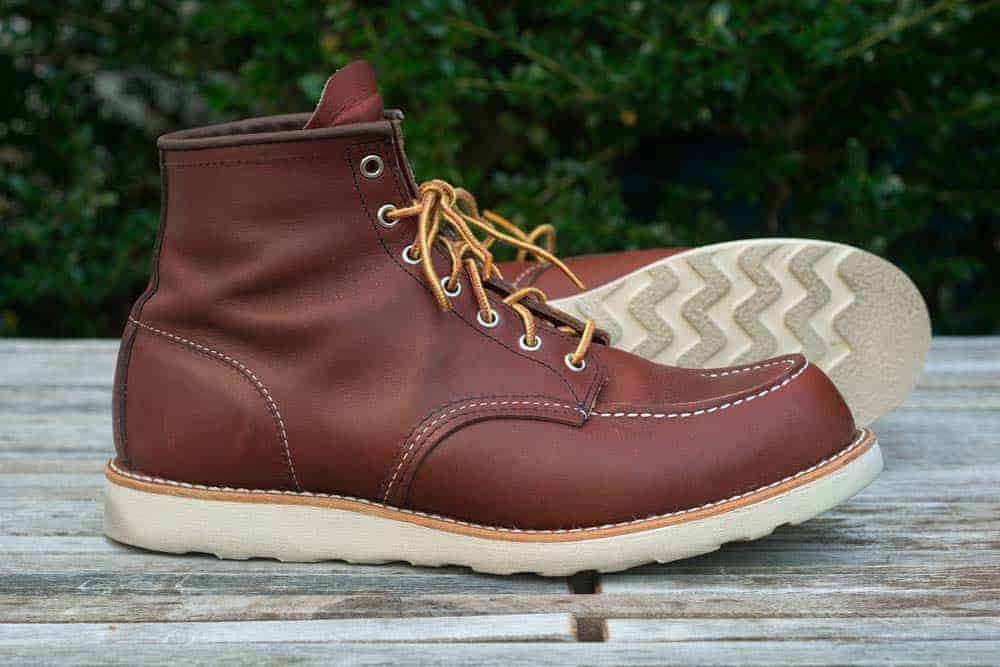 In a hurry? Check Comparison of top 3 wedge sole boots
Features to Look for in Wedge Sole Boots
1.) Waterproof Insoles:
The insoles are manufactured with waterproof cushioning that enables you to work in even wet conditions all day long by preventing your feet from getting wet.
2.) Insulation:
It is a must to keep your feet cool in hot weather and warm in cold weather, so a wedge sole work boot must come in with proper insulation. This feature works best for people who work in severe conditions.
3.) Tough and sturdy built:
It is a must for a shoe to go through rigorous testing for their toughness and durability, which is done for these boots. They surpass all weather conditions test to be able to provide the best protection all year round.
4.) Weight and size selection:
A variety of options come by you when it comes to the selection of size and weight of the boots. People with all foot sizes and shapes must easily find their perfect fit.
However, these boots are heavy as compared to the normal ones due to their great built and safety features that come along.  You can go for the lightest ones if you are unable to bear the load on your feet.
5.) Safety features:
Like I mentioned earlier, these boots come with a vast range of safety features. They are the pioneers in the genre of safety features.
The safety features that we can find are steel shank for better support, waterproof insoles, and traction against slippery surfaces that is provided by outsoles.
They also provide insulation against cold and heat, supportive fit, and electrical hazard protection. All these features make the best wedge sole boot.
6.) No dirt accumulation:
The main reason for the popularity of these wedge sole boots amongst farmers is because the soles of these boots are designed to resist the accumulation of pebbles and dirt while walking on a stone or muddy beds.
The reason is the complete closure of these boots, so there is no chance for dirt to get in the boots. Thus they are easy to clean and maintain.
7.) Prevents pain:
A unique feature for these boots is that they can distribute the weight of the body evenly on the soles. There is no issue of balance with these boots, and you can walk freely around while wearing them.
Another reason for comfort is the cushioned and EVA insoles. These wedge-shaped insoles lead to equal distribution of pressure all around the feet and prevent any pain or strain.
8.) Versatility:
These shoes suit all types of workers, and this is the best part when we talk about wedge sole boots. The construction worker can walk in ease. The ironworkers are safe from getting trapped in between iron beams.
The field workers are at ease as it doesn't allow dirt and pebbles to accumulate, the carpenters are safe as it protects the toes from sharp or falling objects.
Best Wedge Sole Boots Review
1.) Best Overall – Thorogood American Heritage 8″ Wedge Sole
The Thorogood makes some of the fine quality work boots, and this 8-inch Moc Toe boot is no exception. These latest technology men's wedge sole work boots come in with all the features you expect from a high-quality boot. It comes with Goodyear Welt construction, robust stitching, and oil-tanned leather.
Thorogood also features an exclusive Polyurethane wedge sole that helps these boots to become slip or oil resistant. The rubber midsole and removable cushion also help to add comfort for everyday wear. 
Key Features:
Made in the USA
Removable shock absorption
Comfort cushion insole
Comes in with fiberglass shank
Pros:
Rubber sole
Easy to wear
All-day comfort
Steel toe for safety
Cons:
May not last long due to regular wear in harsh conditions
Check Price and Reviews on Amazon
---
2.)  Georgia
 

6 inch (AffordableWedge Sole Work Boot)

Georgia Boot Wedge: G6152

Georgia wedge sole work boots offer a premium quality work boots that are reasonably priced. SPR leather uppers and unique wedge sole make them stand out in the race. SPR leather is resistant to many chemicals. 

The brand is committed to the safety of the workers, and this makes the boots one of the best wedges soled work boots you can find in the market.

Key features :
SPR leather for uppers
Rubber soles for comfort
Cushioned insoles
Goodyear welt construction
Proprietary oil-resistant polyurethane wedge outsole
Pros:
Available in different sizes
Easy fit
Comfortable
Cons:
Can be a bit narrower for fitting
Can be broken easily due to regular wear
Check Price and Reviews on Amazon
---
3.) Bestseller – Danner Bull Run 6″ Wedge Sole Work Boots
Danner Bull Run is one of the best seller work boots in the US market. It comes in high-quality uppers that are built with oil-tanned leather and are also liquid-resistant. It is lighter in weight that makes it perfect to work in warm weather. 
Danner's stitch down construction of these boots can be repaired and resoled whenever needed. This boot by Danner Bull Run is made of high-quality wedge sole that stands par the test of time.
Key Features:
Made in the USA
Slip and oil resistant
Non-insulated
Electrical hazard certified
Pros:
Cushioning ortholite footbed
Steel shank
Handcrafted
Easy fit
Cons:
Can be uncomfortable sometimes
A bit pricey
Check Price and Reviews on Amazon
---
4.) Most comfortable – Irish Setter 6″ Wedge Sole Work Boots
Irish Setter 83605 6" Wedge SKU:7874361
Irish Setter wedge sole work boot is as comfortable as it is challenging. The uppers are made from high-grade leather, which is also waterproof, durable, and time-tested.
It has a rubber EVA wedge outsole, which is not only anti-slip and oil resistant, but also heat resistant on surfaces up to 475ºF.
All these factors make these boots a perfect example when we talk about wedge sole work boots for contractors, roofers, and other professionals who work near heat.
Key Features:
Heat resistant outsoles
Slip, chemical, abrasion, and oil resistant outsoles
Removable footbed
Uppers made of high-grade leather
Made in the USA
Pros:
100% leather
Rubber sole
Comfortable
Easy wear
Cons:
Regular wear in harsh conditions may lead to early damage
Check Price and Reviews on Amazon
---
5.) Best Safety – Timberland Pro Gridworks 8″ Wedge Sole 
Timberland PRO Gridworks Boot
For the people looking for a higher safety requirement, this Timberland Pro shoe is one of the best steel toe wedges available. This heavy-duty work boots combine real-world durability and comfort with other features.
The TPU soles are not only slip, abrasion, and oil resistant but also provide traction on frosted ice surfaces and make it perfect to wear in the cold.
Key Features:
Lightweight alloy safety toe
Electrical hazard protection
Odor control antimicrobial mesh lining
Slip-resistant, all-weather TPU outsole
Pros:
Comfortable
Quality craftsmanship
Safety features
Fiberglass shank for structural support
Cons:
Doesn't have much waterproofing technology
6.) Best steel toe – Carharrt 6″ Wedge Sole Work Boot
Carhartt 6-Inch Tan Waterproof Wedge Boot SKU:8843071
Carharrt work boots are one of the most preferred steel toe wedge boots you can find in the market today. Something that makes them stand out from the crowd is their commitment to comfort and breathability. 
The brand also uses a unique "Storm Defender" technology on its uppers so that the boot can be made much more breathable. The waterproof technology makes this a great year-round work boot.
Key features:
Electrical hazard certified
Dual-density rubber wedge sole for superior grip
Unique waterproof, breathable leather uppers
Goodyear welt-construction
Pros:
Cushioned insoles
Oil and slip-resistant outsoles
100% leather
Removable insole
Cons:
Check Price and Reviews on Amazon
---
It was during the late 20th century when wedge sole work boots were introduced. These boots are mainly used for construction, ironworkers along with carpenters. Today wedge sole boots have become popular as they share a similar shape to modern basketball sneakers.
Pros of wedge sole work boots:
Wedge sole work boots are no doubt the best in offering the much needed comfort needed for all day walking on uneven terrains.
The non-slip quality of wedge sole boots is perfectly designed for those working outdoors like construction or any other similar work.
Even if wedge sole work boots may not appear to be heavy like traditional lug sole, it is as per many people who have considered these boots best for many work applications.
But there is more that wedge sole work boots provide:
They provide a larger contact area to the feet on the ground than any other design as the wedged outsole runs the entire area of the boots without any raised points such as the heel.

They offer less potential shock to the feet while walking on rough and uneven terrains.

They distribute pressure all over the feet equally thus preventing any foot pain.

They provide better tread and traction to the feet with the wedge design.

They are easy to maintain as they do not gather much dirt on the outsole due to the wedge sole design.

They are just suitable for any job with great traction, comfort, and support.

They offer a stylish and trendy look.
Cons of wedge sole work boots:
Though not great in number, yet wedge sole work boots have some cons to them:
They have thinner soles which might get worn out if exposed to gravel treated terrains.

They are sometimes not that great in terms of offering stability as compared to the heeled boots.
Difference between Wedge Sole VS Heel Work Boots
A wedge sole is made usually of one single piece of rubber that tapers down from the heel to toe and form a 'wedge' shape. Unlike a heel sole boot, the shape of the wedge allows the entire sole to touch the ground.
A wedge sole is made usually of polyurethane that is great for hardwearing soles as it becomes heat, slip, or oil resistant. On the other hand, heelwork boots are usually made for casual wear or job sites.
The most crucial difference between both the boots is that the heel sole doesn't sit flat on the ground. The front of the outsole sometimes tapers into the foot and a heal that creates the lift on the back of the foot.
While heel work boots offer more lugging options for grip and traction, wedge soled boots often come with very light treads.
You will also most likely notice while shopping that almost all the brands offer work boots of similar styles in both regular heel sole and wedge sole versions. Features like anti-slip sole material, safety toe, and upper designs are found in both heel and wedge varieties.
I hope this difference will help you judge the difference between both and choose what is right for you.
Other features to consider
While you are trying to find the best boot to work in that ironwork, farm work, paving, or concrete work, we believe wedge sole work boot is the best. These are made for workers who value the following three things:
1.) Less tripping hazards
Wedge sole boots are best for the environments where a heel can catch on something and cause to trip; this can be hazardous.
The wedge sole work boots are a perfect example of a profession. These boots make it easier to walk and climb on steel without any tripping.
2.) Less dirt tracking
Lugged soles are great for traction but can wreak havoc on the job site where there is a lot of debris and dirt. Wedge outsoles feature shallow treads instead of deep lugs that make it easier to avoid debris from getting stuck to the bottom of your work boots.
3.) Total comfort
Wedge sole work boots are the best for those who work for long hours on the feet. The reason is that the entire outsole touches the ground that allows you to reduce pressure points while you get benefitted from the extra cushion that the wedge sole boot provides.
FAQs
1.) What protection does a steel toe boot provide to the one wearing it?
Steel toe boots come with a steel protective covering over the tow box that protects the wearer from any injury caused due to compression and impact by heavy objects. 
2.) How to determine the proper boot for my needs?
You can determine the purpose of your purchase. Then you must determine the atmosphere and environment in which you'll wear them. Once you examine these two considerations, you'll get the idea about the type of boot you must purchase.
3.) What is the shank?
The shank is a heavy or metal composite plastic strip in the midsole to reinforce the wearer's arch. It provides support to the bottom of the boot. A full shank goes from toe to heel, while a ¾ -shank goes to the ball of the foot. A shank is tacked, whipstitches, or glues in place.
4.) What do you mean by a shallow tread outsole?
This kind of outsole has a tread with a thin, wavy pattern for grass, mud, or other slick walking surfaces. It is not usually for steep terrain. The primary purpose of this outsole is to provide traction on slippery surfaces and not pick up mud.
5.) What are the different heights of work boots?
The leather work boots often come in several heights that range from 5-inch to 12-inch. But the most common sizes are 6 and 8 inches, usually with a lace-up system.
My Pick
I hope this article will help you finalize the best wedge sole work boot you have been trying to look for yourself. With the provided in-depth analysis and information on the products I have mentioned, it'll become a lot easier for you to choose the best one.
However, I would personally recommend you to try Thorogood American Heritage 8″ Wedge Sole Work Boot.
My selection of this product fulfills all the overall needs a buyer looks for in a product. Thorogood is one of the best American brands which has its long history of boots. With great features, specifications, and pricing, this product becomes the best one to try.
If you are looking for the best, I have mentioned the top wedge sole work boots available for those who need a high-quality boot that will work as hard as they do.