There are so many different brands of work boots available in the market, and a wide variety of boots and footwear are available for workers in every occupation. In the midst of all these competing brands, you might feel overwhelmed with which one to pick.
Whether you're a concrete worker who stands on hard surfaces all day, a warehouse worker lifting heavy loads daily, or maybe you're just curious to know which of the work boot companies you can trust for quality.
You want footwear that has the best kind of comfort, support, durability, made with high quality material and protection in mind.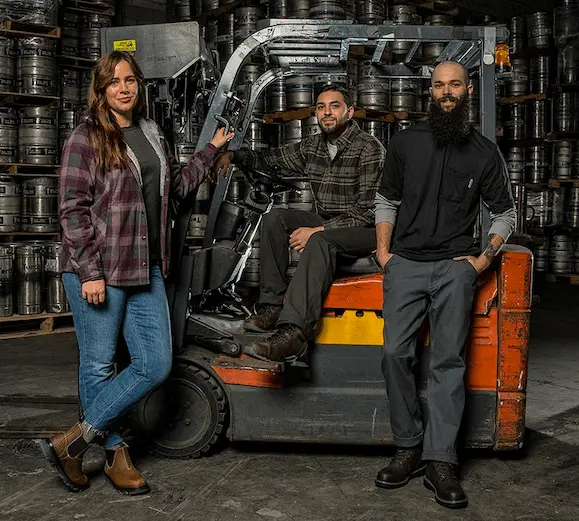 There are companies working hard to give perfect boots to you! There are plenty of companies that have the utmost quality and superior material when it comes to work boot, and I've created a list compiling the best ones.
This list will talk a little bit about the best work boot brands, their motto and principles for making footwear, and some of their most famous products!
So when you're thinking about purchasing a work shoe, take this selection of top brands into consideration and you might just find the boot for you!
Top Work Boot Brands Comparison Table
| Brand | Founded on | Founder  | Headquarter  | Boots made in  | Best Boots | Price  Range |
| --- | --- | --- | --- | --- | --- | --- |
| Timberland | 1973 | Sidney swartz | Stratham, new Hampshire | U.S. | Timberland premium waterproof boot | $60-$250 |
| Redwing  | 1905 | Charles H. Beckman | Minnesota  | U.S.A. | Iron Ranger | $100-$400 |
| Skechers  | 1992 | Robert Greenberg | Manhattan Beach, California | U.S.A. | Skechers Men's Cessnock | $30-$150 |
| Wolverine  | 1883 | G.A. Krause | Grand Rapids, Michigan | America  | WOLVERINE 1000 Mile | $50-$400 |
| Ariat  | 1993 | Beth Cross & Pam Parker  | Union City, California | U.S. | ARIAT Groundbreaker Square Toe | $70-$500 |
| Carhartt  | 1889 | Hamilton Carhartt | Dearborn, Michigan | | Carhartt 6 Inch Waterproof Wedge Soft Toe | $70-$240 |
| Keen Utility | 2003 | Martin Keen & Rory Fuerst | Portland, Oregon | U.S.A. | KEEN Utility Lansing | $50-$250 |
| Thorogood  | 1892 | Albert H. Weinbrenner & Joseph Peffer  | Milwaukee  | U.S.A. | Thorogood American Heritage 6" Moc Toe | $70-$250 |
| Danner  | 1932 | Charles Danner | Portland, Oregon | | Danner Men's Tachyon 8" GTX | 100$-200$ |
| Georgia  | 1937 | Atlanta  | Atlanta  | America  | Georgia Giant work boots  | $50-$450 |
| Chippewa  | 1901 | Justin brands  | River street in Downtown Chippewa Falls, Wisconsin | U.S. | Chippewa Logger Boot | $130-$350 |
| Rocky boots  | 1932 | William Brooks F.M. "Mike" Brooks | Nelsonville, Ohio, U.S.  | U.S., Canada, Europe | Rocky Cornstalker | $50-$250 |
What Makes a Good Work Boot Company One of the "Best"?
When researching about these companies, and trying to decide which ones are the best ones, there are a few things that I personally find to be important factors in deciding if a work boot company is the best.
One of these factors is the quality of the boot. I am a firm believer in quality, and for good work boot, I have to spend my hard earned money, I better get my money's worth for it!
And if you're looking to purchase a work boot, you probably know that most of them are more than $100. Which is okay. But if you're buying something expensive and the material or the quality of the build ends up being trash, then all of your money is wasted!
You want to make sure that the brand is also being honorable, and they aren't affiliated with any cheap business practices or use shortcuts in the manufacturing process of their products. It's important to know that this company will be honest in what they are claiming and strive for quality in their products.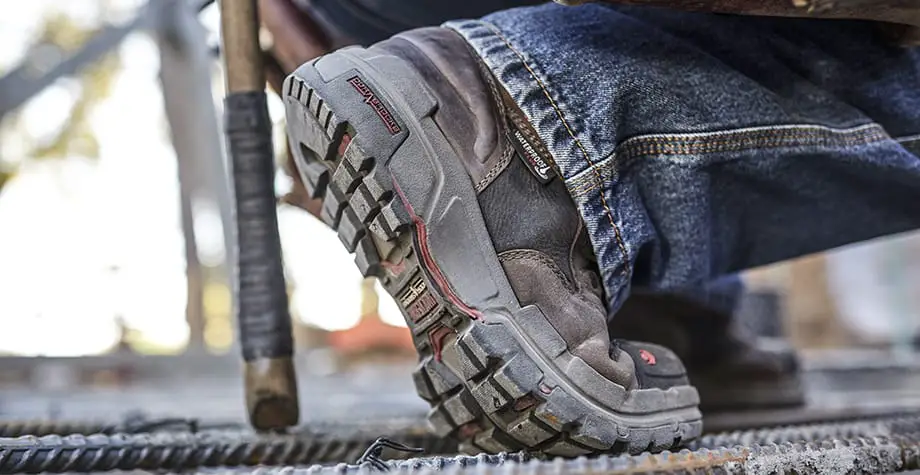 Especially if you're looking to invest in a boot, you are going to own and use it for many months to come, you want to make sure you're purchasing from a reputed brand which is known for high-quality products so that you can feel at ease when you're making an investment in their products.
Another factor to consider is the company's relationship with its customers.
I think that it's really important that the company has good reviews from existing customers. It's so off-putting when you have a problem after purchase, and people aren't willing to help you with your problem or aren't very understanding.
I don't trust the person or company, I will not buy their products again, and I definitely will not recommend them to my family and friends.
So if a company has a positive reputation and interacts with their customers when facing issues, I'll know that I can trust the company if I'm having problems with my purchase they'll help me, and I'll want to come back to them again.
An additional factor I think about, at least when I'm considering a purchase, is what purpose (benefits) I'm using this for, and if I can afford it.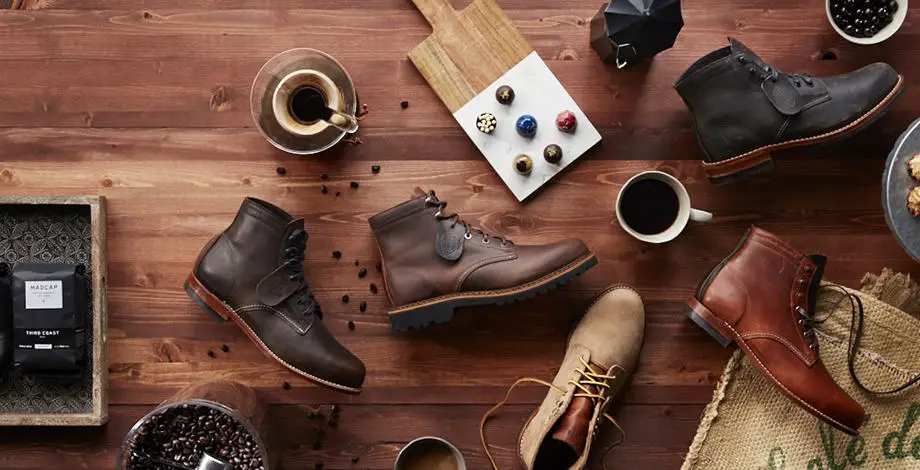 Since different occupations need different types of work shoes, it's important to take into consideration the potential hazards at your workplace and safety compliances when you're thinking about making a purchase.
Using a shoe that is made for running by construction workers does not make it impossible to do your job, but it may not protect your feet from fall of heavy objects or slipping as a construction boot would do.
And of course, you have to think about the price of the safety boots as well. There are some boots that are only $50, and some are more than a couple of hundred dollars.
So maybe you want the boot with the most safety features, but if you can't afford it, you're going to have to settle for something else.
But there are still amazing companies out there that tailor their products to meet the exact needs, quality, price, usage of workers in different professions. There are lots of them too! Which is why I'm here to tell you who they are.
1.) Timberland Boots
Timberland is one of the most popular work boot makers worldwide, started in 1973, and they are one of the big boys in the boot world.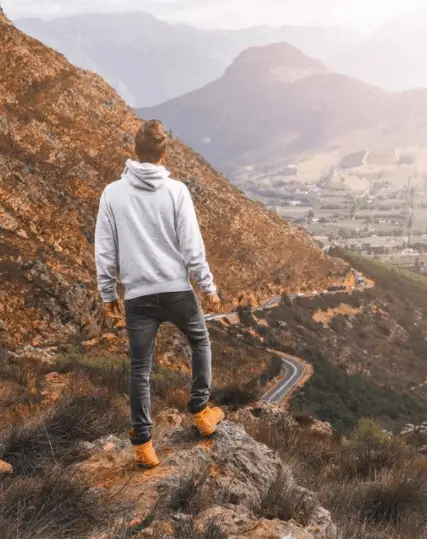 When Timberland launched its first Waterproof Original Yellow Boot™ it wasn't set out to create a new sensation – it just happened because of the craftsmanship of the boot, built from 39 components via 80 separate steps rather than fashion runaways.
However, the company has come a long way, and currently, the company is one of the world's leading manufacturer of footwear, clothing, accessories and is known for its top-notch quality, innovation, and responsibility when creating their products.
"Born in the woods. Raised in the city."
Their safety footwear is one of the best in the market, and the company does an excellent job catering to both men and women alike.
Headquartered in Stratham, New Hampshire, United States Timberland is not only present in the US but also across all the continents in the world as well. Timberland is known for innovative products that are made with environmentally conscious material combined!
One of their most popular boots is THE ORIGINAL YELLOW BOOT™, which is said to be the best of the best boots that timberland has released. The Yellow Boot is a timeless fashion staple with very tiny changes to its original design.
Sidney Swartz first introduced the The Original Yellow Boot™ in 1973 made with the finest quality material (full-grain nubuck leather) and attention to detail (four-row stitching and injection-molded sole for completely waterproof work boots) hasn't changed yet.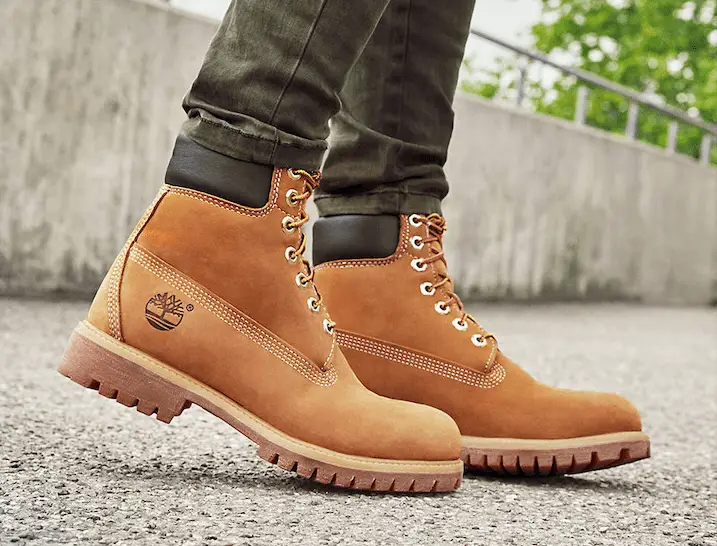 The only development that came in more than 40 years is in boot construction technology rather than styling. An anti-fatigue footbed has been added for shock absorption and comfort to stand all day.
Timberland is known for its state-of-the-art technology and innovative design, and while it is at the top when it comes to work boot, its boots are not on the expensive side. The best seller Timberland premium waterproof boot is around $150, and most of the other high quality boots are above $150.
---
2.) Red Wing Boots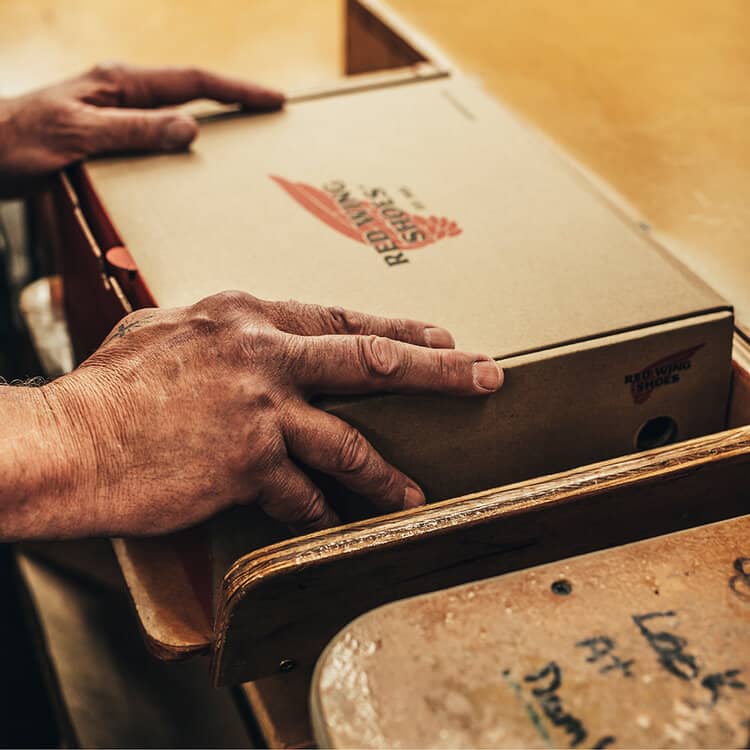 Redwing is another one of the best boot manufacturers in the world, right alongside Timberland. These two companies are often compared because of their reputation and history of creating high quality, durable, and long lasting products.
Redwing was established in 1905 by Charles H. Beckman in Minnesota, and the company has been growing at astronomic rates ever since, only after 10 years of inception more than 200,000 pairs of boots were sold per year.
The company's pride in their consistent efforts to produce iconic brands (Irish Setter, Vasque, Worx) over time, and strive to have rigorous testing of safety footwear to meet or exceed industry standards.
"To be a great company that makes a difference in people's lives."
Red Wing Shoes was established with a mission to make comfortable and durable footwear for people working in the mining, farming and logging industries.
Boots are primarily handmade in the USA with a legacy to continually better their products while maintaining integrity through their business and creation process.
One of Red wing's best boots is the Iron Ranger, said by the company to be the American icon for style work boots and long-lasting construction, originally developed for ironworkers in the 1930s.
Iron ranger is not the cheapest nor the safest, what made this 6 inch boot popular is its dual speciality crafted for both work and casual wear.
The Iron Ranger boots are built with a Goodyear welt and Puritan triple-stitch construction, with a bump toe to move toes naturally and a Vibram® 430 Mini-lug outsole.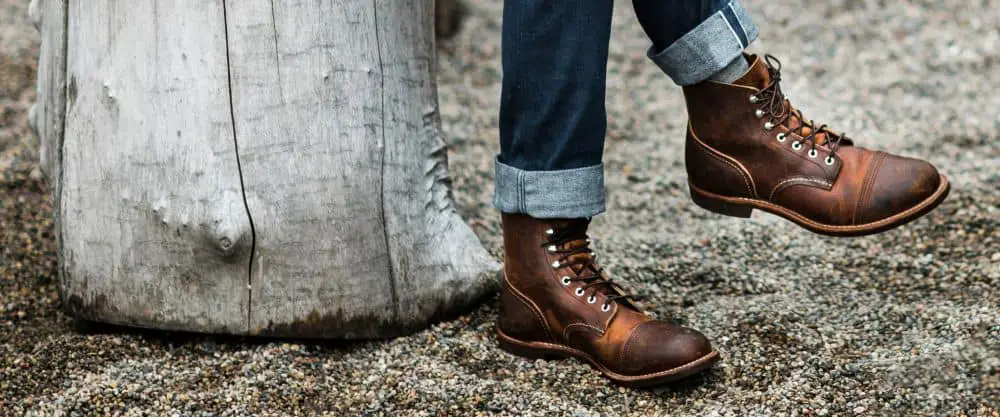 But what makes it super comfortable is the custom fit which develops with time due to leather insoles and a cork midsole that takes the shape of your feet.
Since Redwing boots are made in the USA with high quality materials and standards, it is also more expensive as compared to other renowned companies in the world. The Iron Ranger is around $300, it's definitely not the most expensive boot but you have cheaper options available in the market! 
Red wing has an experience of 115 years in manufacturing boots, including accessories and boot care products, and one of the ground-breaking moments was when they recalled over 114,000 pairs of steel toe work boots due to defective toe caps in 2013, this shows their commitment towards customers and staying honest!
---
3.) Skechers Shoes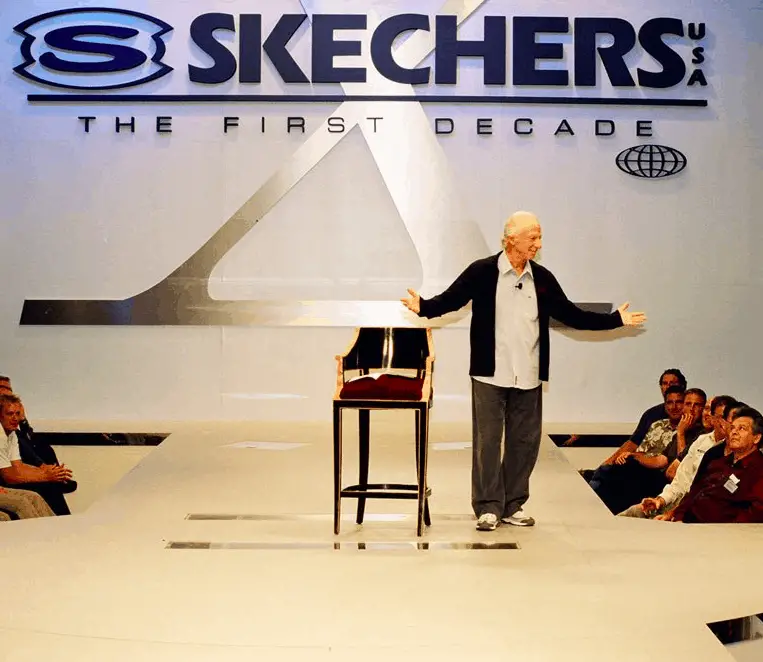 Skechers was established in 1992 by Robert Greenberg, in Manhattan Beach, California. Being relatively new as compared to previously discussed boot brands, it grew up fast and in less than 30 years it has a presence in more than 120 countries.
The first shoe launched by Skechers is the logger boot that became hugely successful and currently, they have more than 3000 styles.
Now a world class manufacturer, Skechers is known for producing quality inexpensive work utility shoes with the latest manufacturing process.
 "Innovate to Elevate" 
Skecher has been developing new innovative products that have continually changed the game over and over again in the work shoe industry. And through its innovative product offering, skechers is ranked number two brand in the USA, second only to Nike.
In a recent interview, the Co-founder Michael Greenberg discussed the company's outlook "Plan to open more freestanding open air stores, primarily in North America". He also said "we are in the sweet spot of what consumers want – casual, athletic and comfortable shoes".
Their most popular work and utility shoe is Skechers Men's Cessnock Food Service Shoe which was launched in 2018. With raving reviews, Skechers has managed to outdo competition.
The Cessnock model comes with a tested slip resistant outsole (ASTM F1677-2005 Mark II testing standard), which protects you from slipping in wet/ oily conditions like restaurants.
In addition to the slip resistant outsole, the Cessnock comes with a memory foam insole that provides comfort to servers who take more than 20,000 steps a day. With water resistant breathable mesh on top, your feet remain dry while you are working.
While the prices for Skechers Cessnock are on the lower side, the material used in the construction of the shoe is of high quality, so you get high-end work shoes without breaking your bank!
---
4.) Wolverine Boots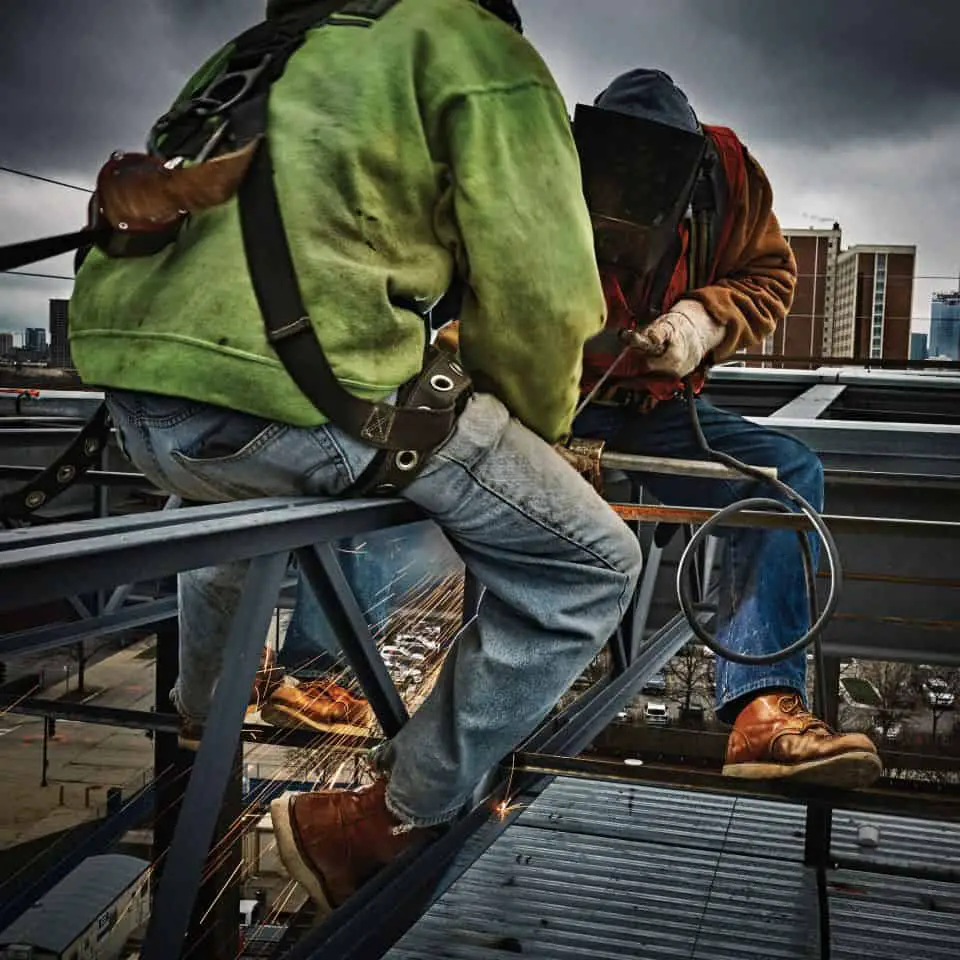 Wolverine is another top work boot brand with many brands under its belt and is a licensed footwear manufacturer for other companies such as caterpillars and harley davidson.
Did you know that wolverine actually started as a small leather company? Yes! Wolverine was established worldwide in 1883 by G.A. Krause in Grand Rapids, Michigan as a small leather shop with an investment of $2900! (Who believed in the possibility of opportunity).
The company brand name was chosen wolverine because of the shoes made of wolverine horsehide leather.
Wolverine started a national advertising campaign in 1919 and quickly became a household name with one of the earliest companies to have a nationwide sales force. The company started selling shares to its own employees as well, becoming the nation's first profit-sharing plans.
"Relentless by nature."  
Gradually the company introduced and acquired new brands to grow bigger, and the company moved from work boots to casual shoe brands such as hush puppies. Hush puppies invented "DuraShocks" , the first true comfort system for work boots.
Now Wolverine has come a long way from their days of the small leather shop to being a source of American icons in the boot industry and with over 135 years of experience the company created many leading technologies.
One of their best work boots is the 1000 Mile boot which was introduced in the 1910s, and still handcrafted in America with the same methods as a century ago. This American icon is made to last a 1000 miles of wear, that's why it is named so!

And while 1000 mile takes time to break in, workers love it because of soft, long lasting horsehide leather. Once broken in, these leather work boots becomes more and more comfortable over time and Goodyear welt construction makes it durable and flexible to be resoled for years to come.
1000 mile boots range is on the higher side between $200-400, but you also have to consider the fact that these boots last really long with minimum care, you can also find cheaper boots from other brands less than $100 that last only 6-8 months, so basically you get what you pay for!
Wolverine offers a rather wide selection of boots, insulated to waterproof, safety toe to non-metallic, Wolverine never ceases to have something with optimal comfort, endurance and built for every type of workers!
---
5.) Ariat Boots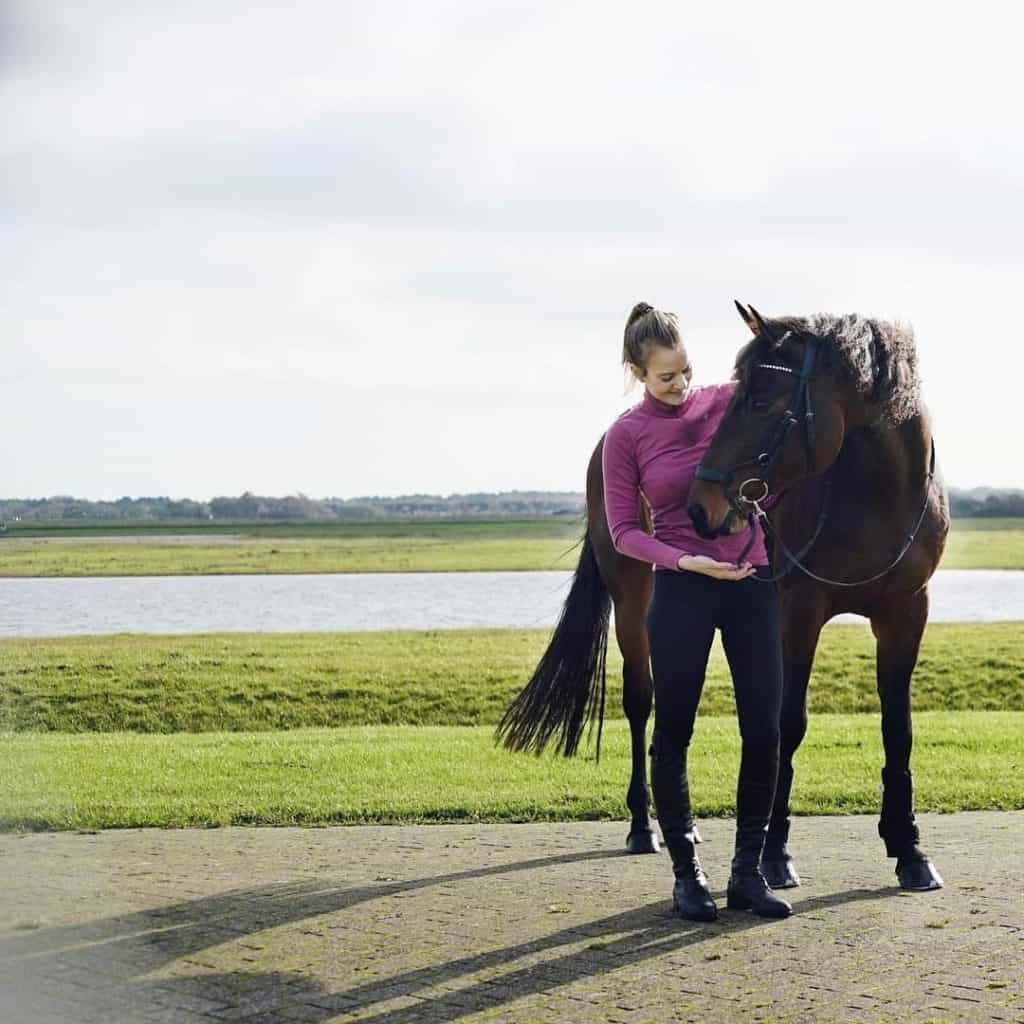 Unlike wolverine which has a history of over 100 years, Ariat is still pretty new in the game, but they've made a steady impact on the work boot industry, and in a few short years, has created a name and a reputation for their products in footwear, clothing, and accessories for equestrian sports and outdoor activities.
Ariat was established in 1993 by Beth Cross and Pam Parker in Union City, California. The company prides itself on being "the World's first to integrate athletic footwear technology into equestrian boots".
The company is the official equestrian boots and apparel partner to Federation Equestrian International (FEI) and United States Equestrian Federation (USEF).
 "The New Breed of Boot"
What makes Ariat boots a different breed of the company? Well, they continuously strive to innovate advanced technologies to develop new materials that are lighter, cooler and one of the most durable boot brands available in the market. 
Ariat offers a world-class design, materials and craftsmanship on all the products they sell. In addition to this, many of their boots go through more than 150 steps during construction, ensuring the perfect fit, performance and durability. 
One of the most popular work boots that Ariat has to offer is the Groundbreaker Wide Square Toe Work Boot. This pull on boot brings together 4Layer cushioning and support footbed with a classic western wide square toe profile for comfortable, reliable groundbreaker platform.
The main thing about Ariat Groundbreaker is that the fit is as expected, extra comfort insole and can stand daily wear and tear. This steel toe boot meets the highest safety standard (ASTM F2413-11 M I/75 C/75 EH rated, Slip resistant), making it a really good combination of both safety and comfort.
Ariat boots also have a wider range of prices, ranging from around $50 on the lower end, and up to $400 on the higher end of the price scale.
Although Ariat Boots has just entered the footwear industry not too long ago, they've come a long way, and it's no wonder if you consider that they sell the "World's Best Equestrian Bows"!
---
6.) Carhartt Boots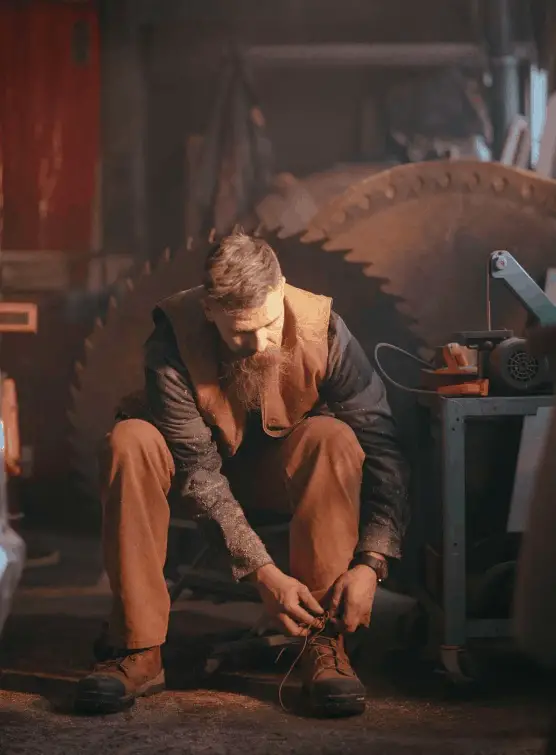 Carhartt was founded in 1889, by Hamilton Carhartt with two sewing machines and five workers, with its headquarters located in Dearborn, Michigan.
First established with a focus on quality workwear, clothing for railroad workers is now popular among construction workers, miners, hunters, farmers and people working outdoors, and one of the largest workwear clothing manufacturers in the world!
Carhartt is famous for manufacturing all types of work safety boots– rugged, waterproof, insulated, wedge sole, steel, composite, alloy toe, pull on.
The company became a popular brand with people outside blue-collar workers in the 1970s and 1980s as big names in the music industry started to wear Carhartt.
Carhartt is a private family-owned company with third generation entrepreneur Mark Valade (Hamilton great grandson) as its current President. The company introduced many new technologies and proved its products can survive the most rugged conditions on the earth during construction of Alaska pipeline massive order in 1970s.
"I BELIEVE THAT WHEN A MAN WEARS AN ARTICLE THAT I MANUFACTURE, HIS SELF-RESPECT IS INCREASED BECAUSE HE KNOWS THAT IT IS MADE BY AN HONEST MANUFACTURER, WHO IS HONEST WITH HIS EMPLOYEES."

– HAMILTON CARHARTT, Founder  Carhartt
One of the most famous boots created by carhartt has been the Carhartt 6-Inch Waterproof Wedge Soft Toe, which can stand rain, sweat and long hours of standing on the floor. Primarily made for workers in the warehouse and construction industry.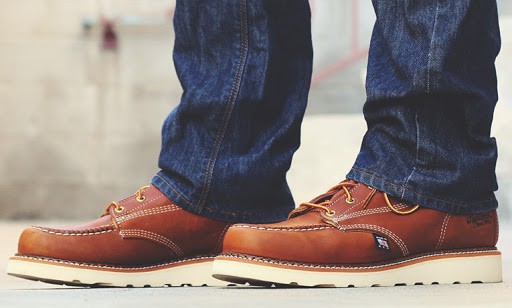 This non safety wedge sole boot is designed with Storm Defender Technology (waterproof breathable technology) which means it stops rain, but let's the sweat escape through a breathable membrane. Meets the ASTM F2892-18 EH safety standard which protects against accidental contact with an electric current of 18,000 volts or less in dry condition.
Carhartt not only has a long history of being in the workwear clothing and footwear manufacturing business, but it also promises superb quality boots as well as top-notch technologies.
---
7.) KEEN Utility Boots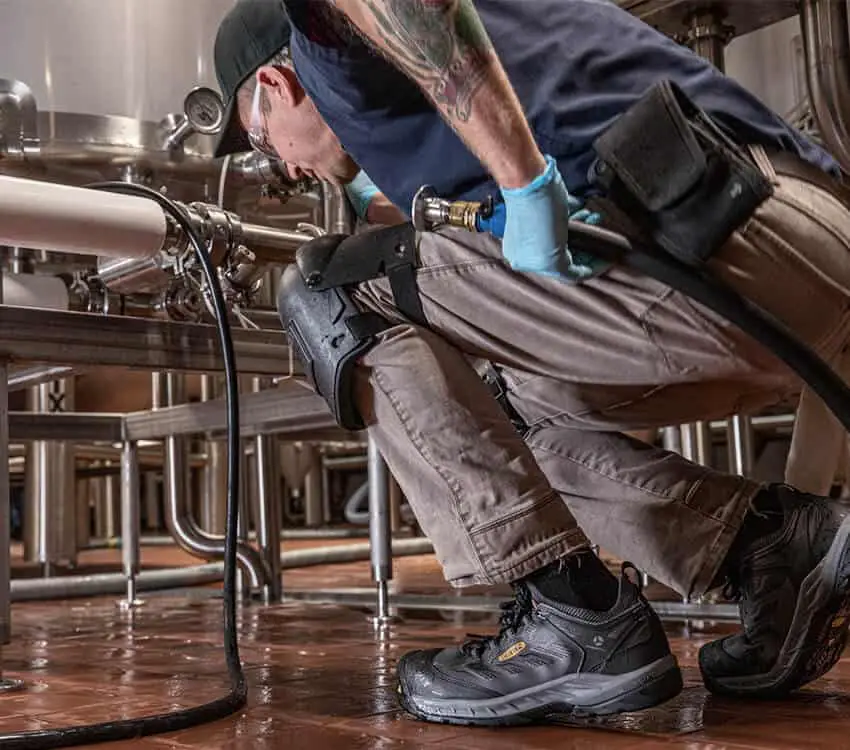 Keen is an American Footwear and Apparel company located in Portland, Oregon. Keen is a private company that was founded by Martin Keen and Rory Fuerst in 2003 and has been growing fast since its inception.
The company was originally not in the manufacturing of safety work footwear but toe protecting sandals. It didn't start officially manufacturing work utility boots till 2010.
When the company decided to build shoes in America, people called them crazy dreamers, but their tireless attention to fit, quality and comfort show their passion for customer satisfaction.
From there the company started delving deeper and deeper into the world of lifestyle and outdoor activities products, and their reputation as a manufacturer grew. Since 2003, they have donated more than $15 million for different causes around the world.
"Better Takes Action"
Keen strives to produce the best kind of experience for industrial and construction workers through their MEN'S Lansing Mid Waterproof Boot, designed for all day comfort, support and stability on the job.

Keen lansing meets all the safety standards (non slip, EH, impact and compression), with technologies such as KEEN.DRY, Left and right asymmetrical steel toes, Torsional stability shank (TSS), Reflectivity webbing for safety and visibility.
The main thing that makes Keen utility work boot stand out is that even if it's made in the USA, the price is around $100 that is half as compared to other work boots with similar features.
Keen footwear provides ideal shoes for the workers and creates an all-around comfortable experience with each boot.
---
8.) Thorogood Boots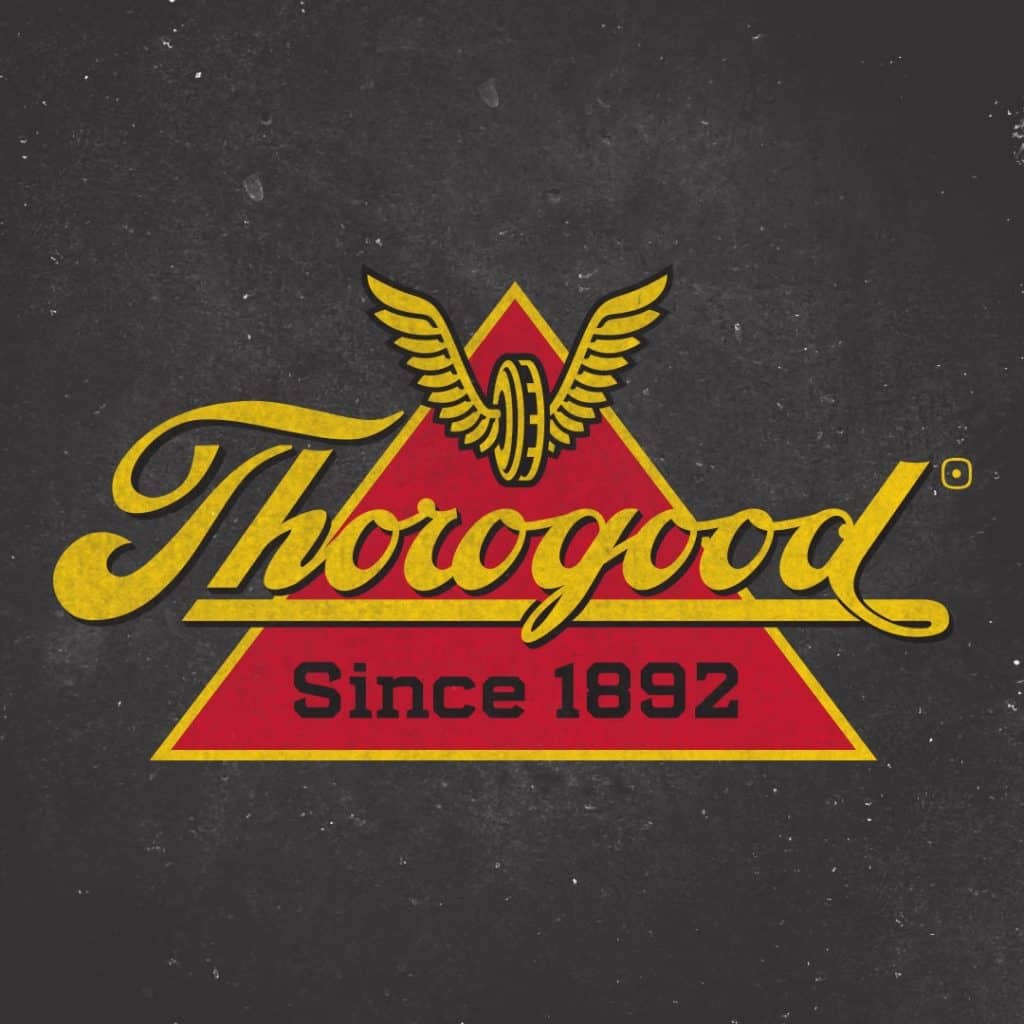 Weinbrenner Shoe Co. maker of Thorogood shoes is one of the oldest boot companies in the United States established in the year 1892 as cobblery by Albert H. Weinbrenner with partner Joseph Peffer in Milwaukee.
You'll notice that it is one of the few companies that is employee owned and is defined by its great heritage, quality craftsmanship and comfortable footwear.
You can get a decent pair of Thorogood work boots for $100-$300, and it was not till 1988 they created a separate high-tech occupational safety footwear division.
But Thorogood boots are nothing to sniff at! They are super solid, super durable, and comfortable to wear, and they are a great balance between value and quality!
A great boot from Thorogood is the American Heritage 6″ Moc Toe is a part of their heritage collection. This boot is a combination of both value and quality, it quickly became a bestseller on the market. 
The two main things that stand out Thorogood wedge sole with other wedge sole boots is the MAXWear Wedge™ Outsole technology that has 30-40% more outsole life as compared to competitors making it a truly long lasting boot. The other thing is it's made in the USA by union workers so you don't have to worry about quality and fit.
This boot is great for warehouse workers, ironworkers, electricians, carpenters and also casual wear as it is lightweight and comfortable to wear all day.
Thorogood boots are a great investment for people who are looking for American made high-quality products without having to spend much.
---
9.) Danner Boots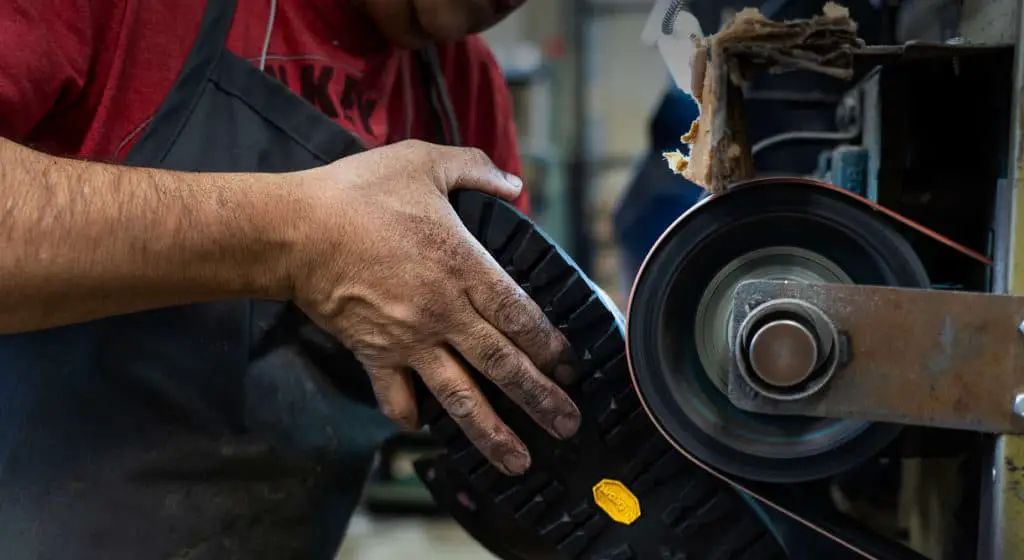 Danner boot was established in 1932 in Portland, Oregon by Charles Danner with an aim to build the best logger boots, that effort and spirit still live today in each pair Danner manufactures.
In 1979, Danner worked with Gore-Tex to develop a revolutionary waterproof lining technology and created the first fully waterproof hiking boot.
However, the company is now a subsidiary of LaCrosse which got merged in 1994. Most of their products are reasonably priced, ranging from $100-$200 generally.
Currently one of their best selling boots is Danner Men's Tachyon 8" GTX Duty Boot, and is most preferred by police and law enforcement agencies because of fit, durability, waterproof and lightweight work boots.
The Tachyon GTX Duty Boot has a strong lightweight upper, so that you can patrol without foot pain. The speed lace system allows you to tighten from top to toe in one swift tug, along with additional toe space to allow the foot to react naturally as foot extension during intense body movements. 
Danner provides you with a variety of hiking, police, tactical, and military boots options to choose from, at a price that is affordable ($100-$200) while still maintaining superior quality and performance.
---
10.) Georgia Boots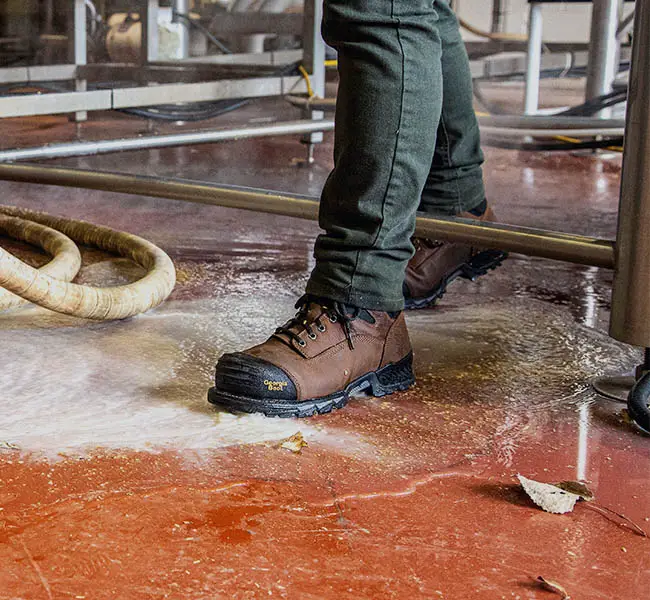 One of America's hardest working boots is the Georgia boots which is known for its comfort, built, reliability and durability.
The history of Georgia boots dates back to 1937. The company was founded in Atlanta and the objective of it was to manufacture low priced, yet dependable work boots and footwear.
The Georgia shoe Manufacturing Co. is still set to deliver its objective of producing quality footwear for every niche staring from the traditional work boots to the job-specific protective footwear. It also manufactures boots in farm and ranch styles.
Georgia Boots was the first to invent the Comfort Core Technology which delivered the resilience and comfort of the athletic shoes to the work boots. This technology was also the first one that returned the energy back to the feet thus keeping pain at bay.
One of the most popular and praiseworthy creations of the Georgia Boots was the Georgia Giant work boots that remained popular even after decades later.
During the 1990s the original Georgia logger boots were manufactured that were popular among the fashion as well as the work wears and continues to do the same till date.
---
11.) Chippewa Boots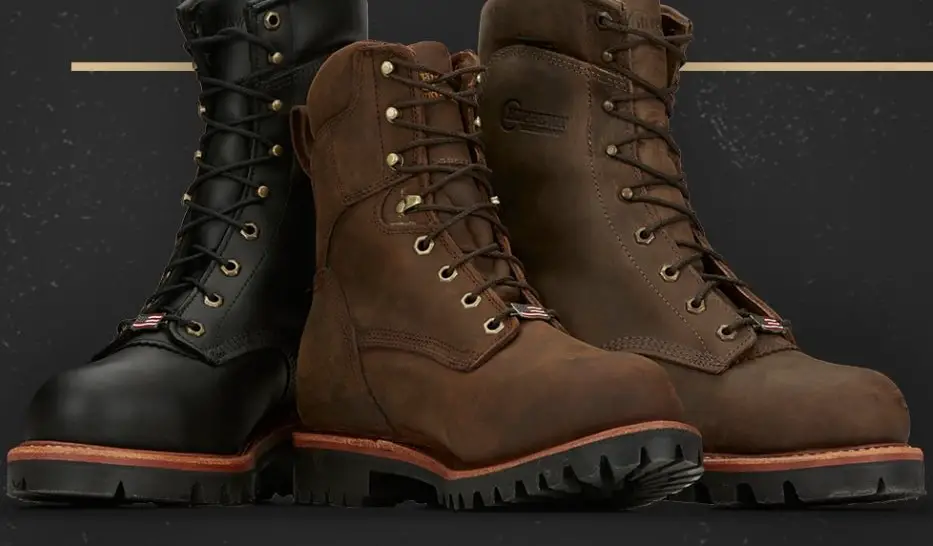 The origin of the Chippewa boots is the River Street in Downtown Chippewa Falls, Wisconsin. The Company was established in 1901. They are known to deliver quality boots that are rugged and fit for every purpose. 
They were determined to deliver quality boots for the loggers, engineers and construction workers who need tough boots that are comfortable at the same time. The boots are rich in heritage luxuries and are reliable at the same time.
They were originally known as Chippewa Shoe Manufacturing Company and their main objective was to manufacture men's recreational and work boots. But with time, they came up with limited lines of heavy and casual shoes and also women's footwear.
One of the finest creations of the Chippewa boots is the Chippewa loggers that continues to be its best creation till date with comfort, design, and durability. Check out the comparison between chippewa and danner boots.
---
12.) Rocky Boots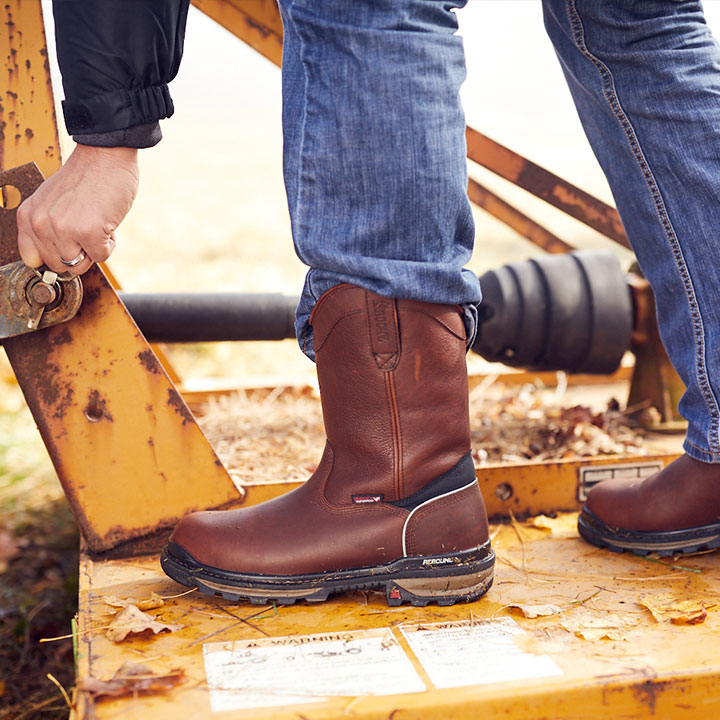 In 1932, brothers F.M. Brooks and William Brooks set up a shoe factory in Nelsonville, Ohio named the William Brooks Shoe Co.
In 1946 F.M. left Nelsonville and in 1950s William sold the company to the Irving Drew Shoe Co. which was based in Lancaster, OH. 
In 1975 Irving Drew was ready to sell the company and that is when John William, son of F.M. decided to bring the business back with his son Mike who just returned to Ohio from his job at the Milwaukee Tannery. It was then that the Rocky brand was created in 1979.
The company flourished in the 1980s and with the successful SHOT show in 1984, Rocky footwear company started to manufacture hunting boots like the Cornstalker. The product was such a hit that the then famous Dick's Sporting Goods and the Cabela's started to sell Rocky footwear across the entire country.
Till date, Rocky continues to produce quality footwear for outdoor, public services, work apparel, military footwear and accessories. The hallmarks of Rocky till date are "innovation, quality and durability".
And while there are still a lot of different work boot brands still remaining, these are the 12 best! Hopefully, this guide provided you a little more insight into each of the companies and their backgrounds, and some information on what kind of boots they provide!
Happy Walking!
Check Out the Best Safety Boots Brand Video
Top 10 Best Work Boot Brands