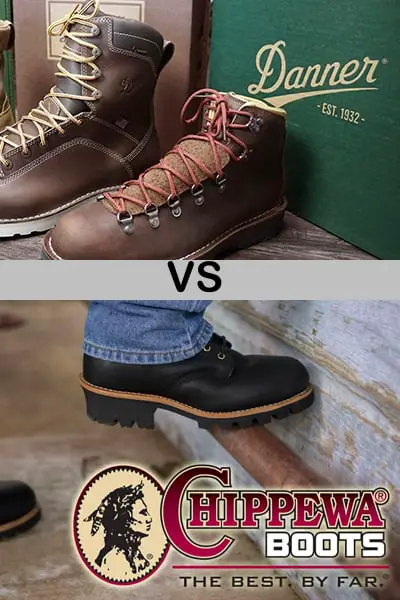 Hey guys!
Choosing the best boots among top brands is always a tough choice. And when the choice is between brands like Danner and Chippewa, the decision becomes even tougher.
The good news is…
We have made the choice easy for you by making a detailed study of the differences between the two brands of boots.
We covered the following topics while making the comparison:
The winner is…
After our extensive research and study we have finally come to the conclusion that the winner is Danner boots with all its old is gold features!
History of Danner Boots
Danner Shoe Manufacture Company was founded in 1932 by Charles Danner. The intention behind the starting of the company was to manufacture durable and affordable boots. He then moved his business to Portland, Oregon in 1936. He first gained fame with the introduction of logging boots, then famous as calked or spiked soled boots. Later in 1939 he earned reputation for introducing stellar boots that were tough, fit and reliable.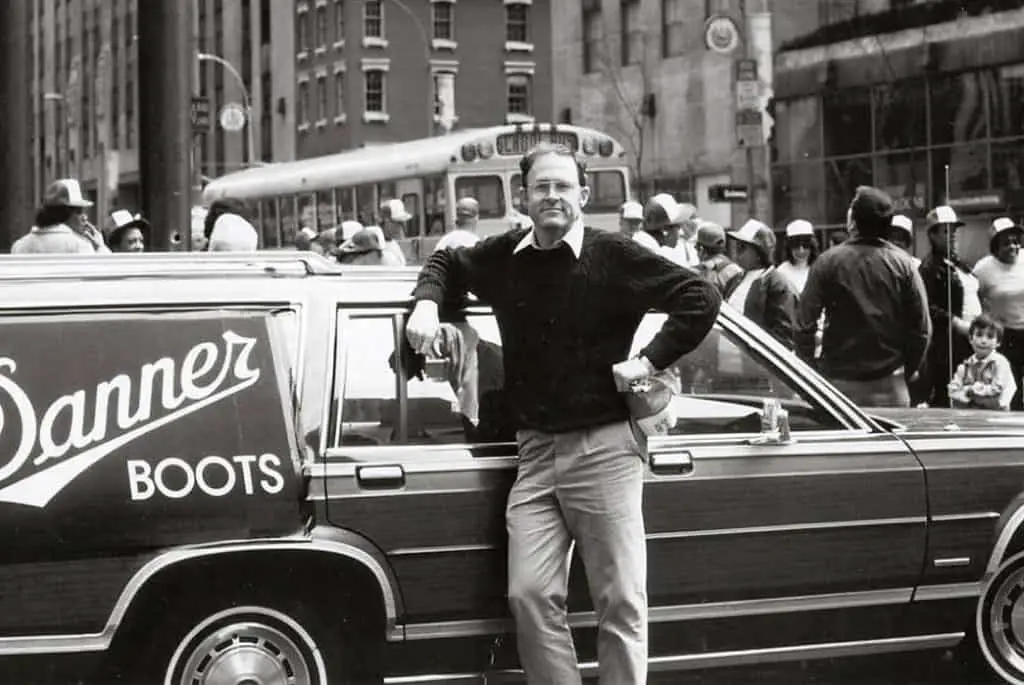 The first fully waterproof hiking boot was created by Danner when they worked with Gore-Tex in 1979. Till date Danner is a subsidiary of LaCrosse Footwear that is parented by Japanese company ABC-Mart.
Most of the production works of Danner is carried out in U.S.A. with the very same attention being paid to quality and detail which had once made the brand so successful.
---
History of Chippewa Boots
The legacy of the Chippewa boots started in a small factory in River Street in Downtown Chippewa Falls, Wisconsin in the year 1901. It was originally known by the name of Chippewa Shoe Manufacturing Company. Justin Brands first acquired the company in 1984 which was in turn later acquired by Berkshire Hathaway in August 2000. It has its headquarters in Chippewa Falls, Wisconsin, United States.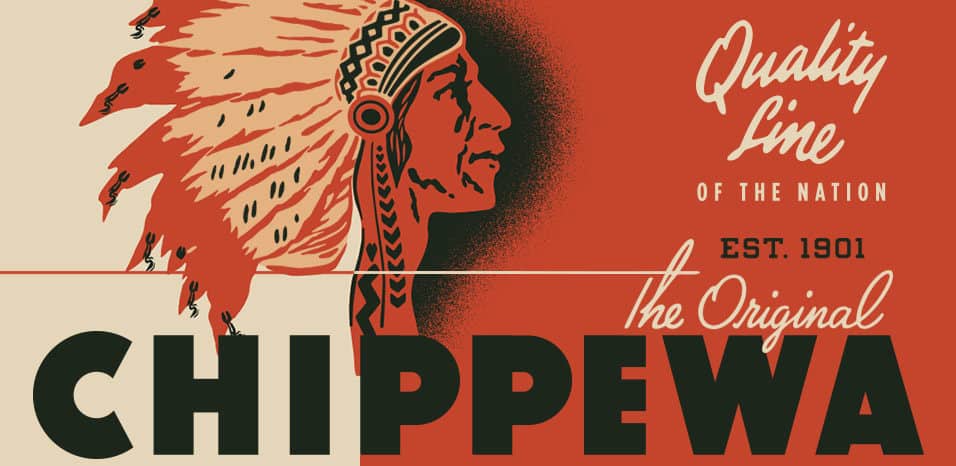 The first Chippewa boots were made for the pulp, paper and timber industry specially designed for the lumberjacks to protect their feet from the dangerous work that they do. Quality was their prime concern and they focused on performance and built boots with the class materials only. After the Industrial Revolution, Chippewa started manufacturing Engineer Boots and during the WWII they developed the Arctic boots. Later they designed the Fleece lined boots for the infantry to fight the extreme cold.
They are and will always be known for their quality, heritage, performance, and high-quality authentic products made with the finest materials.
---
Features of Danner Boots
1.) Material: Danner boots are made with fine quality leather brought from the 6 tanneries across the U.S. the toughest leather goes in the making of toe area and the thinner leather goes in the making of pliable tongue.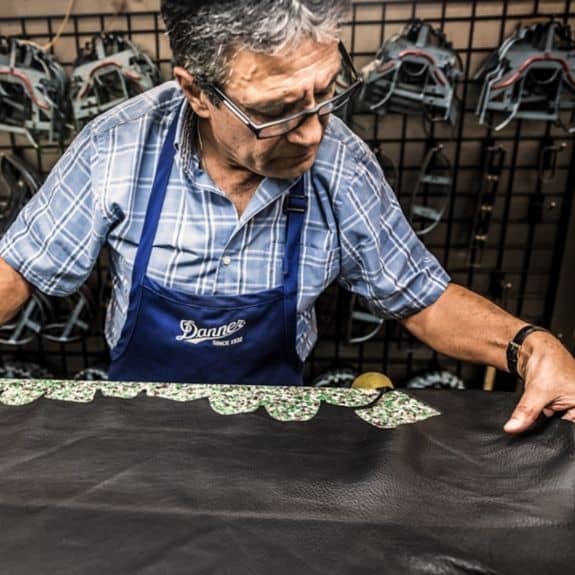 2.) Types of toes: Danner boots incorporate the following different types of toes:
Steel toes

Alloy toes

Non-metallic toes (composite toes)
3.) Categories: Danner makes boots for the following categories:
Law Enforcement boots

Military boots

Hunting boots

Hiking boots

Lifestyle boots
4.) Waterproof: Danner boots are waterproof so you can wear them while working in water.
5.) Gore-Tex lining: The breathable Gore-Tex lining helps to control moisture and keeps the feet dry.
6.) EVA midsole: The dual-density EVA midsole provide comfort and features extra shock-absorption.
7.) Heel support: The boots have heels to provide better support.
8.) Stitching: The boots are double-stitched to ensure durability and longevity.
9.) Speed system: The speed system allows you to tighten the laces from toe top with one swift tug and ensures tight and secured fit.
10.) Tapering ends: On the back of the boots, it's slightly tapered, so that when you walk, the back of the boots don't hurt you in the back of the leg.
11.) Oil and slip resistant: The outsole is slip and oil resistant that is it provides great traction on any terrain.
12.) Electrical shock resistant: The sole is made of non-conductive material which absorbs shock and protects from electrical hazards.
13.) Insulation: The boots provide insulation in cold weather, keeping the feet warm to provide comfort.
---
Features of Chippewa Boots
1.) Material: Chippewa boots are made with the finest quality leather or bison skin.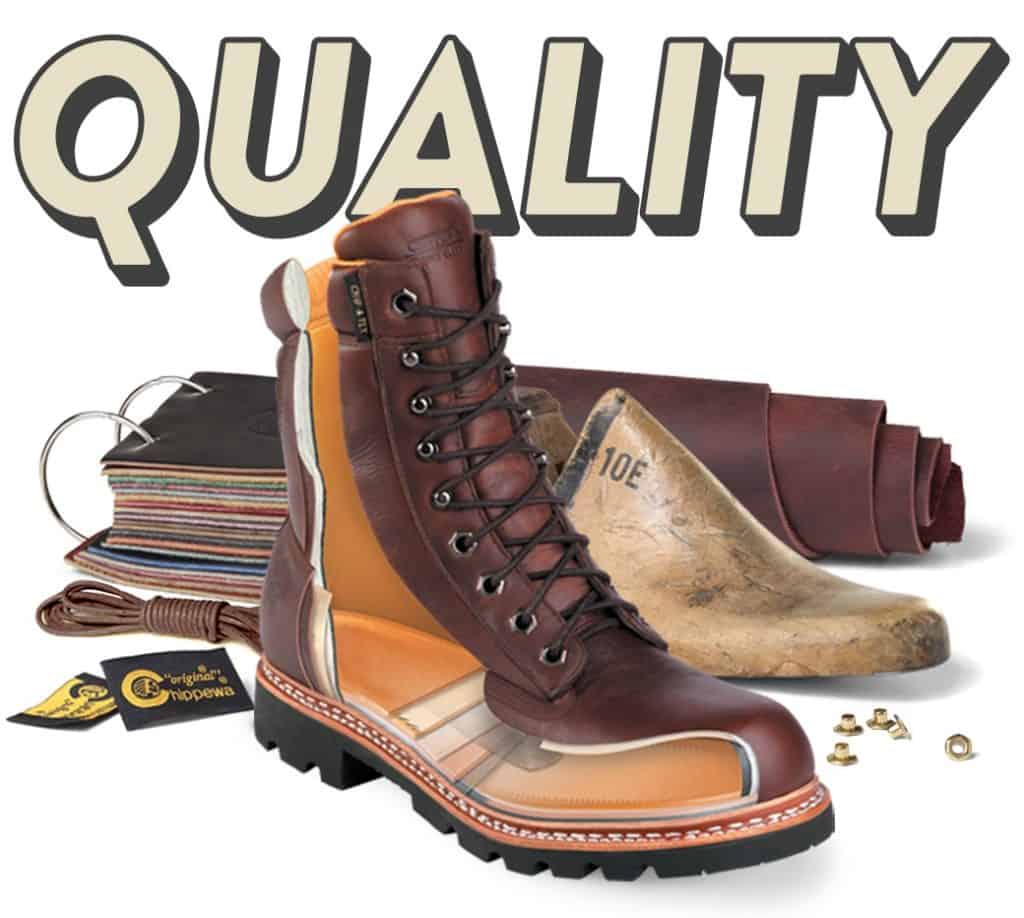 2.) Toe type: They make boots with different types of toes:
Composite toes

Steel toes

Soft toes
3.) Toe style: The different toe styles exhibited in their boots are:
MOC toe

Round toe

Square toe
4.) Electric hazard rated: The boots provide safeguard against electric shock by absorbing them.
5.) Slip resistant: The outsole provides great traction in slippery and wet floor.
6.) Oil resistant: The vibram outsole is oil resistant and provides superior grip in oil spilt floor as well.
7.) Waterproof: The boots are waterproof which means they won't get wet in the water or rain.
8.) Insulation: They use the "ultra" version of the thinsulate which is thicker than the normal ones and provide better warmth in cold weather.
9.) Outsole: The outsole is made of VIBRAM. It provides an excellent grip, maximum traction in all terrains including the wet ones and also has shock absorbing properties.
10.) Puncture resistant: The leather quality as well as the quality of the outsole is so good that they do not get punctures even on uneven and stony terrains.
11.) Heat resistant: The boots are made to resist the outside heat and keep the inside of the boots cool so that your feet do not get heated up and remain sweat free.
12.) Category: The different categories of boots made available by Chippewa are:
Logger boots

Hiking boots

Snake boots

Wedge boots

Pull on boots

Riding boots

Cowboy boots

Engineer boots

Work boots

Alpine boots
13.) Ortholite inserts: These inserts are extremely light weight and retains its shape over time. The open cell foam allows the feet to breathe and also protects the feet against bacteria.
14.) DRI-LEX: This feature deals with moisture control. The DRI-LEX fabric provides footwear with hand-feel, great patterns and textures and abrasion-resistance.
---
Danner Vs Chippewa Comparison Table
| | | |
| --- | --- | --- |
| | Danner | Chippewa |
| Made IN | USA | AMERICA |
| Origin | Portland, Oregon | Chippewa Falls, Wisconsin |
| Best Known For | Quarry Boots, Bull Run Boots | Logger Boots |
| Sturdy | More Sturdy | Less Than Danner |
| Cold Weather | Can Be Used | Especially Made For Cold Weather |
| Variety | Lesser Than Chippewa | More Than Danner |
| Price Range | 150$ TO 380$> | 130$ TO 310$> |
Top Boots from Danner and Chippewa
Danner Bull Run Boots:
Our experience:
These are made of 100% leather and best for concrete works. It has wedge soles which are best for smooth terrains and are very comfortable. These have rubber sole for good grip and have MOC toe design with a contrasting stitch. It has open cell ORTHOLITE footbed for a comfortable cushioning. For strength and stability it has stitch-down construction. Its oil and slip resistant for better traction and also offer protection against electrical hazards. 
The Danner Bull Run boots can be found on Amazon, where you can see tons of positive customer reviews.
Chippewa Logger Boots:
Our experience:
They are built with 100% leather with additional midsole support. It has a synthetic sole and Goodyear Welt Construction for durability. It is waterproof and has DRI-LEX 2000 lining. Also, it offers protection against electrical hazards. On Amazon, the Chippewa Logger boots are available at an excellent value.
Danner Quarry Boots:
Our experience:
These are one of the best outdoor boots available in the markets. It ensures a sturdy fit with its lace-to-toe design. These have 100% waterproof Gore-Tex lining with Vibram outsole. It has wider platform and the legendary stitch-down construction offers increased stability underfoot. It has heel support and ample toe room and also has a midsole support. The Quarry outsole features a 90 degree heel and is oil and slip resistant. It also has a non-linear lug pattern for superior traction and debris release. Also it has triple stitched thread for added durability.
At Amazon, the Danner Quarry boots are for great price and free shipping is offered too!
Chippewa General Utility Boots:
Our experience:
These are built for casual wear and can be used in the backyard workshops. The Vibram sole offers great traction and is made with 100% leather. It is built with lace-up system with D-ring lacing hardware. The cushion insert is removable for easy cleaning.
On Amazon, the Chippewa utility boots are available at an excellent value.
Before we say Good Bye:
After the detailed study of both the boots we have come to the conclusion that both the boots are made in America. Both the brands have commendable history of providing quality products and make special boots designed for definite purposes.
So, you have to first list down your requirements for your boots and search for the features in the detailed study that we have made.
But, according to me, if you go by extensive wear, Danner boots are the winners!
That's all guys for today!
Will be back soon with yet another exciting research.
Till then…
Take care and…
Keep walking!