Doc Martens boots are especially designed for the perfect combination of comfort and sturdiness needed by the industrial workers so that they can wear the boots for long working hours with ease and also combat harsh industrial elements and environments.
But the question in hand is…
Can you wear Doc Martens boots in the snow?
To answer this, I have made this detailed guide with the features present in Doc Martens boots and shall tally them for qualifying as snow or at least winter boots.
Nevertheless, Doc Martens have few new series or line of boots like the Wintergrip, Warmwair and Drywair that qualify as winter boots as they are made with upgraded technologies to serve you in the winters, yet if you go with the traditional Doc Martens, I don't think they are going to satisfy you as a winter boot completely because they lack in proper waterproofing, insulation and traction!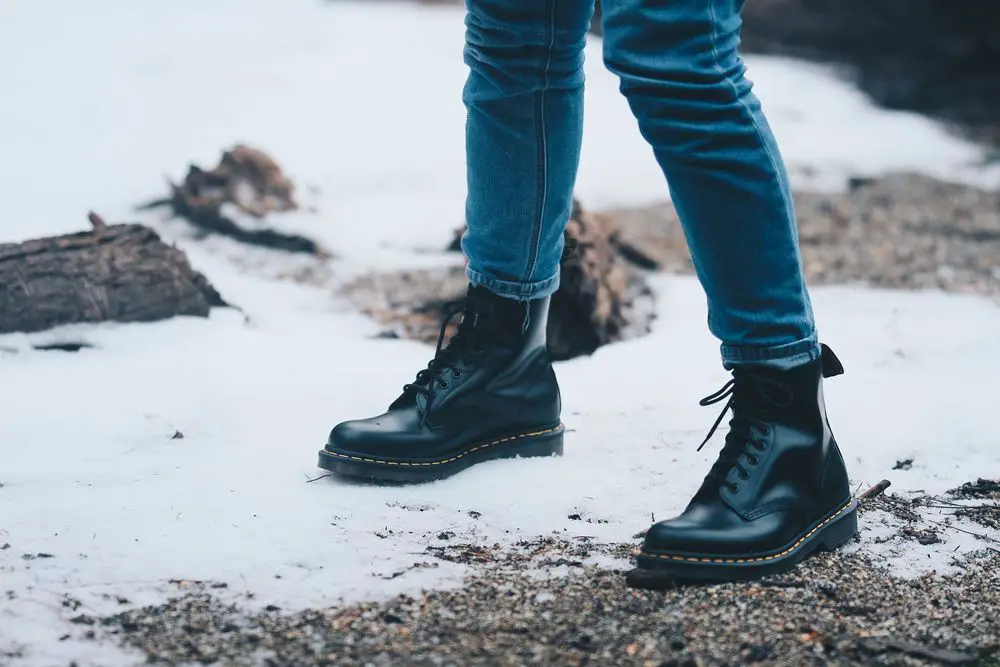 Let's find out why…
And with that you will also get to know the best of Doc Martens boots for winters and how to convert your traditional Doc Martens into snow boots and save bucks!
Excited?
Let's scroll on….
Best Doc Martens boots for winters
| Features | Uppers  | Insole  | Outsole | Waterproof | Insulated | Slip resistant |
| --- | --- | --- | --- | --- | --- | --- |
| Unisex 1460 slip resistant boot | Synthetic and leather  | Air cushioned insole with extra flex and anti-fatigue design | Grooved PVC infused rubber sole with Grip-Trax technology and lugs | Water resistant | Moisture wicking Software sock liners | Yes  |
| Chelsea ambassador boot | Heavyweight and oy leather | Air cushioned insole | PVC | - | Yes, with Warmwair technology that is a soft insulating layer with faux fur sock lining | - |
| 1460 snowplow boot | 100% leather | Air cushioned insole | Rubber hybrid sole with EVA grooved cleats for better traction on snow | Water resistant | Faux fur lined with Toby fur | Yes |
Features of good winter/snow boots
Before passing our judgement over the talked-about Doc Martens boots, let us first have a look at what are the characteristics of a good winter boot that's also perfect for walking in the snow:
1.) They should have rubber outsole with cleats and lugs to hold the traction in slippery snow
2.) They should have waterproof uppers so that when the snow melts on the uppers of the boots, the water doesn't sip in the boots and make your feet wet and cold
3.) They should they should have insulation of at least 800 grams and above in order to keep your feet warm in the cold winter and not to let the outside cold touch your feet
4.) They should have a soft cusioned insole for keeping your feet comfortable in the cold
Do Doc Martens make good winter boots?
If you take a close look at the table above, the mentioned Doc Martens boots will serve great for winters with their unique features like water-resistance, faux-fur sock liners and grooved outsoles with lugs for better traction in the snow.
But let us answer some general questions about the classic Doc Martens boots and then decide whether they qualify as snow boots or not…
See also: Are Doc Martens Good for Work?
Are Doc Martens waterproof?
Doc Martens boots are not waterproof at all. Infact, some of them are water-resistant as mentioned in the table which means they will resist water to some extent but will not repel water when the snow starts melting on the boots and will gradually sip in the boots also because the classic Doc Martens boots are made with thin leather uppers which make water to penetrate easily inside the boots.
Are Doc Martens slip resistant?
The ones with the newer technologies like the Grip-Trax that have grooves and lugs and snow cleats will stand out great for slip-resistance in the snow.
But in general, not all Doc Martens boots are slip resistant, at least not capable of holding onto the slippery snowy grounds.
Are Doc Martens insulated?
Though a few Doc Martens boots might have faux fur lined sock liners, that too is a light layer of insulation that serves okay for the fall or less winter conditions. But none of the Doc Martens boots are thickly insulated to provide you the warmth needed for extreme winters.
How to make Doc Martens workable/comfortable for the snow/winters?
In order to wear your Doc Martens boots in the snow, you need to know about 3 hacks/tricks…
1.) How to make Doc Martens slip resistant?
If your doc martens boots do not offer great traction in the snow, try the following hacks:
1.) Take a sandpaper and rub the outsoles unevenly to get a rough texture 
2.) Rub the outsole on a piece of rough rock or stone
2.) How to make Doc Martens waterproof?
You can surely get water-resistant doc martens but here's how to make them waterproof for better performance in the snow:
1.) Clean your boots thoroughly
2.) Apply a dress drops of mink oil as a waterproofing layer on the boots
3.) Finish off using a waterproofing spray/wax sealants for leather boots
3.) How to make Doc Martens insulated?
The faux-fur sock lining won't be enough to keep you insulated from the freezing cold. Here's how to deal with the cold wind:
1.) Wear a thick woollen pair of socks over your normal socks that will provide you the needed warmth
2.) Take the boots to the nearest shoe shop and get an insulating layer inserted inside the boots
In a nutshell!
So, if you already have Doc Martens boots and like to wear them as your winter boots, you know how to manage the odds (yes, wear thick woollen socks and treat them with mink oil for waterproofing) and if you are about to make a new purchase, do try the suggested boots by our experts for a great experience!
All in all, to conclude I would tell that Doc Martens are not the best choice if you are looking for a good pair of winter boots that will provide you the warmth and comfort in the snow!
Hope you enjoyed reading my guide to whether Doc Martens boots are good for snow/winters or not?
If yes, do stay tuned for more exciting articles on my site…
Till then…
Take care and have a great day ahead!