Cowboy boots are quite fashionable and they add to your style statement!
But can they be worn to work places?
Generally, all the business fields demand their employees to dress in formals and boots do not fall in the category of a formal shoe.
In the US and also in Canada, many business places allow you to wear cowboy boots as business casuals. But you need to dress formally along with it like wearing a formal shirt that is light in color and formal pants (dark colored) that hang over or cover the boot, belts that are plain and of the same color as your boots, and most importantly cowboy boots with dark colors and leather uppers.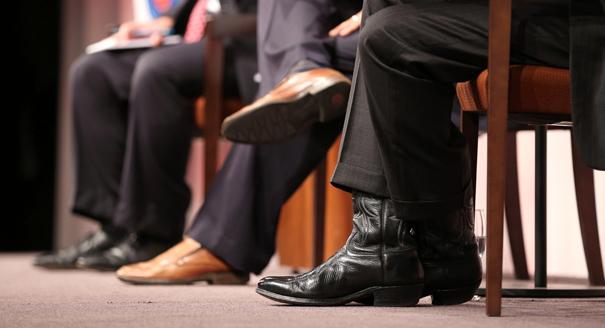 But if you live in some other country, it's better to ask your employer about the dress code before trying your own style because you just can't lose your job just for wearing a boot, right?
However, if you find cowboy boots very tempting and would like to wear them to your office, there are ways to turn it into a formal look which I am going to discuss in this article.
Can you wear cowboy boots as business casuals?
Though cowboy boots were originally meant solely for the riders, yet there are changes and variations made in these boots in the modern times to suit the field of fashion.
Yet, there are controversies of cowboy boots being considered as formal shoes and frankly speaking they are not!
But as I have mentioned in the section above many workplaces in the US grant their employees to wear attire in their comfort zone, still maintaining the decorum of the office.
That being said, if you want to wear cowboy boots to your business meetings, you need to dress accordingly so that you do not stand out being the style icon and attract the negative attention of your employer's!
In the section below I will share tips on how to turn your cowboy boots to business shoes like a pro. So, let's read on….
How to wear cowboy boots in the office like a professional?
If you are an ardent lover of cowboy boots and find it your go to footwear, then take a deep sigh of relief because there are ways to turn your cowboy boots to business casuals and wear it like a professional:
1.) Wear it with your suits so that your suit carries all the attention and hardly anyone notices your shoes
2.) Wear light colored shirts
3.) Wear formal pants preferably if you're wearing cowboy boots to the office. Formal pants are a bit loose at the bottom and will cover your boots to some extent
4.) If you are wearing jeans to your workplace, do not wear tight fitted jeans and do not tug the jeans inside the boots. Tugging pants inside the boots will make the boots stand out even more
5.) Wear cowboy boots in dark colors, preferably in black, dark brown, tan, etc. Light colored boots are not at all formal
6.) Do not wear cowboy boots, the fabric of which is too hard. That is, the uppers of the boots should be made of a flexible fabric
7.) Wear cowboy boots that have got stitches in the construction, preferably white stitches. They will look more formal 
8.) Wear cowboy boots with round toe or pointed toe boxes
9.) Wear cowboy boots made of leather uppers
10.) The sole of the boots should be preferable made of rubber and be black or dark brown in color
11.) Better if your cowboy boots have heels because shoes with heels are are preferred in the western business cultures
12.) Try to wear broad belts with pants and the color of the belt should match the color of your cowboy boots
13.) Dress jackets go very well with cowboy boots at the office environment
What not to wear with cowboy boots in the office?
Learning what not to wear with cowboy boots in order to suit your business profile is utterly important to save you from the embarrassment at the office:
1.) Do not wear t-shirts with round necks with cowboy boots in the office. They will never be considered as a formal attire
2.) Do not wear skinny fit jeans with cowboy boots
3.) Avoid wearing light colored pants with boots
4.) Avoid wearing dark colored shirts with cowboy boots
5.) Do not ever wear a hat with your cowboy boots to your office. It will enhance the cowboy look even more
6.) Do not wear cowboy boots with moc Toe boxes or square toe boxes
7.) Do not wear light colored boots to your office
8.) Do not wear belts that are too decorated. Instead choose a plain single colored belt with no design at all
How to choose the right cowboy boots for the office?
Not only your dress, but choosing the right cowboy boots is also necessary if you want to wear it to your office:
1.) Choose cowboy boots with narrow toe boxes
2.) Choose boots with supple and exotic leather. It will match the city life
3.) Cowboy boots with natural sole material will be preferable
4.) Ropers go very well for the office environment
5.) Welt stitching with white threads look very formal
6.) Remember both the colors of the boot uppers and the outsole should match. For example, if the leather is black, the sole should also be black in color and of the uppers are brown then the sole should also be brown in color
7.) The boots should not be too ankle-high in length
8.) Boots with heels go very well for the formal look
9.) Do not wear cowboy boots that are calf-length high
And it's a wrap!
So, to conclude we can say that cowboy boots are not proper business casual boots.
But you can definitely make them look like formal shoes if you follow my above mentioned tips!
Remember, the bottom line is how you carry the attire confidently, yet following the norms of a formal look for an office.
I hope this article was helpful to you and if so, do stay tuned for more such informative articles on our site!
Till then…
Stay classy! Stay healthy and have a great day ahead!