Cowboy boots are one of the traditional fashion trademarks associated with countryside culture. They not only look good, but they also provide protection against the harsh environment of the countryside, regardless of gender. 
Cowboy boots were originally created and worn solely by males, but over time, these boots made their way into women's closets and have become a fashion statement.
We sometimes question if there are any differences between men's and women's footwear. The short answer is YES, but there are other distinctions as well. 
Women's cowboy boots often feature a smaller heel and a higher arch than men's cowboy boots, and this is one of the first distinguishing features. And these boots are currently worn by men and women alike and that is why manufacturers make boots that are especially adapted to men's and women's needs.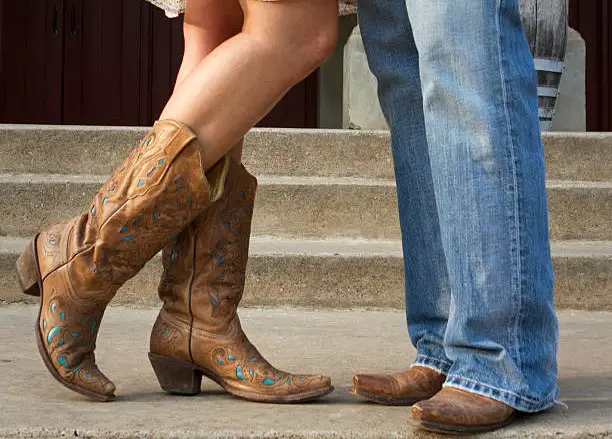 So What Are The Differences Between Men and Women Cowboy Boots? 
There are significant differences between men and women's cowboy boots, so let's find out.
1.) Heel
The first distinction between men's and women's cowboy boots is the heel. When it comes to fashion, women like high heels while men prefer regular heels. 
High-heeled cowboy boots provide an edgy look to a lady's appearance, whilst normal heels give men real cowboy-like confidence while still allowing them to be flexible and comfortable at work. 
Furthermore, women's cowboy boots have a wider range of heel forms than men's. 
Cowboy boot heels for women have greatly improved in recent years, and they are now available in a variety of designs and heights.
2.) Materials
Cowboy boots are made from a variety of materials, including cowhide, bullhide, and exotic leather derived from the skins of lizards, caiman, goat, shark, ostrich, crocodile, and snakes.  
Cowboy boots for men are frequently manufactured from cowhide, bullhide, or exotic leather and men's cowboy boots are frequently constructed from a kind of genuine leather. 
But it's not the same for women. Although we do not mean that women boots are not made of genuine leather, but many women's cowboy boots are made of synthetic leather, which allows for a wider range of colors and embellishments that are not always possible with genuine leather. 
3.) Shaft And Vamp Design
It's difficult to distinguish between cowboy boots for men and women in terms of shaft and vamp textures, but you can recognise the differences by looking at the designs. 
Floral designs embroidered on a western-inspired shaft and vamp are common features of women's cowboy boots. 
Moreover, the vamp and shaft themes of women's cowboy boots are more delicate and look feminine. 
However, men's boots have designs like wings, crosses on the shaft and vamp, and are comparatively simpler or rugged. 
4.) Toe Shape
Cowboy boots come in a variety of toe forms, including pointed toe, round toe, square toe, snip toe, and broad square toe. Each toe form has its own set of perks and downsides. 
Women like cowboy boots with pointed toes, snip toes, and round toes because these toe shapes make their feet appear smaller, longer, and more appropriate for the kind of outfit they carry. 
Men, on the other hand, like square toes and wide square toes because they have a robust look and adequate space in the toe box for comfort. Of course, many men appreciate the elegance of traditional cowboy boots and choose pointed and round toe shapes.
5.) Size 
One of the most noticeable variations between men's and women's cowboy boots is the size chart. Women have more access to footwear with narrower widths than males. It's also vital to note that most companies include explicit female sizing charts. 
However, we can clearly understand from the two charts below that men have more size variations than women. 
Let us have a look at this size chart for reference: 
Mens Size Chart
| | | |
| --- | --- | --- |
| US | Inches | Centimeter |
| 6 | 9 ¼  | 23.5  |
| 6.5 | 9 ½  | 24.1  |
| 7 | 9 ⅝  | 24.4 |
| 7.5 | 9 ¾  | 24.8  |
| 8 | 9 15/16   | 25.4 |
| 8.5 | 10 ⅛  | 25.7 |
| 9 | 10 ¼  | 26 |
| 9.5 | 10 7/16  | 26.7 |
| 10 | 10 9/16   | 27 |
| 10.5 | 10 ¾  | 27.3 |
| 11 | 10 15/16  | 27.9 |
| 11.5 | 11 ⅛  | 28.3 |
| 12 | 11 ¼  | 28.6 |
| 13 | 11 9/16  | 29.5 |
| 14 | 12 3/16  | 31 |
| 15 | 12 ⅛  | 31.4 |
| 16 | 12 ½  | 32 |
Women's Size Chart
| | | |
| --- | --- | --- |
| US | Inches | Centimeters |
| 5 | 8 9/16  | 21.6 |
| 5.5 | 8 ¾  | 22.2 |
| 6 | 8 ⅞  | 22.5 |
| 6.5 | 9 1/16  | 23 |
| 7 | 9 ¼  | 23.5 |
| 7.5 | 9 ⅜  | 23.8 |
| 8 | 9 ½  | 24.1 |
| 8.5 | 9 11/16  | 24.6 |
| 9 | 9 ⅞  | 25.1 |
| 9.5 | 10 | 25.4 |
| 10 | 10 3/16  | 25.9 |
| 10.5 | 10 ⅜  | 26.2 |
| 11 | 10 ½  | 26.7 |
| 11.5 | 10 11/16  | 27.1 |
| 12 | 10 ⅞  | 27.6 |
6.) Color
Both men's and women's cowboy boots come in various shades and colors. 
Cowboy boots for women come in a variety of hues ranging from bright to dark, resulting in a feminine, stylish look. 
Cowboy boots for men are plain in color. They like dark hues to convey a wild and rugged appearance. 
There is a lot of variation in the color of men's cowboy boots since boots created from exotic leather with different skin kinds will appear in distinct and usual hues. 
Men's cowboy boots are often less colorful than women's.
Different Types/Designs of Cowboy Boots for Men and Women. 
1.) The Traditional Cowboy Boots- Traditional cowboy boots all have the same shape- pointed toe, high and underslung heel about 2 inches. 
This style of cowboy boots is commonly used for riding because the heel design fits extremely well into stirrups, keeping them balanced and safe. Moreover, the pointed toe form of cowboy boots allows them to easily slide into stirrups. 
Traditional cowboy boots have few alterations and are popular among men today. They are, however, very different from those for women. Traditional women's cowboy boots have been altered and improved. 
Aside from riding, some classic cowboy boots feature large, almost 3 inch heels for fashion purposes. 
2.) Roper Boots- These boots come in small heights and they have 1 inch heels and 1 inch shafts, normally only high to mid calf. Other cowboy boots, on the other hand, typically have shafts that are higher than mid-calf. 
The majority of women's roper boots are taller than men's. 
Roper boots for men may reach the mid-calf, but similar boots for ladies are just above the ankle. This is the distinguishing feature of roper type cowboy boots for men and women.
3.) Ankle Length Cowboy Boots- Ankle cowboy boots, unlike many other types of cowboy boots, are often solely worn by women. These boots are frequently a little higher than the ankle. 
4.) Stockman- Stockman cowboy boots are recognised for individuals who are forever on the move. These cowboy boots for guys are incredibly manly in appearance, and are also robust and wild. 
Women's Stockman cowboy boots might have the same design as men's, but the colors are different. For women, the cowboy boots come in various colors and look a little more feminine, while still providing protection. 
FAQs-
How should the fitting of Cowboy Boots be on Women? 
The boot should feel tight on top of the foot, it should almost feel like a firm handshake. You should lay the broadest part of your foot in the widest section of the outsole. As previously stated, the thumb trick is not indicative of correct fit when it comes to cowboy boots.
Is it normal for Cowboy Boots to be a little tight? 
To have the greatest fit, it should be tight rather than loose. But it shouldn't be too tight. The idea is to wear them and see if you have enough space for your fingers to wriggle and enough snugness that it's not slipping inside. 
Can Men Wear Cowgirl Boots? 
Cowboy boots for women aren't something most men will wear since the fit isn't right. This, however, cannot be totally true.
If they do not have wide feet, the fitting may be enough for some. However, it is entirely up to the individual whether or not he wishes to put on cowgirl boots.
Conclusion
Cowboy boots for men and women are noticeably different. Men's cowboy boots are bigger and have a different heel and toe shape whereas women's cowboy boots are smaller, have a different toe shape, and come in a number of designs. 
They are, nonetheless, created utilising comparable procedures. When comparing the heel, shaft and vamp, toe shape, design, color, and size of men's and women's cowboy boots, the distinctions are more noticeable. 
Cowboy boots for men have a rugged and robust appearance, whilst cowboy boots for ladies typically feature alluring curves.