Today we are going to talk about two American brands- Bogs and LaCrosse, that have served well with the variety of footwear that they offer.
Both are known for the different types of footwear- safety boots, work boots, hunting boots, hiking boots, snow boots and casual boots. 
And if you intend to go out in the rain, these are two of the greatest options for a boot. They both have rubber/neoprene hybrid boots that are extremely water resistant.
They haven't forgotten about comfort or style, too, and have expanded their offers to give you plenty of options!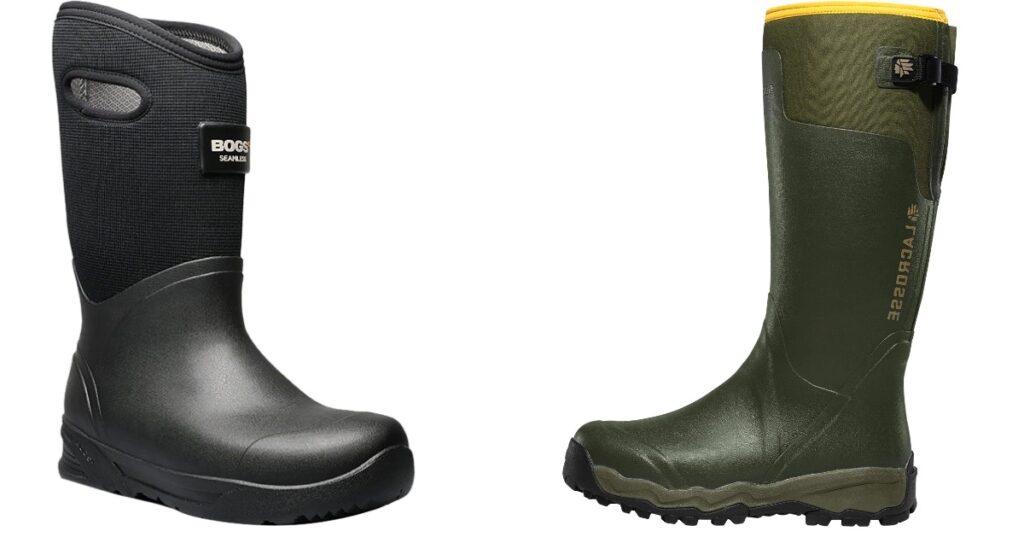 The Bogs boot is a terrific all-purpose footwear which is super affordable, while the LaCrosse boots have superior ice grip. It's the favored boot for most for a reason, and if you want a boot that can carry you through harsh winters, this is the boot to purchase.
Let's know more details on Bogs and LaCrosse. 
Bogs
Bogs provides an innovative alternative waterproof boot made entirely of treated nylon fabric, heated to give warmth in chilly weather, for individuals who are weary of stiff and typical rubber rain boots.
Winter travellers will like the compact size of these insulated boots, while those looking for a good appearance will appreciate the boots' elegant style.
LaCrosse
In the boot-making sector, LaCrosse earned a solid reputation for producing high-quality, durable rubber footwear.
These boots are solidly built so that consumers may work and play hard without worrying about their feet or any quality difficulties. 
The brand has been on the market for almost 120 years and is well-known. It focuses all of the elements required in a pair of rubber boots, placing durability and comfort at the top of the design process. 
Furthermore, LaCrosse is concerned with the safety of their footwear. As a consequence, the boots are great for hardworking individuals since they prevent pollutants from soaking into the foot.
Let us look at this comparison chart before we go into the details- 
| | | |
| --- | --- | --- |
| Parameters | Bogs | Lacrosse |
| Durability | Good | Excellent |
| Insulation | Upto -40 | Upto -70  |
| Comfort | Bad, it is not breathable.  | Good, it lets your feet breathe.  |
| Terrain | Best on flat ground | Rough terrain, snow |
| Lifespan | 3 years max | 5-6 years max |
| Fit | Standard | Narrow |
| Height | 12.5″-15″ | 14″- 18″ |
| Cost | Affordable | Pretty expensive |
1.) Durability
As we can see from the table above, LaCrosse is considered to be more durable than bogs. The reason being Bogs tend to give in to the rough terrains.
However, LaCrosse combines perfect comfort with sweat and odor protection thanks to its complete rubber coated over neoprene construction.
However, Bogs do hold up well in terms of durability, and you should expect to get a few seasons out of them.
However, durability will depend on how hard you work on them, and if you're not careful near sharp objects, it's possible to tear them up rapidly, so be careful.
2.) Insulation
Even in this department, we see LaCrosse winning as it provides insulation up to -60 degrees. So depending on the type of terrain you are planning to visit and the temperature of the area, you know which boot would be helpful and safe. 
But Bogs do provide insulation, it is just that when it comes to being in an extremely cold temperature, then LaCrosse is your friend. 
3.) Comfort
Lacrosse has a wonderfully patterned neoprene liner that substantially aids breathability, something Bogs lack. 
This prevents you from becoming sweaty, which not only makes you cold but also produces odor. 
The main issue with Bogs is that they lack many features. This includes features such as thicker soles and foam foot cushioning, which provide a great deal of comfort.
4.) Terrain
The Lacrosse boots are lightweight and sleek. They're easy to move and perform significantly better for jobs like climbing up tree stands and crossing rough terrain. 
However, when it comes to Bogs, there have been some customer reviews that they can feel the ground through these boots, which is terrible if you're crossing or working in tough terrain.
5.) Lifespan
You must already know by now that LaCrosse has a better lifespan than Bogs, however, lifespan also depends on other factors like the extent of usage, the terrain it is being used on and the maintenance of the boots. 
So sometimes, your Bogs might last you longer if you haven't used them as much. 
6.) Fit
LaCrosse's form fitting structure provides a heel that cushions your foot as well as a more flexible in-step. Because your feet won't be sliding around in them, chaffing and scorching your heels, they're far more pleasant for lengthy hikes. 
Some individuals favor the Bogs' fit as they're lighter than most boots like Muck, but not as bulky.
7.) Height
Height is one important factor when it comes to keeping your leg safe in rough, dangerous terrains. Usually, Lacrosse boots are taller than Bog, but it depends on different models. 
8.) Cost
Bogs offers a better selection of footwear if you're seeking for something inexpensive that can serve as a good alternative to the pricer ones like LaCrosse. Of course, you would have to compromise on durability and some of the features, but all in all, Bogs are cheaper. 
See also: Tall vs Short Rain Boots: Which One is Better?
FAQs- 
Are Bogs suitable for winter? 
Bogs are not as trendy as other boot brands, but they are rather warm. Most significantly, Bogs are waterproof, making them an excellent choice for being stranded outside in wet snow. So, yeah, Bogs are good winter boots. 
However, there is a drawback. Bogs can be slippery due to the lack of traction on the soles.
Are LaCrosse boots reliable? 
In the boot-making sector, LaCrosse earned a solid reputation for producing high-quality, durable rubber footwear.
These boots are solidly built so that consumers may work and play hard without worrying about their feet or any quality difficulties. 
Overall, the performance of LaCrosse boots is rather constant. The steel toe is a popular feature of LaCrosse boots because it provides unrivalled protection. So yes, in terms of safety and durability, you can rely on LaCrosse boots. 
To Conclude, depending on your scenario, any of these boots might be regarded as a good boot, depending on how it serves you and the kind of features it offers at the price. 
LaCrosse are no doubt reliable, sturdy and durable, but if you do not want to spend a lot on boots, then go for Bogs as they provide a lot of options at reasonable prices.
We've done our best to give the information we believe is most useful, but only you know the specifics of your circumstance.