Taking care of your leather boots may seem like a tedious task and you often tend to avoid it or at most procrastinate each day. To top it all there are various oils and conditioners advertised, claiming to be the best for maintaining your leather boots or any other leather products.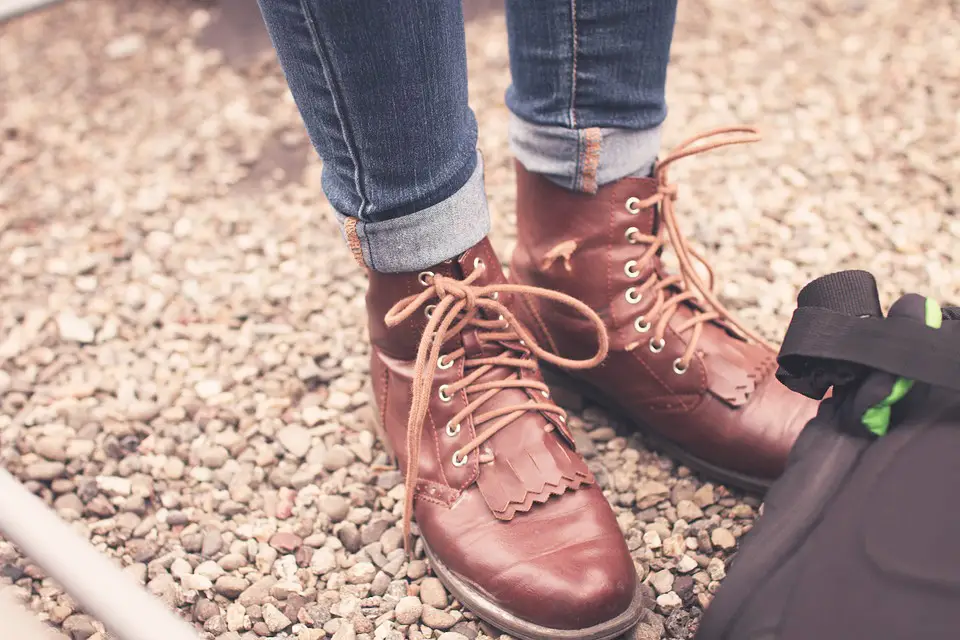 This can be extremely confusing and the simplest way for you would be to ignore treating them altogether. Well, I am here to tell you that your approach will only cost you because by doing so you are hurting your precious boots and letting them die sooner than they need to. 
I have been a victim of this confusion too, and after doing a comprehensive study on this topic I have come to realize that – YES! You can apply mineral oil to your leather boots, however, there are certain pros and cons to using it, which I feel is very important for you to know and understand.
So, in this article, I will be covering everything you need to know about using mineral oil on your leather boots and much more.
What is mineral oil?
Mineral oil is mostly a distillate of petroleum, one of the popular ingredients found in most leather oils and conditioners today. It can soften and waterproof leather. Hence, it is not something that you can use on its own on leather boots.
Is mineral oil good for leather boots?
Many brands and manufacturers use mineral oil in their formulas while making leather oil but do not disclose it straight out. Instead, you will notice terms like "contains petroleum by-product" or "contains petroleum distillates", mentioned on the label. 
Do you ask why brands and manufacturers are not clearer about the ingredients used in the making of a particular leather oil? The reason being – although mineral oil is known to make leather waterproof and supple it has a negative impact on the fabric in the long run.
1.) Leather oils containing mineral oil should not be used on already soft leather because they will over-penetrate. Since it has the ability to soften leather, use it mostly on rugged and rigid leather boots. It is great for boots that take time to break in and hurt your feet in the process.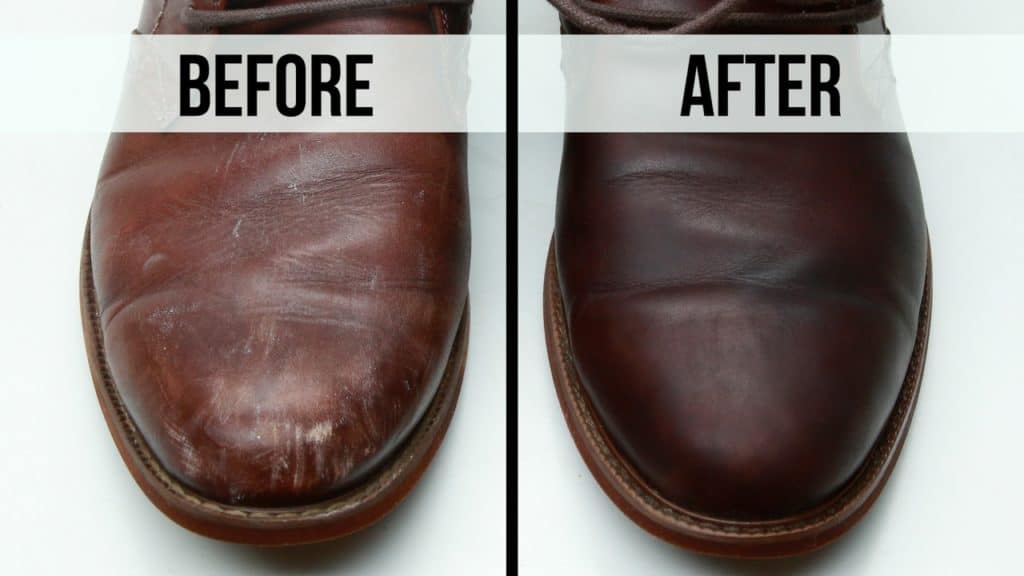 2.) Mineral oil is known to make the color of leather dark so you will have to limit its usage only on light-colored leather boots to avoid discoloration.
3.) Mineral oil can congest the leather and ruin its breathability factor, resulting in moisture being trapped inside it, which will further lead to its decay over time.
4.) Mineral oil is quite dry, which damages the leather further in the long run by drying it out and causing it to crack and become brittle.
Why is a mineral oil used as an ingredient in leather oils?
Despite its many disadvantages, mineral oil is still popularly used as one of the ingredients in leather oils because it is rather cheap compared to other waterproofing elements.
Therefore, brands and manufacturers reduce a lot of their costs by using mineral oil instead. Apart from that, it is also odorless, tasteless, and food grade.
All things considered, leather oil is your go-to product for caring for your leather boots, and at the end of the day, it depends on you and the type of leather boots you own. 
What are the other ingredients used in leather oil?
Leather oil comprises of several different ingredients, such as – beeswax which is a natural wax that bees secrete to make honeycombs; propolis which comes from the tree resin that bees pick when they pollinate; mink oil comes from the pelts of minks; neatsfoot oil comes from cattle's shinbone and feet; pine pitch is the natural substance that generates from a pine tree's sap, and natural oils are what come from plants and animals. Each of these components has a specific role to play when conditioning leather boots.
How does leather oil help leather boots?
Leather oil is a substance that moisturizes, conditions, and preserves the leather to keep it young and healthy for years to come. It helps in refurbishing the leather boots to their natural self if worn out.
Apart from using it as a repairing mechanism, it also helps in protecting the leather from harsh weather conditions and making it waterproof. Leather also becomes supple and soft when treated with leather oil. 
When should you use leather oil?
Leather is a very durable material, hence, any product made from it is not normally cheap. There are however different types of leather too, and each of them has a different life span.
Mostly the leather boots you wear to work will need more constant care when compared to leather boots you would wear occasionally with casuals for a day or night out. 
Regardless of how often you wear your leather boots, you should treat them with leather oil and conditioner when you see the following signs or situations.
If your leather boots are starting to crack due to being dry.

If there are visible scuff marks on your leather boots, which is a gateway for dirt and grime on the surface.

The color of your leather boots is starting to look old and faded or light.

Your leather boots are becoming stiff and losing their flexibility.

When your leather boots are starting to lose their natural moisture, hence, losing their shine.

If your leather boots look worn out.

Some leather oils help in minimizing the break-in period of new leather boots, thereby, reducing the chance of getting painful blisters.

Treating leather boots with oil will help waterproof them and protect them from harsh elements and weather conditions.
How often should you oil your leather boots?
If you wear leather boots to work daily because of your workplace or environment, they will need more maintenance and care at regular intervals. You will need to treat them with oils and conditioners at least once every month to keep them intact and increase their life span.
Especially because they are being exposed to harsh weather conditions like sun, heat, rain, and elements like dirt and grime regularly.
However, if you wear your leather boots occasionally, then you should treat them at least once every 3 months or 6 months. It is the basic maintenance of something you adore and cherish. Also, let's be honest you spent good money on them, so it will be a shame to see them go to waste.
Steps on how to use the leather boot oil on leather boots
There are a few things to follow religiously before you apply the boot oil to your leather boots.
1.) First, you need to clean your boots meticulously with a clean cloth, towel, or a brush with soft bristles. Doing so will guarantee that there are no residues left behind on the boots, which can be a hindrance while treating the leather.
2.) Next, you can use some soap-water solution to clean the boots if the situation calls for it, but just enough for the dirt to be removed from the boots.
3.) Try not to get the insides of the boots too wet and repeat the cleaning process until you are content.
4.) Do not use any heating appliance to dry the boots, you should leave them to air-dry naturally for at least 24 hours.
5.) Start applying the leather boot oil once the boots have fully dried.
6.) Before applying the oil, remember to remove the laces if any. Post which, use a clean lint-free white cloth or the applicator that comes in the package to apply the oil. Do not daub it directly onto the boots, instead, take small amounts of it and spread it in a circular motion. See if the results are satisfactory by applying a little in an unnoticeable area first.
7.) To allow the leather to soak in the oil wholly, you need to again leave the boots to dry naturally. Your boots may get wrecked if you attempt to hasten the drying process by using a hairdryer.
8.) Take another clean cloth to wipe off the excess oil once the boots have dried.
Now that didn't seem very difficult, did it? That's all you have to do, after which they are ready to be worn again. Without spending too much money on a leather boot specialist, you got the job done, and of course, your boots deserve that much attention! 
Recommendations for leather boot oils and conditioners
Similar to how we take care of our skin regularly, looking after leather is practically like our skin, which needs care and maintenance routinely. So, it is always wise to invest in a good leather oil that fulfills the needs of your leather boots.
These are our top 5 picks for you. For more information, you should check our article on Top 10 Best Oil For Leather Boots to Keep Them Young.
In conclusion
Remember to never over oil your leather boots, that will only lead to further deterioration of the fabric. All said and done, if you buy leather boot oil that contains a small percentage of mineral oil or even slightly more than that, you need not hesitate in applying it to your boots.
You need to keep in mind that you should not use it too often. And as the saying goes less is more, it holds very true in the case of any leather boot oil. You do not need too much of it.