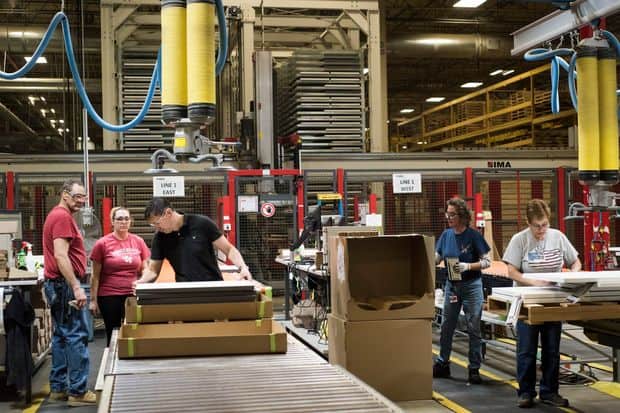 Steel Toe Boots fall under the category of safety shoes or boots. In simple words, they safeguard the feet from an injury that can be caused by workplace hazards and are highly durable. 
But are they necessary for factory work? – Yes, they absolutely are! Although this also depends on the kind of factory one works at. In some work sites or factories, an alloy toe boot and/or composite toe boot will suffice. However, wearing a reliable pair of steel toe boots is always beneficial. 
What type of factories requires you to wear steel toe boots?
We give a lot of thought to safety gear when it comes to our face, eyes, head, and hands while working in factories. But tend to neglect our feet, which are equally at risk of getting wounded.
This is a common mistake made by millions. The result of which is serious foot accidents occurring at workplaces and workers spending hundreds of dollars on medical bills. 
Factories that have a higher risk of foot injuries are the ones dealing with heavy equipment, and pieces of machinery, plus sharp items.
In industries where workers are expected to lift or roll hefty objects all through the day, and anything can go wrong in the process. These are occupational hazards that we can all do without, but unfortunately, they seem to creep up regularly. 
Benefits of steel toe boots
Safety boots have different benefits for different workplaces. Let us take a look at the most common advantages of steel toe boots.
1.) Steel toe boots shield your feet from objects falling on to them, as it has the ability to withstand the pressure of up to 75 pounds.
2.) If a heavy item rolls over your feet, steel toe boots will be able to stop your feet from facing the brunt of it.
3.) Sharp things cannot penetrate through your steel toe boots due to the metal, keeping your feet away from unforeseen punctures. 
4.) There are steel toe boots that are fabricated to prevent acute shocks caused by electrical hazards at specific factories.
5.) If your job demands long-standing hours, then steel toe boots can help in diminishing the exhaustion or fatigue. They give you an adequate amount of support and comfort required in such scenarios.
6.) Steel toe boots are also made to resist slipping on the floor as they have an excellent grip. Wearing footwear with a superior grip can also prevent your chances of tripping or falling.  
7.) Some steel toe boots are also waterproof, which means you can keep your feet dry while working in factories dealing with liquids.
8.) While working in hot or warm temperatures, steel toe boots will keep your feet cool and comfortable.
9.) Due to the sturdiness and durability of steel toe boots, you won't have to worry about buying a new pair for a long time. They can last for years to come if you take good care of them.
10.) Wearing steel toe boots will keep you safe, and your mind at ease while working in an accident-prone environment because the possibility of injuring yourself will be reduced.
Is it mandatory to wear steel toe boots?
Every year thousands of accidents occur due to not wearing protective footwear in hazardous workplaces. To avoid and reduce such incidents from taking place, companies have to acknowledge now the rules and regulations enforced by the Occupational Safety & Health Administration or in short OSHA. The policy requires industries to make safety footwear a mandate for all workers. 
Any organization or industry who fail to observe these regulations will be inviting complications for themselves. Consequences can start with warnings first, with repetitive violations, sanctions will be issued, and finally, this will lead to paying fines to OSHA. It is essential to be mindful of the fact that these penalties are not small sums of money. 
OSHA's regulations are in accordance with the federal government of the USA. Hence, they are not to be taken lightly. The safety of the workers is of utmost importance to increase productivity.
There are chances of a worker being sent back home if they are not wearing the correct footwear. This will lead to the individual losing out on the hourly pay. 
ASTM International or American Society for Testing and Materials is an international organization that sets the adequate criteria for protective footwear to be certified as one, and OSHA follows their guidelines. 
Five Recommended Steel Toe Boots
Below is a list of five steel toe boots for factory workers. These brands make more than one type of steel toe boot, so you can also check their website for more options. 
Wrapping up
It is human nature to make errors when buying the right kind of protective footwear. At times people tend to be drawn towards the pair that is cheaper to save a couple of hundred dollars.
This may or may not serve the purpose of your workplace for which you bought them in the first place. Investing in dependable work boots should be your priority, even if it means shelling out more. 
Steel Toe Boots can be more cumbersome and uncomfortable compared to composite toe boots because steel is a more substantial material. However, this is not entirely true and not applicable to every brand that manufactures steel toe boots. Due to the progressing industry needs and standards, producers of protective footwear have come up with several variations for steel toe boots.
This means you have a ton of options in the market to pick from and find the one that is most suitable for your work environment. Never compromise on the quality, if you want the longevity feature. 
There is another misconception that steel toe boots are not good looking. This may have been true 20 years back, but it is not the case anymore. Popular and known brands in the country have irresistible styles and designs today. Buy the ones that fit your feet perfectly, and you are good to go. 
In order for you to get the most out of your work boots, it is necessary to take care of them regularly. Give them the care they need, and you will be surprised with how durable they can be. Keep your feet happy and away from danger!