Boots are an inevitable part of workwear; as safety wear if you are someone who works in an industrial environment, or as stylish office wear if you are in a white-collar job.
A good pair of boots is quite an expensive investment. So you need to make sure it's an all-season boot. Yeah! To go out on a rainy day, you need to get a waterproof boot.
But before hurrying to buy a waterproof boot, you need to know what makes a waterproof boot waterproof.
We will help you know the different elements that make a waterproof boot waterproof and buy the right pair of shoes. Just scroll down!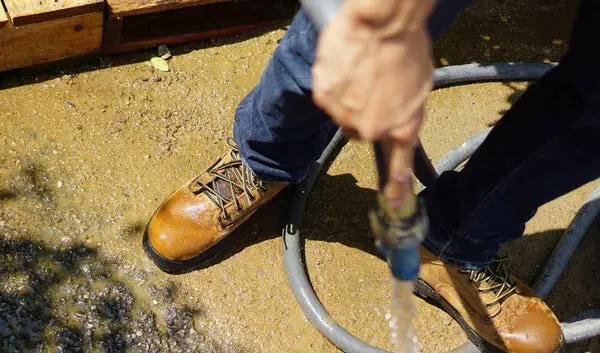 Are Waterproof and Water-Resistant Boots the Same?
Most of you might be contemplating this question for so long. Before getting to the whereabouts of waterproof boots, don't you want to solve this brain-teasing thing? Waterproof and water-resistant boots are not the same.
Waterproof means it's utterly impervious. Water will not get in or out of your boot. Whereas water-resistant boots will prevent water penetration unless it's a high shower.
So, keep in mind that water-resistant boots are not waterproof. Don't try buying a water-resistant boot expecting it to be waterproof.
What Makes Waterproof Boot Waterproof?
1. Waterproof Liners/Membranes
To prevent water from seeping into the shoes in case water gets through the leather, a waterproof membrane should be incorporated between the leather and the inner lining of the boot.
Without a liner, it's difficult for a boot to withstand a heavy shower. Remember, you may find boots with waterproof liners unsuitable for summer as it conducts heat.
2. Gusseted Tongues
In normal boots, the tongue will only be attached to the base of the boot. In the case of waterproof boots, the tongue is also attached to both sides of the boot. This prevents water leakage in the lace area.
3. Raised Eyelids & Kilties
In waterproof boots, you will see raised eyelets instead of punched eyelets so that there are no holes in the lace area for water to drip in.
You may also notice kilties in the toe area of the boot to hold out water. It also helps in warding off small debris. So, it's mainly used in farm boots.
4. Waterproof stitching & Sole Glue
Waterproof boots will have a seam-sealed construction. Soles of waterproof boots are stitched and sealed using waterproof glues to keep them moisture-free. Each joint of the boot will be tightly stitched so that there is no space in between the stitches for water to seep in.
5. Industrial Water-resistant sprayers
For additional protection, manufacturers coat the entire exterior surface of the boot with water-resistant sprays.
What's the Need for a Waterproof Boot?
If you are someone who works in an industry where your feet get prolonged exposure to water, you need a waterproof boot because the health implications are higher than you think on continuous exposure to water.
It causes blisters, numbness, itches, swelling, etc. If left untreated, it can lead to life-threatening complications like tissue damage, impaired blood vessels, etc.
Normal boots won't withstand prolonged exposure to water. So you need a waterproof boot if you are a person who doesn't like to waste your money buying boots again and again. 
How to Know if a Boot is Waterproof?
Well! That's quite a sensible question. It will be etched on the inner side of the boot's tongue. But don't get tricked; because waterproofed boots have the symbol 'WR'.
Chances are high to mistake it for water-resistant boots. Water-resistant boots are marked as 'WRU' which reads 'Water-Resistant Upper'.
Are Waterproof Boots Really Waterproof?
No, to tell the truth. Remember saying waterproof boots are marked as 'WR' (Water-Resistant)? It's because no manufacturers can claim a boot to be 100% waterproof.
It's the right combination of all the elements we have discussed before that makes a boot waterproof. Yet, one or two drops of water can drip in. But a waterproof boot is definitely a far better performer than water-resistant boots.
The efficiency of a waterproof boot depends on the brand and the materials used. Some companies may use only one or two of these elements and claim it as waterproof. So, it's the customers' responsibility to cross-examine the boot before purchasing it.
How to Maintain Waterproof Leather Boots?
Leather being a natural fiber is highly susceptible to damage by water. So, things don't end by just buying a good pair of waterproof leather boots.
You can't expect your boot to be the best at its performance for a long time unless you maintain it properly. Let's discuss how to maintain a waterproof boot.
1.) Clean & Condition your boot with cleaners and moisturizers once every two weeks.
2.) Re-Waterproof your boot with a waterproof spray or wax once you find that your boot has started to show symptoms of getting affected with water. Clean and wash your boots with a gentle cleanser. After it gets dry, apply the spray or wax carefully and let it dry.
3.) Polish your boot in regular intervals. It helps to hydrate your boot and your boot will shine brand new. Clean your boot with a cloth and apply polish on its surface with the same cloth.
How to Buy a Perfect Pair of Waterproof Boots?
1.) Comfort – Ensure that the boots are snug enough but not so tight. Try out the boot wearing the socks you plan to wear with the boot.
2.) Stability – Look for stiffer soles as they will offer a higher level of stability while walking through uneven terrain.
3.) Weight – Look for lightweight models. Big chunky boots don't mean better protection. Rather, it makes you spend extra energy. 
4.) Traction – Buy a boot with a sole that offers high traction control. Soles with multi-directional lugs will help you from slipping off slippery terrains.
Wide range of options are available in waterproof boots. There are waterproof pull-on work boots, chukka boots, wedge sole work boots, comb toe boots, moc toe boots, duck boots, etc.
PVC work boots are also available in the market which are the most affordable and waterproof boots. Also, remember that waterproof boots have low breathability and feel hot and sweaty.
So first you decide on whether you need a waterproof or water-resistant boot considering the nature and environment of your work. 
If you are sure you need a waterproof boot, decide on the type of waterproof boots based on the type of industry you work in. Buy the perfect pair of shoes and have a good work life.