We all know that wearing casual shoes to work during the rainy and winter seasons is not always a good idea. We need footwear that is more water and abrasion-resistant, as well as lightweight and inexpensive.
PVC boots are the ones that provide these benefits and are utilised in wet terrain and/or jobs that require contact with chemicals, fertilisers, or other potentially harmful substances.
In this session, you'll completely understand why you need a pair of PVC boots as essential work gear.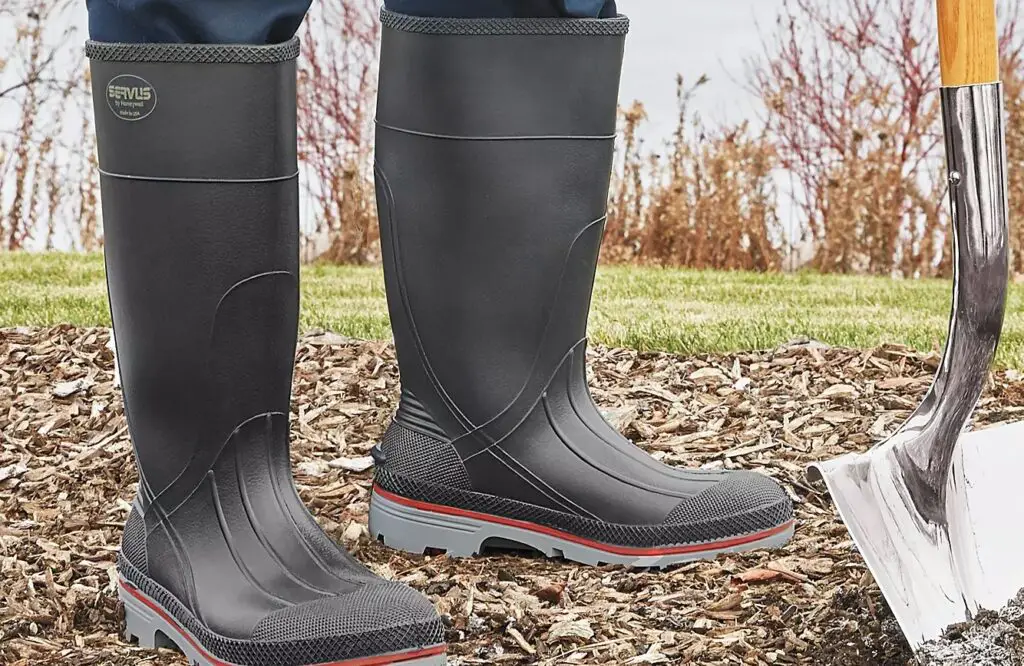 What Are PVC Boots?
Rubber boots are so prevalent that nearly every single worker labouring in the lands and industry owns at least one pair.
However, in recent years, a substitute, as well as a competitor for Rubber Boots, has surfaced. This is none other than the PVC boots, which are the best used and the most impressive boots in the work gear category, the PVC boots. 
It's critical that your work boot is made to withstand the conditions you'll be throwing at it. In this way, a rubber boot is handy and helps in a lot for dirty, muddy or soiled jobs. PVC boots, on the other hand, do a lot more than rubber boots.
So, what are these PVC boots? PVC work boots are injection-moulded boots constructed out of polyvinyl chloride, a plastic-based polymer. As a result, the boot is extremely waterproof and lightweight. Although PVC boots are less expensive than rubber boots, they may deteriorate more quickly. 
PVC Boots are divided into three categories. The first, Plain Toe, is manufactured without any additional support around the toe area, making it softer and more malleable.
The steel toe, on the other hand, protects your feet from being crushed by falling objects or pierced by sharp things. Because of this, you don't have to wear normal socks with PVC boots,
Finally, chemical resistant, they provide protection against a variety of hazardous chemicals, and some models can be designed to be strengthened with additional layers to further the foot coverage.
If you operate in a sector that is exposed to wet terrain or tasks that need you to come into contact with potentially dangerous chemicals, fertilisers, or other materials, then PVC Boots are your best bet.
Don't get over-excited that you'll get complete protection against all hazardous materials, but you can always confirm that PVC boots are the best solution for your job.
These boots are commonly used in jobs like Custodial, Farming & Agriculture, Poultry & Food Processing, Oil rigs, Fishing & Wildlife and so on. If you work in any of these fields, you can buy PVC boots without having a second thought.
PVC boots can also be used for personal purposes, such as painting the house, washing the car, and planting the garden.
Why choose PVC Boots? 
The only reason for choosing PVC Boots is the advantages it provides the wearer. It is commonly accepted that PVC Boots are handy and comfortable to use as it is lightweight.
PVC is a synthetic material that is substantially less expensive to manufacture than other types of work boots. Because these boots are composed of plastic, they are much lighter than regular rubber boots. Workers who must walk a lot while working can go for PVC because it is less stressful on the body. 
Many rain boots made of PVC are 100% waterproof due to the fact that they are made of plastic, and injection moulding ensures that they do not leak.
If your profession requires you to go outside and be exposed to a lot of water, then PVC boots is an excellent product to use.
Even if you put your PVC boots to a lot of usages, they aren't guaranteed to last for a long time. Also, as it is constructed of synthetic material, it will last longer in landfills and have a tougher time disintegrating once dumbed.
PVC boots, in contrast to rubber boots, are stiff and uncomfortable, especially in cold weather.
| | |
| --- | --- |
| Advantages | Disadvantages |
| Inexpensive | Don't Last as Long  |
| Lightweight  | Non-Biodegradable |
| Waterproof | Not Flexible |
| Abrasion resistant | Not so comfortable |
| Chemical Protection  | |
Difference Between PVC and Rubber Boots
There are considerably reasonable differences between both the boots. The main difference lies in the fact that one is made from artificially produced material and the other is a natural material. 
Down below are the most common differences between the PVC and Rubber Boots, regardless of the brands. 
| | |
| --- | --- |
| PVC Boots | Rubber Boots |
| Made from Synthetic material | Made from natural material |
| Non-Biodegradable | Biodegradable |
| More Safety | Less safety towards chemicals |
| Less Durable | Durable |
| Lightweight | Not lightweight |
| Affordable | Expensive |
| Less flexible | Good Flexibility |
| Good Waterproof | Good Waterproof |
As previously stated, the differences demonstrate that PVC boots are lightweight but are less flexible and can wear out more quickly.
PVC boots are, in most circumstances, a more economical alternative to rubber boots, despite minor variances that I mentioned here. However, opting between the two mainly relies on your attitude toward its features like long-term durability and comfort.
Based on my own experience wearing both, the little stiffness of the PVC boot isn't an issue, and it hasn't had a significant impact on my job. However, in some occupations or climates, it can be a concern.
Best PVC Boots in Industry
PVC boots are not all created equal; some are made to fit higher up till your knees or calves than others, and some have a plain toe while others have a steel safety toe.
In general, PVC work boots are designed to endure harsh and dirty jobs. However, you should make sure that the characteristics of your PVC Boots satisfy your job's safety criteria before purchasing them.
The majority of PVC work boots are pretty durable, with enhanced abrasion and chemical resistance. 
In this session, I have listed some of the best PVC work boots so that you can determine which one might make the best option for your job.
1.) Dunlop Protective Footwear PVS Chesapeake Boots:
2.) Over The Sock Black PVC Men's Rain Boot
3.) 89086 DuraPro Steel Toe Boot
4.) CLC Custom Leathercraft R230
Wrapping UP
Whether it's PVC or rubber boots, each provides a number of characteristics that employees can benefit from.
It is a pair of high-quality, long-lasting boots that are built to survive harsh conditions. They protect the wearer against chemical or hazardous liquid spills, as well as from slipping on sloppy surfaces.
However, before you purchase the boots, keep in mind essential elements such as pricing, comfort, and safety.
PVC boots are a fantastic solution for employees who need protection but don't want to spend a lot of money but yet want high-quality protection.
So, if you're seeking a cost-effective and functional workplace safety solution, PVC boots are the way to go!