Carolina and Thorogood are two of the most common USA boot brands. Each of them has its characteristics and style. Although they have many things in common, there are still some points that would help make the decision.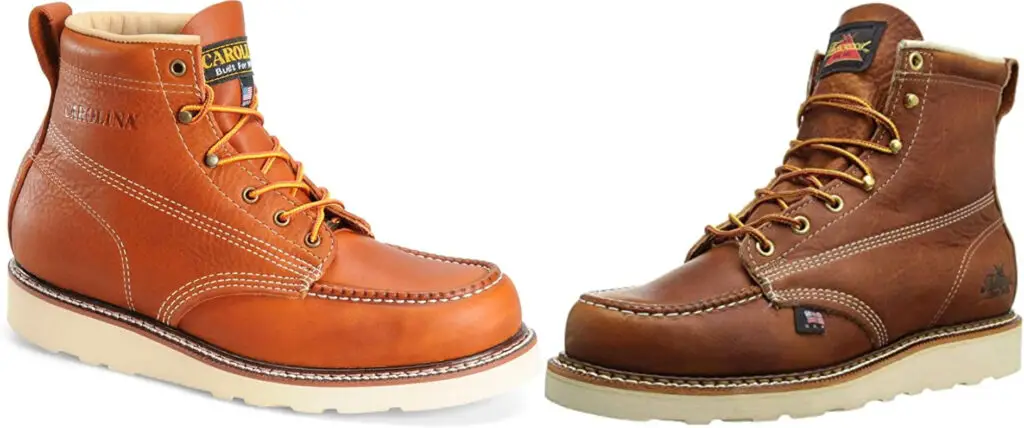 While Carolina is lightweight yet, durable moc toes, Thorogood surpasses them a little in durability. Also, the outer soles of Thorogood are claimed to be better and long-lasting than any other outsoles. However, Carolina is cheaper with the same high-quality leather and soles material.
In this review, we will tell you which stands out on which grounds. For example, quality, design, safety, and others help you make the decision. But before we start, you should know first that Moc Toes are working boots. People mostly get them to guard their feet in working fields and sites.
| | | |
| --- | --- | --- |
| | Carolina Moc Toe | Thorogood Moc Toe |
| Design | Triple stitching – Speed hooks | Triple stitching, The American Heritage and the 1957 Series |
| Material quality | More flexible leather material, Lightweight, Waterproof | Chrome tanned leather, Lightweight, Waterproof |
| Soles | Outsoles: Vibram, Midsoles: Rubber, Inner soles: Poron, Memory foam cushioning, Steel shanks | Outsoles: Polyurethane, Midsoles: Rubber, Inner soles: Poron, Inner pillow cushioning, Steel shanks |
| Other features | More sizing options, Replaceable outsoles | |
| Price | Lower price | Higher  price |
History and origins of Carolina and Thorogood
Carolina has been there since 1963. Before, it was part of H.H Brown Boot Company. Since then, Carolina Shoe Company became known for its safe and durable boots and moc toes. Nowadays and since 2016, Carolina operates its main center from Martinsburg.
On the other side, Thorogood was founded in 1892 by Albert Weinbrenner in Milwaukee. First, it was a small company until 1917 when they came up with the idea of job-fitted shoes. Thorogood then passed with various defining moments until it became what it is on today.
Both brands offer reliable moc toes in terms of durability and functionality. Yet, if we were to compare both moc toes, here are the main points.
Carolina vs. Thorogood: Which Moc Toe Has Better Visual Appearance?
Design is one of the things that you can barely differentiate between the two moc toes. Both of them come in nearly similar designs and colors. With the triple white stitches, they have this rigorous overall look.
However, Thorogood offers more styles under two major series, the American Heritage and the 1957 Series. Further, each of the two series has several different styles. So, if you have very special requirements, you will probably find them at Thorogood. Check out the Thorogood moc toe models available on Amazon.com.
On the other hand, Carolina has a good variety too. Moreover, they focus on the style very well. Thus, you will find unique styles at Carolina only. Also, many of their boots have these D-rings, named speed hooks, for the laces. Check out the Carolina moc toe boots on Amazon.com.
Material and Overall Quality
Speaking of the quality, Thorogood wins the game here. However, this doesn't mean Carolina is not of good quality. Both moc toes are of superior quality but Thorogood excels in minor things.
Starting with Carolina, they are lightweight which may fool you at the beginning of being poor quality. Yet, when you put them on, you will discover how sturdy they are. Lightweight is just for comfort but the moc toes can withstand abuse very well.
Carolina moc toes are also waterproof and they don't retain moisture. The material is genuine leather with some flexibility for comfort. Even the laces are tough and will last as long as the boots last. Further, the inside lining is breathable and the collars are usually padded.
Moving to Thorogood, they are also leather shoes. The leather is chrome tanned offering superior water and scratch-resistance features. Also, this tanning protects the shoes and makes them age better.
So, in brief, getting any of the two moc toes is the same regarding quality. However, for extremely picky people who want the best of the best, Thorogood is a bit sturdier.
Construction of the soles: What are the materials of the outer, mid, and insoles?
Although the quality of the soles is part of the overall quality, there are many details about the soles. So, we had to speak about them separately. Soles include the outsoles which are the parts touching the ground. Besides, there are the insoles which touch your feet and midsoles in between both.
For Carolina, the outsoles are Vibram which is a sturdy kind of rubber. Hence, it offers flexibility, comfort, and at the same time durability.
What is more, is that these outsoles are non-marking ones. So, they won't leave any traces behind you when you walk on any surface. Also, they are slip-resistant soles to provide stability when walking.
Moving to the mid and insoles, both are flexible materials as well. The insoles, in particular, are poron which is a common material major sports sneaker brands use.
Additionally, there is an extra layer of the memory foam cushion. This adds to the extreme comfort of Carolina's moc toes.
As for Thorogood, the outsoles are polyurethane which the company makes for itself. They claim that it is more durable than Vibram and that's why they moved to this kind of outsoles.
The midsoles are rubber whereas the insoles are poron like Carolina's ones. Moreover, Thorogood has the same cushioning feature as Carolina. This cushioning offers shock absorption suitable for different work conditions.
Finally, both moc toes have steel shanks that provide arch support. So, as you can see, both moc toes have nearly the same features for soles. Then, how can you choose the best for this particular point?
First, the outsoles, as mentioned above, are different. So, if you have tried Vibram outsoles before, give Thorogood's polyurethane outsoles a try. Hence, you can see if they will last longer than Vibram or not. From our side, we guarantee both will give you the durability and rigidness you are looking for.
Also, another point Carolina moc toes beat Thorogood at is that the soles are replaceable. This means whenever the soles wear out, you can get the same outsoles for the particular moc toes.
Other features (Sizing and price)
Generally, Carolina has more sizing options than Thorogood. There widths from B to 4E. However, for moc toes, you will mostly find the usual D and 2E sizes only. Thorogood also has the same two sizes.
Regarding the price, Thorogood has noticeable higher prices than Carolina. With nearly the same features and every other thing, you will get a pair of Carolina moc toes at around $100 less. Therefore, the price here is something that makes the pan swings to Carolina's side.
Conclusion
Moc toes are created for work conditions. So, they are a kind of tool to help you in your work. Thus, just like you pick your tools for what functions better, do the same for your moc toes.
In the end, it is a matter of preferences as long as you are choosing between high-quality options.